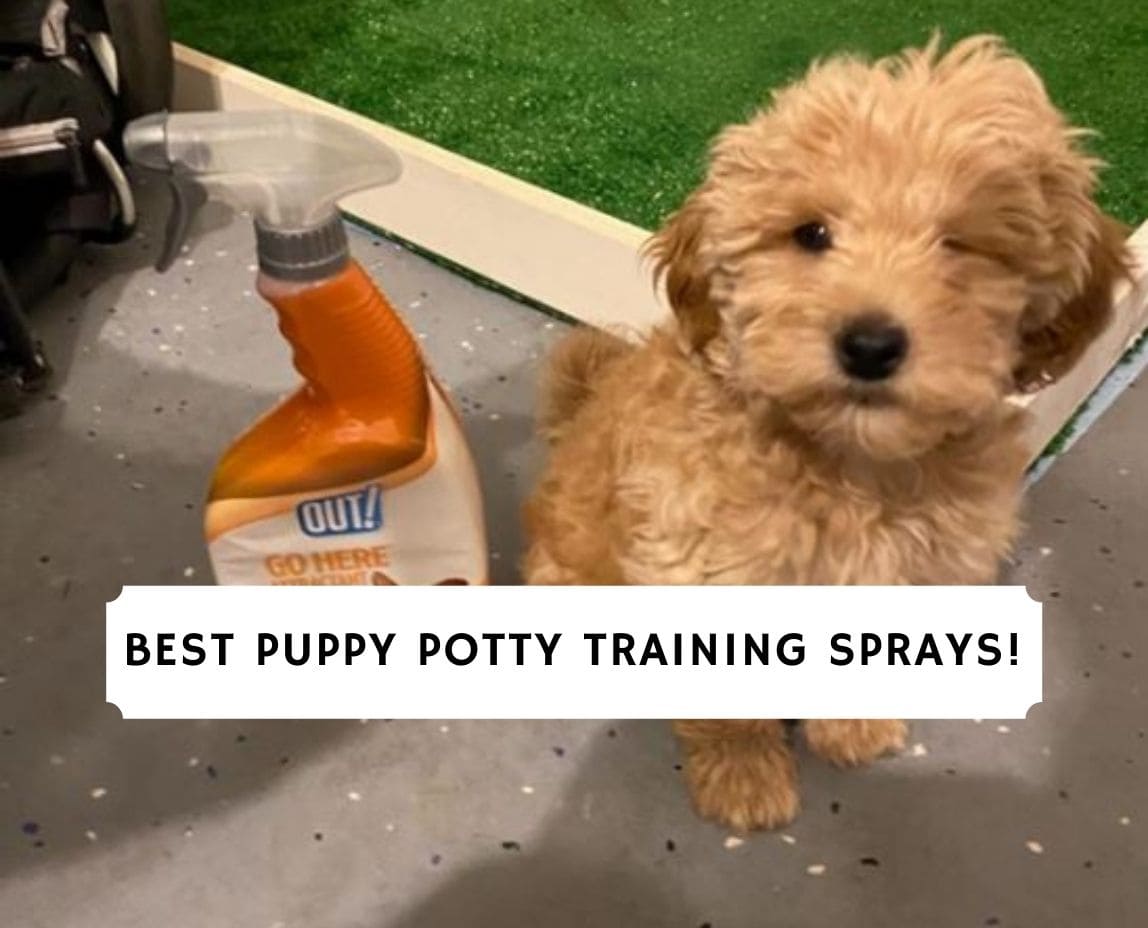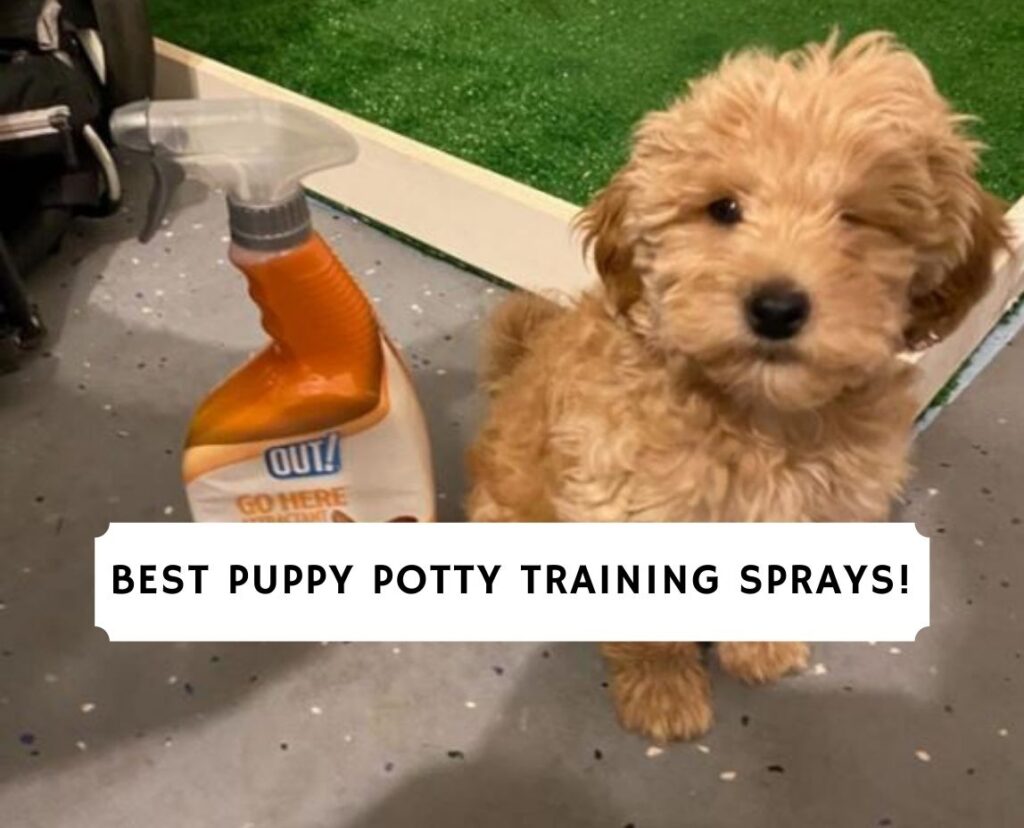 Are you struggling with problem puppy or dog behavior? If you're considering how to help your furbaby or newly adopted adult dog transition to a new potty training routine, attractant potty sprays will help you speed up the process. If you're adding a new furbaby to your home, it's best to be prepared! 
In this review, we're going to share our top picks for house training attractant sprays for puppies. Remember to use these and combine them with rewarding your puppy or new dog for going potty outside. This allows for speeding up the housetraining process.
Two Types of Housetraining Sprays for Dogs
There are two types of potty training spray for dogs: attractant and repellent sprays. Attractant sprays are pleasantly scented to lure your pup to the most preferred spot, while repellant sprays are formulated with unpleasant scents to tell your puppy where not to go potty. 
Ideally, though, you should train your puppy to go potty outdoors or on his artificial potty grass pad; in this review, we're going to discuss the six best attractant potty sprays for 2021. Here's the takeaway:
In a rush? Here are the top picks!
Product
Best Overall
Bodhi Dog Potty Training Spray
Runner-Up
Pooch Pads Potty Training Attractant
Best Value
NaturVet – Potty Here Training Aid
Image
This product won the 2020 Family Choice Awards. All their products are cruelty-free. This puppy potty training spray is a long-lasting concentrated blend of attractants that lures pups or dogs of all ages to use a specifically designated area in your home. This spray can be used inside your home or outdoors. It is an eco-friendly and safe pet potty product to use around other pets and small children when used as directed. Here's the takeaway:
Features
Works together with a consistent housetraining plan

Over 2,990 positive reviews

Cruelty-free & eco-friendly product

Infused with the bitter lemon extract to help dogs with allergies

It helps shorten housebreaking time

For indoor & outdoor use

Made in the U.S.
This is an attractant potty training spray and is one of the most popular, with over 15,900 positive reviews. This formula encourages pets to eliminate where you want them to and helps shorten the housetraining time for dogs of all ages.
OUT can be used indoors and outdoors and is safe to use around the entire family. This brand creates various products that can help you with pet messes and features pet products from puppy pads to indoor accident cleanup to outdoor waste pickup. If you're on a tight budget, this is one of the best potty training spray for dogs that you can buy.
Features
Safe for other pets and family members

Affordable

Over 16,000 positive reviews

Suitable to use as a housetraining spray as part of a consistent training process
NaturVet is a potty training aid spray that helps train puppies and dogs of all ages and shows them where to go potty. This spray features a unique attractant scent that will encourage dogs to urinate wherever the product is sprayed. Like other attractant sprays, all you need to do is apply the training spray to the preferred designated areas. This dog housetraining spray works well for outdoor areas, artificial grass, and puppy pads.
Features
Priced well

Over 4,400 positive ratings

cGMP compliant

Made in the U.S

Money-back guarantee
Nature's Miracle is an effective housetraining potty training spray specially formulated to help train your pups and older dogs to relieve themselves every time on a specific spot. This is a long-lasting concentrated formula that is effective when it comes to training your puppy. It works by way of the attractant pheromone scent reducing housetraining time. Thus, Nature's Miracle is a spray to make a puppy pee on a pad.
Besides, the scent is not overwhelming, but your pup will get attracted to it. The attractant is crafted with pheromone scents to encourage puppies to go where you want them to go potty. This attractant spray works well for either indoor and outdoor potty training.
Nature's Miracle Housebreaking Go Here spray is specially formulated to help train pets to relieve themselves where you want them to. Pheromones detectable only by a pet's delicate senses act as a signal telling them it's okay to go potty where you've sprayed. Honestly, with a big brand name at an affordable price, this is a great dog potty training spray.
Features
Priced well

Concentrated formula provides long-lasting effects

Reduces housebreaking time

Over 1,400 positive reviews
If you are looking for an outdoor attractant training spray, dog training sprays may be a good option. This particular attractant spray has a floral-scented spray with an amino acid solution that encourages pets to urinate or go potty exactly where you want them to do.
This is a really pleasant smelling spray available on the market today. It is formulated to work well on outdoor surfaces like grass, pavements, pee pads, dirt, and outdoor and indoor areas. This attractant spray features a non-toxic attractant spray that is safe to use around your children and pets.
Features
Works with all brands of indoor turf

Good for yard training

Crafted with an amino acid composition

Formulated to lure dogs into relieving themselves on the desired spot

No harsh chemicals
This is a scientifically formulated puppy aid training spray that encourages puppies to urinate in a specific area. It's safe for use around pets and family members when used as directed and reduces housetraining time when used as directed. There's also a money-back guarantee. It's one of the newest and best housebreaking sprays for dogs.
Features
Affordable

Scientifically formulated

100% safe for children, pets, and family members

Highly concentrated formula

Money-back guarantee
Potty Training Your Puppy
The American Kennel Club (AKC) explains that "Learning how to potty train puppies at the right time and place is one of the most important first steps you can take for a long, happy life together. House soiling is among the top reasons why dogs lose their homes or end up in shelters. Few people are willing to put up with a dog who destroys rugs and flooring, or who leaves a stinky mess that you have to clean after a hard day at work." 
They add that "There are three tried-and-true methods for training your puppy, says Mary Burch, Ph.D., director of the A.K.C.'s Canine Good Citizen and S.T.A.R. Puppy programs. "These include:
Also, frequent walks outside with your puppy help with the potty training process. The AKC explains that a six-month-old puppy can reasonably be expected to hold it for up to 6 hours, but because pups are individuals, timing will differ for each puppy. They recommend doing the following:
Monitor events each day and your puppy's potty and usual daily habits when setting up a potty training schedule. With very young pups, the AKC adds that pet parents should expect to take their furbaby out during these times:
First thing in the morning

Last thing at night

After playing indoors

After spending time in a crate

Upon waking up from a nap

After chewing a toy or bone

After eating

After drinking
What is an Attractant Training Spray?
As the name suggests, attractant potty sprays are beneficial because they lure dogs to the spot meant for elimination. As strange as the concept sounds, it is based on actual research. Regular housetraining involves taking your furbaby outside for a walk. 
Because puppies and adult dogs may be problematic about the places they choose to go potty, using an attractant house training spray helps to encourage a dog to go potty in a specific area. Attractant sprays are formulated in both spray and condensed forms, and depending on the type of attractant spray, you can either spray it or use a few drops to mark a specific area.
Using the sprays outdoors works well on grass, but some sprays can also be used on dog pads for indoor use. However, their scent may be overwhelming and hard to get rid of later on. The attract and spray effect is usually instant, and most puppies and dogs target the sprayed area and go potty there.
How Do Dog Potty Training Sprays Work?
If you observe your pup's regular potty routine, you may have noticed that dogs have a thing for specific scents. 
Based on the type, there are types of training sprays. The "attractants" attract your furbaby to a specific area, and the "repellents" almost stop your furbaby from going potty in another area, like inside your house.
An attractant spray uses unique dog-friendly scents to attract your pup to an area that has been sprayed. Some scents are similar to a dog's urine, and while the smell can be unpleasant for pet parents, it can successfully lure puppies and adult dogs to a particular spot to go potty.
A repellent dog potty housetraining spray is crafted with chemicals that have a potent scent. Applying these sprays to an area overwhelms a pup and prevents him from going to that place. Some attractant sprays also use relaxing pheromones to help your furbaby relax and encourage him to go potty.
However, if you are sensitive to scents, you should consider attractants that feature floral fragrances. But, if your main focus is getting your dog to go potty in a specific area, you will need to overlook the momentary stench. 
To use an attractant potty spray, you first need to determine the most suitable area for your dog to go potty. After that, you should spray the recommended amount and let your furbaby sniff it.
Why Do Dogs Go Potty Inside?
There are many reasons that adult dogs and puppies have potty training mishaps. Here are some of the most common issues.
Lack of positive training.

Lack of consistency in training

No regular potty training schedule

No regular walking schedules

Health issues

Boredom or depression and even separation anxiety in older dogs
Housetraining is one of the first things you will teach your new furbaby. This should be started on day one when you bring your puppy or adult dog home.
Housetraining Age
While you can start taking your puppy outdoors or using training pads at around 5 or 6 weeks of age to encourage elimination, potty training should begin about 7 or 8 weeks. This is the age when puppies can start routines and rules, so the learning process is easier for them to understand. This is also the age at which most puppies can be separated from their mothers, so housetraining is easier.
A few important things to remember when housetraining a puppy.
Praise your puppy when he behaves.

Keep a regular schedule

Never punish your puppy or dog physically or verbally for a housetraining accident.

Do not correct your puppy or dog unless you catch him going potty where he's not supposed to.
Frequently Asked Questions
What is the best potty spray for dogs?
Below are the top 10 dog potty sprays that we enjoyed using and worked for our puppy.
Bodhi Dog Potty Training Spray
Out! Go Here, Attractant
NaturVet Potty Here Training Aid Spray
Nature's Miracle Housebreaking Spray
Pooch Pads Potty Training Attractant
Simple Solution Puppy Aid Training Spray
Gold Medal Pets Housebreaking Aid
Davis Perfect Pet Go Here. 
Four Paws Wee Wee Housebreaking Aid
Bodhi Dog Not Here Spray
What spray attracts dogs to pee pads?
At number one, We Love Doodles has the Bodhi Dog Potty Training Spray. This product is made with natural ingredients, and it's safe to use around kids and pets. The Bodhi Dog Potty Training Spray is a great way to help your dog learn where to go potty.
At number two, we have the Out! Go Here, Attractant. This product helps teach your pup where to go potty and aids in the housebreaking process. The Out! Go Here Attractant is made with natural ingredients and is safe to use around kids and pets.
At number three, we have the NaturVet Potty Here Training Aid Spray. This product is made with natural ingredients and is also another safe option to use at home around pets and children.
Attractant pee sprays for dogs are an effective way to help your furry friend learn where they are supposed to relieve themselves. Potty training sprays make potty training pups much easier and the entire family can use them to train Fido. They should only be used in conjunction with positive potty training and should never replace potty training.
How do you potty train a puppy with spray?
When potty training a puppy with spray, you will want to use the product in conjunction with positive reinforcement. For example, if you see your puppy urinating in the designated potty area, praise them and give them a treat.
Always be sure to supervise your puppy closely when they are in the potty training phase, as accidents are bound to happen. Potty training sprays can be a great tool to help your puppy learn where they should relieve themselves, but they should never replace positive reinforcement and training.
Conclusion for Best Puppy Potty Training Sprays
Training your dog starts in puppyhood and will continue throughout your dog's life. The time you invest in positive dog training will pay off down the road with a happy and well-adjusted furbaby that's wonderful to have at home. 
When housetraining your puppy, it's essential to understand that housetraining accidents should be expected in the first few months. While the importance of housetraining cannot be overemphasized, it's key to try to get your puppy outside for walks and playtime as often as possible. 
By doing so, you're also encouraging your puppy to go potty outdoors and preventing bad habits. If your puppy has an accident indoors, you should never get angry or overreact. Housetraining can take anywhere from a few weeks to a few months to positively train a puppy to go outdoors. Puppy potty training sprays together with lots of outdoor time help make housetraining easier.
Other articles you will like:

Claudia Bensimoun is a writer who specializes in dog content and veterinary topics! Aside from writing for We Love Doodles, Claudia also writes for other major dog blogs like Fido Friendly, Animal Wellness Magazine, and the United States Dog Agility Association (USDAA). She has a ghostwritten over 50 different dog e-books. Her passions include animal welfare, veterinary research, and wildlife conservation.
Why Trust We Love Doodles?
At We Love Doodles, we're a team of writers, veterinarians, and puppy trainers that love dogs. Our team of qualified experts researches and provides reliable information on a wide range of dog topics. Our reviews are based on customer feedback, hands-on testing, and in-depth analysis. We are fully transparent and honest to our community of dog owners and future owners.