If you're sleeping during the night and notice your dog loudly snoring, you're probably asking yourself: "Is it normal for my dog to breath heavy at night?" The way a dog sleeps can often tell you a bit about its personality. Some dogs are sound sleepers whom you may not even be able to tell have drifted off to sleep. Others might frequently twitch throughout the night, imagining they are chasing a squirrel or running toward a large plate of treats. Other dogs could snore or breathe heavily as they're chasing in their sleep.
Heavy breathing in dogs can stem from a variety of reasons. Most often, these reasons are a natural part of being a dog. However, it could mean additional attention from the owner. To help you stay informed, our team at WeLoveDoodles will share some reasons why your dog might be breathing heavily while sleeping, as well as other causes of heavy breathing. We'll also share ways to help calm their heavy breathing if it becomes problematic.
Before you scroll down to the full answer, here are some dog sleeping-related questions that could help you: What Can I Give My Dog To Sleep At Night and Why Is My Dog Breathing Heavily While Sleeping?
Why Does a Dog Breathe Heavy at Night?

Have you ever had a dream that brought out your emotions, and you woke up laughing or breathing heavy, depending on the dream? The same thing can happen to dogs. Dogs can dream and feel emotions during those dreams as well. Their dream may be exciting or nerve-wracking, causing a physical reaction while your dog sleeps. This happens during the REM stage of their sleep cycles when they dream.
Sometimes, this heavy breathing can look like they chase that imaginary bunny or enjoy an imaginary affectionate hand. This is the most common cause for rapid breathing during sleep for your dog. A more rapid breathing pattern can also be more common for puppies, who naturally have a faster heart rate than older dogs. Smaller dogs may also be more likely to pant or breath heavily during sleep. Additionally, dogs who have compressed faces may also be more likely to pant in any case.
Most often, this rapid breathing pattern while sleeping is short-lived and lasts only while they are sleeping. If their labored, rapid or heavy breathing continues when they wake up, their health is probably something worth looking into. However, not all times of labored breathing are worry-free. Sometimes, a dog may be breathing rapidly while sleeping due to respiratory and other cardiovascular problems.
This may be the case if you notice other symptoms of a struggling cardiovascular system, such as fatigue or disinterest in things. This labored breathing can indicate more serious concerns such as cardiomyopathy or congestive heart failure. These conditions both stem from poor blood circulation and causing the respiratory to work extra hard. They may also be suffering from low levels of oxygen, causing anemia. Dogs also can struggle with things like allergies or asthma, both of which can also cause difficulty breathing.
Dog-Related Questions: What Should I Do If My Dog Ate a Melatonin and Reasons Why My Dog Has To Sleep Touching Me.
It's important to be alert when you notice your dog struggles to breathe or cannot easily carry air through its airways. When associated with other symptoms, it could be just a simple case of allergies. But it could also be an indicator of a much more severe health condition that should be addressed immediately.
In addition to cardiovascular concerns, another reason for heavy breathing that deserves alert is any sort of poisoning or stomach discomfort. Foods like garlic or onion are toxic for dogs and can bring on some very unfortunate side effects. In addition to heavy breathing, a dog who has consumed toxic food may also experience vomiting, diarrhea, and other gastrointestinal symptoms. In these situations, you should seek medical attention as soon as possible.
Another reason for your dog's heavy breathing at night may be due to a warm sleeping environment. Typically, a dog's internal body temperature is much warmer than a human's, ranging from 100 to 102 degrees F. If their room is too warm, they may start panting to cool themselves down. They can do this whether awake or asleep. Typically, your dog won't show any other symptoms of being sick or uncomfortable if this is the reason for their heavy breathing or panting.
Dog-Related Questions: Putting a Dog To Sleep With Benadryl and Why Does My Dog Lay On Top of Me?
What To Do When Your Dog Breathes Heavy

To help your dog live their best life, it's essential to identify why they may be breathing heavy and address any medical concerns with them. Typically, an examination from the veterinarian will be most effective in identifying why your dog may be breathing so heavily. You can also help determine the underlying reason for heavy breathing by watching them when they are awake. If they breathe rapidly when awake and just lying around the house, it may point to a potential concern. However, if they breathe normally at most other times during the day, you can probably attribute it to just an exciting dream they had.
When dreaming, a dog may react with breathing heavy, especially if the dream is exciting or thrilling. If this is the case, there is not much you can do to stop them from breathing heavily or rapidly other than waking them up, which is not always advised. It's best to let them sleep and naturally stop breathing heavily when they change their sleeping cycle. For some puppies, the fast breathing during sleep will dissipate over time as they grow up.
If your dog is panting due to a warm sleeping environment, simply try to cool down space with a fan. However, suppose your dog is struggling to breathe due to respiratory or other cardiovascular issues. In that case, your dog may require more intensive treatments to help to improve its oxygen and blood circulation. A trip to the veterinarian is recommended in such instances where their health may be at serious risk. While it's essential to be cautious of the purpose of their heavy breathing, it's also helpful to assess other external factors that may be causing it.
A helpful tip in determining whether their heavy breathing is a cause for concern is to count the number of breaths they take in a given time. Puppies breathe about 15 to 40 times per minute, depending on their activity. Older dogs have a slower rate, which is about 10 to 30 breaths per minute. Tracking this measurement can help indicate when you should start to consider other reasons for heavy breathing. Especially for puppies, the breathing habit is relatively common and will typically fade as they get older.
Dog-Related Questions: What To Do If My Dog Leaves an Odorless Wet Spot and Puppy Tooth Broke Off – What Should I Do?
Conclusion For "Why Is My Dog Breathing Heavy At Night"

As a responsible dog owner, it's up to you to identify why your dog is breathing heavily while sleeping. While there is a myriad of reasons why your dog can start panting, most often, it's not a cause for alarm; they are simply enjoying and reacting to an exciting or thrilling dream. However, if you notice any other symptoms of a medical concern, it's crucial to identify that underlying cause as soon as possible.
If you notice other negative symptoms such as extreme tiredness, nausea, or other respiratory, gastrointestinal, or cardiovascular issues, consider taking a trip to the veterinarian as soon as possible. By being intentional about noticing your dog's breathing and seeking to find a solution if needed, you'll communicate that you care for them and that you can be trusted to raise them as healthy as can be.
For more dog-related questions, check out articles by the team of WeLoveDoodles:
To learn more about your dog's breathing in its sleep, watch "Why Is My Dog Breathing Fast While Resting" from Wag Dog Walking down below: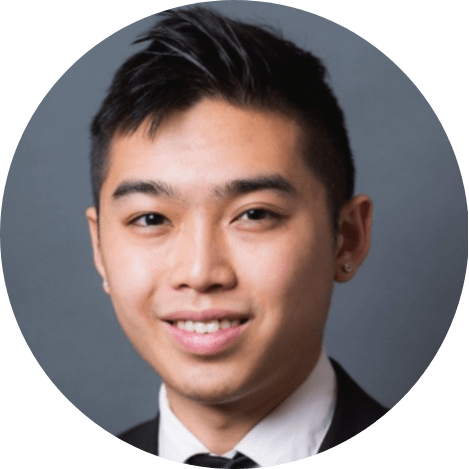 Andy is a full-time animal rescuer and owner of a toy doodle. When he's not saving dogs, Andy is one of our core writers and editors. He has been writing about dogs for over a decade. Andy joined our team because he believes that words are powerful tools that can change a dog's life for the better.
Why Trust We Love Doodles?
At We Love Doodles, we're a team of writers, veterinarians, and puppy trainers that love dogs. Our team of qualified experts researches and provides reliable information on a wide range of dog topics. Our reviews are based on customer feedback, hands-on testing, and in-depth analysis. We are fully transparent and honest to our community of dog owners and future owners.