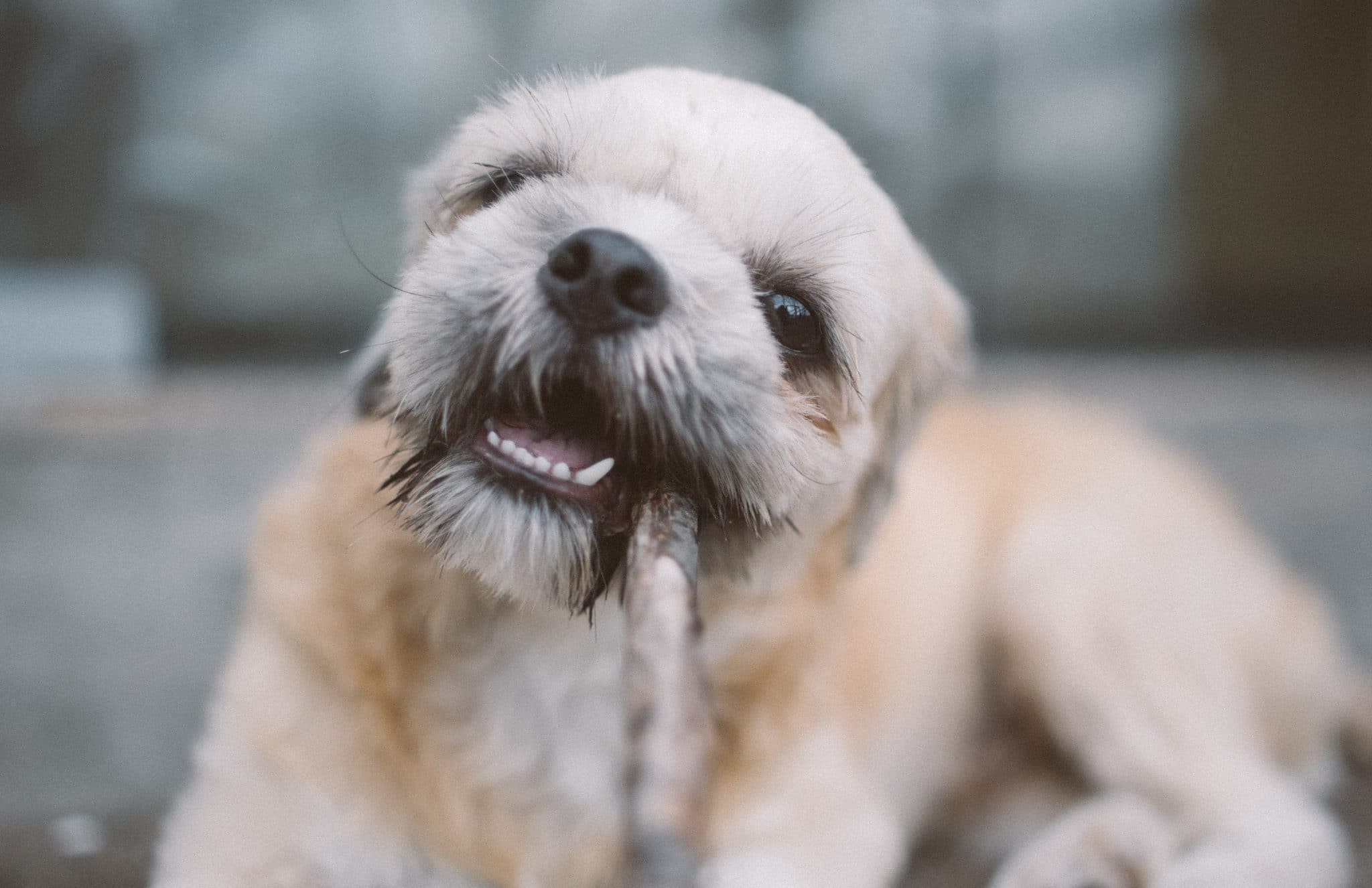 Chances are you were playing rope tug with your dog and a puppy tooth broke off.  Alternatively, maybe your dog was chewing something hard like a rock and a puppy tooth broke off.  It can be quite startling at first to see a sharp puppy tooth on the floor, but chances are you shouldn't worry too much.  Puppies go through the teething process for a reason and will eventually lose all their baby teeth.
Puppies have very sharp teeth and they get stuck in lots of different objects so it's not uncommon for a puppy to lose a tooth early.  Typically, at around 4-6 months puppy's will start losing their teeth.  Puppies have 28 "baby" teeth and they are quickly replaced by 42 "adult" teeth that start growing behind the "baby" teeth.  The adult teeth will essentially push the baby teeth out sooner or later.
What to do when a puppy losses a tooth?
Don't panic.  It's scary to see a puppy tooth that broke off, but this is a normal process.  Puppy teeth are quite easily broken, and sometimes even bleed when they fall out.  The key is remain calm and monitor your dog.
When in doubt call your vet.  Is your dogs tooth chipped and very sensitive?  Is your puppy choking or constantly coughing?  Is your puppy lethargic, dehydrated, or not acting normal?  These are all signs that you should take your puppy to the veterinarian.  When in doubt, I always call my veterinarian.
Monitor and check for infection.  The biggest threat to your dogs health is a tooth infection.  If left untreated, a tooth infection can cause eye infections, rapid tooth loss, or organ failure.  If your puppy is only chewing on one side of their mouth, they have bad breathe, or are constantly dropping their food, I would check to see if there is an infection.  An infection is a red swollen gum line that has a significant amount of  puss on it.  If you think your puppy's tooth broke off and is infected, go see a veterinarian for antibiotics.
Are your puppy teeth falling out bleeding?
It's  really not uncommon for puppy gums or teeth to bleed when they lose a tooth.  Puppy gums are typically very swollen while teething so even chewing on things will make puppy teeth fall out bleeding.
Here are some precautions to take when your puppy teeth fall out bleeding:
Monitor what objects your puppy chews on.  No rocks, no sticks, and no hard objects for a little bit of time until the puppy teeth stop bleeding.  If bleeding persists for over 24 hours, I would consult a veterinarian to ensure there are no infections.
Cold or frozen cloths.  Cold clothes or towels will significantly reduce the swelling on the puppy gums which will stop the bleeding.  Soak a small towel in water and create a U shape to easily fit in the puppy's mouth.
Frozen treats.  I typically freeze some long sticks of peanut butter, mangoes, or bananas to provide temporary relief to the puppy teeth that fall out bleeding.  Usually within an hour my puppy's tooth and gums will stop bleeding.
Conclusion for Puppy Tooth Broke Off
Your puppy is pre-programmed to lose teeth at a certain age.  These teeth will end up all over the place being swallowed, lost, or inside chew toys.  Losing a tooth is simply part of growing up for a puppy and I wouldn't panic unless your puppy is acting unusual or you think there may be a chance of infection.  When a puppy's tooth breaks off, its more painful for the pet owner and their family.  Typically puppy's won't mind at all!
Feel free to check out our other Question and Answer topics!