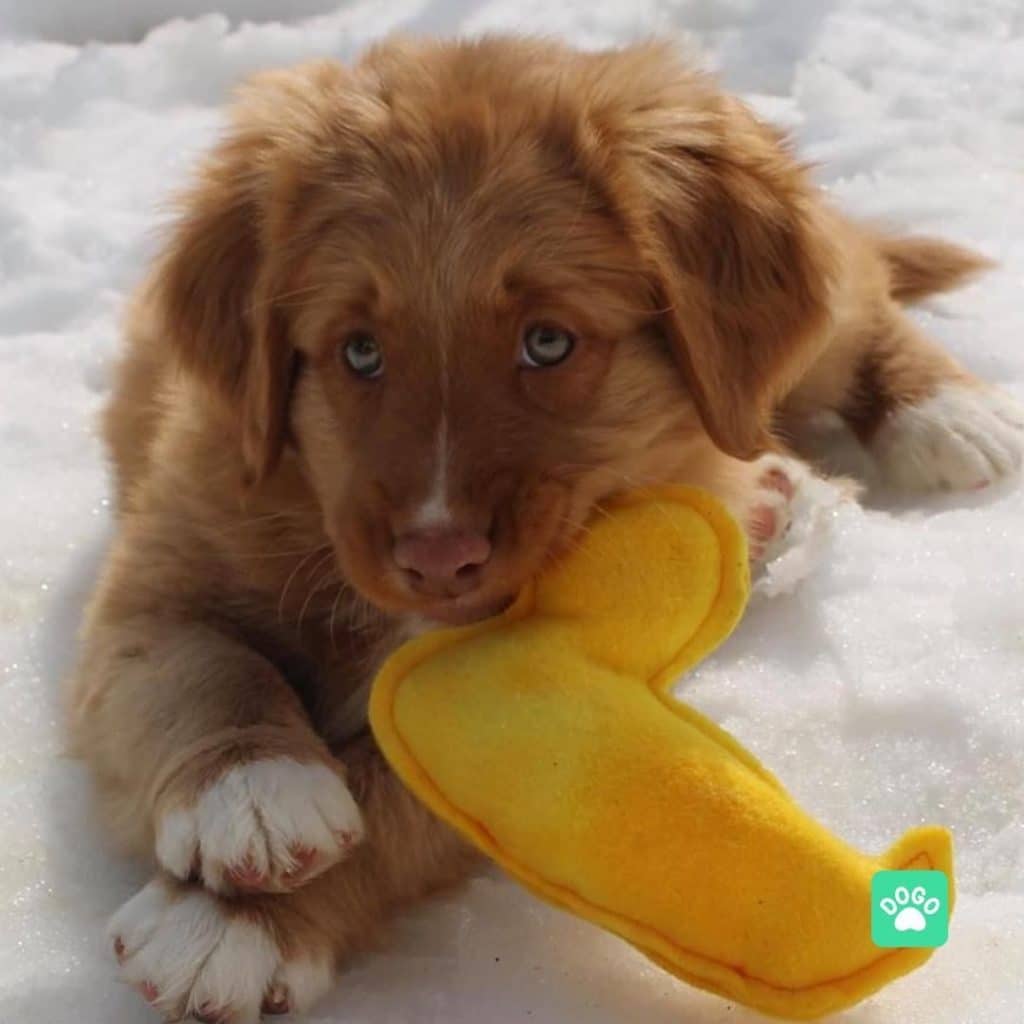 We recently received the question, "My puppy won't stop biting me. I've tried everything. What should I do?"
Puppies are adorable, aren't they? They are playful and cuddly, sweet and soft, and you just can't beat the love of a puppy! Puppyhood is the best time to train them for the behavior you want to see in the home. Training a puppy can be a challenge, and every breed is different. You often see different behaviors amidst different breeds and might also notice habits specific to your puppy.
Biting is a very common issue with puppies; it's in their genetics to bite as a sign of playing, eating, and exploring. Not all puppies bite, and many do it playfully, but it is an action that you must teach your puppy is unacceptable. The last thing we want is our puppy biting and hurting someone. The good news is that most puppies grow out of the habit of biting people, especially their owners.
If you're at the place where you feel like you've tried all of the tricks to get your puppy to stop biting, you've come to the right place. It's not a hopeless situation. Don't give up. Keep working with your puppy. We have some great tips and even products that might help you get your puppy to stop biting. We highly recommend the Baxter and Bella dog training course (they gave us an exclusive 25% discount with code WeLoveDoodles). You'll get access to tips and unlimited 1-on-1 meetings with professional dog trainers. They will help your figure out ways to stop your puppy from biting you.
Get Your Puppy to Stop Biting You
Does it seem like your puppy will never grow out of that biting phase? You've worked with them several times, and they just keep biting. At first, you thought it was because they just didn't know any better, but now it's getting out of control!
Typically, a puppy stops biting about the time they finish getting their adult teeth. This happens somewhere around the age of 7 months. Of course, there are exceptions to that rule.
If you're reading this, we're guessing your puppy is most likely one of the exceptions.
Let's cover some basics.
Behavioral Training
There is a difference between behavioral training and obedience training. Obedience training is all about training basic commands and setting boundaries. Behavioral training breaks bad habits that have been formed and are challenging to break.
Behavioral training should be the first thing you try for puppies with bad biting habits. You often hear about behavioral training for dogs that have established bad habits – even old dogs. This is because behavioral training works if done correctly.
You can train on specific behaviors even at an early age, especially biting. You might find that the biting behavior is associated with a specific emotion of your puppy. Most likely, it is playfulness more than anything else. Puppies are still exploring the world around them and don't know how hard or soft they can bite without hurting someone.
However, behavioral training can be beneficial in breaking the habit, particularly if it is related to anxiety, depression, aggression, or some other behavior. There are two primary behavioral training methods if your puppy is biting you and you've tried everything:
Time out
Crate training
1. Time Out
If you have children or have been around people with children, you've probably seen this approach in practice. Time out is a form of isolation that shows that certain behavior is unacceptable.
In time out, there are no privileges and no amenities. It is meant to be used for short periods in response to unwanted behaviors.
Time out can be used for puppy biting. You will need to address the biting when it happens and immediately place the puppy in a designated time-out area.
For dogs, time out typically should only last for up to 3 minutes or until your dog remains calm for several seconds (15-30). Time out removes the dog from their desired social interaction for a short time.
It is a consequence of an action. For time out to work properly, don't abuse it, and don't expect it to work after just 1 or 2 uses. Be consistent.
2. Crate Training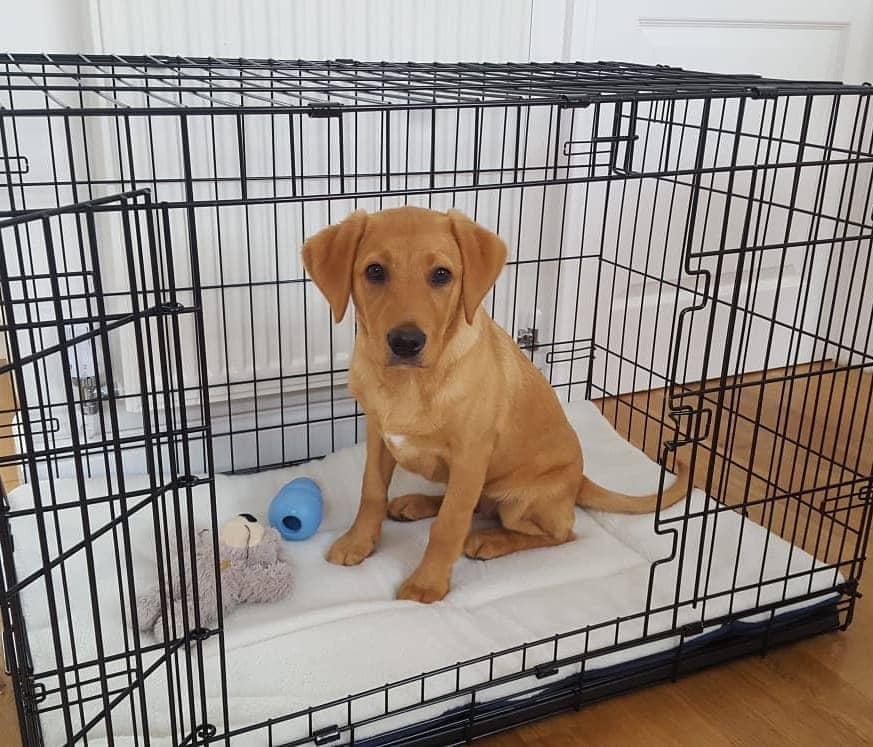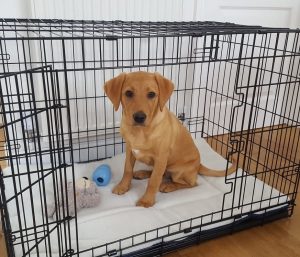 The crate approach here is quite similar to time out. However, the crate should be a "safe space" for your puppy. It is a place where your puppy feels at home and can calm down. You want your puppy to have positive associations with their crate. It should not be used solely for time-outs.
As your puppy exhibits biting behavior, you can use the crate for time-out purposes. Don't display anger in this case but calmly talk to your puppy and send them to the crate while they calm down.
Stay calm to help your puppy stay calm. This will give them a chance to relax. You might even want to give them a toy or a bone while they find their calm. You can use similar times to time out (up to 3 minutes) or wait until your puppy has calmed considerably and let them back out.
Antler Dog Chew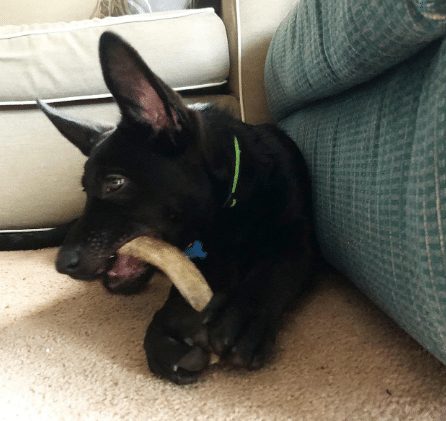 Considering the history of man and nature, it makes sense that an antler would be a common chewing item for a dog. Dogs out in the wild have used antlers as natural chew toys since time immemorial.
Dogs of the modern age don't get that same experience. However, you can make your dog feel just like their ancestors by providing natural chew toys, like antlers. There are many different types of antlers out there. We're talking deer of all kinds – reindeer, moose, caribou, elk, and more.
The best antler dog chews are deer and elk antlers. They are the best shape and size for the task. Antlers are composed of bone and cartilage. They are hard and durable, which makes them a long-lasting toy for dogs to chew on.
Antlers are perfect for puppies and dogs that like to chew. It can be a training tool to teach your dog what surfaces are acceptable for biting and chewing. It can also be a great way to interest your dog and give them a place to use up some of that energy!
Our Favorite Antler Chew
Here is our favorite antler dog chew for you.
Heartland Antlers are sourced from the USA. No animals are harmed to acquire them. They are acquired from the natural shedding process. They are all-natural and are rated as Grade A antler chews.
Heartland Antlers does not process the antlers. The antlers do not contain any additives or preservatives. With these antler chews, you don't have to worry about odors or messes.
Heartland Antlers antler chews are not terribly expensive, and they should last a long time. You can get these antler chews in various sizes. They even offer a bulk option that comes with a mixture of pieces. The company offers a satisfaction guarantee. 
As with any toy, you should monitor your puppy when they are using this toy. It is possible for small pieces to break off and become a choking hazard.
Muzzle Training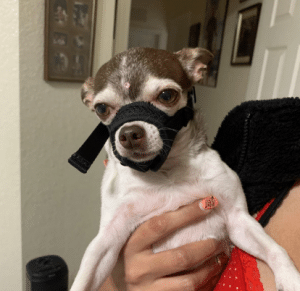 Another good option for a puppy that won't quit biting is muzzle training. Let us preface that statement by saying we recommend this only as a form of training. Muzzles are not to be used for cruelty or constant wear.
There are proper procedures to follow for muzzle training, and you must do your research and follow the processes correctly. Never use a muzzle as a punishment immediately after the dog has misbehaved. This can lead to aggressive behavior and make matters worse.
If you choose this route, be sure to choose a comfortable muzzle option that will be easy to use when needed. Be patient with your puppy and use it only as a training tool. Be aware that you will also need to train your dog to understand and accept the muzzle.
The key here is to train your puppy to understand the muzzle. It's a great tool for helping puppies understand that their teeth are sharp and are not meant to be used on you. You can incorporate human touch and treats and use these as rewards.
Our Favorite Training Muzzle
Here is a good muzzle option for you to consider.
This muzzle from GoodBoy is gentle and not scary looking for you or the dog. It is designed to be humane and reduce biting while training your puppy not to bite or chew. While wearing the muzzle, your dog can still breathe, pant, and drink water. You can get it in several different sizes and colors.
The muzzle simply snaps into place and has a ring around the back of the mouth. It is designed not to provide any substantial discomfort for your puppy. A soft neoprene layer gives your dog as much comfort as possible when in use.
The muzzle comes with a full training guide to help you understand the best ways to use it safely. GoodBoy uses quality materials and designs the muzzle so it is easy to use. It also won't make your puppy miserable, so that is a major plus. Be sure to measure to get the right size for your puppy.
These look and feel far more humane than the basket muzzles you often see.
Noncontact Playing
Puppies are very soft and cute, and it may be tempting to rub your hands all over them. This will often rile them up, turning your petting session into a play session. However, you don't want your puppy to learn that your hands are toys!
Practice noncontact play. This means that you do not have direct human-to-puppy contact when you are playing with your pup. Play around with a dog toy or engage in a game of fetch. Do not slap your puppy's face or body to encourage them to play with you.
If you try this method, have a dog toy in your pocket at all times. This way, when your puppy tries to bite your hands, you can immediately pull out the dog toy and redirect their attention. Ideally, this will train your puppy to look for a toy when they feel like biting or mouthing.
This redirection method also works if your puppy is biting your ankles or feet. When your puppy bites your ankles, freeze! Do not move your legs or feet. Pull out the toy you now carry in your pocket and wave it in front of your puppy. Once they take it, you can start moving again. Remember to praise your puppy when they chew on the toy to encourage that behavior! 
Practice Petting Your Puppy
You want to pet that soft puppy fur – but you don't want the mouthing that comes with it! Train your puppy not to bite things that approach their body, such as your hands or a brush.
Try feeding your puppy small treats with one hand while petting your dog with the other hand. Stay calm while doing this so your puppy doesn't get riled up. The treats will be a distraction so you can get your puppy used to being petted or brushed. 
Remember to avoid jerking your hands away from your puppy if they try to mouth you. This only makes your hands more exciting to play with! Letting your hands go limp is the best thing to do in this scenario.
Socialization with Other Dogs
Sometimes puppies just don't know how hard they are biting! They still have a lot to learn about the world around them. The force of their bite is something that puppies usually learn from playing with other dogs.
Puppies and dogs frequently bite each other while they are playing. However, if a puppy bites down too hard, the other doggy playmate will give a loud yelp and momentarily stop playing. This will usually startle your puppy and teach it not to bite down so hard. If your puppy is not getting much playtime with other dogs, try increasing their socialization time. 
This technique also sometimes works during human playtime. If your puppy is mouthing you playfully (not aggressively) and accidentally bites down too hard, act like you're hurt — give a loud "yelp" and let your hand go limp.
If your puppy doesn't get the hint after doing this a few times in one human play session, put your puppy in time out. The AKC recommends teaching your puppy that biting means "game over." Try again at your next human-puppy play session. Do not try this technique if your puppy is biting out of aggression, as this may only intensify their biting. 
Conclusion for "My puppy won't stop biting me. I've tried everything."
It can be very challenging to train a playful puppy that biting is unacceptable. Dogs have their own personalities, and some of them can be quite stubborn. Use the info in our article above to try the following techniques:
Behavioral Training (Time Out, Crate Training)
Antler Dog Chew
Muzzle Training
Noncontact Playing
Practice Petting
Socialization with Other Dogs
Keep in mind that your dog is not a bad dog. Avoid physically punishing your pup when they bite, e.g., slapping them on the snoot, as this will only make them more aggressive. Do not do anything that will further scare them or cause aggression. Be willing to be patient and put in the effort to work with them to improve the situation. Remember to use plenty of positive reinforcement of desired behaviors. You're well on your way to a calm and collected puppy. You can also check out the AKC article on how to stop your puppy from biting.
You may also be interested in the Best Interactive Dog Toys and the Best Tug Toys for Dogs. Keeping your dog interested in a variety of toys will help curb biting!
Garrett loves animals and is a huge advocate for all Doodle dog breeds. He owns his own Goldendoodle named Kona. In addition, he volunteers at the Humane Society of Silicon Valley, where he fosters dogs and helps animals. Garrett enjoys writing about Doodles and believes that dogs can teach humans more about how to live than humans can teach a dog.
Why Trust We Love Doodles?
At We Love Doodles, we're a team of writers, veterinarians, and puppy trainers that love dogs. Our team of qualified experts researches and provides reliable information on a wide range of dog topics. Our reviews are based on customer feedback, hands-on testing, and in-depth analysis. We are fully transparent and honest to our community of dog owners and future owners.