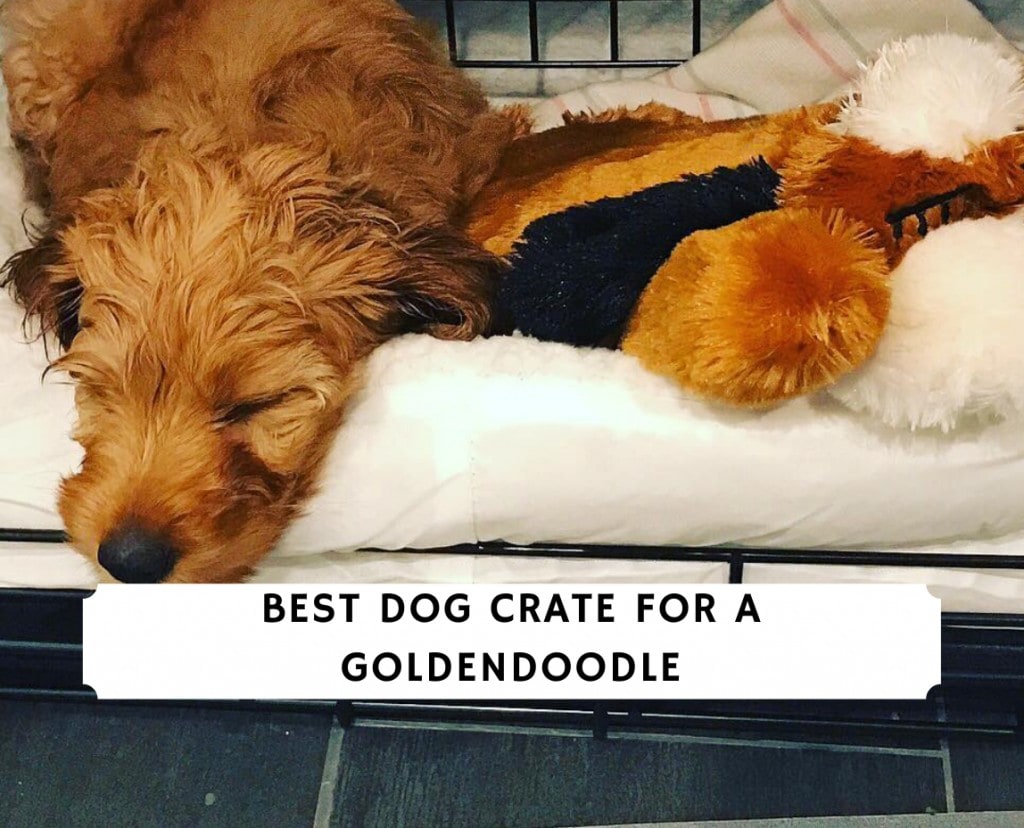 Your adorable Goldendoodle puppy needs a safe and cozy place to stay while you are at work, running errands, or away from the house. Dog crates provide a den-like experience for pets to help them feel safe and insecure. A crate also helps with training and provides a place for your Goldendoodle to sleep. We realized that there is a wide range of Goldendoodle sizes – from mini to standard – so we choose crate manufacturers who create multiple sizes.
Finding the best dog crate for a Goldendoodle can feel overwhelming due to all of the options available on the market today. There are a variety of designs, colors, and features that set each crate apart from the next. Whether you're looking for a mesh wire dog crate, a portable dog crate, or a decorative dog crate for your Goldendoodle we've researched and tested the best of these kennels. The following list contains our top picks for the best Goldendoodle dog crates.
In a rush? Here are the top picks!
Product
Best Overall
Precision Pet Crate
Runner Up
New World Crate
Best Decorative
Casual Home
Image
Double door folding dog crate in multiple sizes which is great for mini to large sized dogs
Side bolt latches to secure your Goldendoodle in place
Includes a divider panel that allows your dog to grow into the crate
1 year manufacturer warranty
None, we think this is one of the best crates for any sized Goldendoodle on the market today.
The Precision Double Door Dog Crate is the best kennel for a Goldendoodle that is growing from puppyhood to adulthood. This reliable and sturdy wire kennel is ideal for dogs and features two doors on either side for easy access as well as security. Whether you want to use this crate in your car or around the house, your Goldendoodle will always have an exit.
The 5-point precision lock system keeps ensures that your Goldendoodle is safe and gives you peace of mind. A notable feature of this dog crate is the rounded corners that are snag-free and prevent any injury to you or your dog. If you crate your Goldendoodle while you are at work and they have bad separation anxiety, they won't hurt themselves in this crate.
In addition, the Precision double door dog crate has a travel-friendly design that is adjustable and comes with a divider panel – it's excellent for puppies or can fit two mini Goldendoodles. The crate divider is useful because you don't want to let your Goldendoodle puppy roam freely inside of a large crate. You can gradually expand the crate as your puppy grows bigger. Finally, this collapsible wire dog crate is easy to store as it folds flat which makes it excellent for travel.
Crates range from 22 inches to 48 inches to fit a standard or mini Goldendoodle
Comes with a convenient tray at the bottom in case your dog has any accidents
This is an awesome starter kit if you just got a Goldendoodle puppy
Comes with a 1 year warranty
Wire spacing is wider than the first crate.
The Midwest iCrate is all-inclusive and includes everything you need to keep your Goldendoodle safe and secure. This pet crate includes a divider panel, four roller feet, a durable dog tray, and a comfortable carrying handle.
In addition, it features a double door that is ideal for mini Goldendoodles weighing 11 to 25 lbs. This particular dog crate is 24 inches long x 18 inches wide x 19 inches high. You can also buy this crate in multiple other sizes if you have a medium Goldendoodle or standard Goldendoodle.
The durable design taps into your dog's natural instincts and creates a den-like experience they can enjoy. The heavy-duty lock is a slide bolt latch that keeps the door in place and your dog safely inside even if he tries to escape.
The wire spacing on this crate measures 1.5 inches by 5 inches. The design provides plenty of ventilation and an opportunity for your dog to see their surroundings. If you want your dog to sleep soundly at night or are worried they may get too cold, you can easily drape a blanket over the top of this crate. Make sure to leave at least one side of the crate exposed so your Goldendoodle can sleep.
This is the best dog crate for mini Goldendoodles because it's easy to assemble and sets up within seconds without any tools required. It's also the perfect size for storage and traveling for your growing puppy.
Soft folding dog crate that is portable and folds flat
Has two doors on the the top and the front
PVC Frame and fabric on the sides
Sizes range from 21 to 42 inches
Fabric may rip if your dog bites or claws the crate
This is the best affordable travel dog crate for a Goldendoodle – namely puppies! It's a soft-sided crate that can hold dogs up to 80 pounds. It's the perfect crate for your pet to grow up from puppyhood to adulthood and works well if you frequently travel.
Most portable dog crates feature three doors, and while this dog crate only has two doors it is offered at a more affordable price point. One door is located on the top and the other at the front of the crate. The mesh fabric windows allow for optimal ventilation and located on all four sides of the dog crate. The downside of having mesh fabric edging is that a Goldendoodle puppy may scratch or bite through the material. However, fabric material is a lot lighter than metal wires so it makes it more desirable for traveling.
The zipper closures are easy to use, keep your Goldendoodle safe and secure, and prevents them from escaping.  The frame is built with PVC and polyester fabric. While most other portable dog crates are built with metal instead of PVC, this soft crate is a cheaper price.
A great feature of this dog kennel is that it sets up in seconds without using any tools and folds flat for easy transportation. It's excellent to use in the house, outdoors, camping, and traveling. The soft and durable dog crate measures 42.1 inches by  30.7 inches, but you can get them in multiple sizes. Whether you have a standard sized Goldendoodle or a mini Goldendoodle this is a great travel dog crate.
Folding metal crate design
Plastic tray on the bottom in case your dog has accidents
Fits standard and mini Goldendoodles depending on the size you order
1 year warranty
Only has a single door in the front, but you can purchase a double door option
This durable and heavy-duty metal dog crate features a single door entrance and exit and measures 42 inches long x 28 inches wide x 30 inches high. It's suitable for dogs that weigh up to 90 pounds, making it ideal for a growing standard Goldendoodle in any life stage. You can also get smaller versions of this crate to fit a mini Goldendoodle.
This dog crate comes with a leak-proof plastic pan that is easy to clean and remove when needed. Moreover, this folding metal crate is easy to assemble without tools. The heavy-duty slide-bolt latches are located in a precise position to provide the security you can trust. It's easy to put up and take down within seconds and ideal for traveling. It's honestly a very reliable dog crate for a Goldendoodle of any size. You can't go wrong purchasing this crate if you just brought home a Goldendoodle puppy.
Three entrances to this dog crate: top, front, and side
Crate has steel tubing on the sides
Fleece bed is included in this crate
Collapsible bars to fold flat
Only comes in three sizes
The Jespet pet crate is a cozy and soft dog crate that is extremely lightweight and easy to fold. It measures 30 inches long x 21 inches wide x 20 high, but you can buy it in multiple sizes. It's suitable for indoor and outdoor use whether you're car camping, hiking, or on vacation.
There are three doors on this portable dog crate for Goldendoodles: one located at the front, side, and top of the crate. There is plenty of ventilation to ensure your dog has access to fresh air and sunlight especially when outdoors.
The adjustable carrying strap is easy to use and soft on your hands. This dog crate also comes with a comfortable fleece mat to ensure your Goldendoodle is comfortable and cozy in their crate. Unlike the Amazon travel crate, this dog crate features a strong steel tube frame and durable washable fabric that prevents your dog from escaping. The mesh fabric on the windows allows optimal ventilation and a great view for your dog. We also noticed that the mesh fabric is not cheaply made and is very durable. It won't survive prolonged chewing or scratching, but it certainly will survive daily wear and tear.
This soft dog crate features collapsible bars and retractable springs that allow you to set up and take down the crate within seconds. You can also roll up the front door to allow your Goldendoodle easy access inside and outside the crate. If your dog gets extra hot, just leave the top of the kennel open.
Wooden dog crate that looks great
Dog crate + end table design
Crate comes with a secure lock
Comes in several different sizes
Doesn't collapse down flat and isn't very portable
This dog crate features a furniture design that compliments any room or house. It gives your dog a safe and cozy place to stay while still being near you when you are home. On the other hand, it also gives them a secure den-like environment while you are away from home.
The solid wood construction is durable, long-lasting, and looks a lot better than a wire mesh crate. It features a strong gate that is lockable to ensure your Goldendoodle remains safely inside. The only downside to this wooden dog crate is that it isn't very portable. You can't collapse this dog kennel flat and it's pretty heavy due to the materials it was designed with.
However, the end table style allows you to place it in various areas of any room as a functional decor piece. It's available in a variety of colors and sizes to fit a mini Goldendoodle or larger size Goldendoodle.
Construction grade steel
Great for Goldendoodle puppies or litters
Comes with a tray on the bottom for any accidents
Easy to setup and includes wheels that are lockable
This is a heavy dog crate
This heavy-duty dog crate is ideal for growing Goldendoodles or puppy litters. This large crate can take your puppy into adulthood without needing a replacement.
It's made of heavy-duty corrosion-resistant steel and features a non-toxic finished surface that keeps your Goldendoodle healthy. If your Goldendoodle has bad separation anxiety where they can chew through mesh wire or durable fabric, you need to consider more durable options. The Luckup Heavy Duty metal dog crate will safely keep your Goldendoodle in one place.
It has two durable locks with safety buckles that prevent your dog from escaping no matter how hard they try.  The double door design makes it easy for your pet to go in and out. The top door is convenient for you to access your dog without risking them escaping the crate.
In addition, the Luckup dog crate comes with an easy to clean plastic slide-out tray which is great if you have a puppy litter or dog that isn't house-trained yet. It's heavy-duty and comes with everything you need including the hardware to assemble it perfectly. It also features four lockable wheels. The overall time it usually takes to assemble this crate ranges from three to five minutes. This dog crate measures 41.5 inches long x  30.5 inches wide x  37 inches tall.
Durable steel frame tubing
Fabric is very strong compared to other portable crates
Three mesh doors on the front, side, and top
Two year warranty
None, if you're looking for a portable Goldendoodle crate this is one of the best.
The Elitefield is a durable and soft dog crate for Goldendoodles that measures 42 inches long x  28 in wide x  32 inches high. However, you can buy this travel crate in multiple sizes and colors. It has a spacious interior that allows your Goldendoodle to feel comfortable and stretch out. We bought this soft folding crate for our Goldendoodle and use it frequently when we travel. It's lighter weight than a mesh wire crate and folds flat.
Additionally, the EliteField dog crate is made with strong steel tubing that is durable and high-quality. The fabric is strong and easily contains your dog safely inside. The mesh fabric on the windows allows for excellent ventilation as well and lets your Goldendoodle see its surroundings.
This lightweight dog crate for Goldendoodles has a removable cover that is easy to wash as well as two accessory pockets for storage. Finally, the convenient hand-carrying straps are adjustable and easy to use while the shoulder strap features padding that is comfortable on your shoulder and back.
High-end collapsible dog crate that is perfect for travel
Quality aluminum grade material
Perfect for mini Goldendoodle puppies less than 25 pounds
Travel-friendly and extremely portable
Comparatively expensive dog crate for a Goldendoodle
This is the perfect dog crate for a mini Goldendoodle. It's extremely durable, collapsible, and travel friendly. It's designed for easy set-up, folding, transportation, and storage. Moreover, this dog crate features wheels for easy handling as well as carrying.
This dog crate is ideal for Goldendoodle puppies weighing less than 25 pounds. It comes with a complimentary divider that allows your puppy to grow into the crate. The ceiling features a hatch so you can easily access your puppy anytime you need to.
The kennel is made with high-quality materials such as high-grade steel mesh wire, aluminum, and reinforced plastic to ensure your dog remains safely inside. It's definitely the highest-quality dog crate on the market today, but it does come with a hefty price tag.
At first glance, you will notice the design and materials used to make this dog crate resemble those in baby gate designs. This durable dog crate allows your mini Goldendoodle access to optimal ventilation and security. You can easily set up and take down the crate within seconds. It can be used indoors or outdoors and it's convenient to use when traveling.
How to Choose a Goldendoodle Crate
Choosing a dog crate for a Goldendoodle takes a lot of consideration and research. Every dog is different, so you'll want to make sure you are in tune with your dog's personality and habits. Below are some tips for choosing the best dog crate for a Goldendoodle.
Goldendoodle Personality
If you have a hyper Goldendoodle puppy that likes to scratch or chew objects, you will need a heavy-duty durable wire mesh crate to keep them safely inside. However, if you have a calm dog that enjoys being in a den-like environment, the soft and cozy crates are highly suitable for your dog. We wouldn't recommend that you buy a mesh fabric dog crate for a Goldendoodle puppy until they start to calm down and are past the teething stage of their life.
Goldendoodle Size
The next step to choosing the right dog crate for your Goldendoodle is to consider their size. If you have a Goldendoodle puppy, you need to factor in whether or not you expect to be a mini or a standard size. If you have a full-grown Goldendoodle,  it's wise to measure your dog from nose to tail and from the top of the back straight down to the paw as your dog is standing. You can also take the measurements while your Goldendoodle is lying down in a stretched position on its side. This measurement will give you an idea of the size you need.
It's important that you choose a crate that is larger than your dog so they have plenty of room to move around and adjust their position as well as stand up without hitting their head on the ceiling of the crate.
If you have a growing Goldendoodle puppy, you can choose a crate size they can grow into. Some of the crates on this list come with a divider that helps your dog grow into the crate. This divider is also suitable if you have two puppies that are going to share the same crate.
Dog Crate Ventilation
The next factor to consider is ventilation. While your dog is in the crate they need plenty of ventilation so they can breathe easily, remain cool, and be cozy. All of the crates mentioned on the list above feature large windows that contain mesh material, metal, or a steel wire design that allows air to flow in all directions.
Where do you plan to use the dog kennel?
One of the biggest factors in purchasing the right Goldendoodle crate is where you plan to use the crate. Do you plan to use it indoors or outdoors on a permanent basis? Or, do you plan to bring the crate inside and outside as weather permits?
The crates on the list that are metal or steel have a coating that protects them from becoming rusted. These crates are ideal for outdoor use as well as keeping your pet safe from other animals.
Something to remember when using dog crates outside is to avoid placing it in direct sunlight because the metal will heat up and can potentially burn your dog's skin if they lean against it. For this reason, placing a dog crate in a shaded area outdoors is recommended.
Most pet parents purchase a dog crate to keep indoors so they know their pet is safe and secure while they are away from home. Other people plan to travel with the dog crate in the car or on a plane. If you plan to use a dog crate to travel by plane contact the airlines of your choice to learn their pet travel guidelines and restrictions then choose the crate accordingly.
However, if you plan to travel with your dog by car any of the collapsible and easy-to-store crate designs on the list is ideal for car travel. Many pet parents enjoy taking their dogs along with them on camping trips. In this case, a soft-sided dog crate is ideal for camping. It's almost like providing your dog with their very own tent.
What type of crate should I get for a Goldendoodle puppy?
Your Goldendoodle puppy is active and playful but they need a safe place to call their own. As a pet parent, it's your responsibility to provide a safe, spacious, and comfortable crate that keeps your pup safe and secure.
When choosing a crate for your Goldendoodle puppy you first need to decide if you want them to grow into it or if you only want it for their puppyhood months.
If you decide you only want the crate while your pet is a puppy, you can choose a small size crate that suits their current weight and size.  Always remember the crate has to be large enough for your Goldendoodle puppy to stand up and move around without bumping their head on the ceiling or feeling too crowded.
Many pet parents choose to get a crate that is ideal for full-grown Goldendoodles like the ones mentioned on the list above. Choosing a large size dog crate for your Goldendoodle puppy helps you save money on buying future crates because your puppy will gradually grow into his full size more quickly than you'd expect.
Many of the crates on the list come with a complimentary divider that allows you to shorten the interior of the crate to suit your puppy's size then once they get bigger you can remove the divider. In addition, the easy-to-use divider it's also beneficial if you have two puppies that are sharing the same crate. It allows you to provide each puppy with its own space.
When choosing a crate for your Goldendoodle puppy you should also consider their habits such as chewing or trying to escape. Most puppies chew on everything in sight which includes their crate. For this reason, you need to choose a dog crate that is durable, sturdy, and long-lasting.
Goldendoodle puppies are very intelligent and often try to get out of their crate to see what's going on in their surroundings. If your Goldendoodle puppy is a bit mischievous and a potential escape artist from their crate, you need a kennel that has a secure latch to prevent them from escaping.
An important necessity to consider when choosing a crate for your Goldendoodle puppy is ventilation. Your puppy needs lots of fresh air and the ability to see outside of their crate. All of the kennels on the list above have optimal ventilation to ensure your pet is healthy and safe during use.
A common mistake made by first-time pet parents is placing a blanket over the top and sides of a wire crate. While this technique is done to help your puppy feel safe and calm, it also blocks air from circulating. If you feel your puppy needs a more enclosed environment to keep him calm, choose an option like the wooden end table dog crate design shown on the list. If you're going to cover the dog crate with a blanket, make sure that you leave at least one side of the crate open.
Conclusion for Best Dog Crate For a Goldendoodle
Providing a safe crate for a Goldendoodle is essential to their well-being and training success. Many pet parents use a dog crate to train their pets as well as keep them safe when they are home alone.
Some dog owners travel with their Goldendoodles and need a crate that is airline-approved. Many choose to purchase a travel crate for that specific purpose and an additional crate for home use. Help your Goldendoodle feel comfortable and secure by purchasing the perfect dog crate to suit their needs.
Garrett loves animals and is a huge advocate for all Doodle dog breeds. He owns his own Goldendoodle named Kona. In addition, he volunteers at the Humane Society of Silicon Valley, where he fosters dogs and helps animals. Garrett enjoys writing about Doodles and believes that dogs can teach humans more about how to live than humans can teach a dog.
Why Trust We Love Doodles?
At We Love Doodles, we're a team of writers, veterinarians, and puppy trainers that love dogs. Our team of qualified experts researches and provides reliable information on a wide range of dog topics. Our reviews are based on customer feedback, hands-on testing, and in-depth analysis. We are fully transparent and honest to our community of dog owners and future owners.