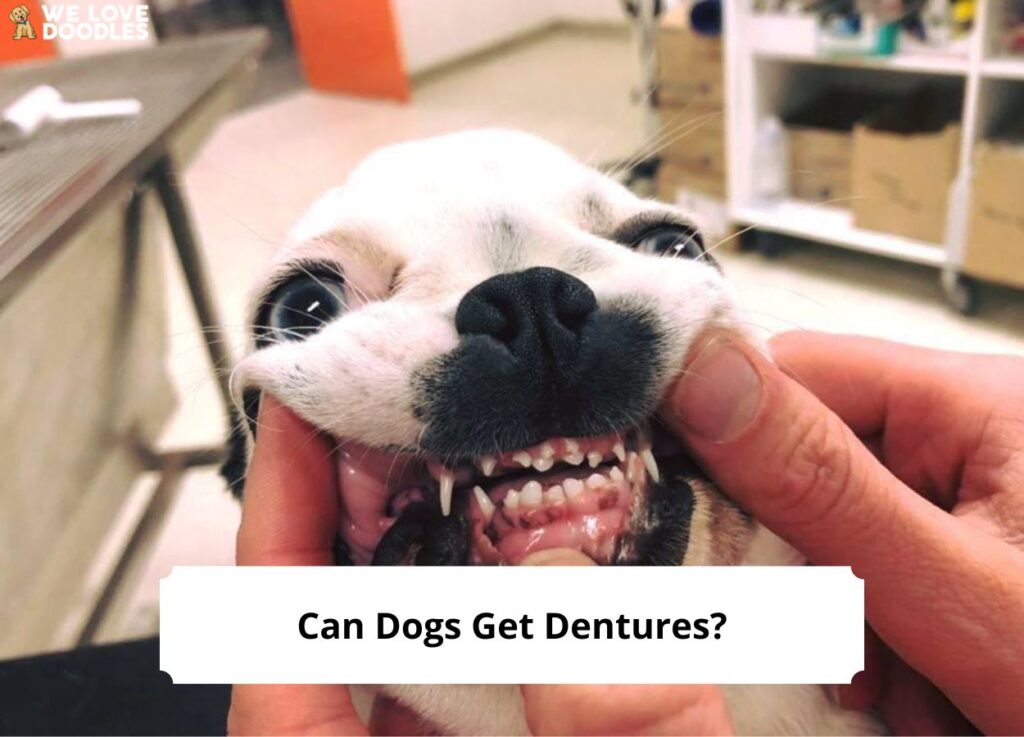 Is there such a thing as dog dentures? After all, dogs and humans have a lot in common! Like us, dogs need proper diet, nutrition, exercise, and mental stimulation to thrive. If these needs aren't addressed, your dog will see undesired consequences.
Also like humans, dogs lose their teeth! This can happen naturally as your dog ages, but tooth loss can also be a result of improper oral hygiene.
If your dog is beginning to lose his teeth, you may be wondering whether dentures for dogs are an option. In short, yes! In this guide, we'll take a look at whether dogs can wear dentures, how to know if your dog needs a set, and other dental tips.
Before reading this guide, "Can Dogs Get Dentures," check out: Do Puppies Swallow Their Baby Teeth? (2023) and Do Dogs' Teeth Grow Back When They Lose Them? (2023).
Why Do Dogs Experience Tooth Loss?
Do you brush your teeth at least twice each day? If so, consider adding your dog to that morning and evening routine! See, your dog needs his teeth brushed, too, as periodontal and other diseases can occur with poor oral hygiene.
Dental disease is the most common cause of tooth loss in dogs. What's worse is that periodontal disease can hurt! When your dog has a toothache, there's little you can do to comfort him. So take care of those little chompers from an early age — tooth decay is no joke.
Of course, your dog can lose teeth accidentally. Chewing on the wrong "toy" or bone, fighting with another dog, or being dropped are just three examples of how your dog may lose a tooth.
This tooth loss isn't usually anyone's fault, but it can be inconvenient and uncomfortable for your dog. For that reason, you may be wondering whether your dog needs — or can even get — dentures.
Can Dogs Get Dentures
Dogs can absolutely get dentures, and there are similarities and differences between dog dentures and human dentures. In many cases, the words "dentures" and "implants" are used interchangeably. More often than not, dentures are permanent false teeth, not removable devices.
If you notice your dog losing teeth, you'll want to schedule a consultation with your vet. She can guide you through the options and X-ray your dog's mouth to determine whether dentures are necessary.
Tooth loss in dogs can cause difficulty eating, shifting of remaining teeth, pain and discomfort, and aesthetic issues. While aesthetics certainly aren't a good reason to give your dog artificial teeth, other reasons may be.
Just as human dentures aren't permanent fixtures, doggy dentures could slip around in your pup's mouth. For that reason, it may be a good idea to chat with your vet about dental implants for your dog. Implants are permanent placements that are not removable and won't wiggle like dentures will.
In short, if you're asking "Can dogs get dentures," the answer is yes.
How Do I Know My Dog Needs Doggy Dentures?
If your dog has periodontal disease, tooth decay, or tooth loss due to old age, it's time to schedule a visit to the vet.
The reasons your dog gets dentures will differ from the reasons a human gets a set. As you may be aware, human dentures are cosmetic. Of course, they assist with chewing and eating, but they're also designed to improve a human's appearance.
With dogs, it's a different story. Your vet likely will not recommend that you have dentures or implants fitted purely for cosmetic reasons. It's simply too costly and invasive for your dog.
So, if your dog is not having difficulty eating and his teeth don't appear to be shifting, your veterinarian will probably tell you to change your dog's diet.
There are a few causes that may indicate the need for more advanced dental care for your dog:
Difficulty chewing food properly.
Difficulty "ripping" or "tearing" food.
Bone loss following the loss of teeth.
Changes in the ability to pick up food or other objects, especially in smaller dogs.
Increased difficulty in controlling the tongue.
Communication with your dog's veterinarian is essential as you make an informed decision about your dog's oral care. Consider the costs and the risks of dentures and implants before making your final call.
How Much Do Dentures for Dogs Cost?
If your dog is struggling with the decline of her oral health, you may be considering dog dentures. You'll want to know what kind of price tag you're looking at, as that's a huge part of the decision-making.
Dentures for dogs can cost anywhere from $350 to $4,000 per set, but this will depend upon the veterinarian fitting them! Implants can cost up to $3,000 per tooth.
Some pet insurance plans may cover your dog's dentures, so check with your provider. Some providers include dental insurance as a part of a standard plan, while others may charge an additional fee.
In a nutshell, dog dentures can be spendy! Carefully weigh the pros and cons with your vet. Together you can determine whether the benefits are great enough to justify the cost.
Pros and Cons of Doggy Dentures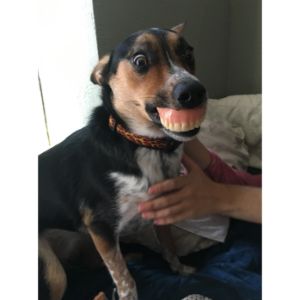 Are you still having difficulty deciding whether oral surgery or dentures are right for your dog? Here are a few fast facts about doggy dentures to help you better weigh the pros and cons.
Your dog's dental health can directly impact his quality of life. Dogs with dental disease are more likely to be diagnosed with kidney and heart disease, among other afflictions.
Doggy dentures can be difficult to keep in place, to remove for cleaning, and to put back in place. Implants are a much more reliable — and permanent — option.
Dentures may be harmful to your dog's gums. This is especially true if they're not fitted correctly.
Dentures for dogs are expensive. With a price tag in the thousands, you and your vet may determine that there are alternative ways, like diet changes, to keep your dog healthy.
Doggy dentures can improve your dog's confidence. While it may sound silly, your dog's mobility and his ability to carry out day-to-day tasks can be linked to his confidence.
Remember: dogs don't have thumbs! They use their mouths to groom, play, and pick up objects. By giving your pup a new, fresh set of teeth you can help him maintain his independence.
Should I Get Doggy Dentures for My Pup?
Whether or not to get implants or dentures for your dog is a decision best made with your vet. If you find your dog struggling with basic tasks as a result of tooth loss, however, it may be a good idea.
As you know, your dog's self-esteem isn't linked to his dental health. So if you're considering implants or dentures for cosmetic reasons, we'd recommend that you reconsider.
On the other hand, if you'd like to assist your dog as he goes about his daily activities, dentures may be a great option! Eating and chewing — even playing — requires a dog to rely on his teeth, so it's your responsibility to make sure your pup has a winning smile.
Frequently Asked Questions
How much do titanium teeth cost?
Replacing a police dog's tooth with a titanium implant can cost up to $2,000.
How do you take care of a dog with no teeth?
In addition to buying special soft food, you should brush your dog's gums, even if it has no teeth.
Can you reverse periodontal disease?
If your vet catches gingivitis early enough, it can be cured. However, if your dog has periodontal disease, it's too late to reverse it.
Conclusion for "Can Dogs Get Dentures"
While not healthy, it's not unusual for dogs to experience tooth loss. Should this happen to your dog, you're likely wondering if you can get some doggy dentures.
In short, yes, dentures and implants are available for dogs. However, they should only be considered as an option if they will improve your dog's health and quality of life.
Speak to your vet about whether dental implants or doggy dentures are right for your fur baby.
If you find this guide, "Can Dogs Get Dentures," helpful, check out:
Learn more by watching "Can Dogs Get Dentures? | Wag!" down below:
Garrett loves animals and is a huge advocate for all Doodle dog breeds. He owns his own Goldendoodle named Kona. In addition, he volunteers at the Humane Society of Silicon Valley, where he fosters dogs and helps animals. Garrett enjoys writing about Doodles and believes that dogs can teach humans more about how to live than humans can teach a dog.
Why Trust We Love Doodles?
At We Love Doodles, we're a team of writers, veterinarians, and puppy trainers that love dogs. Our team of qualified experts researches and provides reliable information on a wide range of dog topics. Our reviews are based on customer feedback, hands-on testing, and in-depth analysis. We are fully transparent and honest to our community of dog owners and future owners.