We've got a list of the top 4 Goldendoodle breeders in Massachusetts to make sure that you can find your Goldendoodle with no problem. We've looked at all of the different information we could find about each of these breeders to make sure that they're not only still out there and available, but that they are legitimate breeders rather than a puppy mill. We did our own independent research as well as researched various breeders from the Goldendoodle Association of North America (GANA) to find the best Goldendoodle puppies in Massachusetts. After all, you want to get a puppy that's going to be healthy and free of genetic diseases.
Other articles you might like: Cavapoo Breeders Massachusetts and Labradoodle Breeders Massachusetts
1. Premier Pups Mini Goldendoodles
Premier Pups works as facilitators between miniature Goldendoodle breeders and dog-loving individuals and families. They remove all the complexity and doubt of getting a quality and healthy puppy.
Since their entire team is passionate about dogs, they have helped many people complete their families. Their happy customers come from all across the country, boasting the experience of getting a best-fit puppy as their new family member.
Premier Pups treats each Goldendoodle puppy adoption like it is their own. They ensure you receive a happy and healthy puppy from their trusted network of breeders. In case of any problems, their on-site staff is there 24/7 to help you from start to finish.
Moreover, they assist you with selecting breeds as per your lifestyle or needs. You can even ask for FaceTime with your furry friend and the necessary information about the dog parents of your potential puppy.
When you order your puppy from here, you will get a 10-year health guarantee, optional pet insurance, and your dewormed puppy. We highly recommend that you check them out if you're looking for a miniature Goldendoodle puppy in Massachusetts.
Update: Premier Pups has an exclusive discount of $250 off a puppy with coupon code WLD250.
Goldendoodle Puppy Information:
Size: Mini Goldendoodles
Generation: All generations
Goldendoodle Breeder Details:
PuppySpot is on the top of our list for Goldendoodle breeders in Massachusetts because they are a large network of reputable breeders. This means that you can get your Goldendoodle today and not have to wait on a long puppy waitlist. As you've probably noticed, Goldendoodles have become so popular in Massachusetts that individual breeders have waitlists of 6+ months. Since PuppySpot is a network of breeders, they have Goldendoodles for sale today, and the process of buying one is extremely easy. You can pick your Goldendoodle by size, generation, gender, coat color, and price. Once you find the exact Goldendoodle puppy you're looking for, you can buy it. If the Goldendoodle puppy you want isn't located in Massachusetts then they will fly it out to you.
PuppySpot is extremely reputable because they only accept less than 10% of all breeders that apply. In order to become a breeder, you have to pass a 100-point inspection that includes being state-licensed and registered. The entire process is supported by the American Kennel Club, which is one of the biggest dog organizations in the world. We had a very good experience using PuppySpot and highly recommend them. You won't have to wait for a puppy and you can pick the exact one you want. This saves you time from interviewing numerous breeders.
Goldendoodle Puppy Information:
Size: Mini, Medium, and Standard Goldendoodle puppies
Generation: All generations: F1, F1B, F2, F2B, etc.
Goldendoodle Breeder Details:
3. American Goldendoodles Massachusetts 
American Goldendoodle Massachusetts is all about Goldendoodles and nothing else. Their dogs are all bred and raised right in their home in the countryside of Massachusetts rather than in a kennel facility. That's because they believe that dogs are meant to be outdoors, running, and playing.
Not to mention, they focus on providing sweet and gentle temperament dogs that are going to be faithful and loving companions for your entire family. Raising them inside a real home also makes sure that your Goldendoodle puppy is going to be well socialized before you ever take it home.
As responsible breeders, American Goldendoodle Massachusetts offers a written money-back health guarantee that says you can return your dog to them for any reason if you decide you don't want it or are unable to care for it. The family has been raising dogs for nearly 30 years, though not all of those years were spent with Goldendoodles. They even had a veterinarian that has bought a puppy from them which means that they are one of the more reputable Goldendoodle breeders in Massachusetts.
Goldendoodle Puppy Information:
Goldendoodle Breeder Details:
4. Morningstar Goldendoodles MA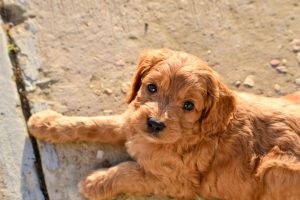 Breeders of both Goldendoodles and Golden Retrievers for over 30 years, Morningstar Farms treats their dogs as part of the family because they believe this makes them even better companions. They teach their Goldendoodle puppies to be sweet and kind by keeping them right in the family until they're ready to be adopted. In fact, they pride themselves on taking as much time as necessary to prepare their dogs for their forever homes and the families that they'll live with.
The adult dogs that are bred to get the puppies are all members of the family, obedience trained, house trained and sweet with everyone. This helps to ensure that their Goldendoodle puppies in Massachusetts will also have similar temperaments. The breeding dogs have also been fully genetically tested to ensure they won't pass along any conditions and they are kept up-to-date on all shots and vaccinations.
We think is one of the better Goldendoodle breeders in Massachusetts because they focus on just two types of similar dogs (Goldendoodle and Golden Retrievers). You'll see a lot of different puppy mills in Massachusetts breed all sorts of different dog breeders simply for profit. 
Goldendoodle Puppy Information:
Goldendoodle Breeder Details:
5. SS Goldendoodles Massachusetts
SS Goldendoodles Massachusetts is a family breeder that owns female Goldendoodles in three different generations, F1B, F1, and multi-generational. The male dogs are a mini and medium F1 Goldendoodle or a pure-breed AKC Poodle.
This ensures that the dogs are high quality and that they have the pedigree that you're looking for as well as being healthy. They come in several different colors from apricot and cream to brown and black, as the dogs that are bred to create them have a wide line of colors in their genes. If you're looking for Goldendoodle breeders in Massachusetts that have a wide variety of coat colors, then this is your breeder.
The application process to get one of these Goldendoodles is actually quite extensive because the family who raises them wants to make sure that their dogs are going to a good home. They want to know about the living situation for the dog as well as things like who is in the home, what other animals are in the home, and more. This helps them to make sure that you are a good fit for one of their puppies and that it's going to be well taken care of.
Goldendoodle Puppy Information:
Generation: F1B, F2 & Multi-generation Goldendoodle puppies
Size: Medium & Standard Goldendoodle puppies
Goldendoodle Breeder Information:
6. Green River Goldendoodle MA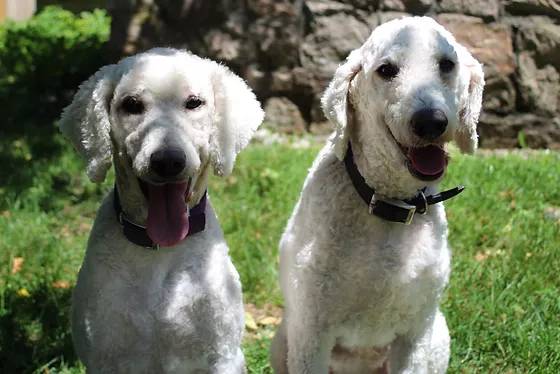 Located in Berkshires, Massachusetts, Green River Goldendoodle breeds beautiful Goldendoodle puppies that will create the perfect addition to your family. Not only that but they make sure to raise them in a healthy and happy environment where they're going to learn socialization, love, and kindness that will carry through to your own home as well. These puppies are given plenty of love and attention to make sure that they will be great companions with the ideal temperament.
The parents are owned by Green River Goldendoodle and include a female, AKC registered, white Standard poodle, a female Goldendoodle, 2 female F2B Goldendoodles, a male Goldendoodle, and a male, full-pedigree Golden Retriever. These dogs all create beautiful Goldendoodle puppies in Massachusetts that are sweet, gentle, and have a range of different beautiful colors and coats as well.
Goldendoodle Puppy Information:
Goldendoodle Breeder Information:
Location: Berkshires, Massachusetts
Phone Number: 413-717-5249
Website: Green River Goldendoodles
Email Address: Info@greenrivergoldendoodles.com
How to Choose a Goldendoodle Breeder in Massachusetts?
When it comes to choosing the right Goldendoodle breeder there are several things that you want to pay attention to. One of the first is the reviews that the facility has. You don't want to buy your puppy from a puppy mill for a number of reasons.
Puppy mills and backyard breeders might not be taking care of their puppies properly, which means you could get an unhealthy dog that has genetic defects. You could also encourage these types of breeders to continue breeding, which means even more puppies would have the same experience. Not to mention you don't know what you're actually getting. They may not even be the breed you expect.
Do Your Homework – Before you buy a Goldendoodle from anyone in Massachusetts you want to do your homework to find out more about them. That means doing some research away from the website of the dog breeder so you can get a better idea of what they have to offer and whether their dogs are really what you're looking for.

Talk to the Breeder – You also want to talk directly to the Goldendoodle breeder in Massachusetts to find out more about the dogs they have. Talk about the adult dogs as well as the puppies and you'll be able to find out a little more about their philosophy and what kind of breeder they are.
Where do you find a Goldendoodle Breeder?
You can find Goldendoodle breeders all over Massachusetts but one of the best places to look is on the website for the Goldendoodle Association of North America (GANA). This organization is one of the best around for keeping safe breeders up and running and getting rid of the bad quality ones. They can help you find a reputable breeder in most parts of the country and other parts of the world.
If you're looking for a Goldendoodle breeder in Massachusetts they don't actually have any GANA certified breeders in the state, but you can submit a request to see if they have any references. You can also take a look at some of the GANA-certified breeders located in states nearby to see if you can drive over to find a puppy for your family.
One of the best things about GANA breeders is that the organization holds them to very high standards to make sure that they are raising their puppies in a specific way and providing you with specific qualifications.
Conclusion for Goldendoodle Breeders in Massachusetts
You can find a great Goldendoodle to add to your family if you're looking at breeders in Massachusetts. You won't have a problem finding the size of the dog that you're looking for or the pedigree that you're looking for.
All you have to do is make sure that you are doing your research or working with GANA to find the right place to buy your dog. That way, you can make sure it's going to be a healthy and happy addition to your family. We hope that you enjoyed our list of the best Goldendoodle breeders in Massachusetts.
Garrett loves animals and is a huge advocate for all Doodle dog breeds. He owns his own Goldendoodle named Kona. In addition, he volunteers at the Humane Society of Silicon Valley, where he fosters dogs and helps animals. Garrett enjoys writing about Doodles and believes that dogs can teach humans more about how to live than humans can teach a dog.
Why Trust We Love Doodles?
At We Love Doodles, we're a team of writers, veterinarians, and puppy trainers that love dogs. Our team of qualified experts researches and provides reliable information on a wide range of dog topics. Our reviews are based on customer feedback, hands-on testing, and in-depth analysis. We are fully transparent and honest to our community of dog owners and future owners.