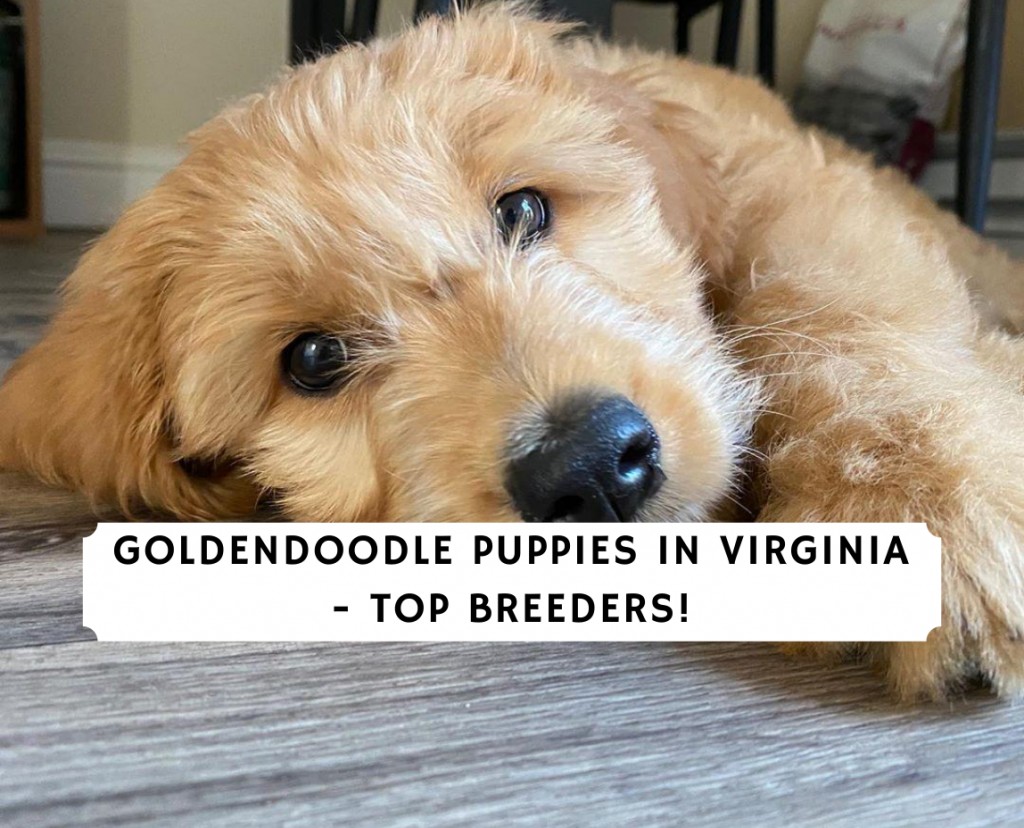 You have likely heard of designer dogs or Poodle crosses like the Goldendoodle. Most of them have the world doodle in the name. A fun name is something that draws attention, but it isn't just the name that makes people fall in love with Goldendoodles.
These dogs have great temperaments, they are hypoallergenic, and they love kids. If you are reading this then you are probably ready to add a Goldendoodle to your home. However, finding Goldendoodle puppies in Virginia can be a daunting task because you want to find a reputable breeder.
We have done a lot of independent research and put together a list of some of the best Goldendoodle breeders in Virginia. We choose a reputable breeder from the Goldendoodle Association of North America (GANA). If you find a breeder that is in your area make sure you contact them to ask questions before putting a deposit down. You want to avoid puppy mills because your dog may have genetic issues later in life.
Other articles you might like: Maltipoo Puppies in Virginia and Cavapoo Breeders in Virginia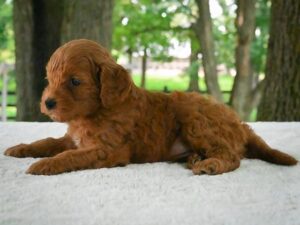 First on the list of the best Goldendoodle breeders in Virginia isn't a single breeder but an entire marketplace that's dedicated to trustworthy breeders. PuppySpot helps connect potential dog owners with their companions. There's no need to worry about encountering a puppy mill because PuppySpot has high standards and guidelines before the breeders can list puppies. There whole breeder selection process is backed by the American Kennel Club (AKC) and they only select breeders that are registered and licensed. For a better perspective on how strict PuppySpot is, they accept fewer than 10% of applicants for their marketplace.
If you're still unsure about introducing your Goldendoodle puppy into your home, you can use PuppySpot's filter to find more specific breeds. You can use their search tool to find dogs that are older than 16 weeks, find teacup puppies, or even find listings with videos of the puppies. With PuppySpot, you can avoid waiting lists and introduce a dog into your household sooner than ever. If the exact puppy you want is not located in Virginia, they will even fly them out to you. We had a great experience with PuppySpot and highly recommend them if you want to get a Goldendoodle fast. Most of the time, you'll have to wait on a long puppy wait list.
Goldendoodle Puppy Information
Generation: F1, F1B, F2, F2B, and Multi-generational Goldendoodle puppies
Size: Mini, Medium, Standard Goldendoodle puppies
Goldendoodle Breeder Details
2. Family Labradoodles and Goldendoodles in Virginia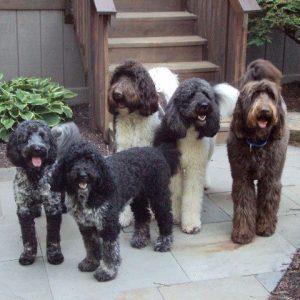 Family Labradoodles and Goldendoodles live up to its name as a family operation based in the state of Virginia. This Goldendoodle breeding program is run by two sisters and they have been breeding dogs for over 20 years. Even though they live in different states, Virginia and West Virginia, they are still close enough to continue in the family business.
They take the raising of their Goldendoodle puppies very seriously. Thus, they have a guardian program with several families to ensure the Goldendoodles are raised in a home. This ensures that the adults in their program are a part of a family from beginning to end and not stuck in a kennel. Also, this Goldendoodle breeder in Virginia does health and genetic testing on all dogs before they become a part of the breeding program. This ensures that the parent dogs won't pass along genetic diseases to their offspring.
Family Labradoodles and Goldendoodles in Virginia are the only breeders of the Goldendoodle Association of North America in Virginia. While there are other reputable Goldendoodle puppies in Virginia, this is the only breeder that has committed to run their program according to GANA standards.
If you are looking for a puppy from Family Labradoodles and Goldendoodles then you will need to get on the waiting list. To get on the list you must first contact the breeders to talk about the process and what you are looking for. If you want to get on the waitlist you also have to put a deposit down to verify that you are a serious buyer.
The deposit for a Goldendoodle puppy is $400 and is non-refundable. It does go towards the final price of a $3500 fee that you would pay for one of these Goldendoodles.
Goldendoodle Puppy Information
Goldendoodle Breeder Details
3. Doodle Dog Pups Virginia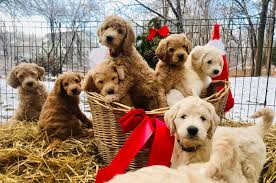 Doodle Dog Pups Virginia started in 2003 when the owner decided that doodle crosses were meant for him. He had always had Labrador Retrievers and bred them for himself without going into business. However, when he saw the appeal of doodles and how great they were for families he decided to switch gears.
Now he only breeds Goldendoodles and Labradoodles. They are mostly F1B generation and typically medium and standard sizes. They do have a litter coming soon, so if you want a puppy from Doodle Dogs then you will need to contact them for more information and put down a deposit.
Doodle Dogs operates differently in that they do not have a waiting list. They do require a deposit of $600 to reserve your puppy, but they don't take deposits until the puppies are born. They want to have an accurate count and know the genders before they start reservations.
The deposit goes towards the purchase price of $2500, that is due when you pick the puppy up.
Goldendoodle Puppy Information
Generation: F1B Goldendoodle puppies
Size: Mini, Medium, and Standard Goldendoodle puppies
Goldendoodle Breeder Details
Location: Bealeton, VA
Email: doodledogpups@aol.com
Telephone: 540-729-6365
4. Old Mill Doodles Virginia
The owners of Old Mill Doodles in Virginia have a lot of experience in the world of breeding dogs. They have been in the breeding of Goldendoodle puppies in Virginia for 28 years combined. They love their Goldendoodles and Sproodles and have become very successful breeders.
Because they are not a small operation they do utilize the guardian program for their breeding dogs. They know that there is no way to treat that many dogs like family and make sure they have a comfortable life within guardian homes.
All of their dogs are health tested as well as undergo genetic testing. This is something that they stand behind to make sure their Goldendoodle puppies will be healthy. All of the puppies that come from Old Mill Doodles go to their new homes with a two-year health guarantee.
The website does not talk about how much the puppies cost or how much the deposit is. All we know is that there is a deposit required to reserve your spot on the waitlist. You will have to contact them for more information. They are one of the bigger Goldendoodle breeders in Virginia on our list.
Goldendoodle Puppy Information
Goldendoodle Breeder Details
5. Deb's Doodles in Virginia
Deb's Doodles in Virginia do not only breed Goldendoodles, but they also breed many different types of doodles. In addition to Goldendoodles, they breed Sheepadoodles and Bernedoodles as well. Deb's Doodles take great pride in their Goldendoodles and treat them like family. The Golden Retrievers that they use in the breeding program are all health and genetic tested. Also, they are imported from England.
They do take reservations and have a waiting list for most of the litters. In addition, they have a few litters coming up and typically sell out before the puppies are born.
It is not clear from their website where the breeding dogs live. They say that the dogs are members of the family and that often nine dogs live in the house at a time. However, we found that there are many more than nine dogs in the breeding program.
There isn't anywhere on the website that says they use guardian homes. However, they could be working cooperatively with other Goldendoodle breeders in Virginia or use a stud service. The price for their Goldendoodle puppies ranges from $2800 to $3300. There is also a $300 deposit that will go towards the final price of the Goldendoodle puppy.
Goldendoodle Puppy Information
Goldendoodle Breeder Details
6. Virginia Beach Goldendoodles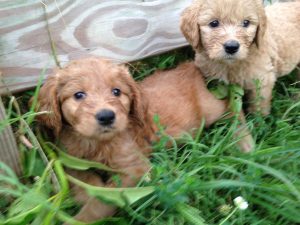 According to the website, Virginia Beach Goldendoodles has been breeding standard-sized Goldendoodles since 2003. That is a long time in the world of dog breeding. While the website didn't tell us that much about the breeder or the operation, it did tell us that they only breed Goldendoodles.
We like to see breeders that specialize in one breed and know all about one type of breed. While many breeders have multiple breeds and do well with those, it is those dedicated to one breed that tends to do it best. Typically they only have a few litters a year which also ensures that they aren't going to be a puppy mill.
They do have litters coming soon so you will want to get on the waiting list and leave a deposit if you are ready to commit. The deposit is $200 but the site didn't say how much the puppy costs. These are one of the better Goldendoodle breeders in Virginia.
Goldendoodle Puppy Information
Goldendoodle Breeder Details
Conclusion for Goldendoodle Puppies In Virginia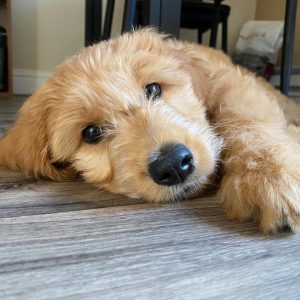 There are many different Goldendoodle breeders in Virginia where you can purchase a puppy. However, not all of the Goldendoodle puppies in Virginia will be healthy so you will want to verify that that the breeder does genetic health tests on the parent dogs. In addition, you will want to try to find a breeder that gives a health warranty on their dogs. Before you put a deposit down for one of these dogs, make sure that you do your research and the breeder lots of questions.
Other articles you might like:
Garrett loves animals and is a huge advocate for all Doodle dog breeds. He owns his own Goldendoodle named Kona. In addition, he volunteers at the Humane Society of Silicon Valley, where he fosters dogs and helps animals. Garrett enjoys writing about Doodles and believes that dogs can teach humans more about how to live than humans can teach a dog.
Why Trust We Love Doodles?
At We Love Doodles, we're a team of writers, veterinarians, and puppy trainers that love dogs. Our team of qualified experts researches and provides reliable information on a wide range of dog topics. Our reviews are based on customer feedback, hands-on testing, and in-depth analysis. We are fully transparent and honest to our community of dog owners and future owners.