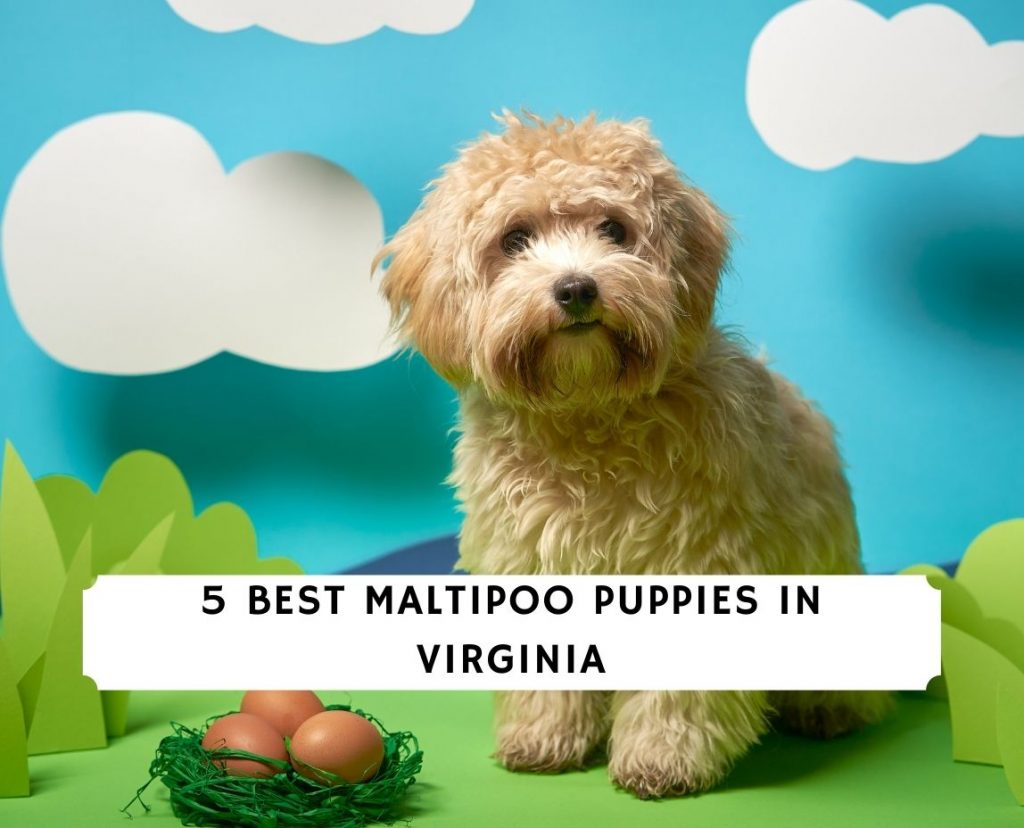 You have probably heard or read of the interesting names Maltipoos have (like Maltoodles!). While these names may seem off-key and out there, they show the depth of love Maltipoo dog owners have for their companions. As a small dog breed, this doodle will be your plus one for the next 12 to 16 years.
You'll witness as the Maltipoo grows into its adulthood and weighs as much as 20 pounds. In your eyes, they will still be that adorable cuddly Maltipoo puppy you brought home in your arms.
If you're in Virginia, you're not alone. Thousands of people are looking for a plus one with low-shedding and hypoallergenic traits which make the Maltipoo a wonderful choice.
To help you out, we have researched and created this list of Maltipoo breeders in Virginia and nearby states. This list is a guide and should complement your own research.
Other articles you would like: Cockapoo Breeders in Virginia and Cavapoo Breeders in Virginia.
1. Windy Way Hills Pups Virginia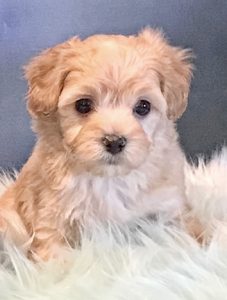 This breeding business is owned by the Barrett family. Cindy and Rick Barrett have a farm in Lebanon, Virginia, where they live and raise Maltipoo puppies and other farm animals. The couple has a vast acreage where their Maltese and Poodles love to run around and take in the beautiful Lebanon area.
When the parent dogs whelp, Cindy Barrett carefully tends to them as they grow up. As the Maltipoos puppies grow in height and stature, the breeder will send you pictures and videos every 7 days to track their progress. This is a great way to make sure that even when you reside in a different city or state, you still are frequently updated
Aside from receiving quality care, the couple socializes their Maltipoo puppies in Virginia with different humans, dogs, farm animals, and scenarios to thrive wherever they go. To reserve a puppy from this pet breeder, you will require a $500 deposit. If you wish to visit the farm, reach out as soon as you are ready.
Maltipoo Breeder Information
2. Puppy Kisses Virginia
For 26 years, this quaint and ideal breeder has helped humans like you find their perfect puppy match. Whether you're looking for a Maltipoo or another furry baby, this is an excellent place to start.
The Maltipoo breeder has extensive CKC champion bloodlines and an exclusive breeding program where only the best dogs get in. Before joining the breeding program, the pet store takes their dogs through a range of broad health tests that range from OFA to DNA testing. This ensures that you will get the best and healthiest Maltipoo puppy for a lifetime.
Before you decide to adopt, Puppy Kisses' staff will take you through the Maltipoo adoption process and answer all queries you may have. Puppy Kisses will also offer helpful resources to guide you in selecting the best companion for you.
The Maltipoo puppies come with a 52-week guarantee and lifetime support. Whether you're on the east coast like this breeder or on the other side of the US, Puppy Kisses can bring you your Maltipoo puppy.
Maltipoo Breeder Information
3. Pauley's Pups VA
Whether you're looking for a cuddler or an energetic doodle, you can't go wrong with Pauley's pups. The Ashland-based pet store has helped dog lovers like you find their ideal companion for over 20 years. Pauley's Pups focus on toy breeds such as Yorkies, Maltese, Chihuahuas, and Maltipoo puppies to mention a few.
The pet haven is keen on who adopts their furry babies. They have a reputation for rejecting pet adoption applications that are not suitable for their puppies. They want to fully verify that will be a responsible puppy owner.
They are available for questions and support even after you adopt a puppy. If you're not the best match for a certain pet breed, Pauley's staff are on hand to help you choose another puppy.
Unlike many breeders, the store has a 10-day period for new pet parents. This allows the pet parents to get their Maltipoo puppies checked by a qualified veterinarian. If there are any diseases or defects, the paw-loving store will refund you $100 additional to purchase cost.
Pauley's Pups have partnered with Easypay finance to offer extra financial support if you require it. You can get up to $5000 with $0 down whether or not you have good credit. The money is interest-free for 90 days.
You can also access four interest-free payments with no impact on your credit score via Paypal. This payment option is not available to residents of North Dakota, South Dakota, Missouri, Wisconsin, New Mexico, and any U.S. Territories. Pauley's pups are open during the weekdays, from 10:00 am to 5:00 pm.
Maltipoo Breeder Information
4. Ginger's Maltese
Ginger's Maltese is a family-owned breeding business. Just like the name suggests, Ginger runs the breeding business with Olivia and Valerie, her daughters.
The trio has been breeding Maltipoos and Maltese for over 10 years and loving them even longer. Ginger traces her love for Maltese and dogs to her 10-year-old self.
The parent dogs live in the trio's households. They keep tabs on all their Maltipoo puppies and ensure the pups are on age-appropriate vaccinations and have 24/7 care. The trio also socializes the puppies with different scenarios, humans, animals, and sounds to equip them to adjust to their new home.
Ginger's Maltipoo puppies for sale cost $2500. A non-refundable $300 deposit is required to hold your spot on the list. When the Maltipoo puppies are born, the trio will update you on the progress via visual media.
The progress updates will continue until you take your Maltipoo baby home at 8 weeks of age. While you're on the waiting list, the breeders will offer resources to puppy-proof your home and prepare for your new companion.
For individuals or families living in the Old Dominion, the breeders offer affordable shipping services that you can take advantage of. If you're in the area or the neighboring estate where ground shipping can take 24 to 48 hours, the breeder can offer free delivery up to 30 miles.
After adopting the Maltipoo, the breeders' check-in quarterly on how both of you are doing. Aside from Maltipoos, the three breeders also produce Poodles, Mini-Goldendoodles, Mal-shi, and of course, Maltese puppies.
Maltipoo Breeder Information
5. Healthy Pups
This family-owned breeding business calls the Roaring River home. The breeder has been breeding and rescuing small dog breeds since 1982. They also have a USDA approved facility that runs a medium-scale breeding operation.
Unlike many other Maltipoo breeders, their puppies are born in quarantine indoors. The Maltipoo puppies are microchipped that will work anywhere in the world in case your puppy gets lost.
All their Maltipoo puppies come with a 1-year guarantee that covers terminal genetic defects. The breeder offers assurance that your pup will be free from the parvovirus when you receive it and after 3 months when you continue to have your furry baby vaccinated.
Their Maltipoo puppies for sale are priced at $2999. If you desire extra financial help, you can make advance payments in preparation for bringing your Maltipoo home.
The breeder provides a hand delivery service to the nearest airport and can work with the shipper of your choice. Aside from breeding Matipoos, you can also find and adopt Bichopoos, Shihpoos, Yorkies, Cavapoos among others here.
Maltipoo Breeder Information
Conclusion for Maltipoo Puppies In Virginia
Bringing home your furry companion will be exciting, joyous, and even a little nerve-wracking. We advise you to research and take time before deciding on a specific Maltipoo breeder or pet store in Virginia. This will help you see through the cracks if something is not right and if your chosen Maltipoo breeder is genuine.
If you're unable to find Maltipoo puppies in Virginia for sale, check out these other locations:
Garrett loves animals and is a huge advocate for all Doodle dog breeds. He owns his own Goldendoodle named Kona. In addition, he volunteers at the Humane Society of Silicon Valley, where he fosters dogs and helps animals. Garrett enjoys writing about Doodles and believes that dogs can teach humans more about how to live than humans can teach a dog.
Why Trust We Love Doodles?
At We Love Doodles, we're a team of writers, veterinarians, and puppy trainers that love dogs. Our team of qualified experts researches and provides reliable information on a wide range of dog topics. Our reviews are based on customer feedback, hands-on testing, and in-depth analysis. We are fully transparent and honest to our community of dog owners and future owners.