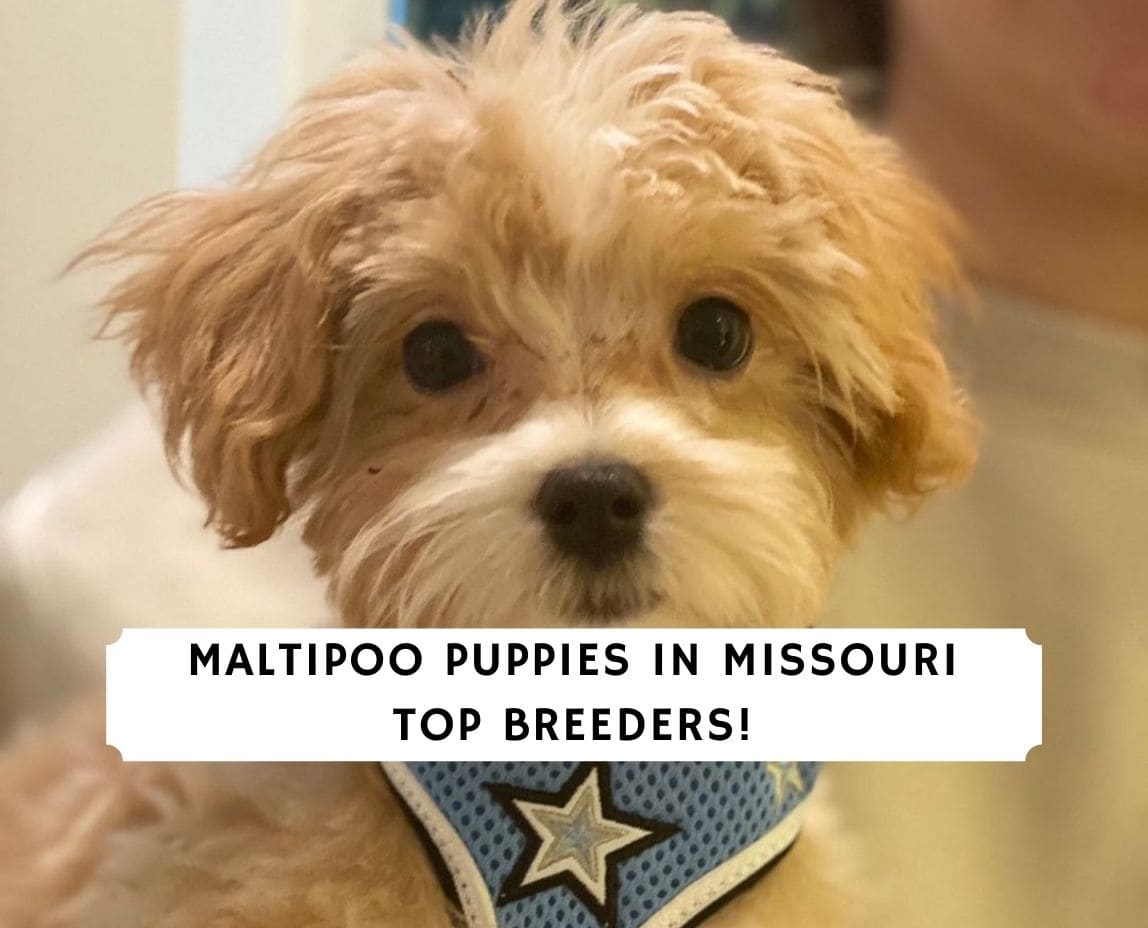 Are you in the market for a small, hypoallergenic, and cuddly puppy? If so, the Maltipoo might be the right choice for you! Maltipoos are a hybrid mix between Maltese and Poodle. These dogs are known for their affectionate and gentle personalities, hypoallergenic coats, and superb health.
If you live in Missouri, there are many Maltipoo puppies for sale. Below is a list of reputable Maltipoo breeders in Missouri. These breeders are willing and able to answer any questions you may have about adopting a new Maltipoo, so contact them with any questions and get ready to welcome home your new furry friend.
Since breeding practices frequently change, we always recommend that you ask any potential Maltipoo breeder several questions before you put down a deposit. It's important that you can trust them to sell you a healthy and happy puppy.
Check out these other articles: Goldendoodle Breeders in Missouri and Cavapoo Breeders in the Midwest.
1. Hearthside Meadows Missouri  
At Hearthside Meadows, their mission is to provide their customers with happy, healthy, and well-socialized Maltipoo puppies. Located in Mountain Grove, Missouri, these puppies are treated as part of the family until they become a part of yours. Every Maltipoo puppy has been pampered with love and grooming before you take them home, so you are guaranteed to receive a beautiful pup.
In order to adopt a Maltipoo puppy from Hearthside Meadows, you must complete an adoption application found on their website. After your application has been reviewed and approved, you will need to pay a deposit to hold your spot on the waiting list for upcoming litters. Once your deposit has been received, you will begin receiving updates and photos of your new Maltipoo puppy until it is ready to go home.
All their Maltipoo puppies in Missouri are taken for a thorough veterinary examination before the time of adoption. This ensures that you receive a healthy puppy. You are even given a 2-year written health guarantee at the time of adoption, so you know that your puppy is in optimal health. Additionally, all parent dogs are health-tested before breeding to ensure that hereditary diseases are not passed down to offspring.
Every Maltipoo puppy comes with a special "Puppy Package" to ensure that you have everything you need to take care of your new dog. This puppy package includes a carrying bag, health guarantee, registration papers, pedigree paperwork, health records, microchip, toys, and a snuggle puppy with the litter's scent to make transitioning to a new home easier.
So, if you are ready to adopt a beautiful and healthy Maltipoo puppy, contact Hearthside Meadows today to get started on your journey to welcoming home your new puppy.
Maltipoo Breeder Information
2. Midnight Acres Kennel Maltipoos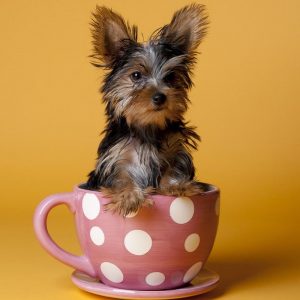 Located in Lebanon, Missouri, Midnight Acres Kennel has provided happy customers with beautiful Maltipoo puppies for over 20 years. At Midnight Acres Kennel, they take pride in their ethical breeding procedures, ensuring that you will receive a healthy and happy puppy.
The puppies at Midnight Acres come with a one-year health guarantee against genetic defects. Each of their Maltipoo puppies in Missouri is also up-to-date on vaccinations and dewormings. All puppies have been thoroughly veterinarian checked before adoption occurs. Additionally, their puppies are also microchipped before adoption. A microchip ensures that if your Maltipoo puppy ever gets lost, you will be able to find it if they are returned to a veterinarian.
You are able to view any available Maltipoo puppies for sale in Missouri on their website. If you want one of these puppies, you can pay a deposit right on their website, and that puppy is yours! Additionally, you can find a form on their website where you can be notified of upcoming Maltipoo litters.
So, if you are interested in adopting one of these affectionate and gentle little pups, then contact Midnight Acres Kennel today. This Maltipoo breeder in Missouri is committed to helping new and experienced dog owners every step of the way of raising their new puppy.
Maltipoo Breeder Information
3. Emily's Maltipoo Pups
At Emily's Pups, every puppy is treated as one of the family. Specializing in small breeds, including Maltipoos, this home breeder is dedicated to helping you find the perfect puppy.
Each of their Maltipoo puppies in Missouri is well-socialized as they are exposed to adults and children of different ages on the regular. These adorable little puppies are born and raised on the family farm, where they have lots of time and space to play and run with the other puppies.
All of Emily's Pups are current on vaccines and have received a thorough check-up from a professional veterinarian. These puppies are not just beautiful and well-socialized, but healthy as well. Each Maltipoo puppy for sale comes with a health certificate stating it has passed a health examination and a one-year health guarantee.
Located directly in Missouri, Emily's Pups accommodates puppy pickup as well as shipping. So, if you find that you are unable to go pick up your Maltipoo puppy in-person, they will ship your new puppy straight to you for a small fee. 
If you are interested in adopting a Maltipoo from Emily's Pups, you will have to pay a non-refundable deposit. This deposit guarantees you will receive the right puppy for you. So, if you are ready to welcome home a new bundle of joy, contact them today!
Maltipoo Breeder Information
4. Mooney Dogwood Hills MO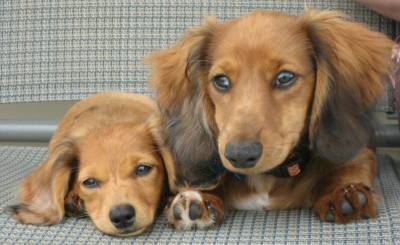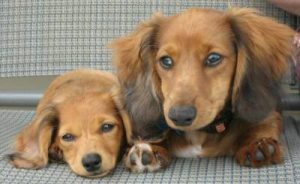 Located on a farm in the beautiful Ozark Hills in Richland, Missouri, Mooney Dogwood Hills is a breeder that specializes in breeding small dogs, including Maltipoos.
The Maltipoo puppies at Mooney Dogwood Hills are well-socialized. They have lots of exposure to adults and children throughout their time on the farm. The puppies here are even familiarized with cats and other dogs, so you are guaranteed to receive a well-socialized puppy at the time of adoption.
All Maltipoo puppies adopted from Mooney Dogwood Hills come with a one-year genetic health guarantee. If your new puppy is found to have a serious genetic disorder before one year of age, you can contact the breeder and receive a full refund.
You can view all their available Maltipoo puppies for sale in Missouri on their website. This will show you the birthdate, price, and a photo of your potential new puppy. Any dog that has already been accounted for is noted, so please contact them if you are interested in adopting a puppy from them. They can help find you your most suitable match.
If you are interested in adopting a Maltipoo puppy from Mooney Dogwood Hills, you must pay a small non-refundable deposit. This will pay for the care of your puppy before it is brought home.
If you are looking for a Maltipoo puppy who is well-socialized with humans and other animals, then contact Mooney Dogwood Hills today and get started on welcoming home your new friend.
Maltipoo Breeder Information
Maltipoo Puppy Pet Stores and Shelters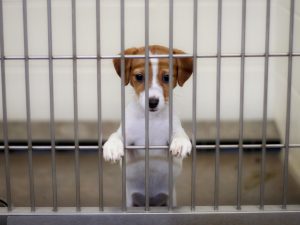 Many Maltipoo breeders are located in Missouri. They are more than willing to help match you with your new best friend. However, if you do not want to adopt a dog straight from a Maltipoo breeder in Missouri, you can always check out local pet stores and shelters for a Maltipoo puppy.
Pet stores often carry Maltipoo puppies because they are such a healthy and adorable breed. If you decide to adopt a puppy from a pet store, please ensure that it uses ethical procedures.
Adopting a dog from a pet store that does not follow health and safety standards can result in you adopting an unhealthy puppy prone to illness. If you have found a reputable pet store, make sure to ask questions about the breeder that supplies the puppies. This will ensure that you receive a healthy and happy Maltipoo puppy.
If you would rather rescue a dog than adopt one straight from a breeder or pet store, then check out some of your local animal shelters. Sometimes people surrender young Maltipoo puppies to shelters because they do not understand the responsibility needed to take care of a dog. Maltipoos are an expensive dog breed because you have to pay for regularly grooming since they are nonshedding. Many people don't understand the costs of a Maltipoo and have to surrender them.
However, oftentimes dogs in animal shelters are older, so you may have trouble finding a newborn puppy. Older dogs have their benefits too, and you may find that helping an older dog get a second chance sounds more fitting for you.
Conclusions for Maltipoo Puppies in Missouri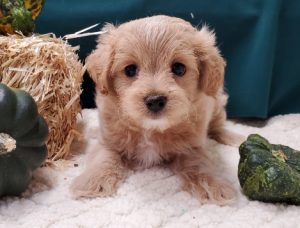 If you live in Missouri and want to adopt a gentle, affectionate, and playful little puppy, then we put together a list of Maltipoo breeders in Missouri to help you with your research.
Contact any of these breeders today to ask about prices, health procedures, shipping procedures, and available puppies, and get started on your journey to welcoming home the newest member of your family.
Other articles you would like: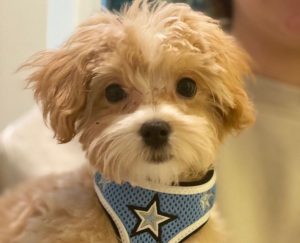 Garrett loves animals and is a huge advocate for all Doodle dog breeds. He owns his own Goldendoodle named Kona. In addition, he volunteers at the Humane Society of Silicon Valley, where he fosters dogs and helps animals. Garrett enjoys writing about Doodles and believes that dogs can teach humans more about how to live than humans can teach a dog.
Why Trust We Love Doodles?
At We Love Doodles, we're a team of writers, veterinarians, and puppy trainers that love dogs. Our team of qualified experts researches and provides reliable information on a wide range of dog topics. Our reviews are based on customer feedback, hands-on testing, and in-depth analysis. We are fully transparent and honest to our community of dog owners and future owners.