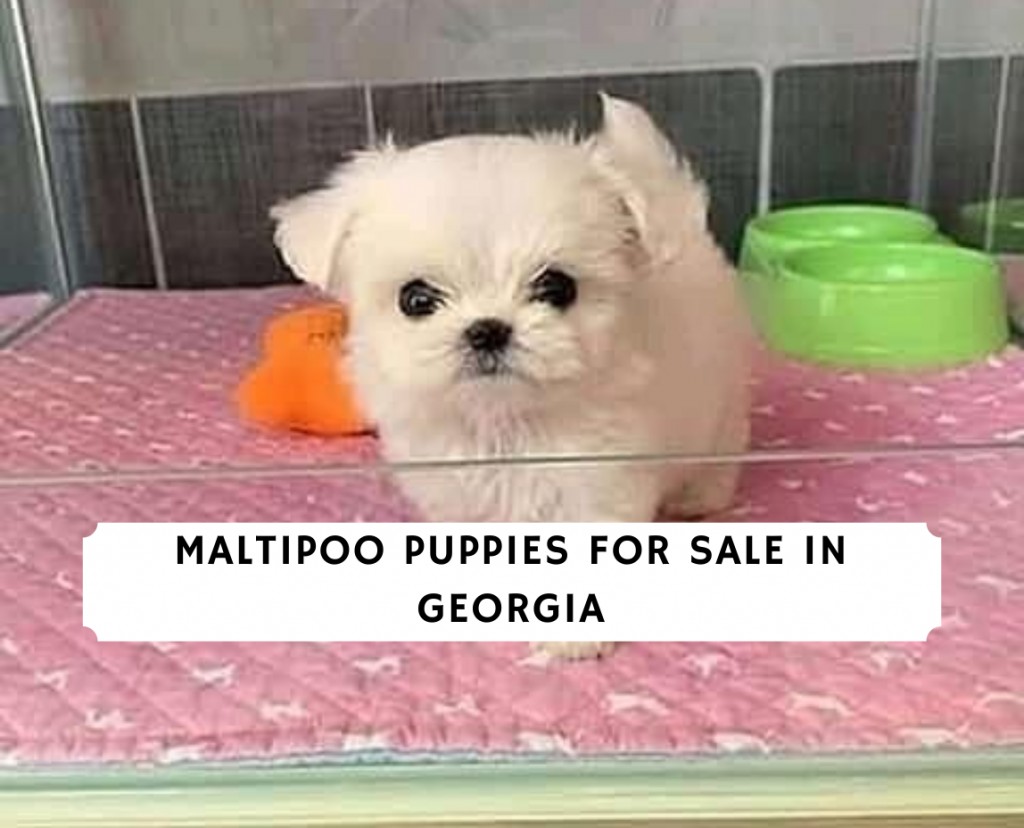 Affectionate, cute, and sweet, Maltipoos are an excellent choice for dog owners looking for companionship. This doodle breed is easy to care for and craves human attention. They adapt easily to small living spaces and make the perfect family dog. This cuddly small dog breed is at the top of the list for many potential pet owners and is growing in popularity. We've seen a surge of Maltipoo puppies for sale in Georgia, but not every breeder is reputable.
If you have your heart set on a Maltipoo puppy in Georgia then these breeders will help you find one of these dogs. In general, there weren't many reputable Maltipoo breeders in Georgia, so we suggest that you ask a lot of questions about health testing, genetic testing, a puppy warranty, and the parent dog's temperament. Ultimately, you want to find a breeder that you can trust will sell you a healthy and happy Maltipoo puppy in Georgia.
Other articles you would like: Best Dog Food for Maltipoo and Maltipoo vs Cavapoo.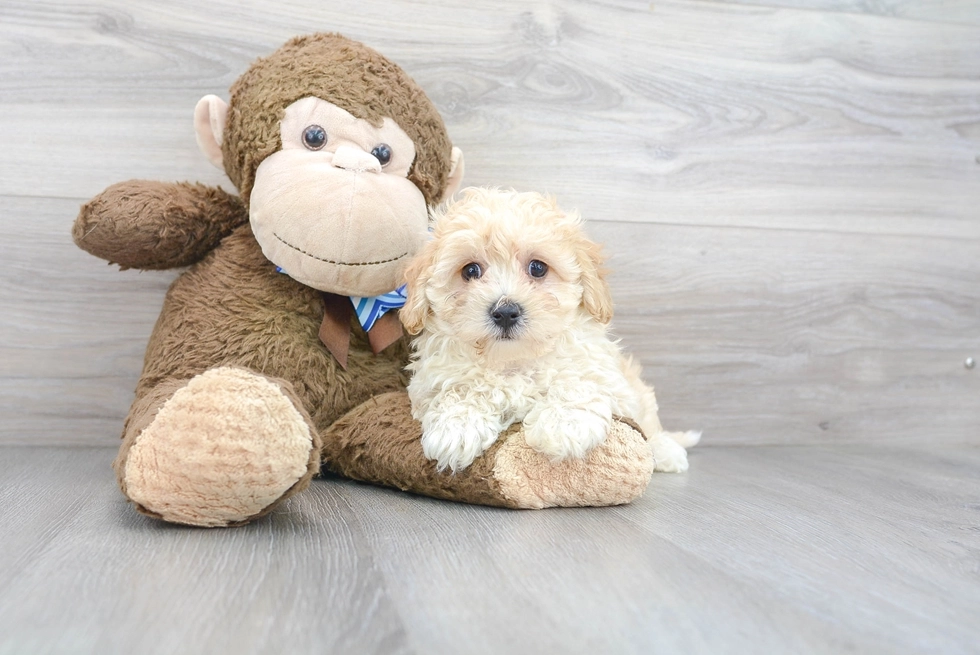 Premier Pups is a single platform for finding a small breed puppy from America's best breeders. They provide hassle-free processes for getting a Maltipoo puppy from its breeder to your loving home.
They also offer paw-date facilities at their premises in Ohio if you're interested in visiting them. Also, you can visit their property after booking an appointment to meet your puppy before purchasing it.
All their Maltipoo breeders have to go through a series of tests, interviews, and other evaluations at Premier Pups. Therefore, you may rest assured that your puppy did not come from a puppy mill. Each Maltipoo breeder has to be state-registered and inspected.
They also provide excellent delivery options if you are not near Ohio. Thanks to their efficient transportation and logistical systems, they have partnered with airlines and special vans that take care of the comfort and safety of your puppy.
You can also get attractive interest-free financing options depending on your credit profile when ordering a puppy through them. They ensure the selected breeder thoroughly inspects, deworms, and vaccinates your little pal before giving it to you, along with a 10-year health guarantee. We got one of our doodles from Premier Pups and couldn't be happier.
Update: Premier Pups is offering $250 off a new Maltipoo with code WLD250. Their puppies are extremely affordable compared to some of the other breeders on our list.
Maltipoo Breeder Information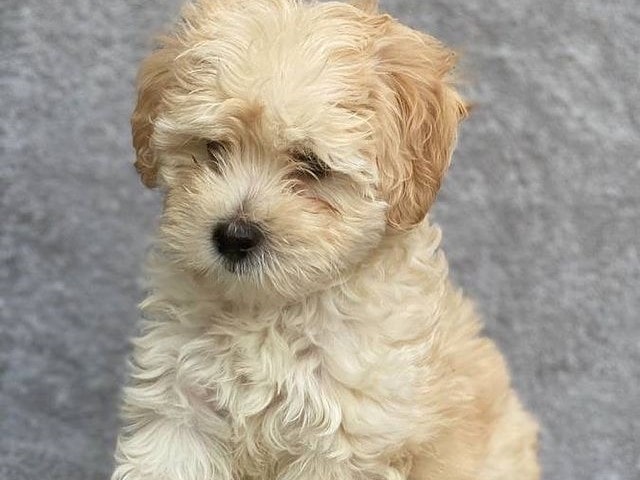 There aren't a ton of reputable Maltipoo breeders in Georgia. However, PuppySpot does all the research for you because they have all reputable breeders that are licensed, registered, and screened before they can even list a Maltipoo puppy. Since this process is backed by the AKC, you can guarantee that you won't be supporting a puppy mill and will get a healthy Maltipoo puppy.
Since Maltipoo puppies are so popular, if you go with an individual breeder, you will likely be waiting over 6 months to get your puppy. You also won't be able to get your choice of the litter unless you sign up really early. At PuppySpot, you can get your Maltipoo immediately and sort by gender, color, age, and even see videos of your future puppy. They also don't list puppies before they are born, so you can ensure that you get exactly what you want.
If the exact Maltipoo puppy you want isn't located in Georgia, then PuppySpot will fly it out to you using their own airline. This ensures the safety of the Maltipoo puppy which other individual breeders can't guarantee. We had an awesome experience using PuppySpot and recommend that you check them out before scrolling down.
Maltipoo Breeder Information
3. Sherry's Maltipoos Georgia
This is by far the most reputable Maltipoo breeder in Georgia. This breeder breeds Maltipoos from champion bloodlines to ensure good DNA and lessen the risk of developing inherited health issues. Sherry's Maltipoos has a smooth application process and guarantees that when you buy a puppy from her they will be at the beginning stages of potty training, crate trained, received their veterinarian health check at 6 weeks, and up to date on their puppy shots. You can ensure that you will be getting a healthy and well socialized Maltipoo puppy from them.
In addition, their Maltipoo puppies in Georgia also come with medical records from a veterinarian. If you aren't located nearby you can inquire about shipping options as well. Visit Sherry's website to see pictures of available Maltipoo puppies for sale in Georgia and learn more about purchasing a healthy Maltipoo. 
Maltipoo Breeder Information
4. Preferable Pups Georgia
Preferable Pups isn't an independent Maltipoo breeder in Georgia. Instead, this service connects you with local Maltipoo dog breeders throughout the state of Georgia. This makes searching for the best breeders in your specific area quick and easy. The application process is smooth and the site provides pictures and details about the Maltipoos available for purchase and adoption in your area. You can get started searching for a Maltipoo breeder in Georgia by visiting the website and filling out the application. 
We do ask that if you decide to purchase from this breeder that you ask a lot of questions. Since this is a pet store, they may not adequately check all the breeders on their website. It's your job to ask questions and make sure you're purchasing a healthy puppy. Maltipoos tend to live over 13 years, so it's important that you get one that will be healthy.
Maltipoo Breeder Information
5. Victorian Paw Prints Georgia
Kristen Farley owns and operates her Maltipoo breeding business from Eatonton, Georgia. She's one of the two independent and reputable Maltipoo breeders in Georgia that we could find.
The Maltipoo puppies are raised under her watchful eye and have plenty of room to run and play. This dog breeder is licensed and inspected by the Georgia Department of Agriculture and Putnam County. Kristen raises healthy Maltipoo puppies for sale in Georgia and posts available litters online for you to view. You can get to know more about Kristen's Maltipoo breeding program and available puppies when you visit her website or text her directly. 
Maltipoo Breeder Information
6. Petland Mall of Georgia
Petland Mall of Georgia is an excellent place to purchase a Maltipoo if you don't feel comfortable dealing with a private breeder. This is a pet store that only uses responsible and ethical Maltipoo breeders in Georgia to ensure you get a healthy and happy puppy.
They have friendly customer service and everything you need to start raising your puppy from the moment you purchase him or her. You can browse available puppies online and inquire further by filling out the contact information at the bottom of the home page on their website.
They offer a wide range of services to help you range a happy healthy dog. Petland also has locations throughout the entire state of Georgia for your convenience. Since they are a pet store, you should always ask questions and do your own research.
Maltipoo Breeder Information
7. Good Dog Georgia
Good Dog is a breeder network that connects you with Maltipoo puppies that are raised with high standards and in healthy conditions. The application process is easy and puts you in contact with the perfect dog for you and your family. You can browse the website to see current litters of Maltipoos available for adoption and purchase in Georgia.
However, you need to act quickly because these healthy Maltipoo puppies get bought out quickly and you will need to wait for the next litter to be born. Start the application process by visiting the website and clicking on "contact a specialist". Again, this is a pet store so you should always try to connect with the original breeder and ask several questions!
Maltipoo Breeder Information
Is it safe to buy a Maltipoo online? 
Yes. Due to the recent quarantine guidelines many pet parents have become comfortable purchasing or adopting a dog online. Online Maltipoo breeders in Georgia usually make the process easy and enjoyable. They provide details, health information, pictures, and sometimes live videos. Some breeders also offer shipping options that deliver your adorable puppy directly to your front door! 
However, always make sure to ask questions to any online breeder. You want to get the healthiest puppy possible and there are many pet stores selling Maltipoos from puppy mills.
What if I can't pay the entire amount at one time? 
As a responsible pet parent, you always want to make sure you can afford the costs of raising your Maltipoo puppy with dog food, water, a clean home, and veterinarian care. Some pet parents pay for their puppy in cash or use a credit card while others prefer to make small payments over a period of time to fulfill their financial obligation. If you are a potential pet parent that is interested in financial options you can ask the breeder of your choice for more details. 
How to Choose an Online Maltipoo Puppy in Georgia
Choosing a puppy in person is easy because usually as soon as you scoop one of the puppies from the litter into your arms your heart melts and you decide that is the Maltipoo for you! When you are purchasing a puppy online the situation is a bit different but also provides an element that you can't get when purchasing a dog in person. 
Shopping online for a dog makes it easier to set your emotions aside and ask the breeder important questions such as health conditions and personality traits that are directly related to that specific litter. By not having the Maltipoo puppy in your arms you are less willing to accept a not-so-perfect puppy. 
Choosing a Maltipoo puppy online begins with contacting a reliable dog breeder online and viewing their available puppies. Once you decide on a puppy you will begin its adoption and application process. Every Maltipoo breeder in Georgia has its own process so make sure you provide them with the details they need to ensure you provide them with a good view of how you will be raising your puppy. 
Once you have been approved for your Maltipoo puppy it will be time to take them home or request a safe and humane delivery to your doorstep. These are arrangements you can make directly with the breeder. 
What is a health guarantee? 
Maltipoo breeders who are upfront and honest feel comfortable providing each new dog parent with a puppy health guarantee. This is a certificate from a licensed veterinarian who has conducted a thorough exam to determine whether the puppy is healthy and approved to be adopted or purchased. The breeder will typically offer a 1 or 2-year health guarantee to cover or replace any Maltipoo puppy costs.
This certificate also boosts your confidence and ensures that you are buying a healthy puppy. Beware of breeders who do not provide a health guarantee or any health information regarding the puppy. There are a variety of scammers who breed dogs only for the money and don't care about the health or well-being of their Maltipoo puppies for sale in Georgia. 
These breeders are often quick to sell the puppy and don't usually have an application process. For example, if you are able to buy a puppy in 5 minutes with no paperwork or health information you should be concerned and consider the increased risks of getting an unhealthy dog that will require frequent veterinarian visits. 
Can I have a Maltipoo puppy shipped to Georgia? 
All of the breeders and sellers on the list above serve the entire state of Georgia. Some of the private breeders are willing to sell to customers from more than 100 miles away but require the puppy to be picked up from the breeder's location while others simply offer shipping options that can have the dog delivered to your home. 
The Petland option on the list has store locations in local shopping plazas throughout the state of Georgia. This makes it easy for pet parents to go inside the store and purchase a puppy as well as other essentials such as food, toys, and a dog bed. 
Conclusion for Maltipoo Puppies for sale in Georgia
When you contact or visit any of the Maltipoo breeders on this list you will surely be greeted with friendly customer service and an easy application process! Find your new furry family member today! Remember to always ask many questions and make sure you can trust any breeder before putting down your deposit!
Check out these other articles:
Garrett loves animals and is a huge advocate for all Doodle dog breeds. He owns his own Goldendoodle named Kona. In addition, he volunteers at the Humane Society of Silicon Valley, where he fosters dogs and helps animals. Garrett enjoys writing about Doodles and believes that dogs can teach humans more about how to live than humans can teach a dog.
Why Trust We Love Doodles?
At We Love Doodles, we're a team of writers, veterinarians, and puppy trainers that love dogs. Our team of qualified experts researches and provides reliable information on a wide range of dog topics. Our reviews are based on customer feedback, hands-on testing, and in-depth analysis. We are fully transparent and honest to our community of dog owners and future owners.