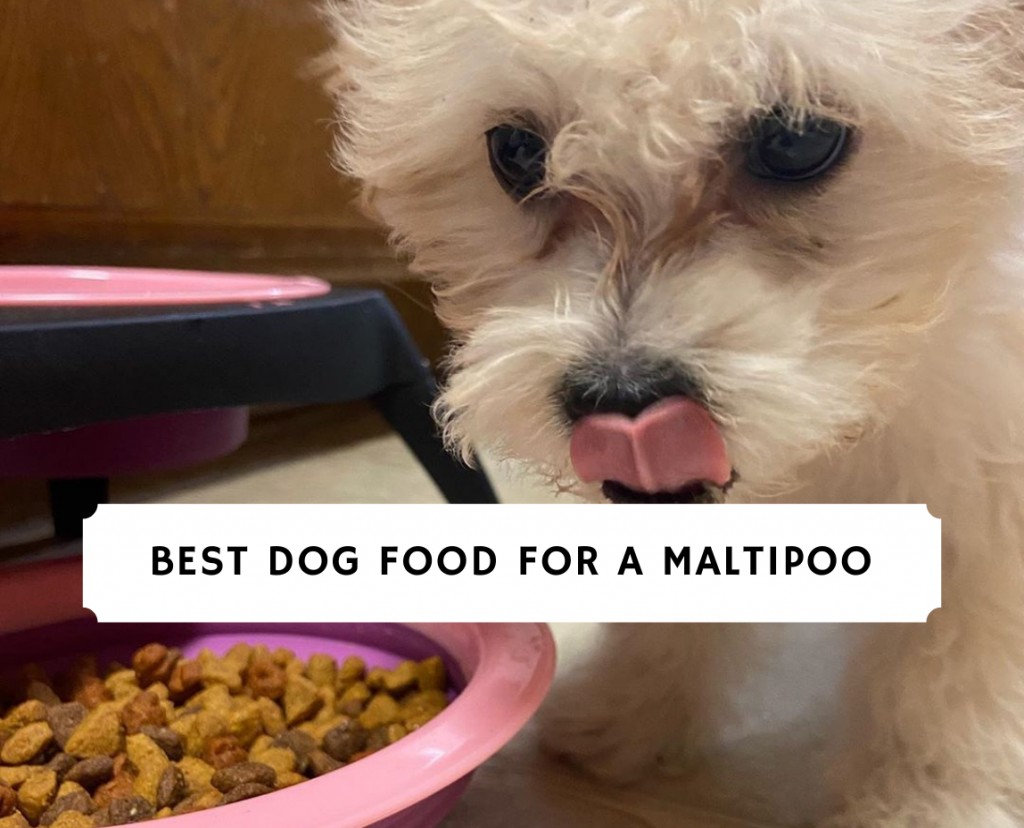 Your cute little Maltipoo requires proper nutrition to help them remain active and healthy throughout their lifetime. Providing a balanced and complete diet for your dog might seem overwhelming when you don't know which dog food brand to pick and what to look for when choosing a dog food for a Maltipoo.
In general, you're going to want to pick a small to medium-sized dog breed food to feed your Maltipoo. The kibble sized is going to be much smaller so your dog can easily chew and digest it without choking. In addition, you're going to want to make sure that there are essential fatty acids like Omega 3 or 6 to support your Maltipoo's hypoallergenic and nonshedding coat. Lastly, you'll want to buy a high-quality dog food for your Maltipoo with no filler ingredients.
As a busy pet parent, you don't have time to search for endless hours to find the perfect dog food, so we did the research for you and compiled the list below that has the best dog foods for Maltipoos available in the market today. The only thing you need to do is choose the one that suits your dog's needs the best and place your order! 
In a rush? Here are the top picks!
Product
Best Overall
Wellness Core
Best for Puppies
Castor & Pollux
Best Wet Dog Food
Merrick
Image
The Hill's Science dry dog food for small breeds is perfect for Maltipoos. It is a veterinarian recommended adult dog food that features omega-6 fatty acids and vitamin E that promote a soft coat and healthy skin. This is exactly what your Maltipoo needs to keep a soft coat that prevents mats and tangles. 
The combined ingredients in this dog food are easy to digest for small dogs like the Maltipoo and are excellent for dogs with sensitive stomachs. This specially formulated antioxidant blend is specifically created for lifelong immune support and will certainly keep your Maltipoo healthy over the course of their life.
The high-quality protein and natural ingredients help maintain lean muscle in small dogs such as your adorable Maltipoo. Hill Science dog food is also made in the United States for quality control. You won't find any filler ingredients in this dog food as the top ingredients are chicken, rice, and soy grain. It's specifically packed with dense nutrition for small dog breeds like the Maltipoo.
Blue Buffalo is a  high-quality adult dry dog food for small breeds that features real meat as the first ingredient. The high-quality protein from natural chicken is responsible for building and maintaining healthy strong muscles. If your Maltipoo doesn't like chicken as their main source of protein, they also have fish and lamb.
Other healthy ingredients in this dog food include fruits, vegetables, and grains which provides a balanced diet. It's specially formulated with your small dog's health in mind and contains increased amounts of protein and carbohydrates to keep up with your Maltipoo's energetic and nutritional needs. 
This dry dog food features something special called LifeSource Bits that is an exclusive and precise blend of vitamins, antioxidants, and minerals that are selected by animal nutritionists and holistic veterinarians. These special ingredients boost and support the immune system as well as satisfy all nutritional requirements. 
This dog food does not contain soy, wheat, corn, by-product meals, or artificial preservatives or flavors. A lot of Maltipoo are sensitive to these types of ingredients because they may cause allergies. If you notice that your Maltipoo is excessively itching, licking their paws, or biting themselves they they might have a food allergy. The calorie content is 397 Kcals per cup which is the perfect serving size for your Maltipoo.  
The Wellness Core Natural is the best dog food for mini Maltipoos! It contains optimal levels of nutrition and the perfect calorie content that supports your adorable dog's energy needs. It was designed for small breed dogs like the mini Maltipoo and contains an optimal mix of proteins and carbohydrates. 
This dog food doesn't contain artificial preservatives, fillers, or meat by-products. The omega fatty acids, taurine, probiotics, glucosamine, and antioxidants work together to support heart and overall good health. In addition, the fatty acids are going to be useful for your mini Maltipoo coat. 
This dog food is made with the finest ingredients that are globally sourced. The specially formulated natural ingredients are non-GMO. This healthy dry dog food for a Maltipoo features high-quality wholesome grains and proteins that provide a complete and balanced diet that is packed full of nutrition. It's made in the United States and has a small kibble size that is easy for your dog to digest.
Diamond Naturals is a high protein dog food for Maltipoo puppies. It features cage-free chicken as the main ingredient and supports lean muscle. The high protein ingredients combined with added minerals, vitamins, vegetables, and fruits create a balanced and complete diet for your Maltipoo puppy. 
Diamond Naturals is the best dog food brand for Maltipoo puppies because it is specially formulated to support overall good health and keep up with your puppy's energetic personality. Other ingredients include a fatty acid blend and antioxidants that help maintain healthy skin and a shiny coat. This is important if you want to keep your Maltipoo puppies coat soft.
Your puppy will easily chew on the specially designed kibble bites that support easy digestion. The ingredients also include proprietary probiotics and DHA that are needed for vision and brain development during puppyhood. This dog food doesn't contain fillers, wheat, corn, artificial colors, flavors, or preservatives. It's a high-quality puppy dog food at an affordable price point.
The Wellness Complete dog food for small breeds contains high-quality wholesome grains and proteins that are carefully chosen to provide balanced nutrition that contains the nutrients and vitamins that your Maltipoo needs for a lifetime of good health. 
This dog food doesn't contain fillers, meat by-products, artificial flavors or preservatives. The top ingredients are real turkey, chicken, salmon, and oatmeal all in one bag. The ingredients also contain healthy ingredients such as taurine, probiotics, glucosamine, antioxidants, omega fatty acids that support a healthy heart and immune system. 
This is one of the best dog foods for mini Maltipoos since it provides a complete and balanced diet and is made with wholesome non-GMO ingredients and a tasty recipe that your dog will love! The kibble is also small in size that will prevent chocking if your Maltipoo doesn't like to chew their food.
The Castor and Pollux grain-free organic pet food is USDA organic certified and specially created for small puppies. This high-quality pet food contains organic chicken, sweet potato, flaxseed, coconut oil, blueberries, and other healthy ingredients that are great for a Maltipoo puppy.
It's grain-free and doesn't contain wheat, corn, grains, or soy which are typically ingredients that dogs are allergic too. The probiotics and prebiotics provide the fiber your Maltipoo needs for healthy digestion. Overall, this dog food is an excellent option for dogs that are experiencing allergic reactions or are constantly itching themselves.
Pet parents who are trying to determine the ingredient their dog is allergic to will benefit from trying this organic dog food with natural ingredients. The main ingredients of this dog food are organic chicken, organic chicken meal, and organic sweet potatoes. 
Cesar Gourmet is the best wet dog food for Maltipoos available on the market today. It comes in variety packs with flavors that include filet mignon, porterhouse steak, filet mignon flavor with bacon and potato, prime rib, grilled steak and eggs, and New York strip with potatoes and summer vegetables. Honestly, your Maltipoo will love this wet dog food and it's one of the most popular brands in the United States.
This tasty and nutritious wet dog food is made with real USA beef as the main ingredient and protein source. It's also fortified with essential minerals and vitamins that meet the nutritious needs of Maltipoo puppies. Wet dog food is great for your Maltipoo if they tend not to drink as much water as they are supposed to. Wet dog food contains a significant portion of water that rehydrates your Maltipoo!
This wet dog food can be used as a single meal or as a topper to dry kibble. The convenient tray features a peel-away tab that seals in freshness if you don't want to feed your Maltipoo a full container.
Does your Maltipoo prefer wet dog food? Some pets are spoiled and enjoy the delicious flavor, smell, and texture of wet dog food and often refuse to eat dry kibble. If you are looking for nutritious wet dog food for your Maltipoo, this is the one you need! It's also great as a topper to dry dog food!
This grain-free natural wet dog food is made with high-quality ingredients and comes in a variety of flavors that even picky eaters will enjoy. The most popular flavors include colossal chicken dinner, big Texas steak tips dinner, and pappy's pot roast dinner. All of the recipes include big chunks of deboned chicken or beef that are marinated in a tasty gravy. This dog food doesn't contain any preservatives, flavors, or colors and is one of the best wet foods for your Maltipoo.
How to Choose the Right Dog Food for Your Maltipoo
Understanding and knowing your pet's nutritional needs is easier than you think. Usually, a veterinarian will offer nutrition and diet advice during your puppy's first office visit. In addition to helpful advice, all dog food packages will have labels that guide you on proper nutrition for dogs that are determined by their age and weight. 
Some Maltipoos are more active than others and require a high carbohydrate diet for their high energy needs. If you have an active dog that burns off energy most hours of the day you'll want to feed your dog more food that is high in protein. 
Small Dog Breed Dog Food
The pet industry and dog food manufacturers have done research and studies that revealed the unique nutritional needs of small dog breeds such as Maltipoos. Since this small dog breed is usually active, especially during their younger years, a complete and balanced diet is essential for their overall health.
You'll want to buy a small dog breed food because Maltipoos are typically little. Since these dogs are small, they often times have smaller mouths that make it difficult to digest larger kibble sizes. Small breed dog food is specifically designed to have small kibble that is easily digestible.
Balanced Diet
All of the dog foods on the list shown above are complete and balanced diets you can count on to provide optimal nutrition for your small Maltipoo. The formulas include a combination of ingredients such as protein, carbohydrates, vitamins, minerals, fatty acids, and other nutritional ingredients that differ from brand to brand.
Maltipoos will want fatty acids and oils inside of their dog or puppy food because this helps to support their hair that doesn't shed. It also helps to maintain a soft coat that is free of tangles and mats.
Find the Right Protein and Texture
Finding the right food for your dog means choosing the one that suits your pet's nutritional needs and life stage the best. For example, there are a few choices for the best dog food for picky Maltipoos. If your dog is a picky eater and refuses to eat the current brand of dog food you offer them, you can choose one of the options from the list to help encourage them to eat. 
An excellent way to help your picky eater is to find out the taste they like the best. Does your pet gobble up chicken, lamb, or salmon kibble bits but refuses to eat vegan options or vice versa? If so, choosing a tasty food option is the most important action you can take to help your picky eater consume their meal every time.
Another helpful tip is to moisten dry kibble with a splash of water because sometimes it's the texture that is bothering your dog. Some dogs prefer soft chewy kibble bits compared to crunchy textures. Softening the dry kibble with a small amount of water is also helpful for elderly dogs that have missing teeth or difficulty chewing. 
You can feel confident choosing any of the dog food brands on the list above because they meet nutritional needs and are packed with a flavor your dog will enjoy! 
What's the difference between dry and wet dog food? 
Most first-time pet parents don't know whether to choose wet or dry dog food for their pets. Since most dogs enjoy the texture, smell, and taste of wet dog food many pet parents make the mistake of feeding canned dog food as the main food source. While there is nutritional value in wet dog food it's important to implement dry kibble into the diet to create well-balanced nutrition and flavor.
Often times, wet dog food for your Maltipoo is going to be more expensive in the long run. However, if you can afford to constantly feed your Maltipoo wet dog food then there really is no downside besides the fact that the food typically smells worse. A benefit of wet dog food is that it also contains a high amount of water which is great because dogs typically don't drink as much as they are supposed too.
Is it safe to mix wet dog food and dry kibble dog food? 
Yes. It's safe to mix wet and dry dog food to create a tasty meal for your Maltipoo. Wet and dry dog food can be served on its own or combined together. It depends on your Maltipoo's taste preference. Some dogs will gobble up wet dog food in a bowl since it closely resembles natural meet sources while others will enjoy crunching on every piece of kibble to satisfy their hunger.
Every dog has their own eating habits and preferences the key is to understand your dog and provide them with the food they want while still meeting their nutritional needs. 
What food should I get if my Maltipoo has allergies?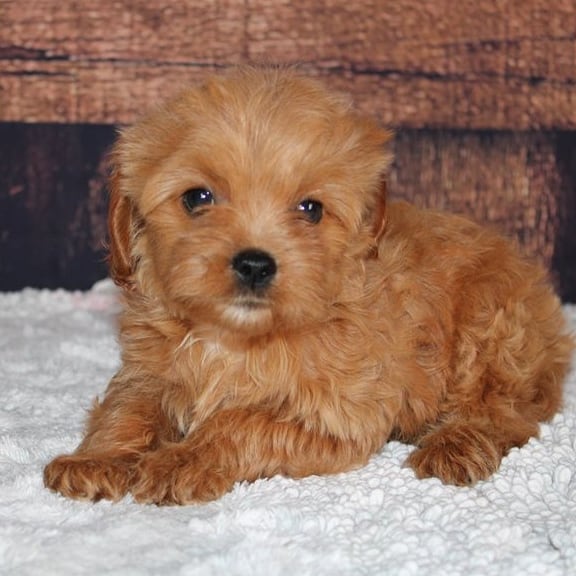 Dogs that experience food allergies often show the following signs and symptoms: 
Diarrhea
Vomiting
Excessive scratching
Sneezing
Itchy ears
Runny eyes
Chronic ear infections with a strong odor
Excessive licking 
Inflamed, red skin
Swelling of the ear flaps, eyelids, lips, face, or ears
If your dog shows any of the signs and symptoms of an allergic reaction to their food it's best to consult with a veterinarian. The veterinarian will examine your Maltipoo to confirm it's a food allergy. Once your dog is properly diagnosed with food allergies it's important to remove the allergen from your dog's diet. 
Sometimes removing the allergen is easier said than done, especially when you don't know the exact allergen. Since it's difficult for most veterinarians to pinpoint the exact ingredient in your dog's food that is causing the allergic reaction, you need to have patience and work through a trial and error process. 
This process involves eliminating food from your dog's diet and introducing it back into the diet. Unfortunately for your dog, this process is usually a bit uncomfortable since they will sometimes experience an allergic reaction. However, the good news is, the allergic reaction happens quickly so you can eliminate it from your dog's diet fast. 
For example, let's say you are currently feeding your Maltipoo a chicken and grain dry kibble recipe. It's nutritious, meets the needs of your dog's life stage and your dog seems to enjoy the flavor. However, your dog is showing signs of food allergies and now you need to change the food, but is your dog allergic to chicken, grain, or maybe another ingredient in the kibble? This is where the process gets very tricky. 
To make the process easier, consider the most common food allergens for dogs. The most popular ingredients in dog food that cause allergic reactions are grains, wheat, soy, corn, eggs, meat by-products, and artificial flavors, colors, or preservatives. 
When narrowing down the ingredient it's wise to try a grain-free dog food option first. Most grain-free dog foods are organic and eliminate other common food allergens as well. Almost all of the dog food options on the list above don't have ingredients that are known to cause allergies in dogs which means you can feel confident choosing a healthy option from the list. 
Once you decide to change your dog's food there's another issue to consider which is the gradual elimination process. A dog's digestive system is sensitive and quick food changes can create stomach upset, vomiting, and diarrhea. While it's your instinct to completely change the food to remove the allergen immediately from your dog's diet, it can also cause another set of issues such as digestive problems. Only switch out your dog's food for the new option all at once if a veterinarian recommends it. 
Generally, you need to introduce the new food into your dog's diet in small portions. For example, if you feed your dog 1 cup of dry kibble, remove ¼ of the old dog food and replace it with ¼ of the new food. Continue doing this process until the old food has been removed and completely replaced by the new food. 
The food switching process is unique to each dog and can take a longer or shorter time compared to other dogs. Only focus on your dog and their needs. If you start the food switching process and your dog experiences stomach upset, slow down the process, and lessen the amount you change until it goes at a pace that is ideal for your dog. 
Patience is needed during this process. The goal is to be as gentle with your dog's digestive system as possible because they are already experiencing an allergic reaction and adding stomach upset will make them feel worse. If you are not sure how to change your dog's food consult with a veterinarian to discuss the right process for your pet. 
Once you provide a grain-free diet for your dog, keep an eye on their symptoms. If they still experience allergic reaction symptoms there's a possibility they are allergic to the protein source in dog food such as chicken, beef, lamb, or salmon. The ingredient label on the dog food package will give you insight into the possible cause. Remember, the ingredients are placed in order from the highest level found in the food. For example, if the ingredient label has chicken, rice, and peas as the first three ingredients, you will know the kibble contains mostly these ingredients while the remaining ingredients are less. 
The good news is, most pet parents successfully eliminate the allergen and replace their dog's food easily. However, if you have trouble replacing your dog's food and determining the food allergen causing the reaction, consult with a veterinarian for further assistance. 
Conclusion for Best Dog Food for a Maltipoo
Whether you have a Maltipoo or mini Maltipoo, the high quality and nutritional dog food on our list provides a complete and balanced diet that helps your dog maintain good overall health throughout their lifetime. Remember that in general, you'll want to a smaller breed dog food because the kibble size is smaller and easily digestible for Maltipoos. You'll want to look for oils and omega 3 or 6 to support a healthy and skin and coat. We hope that you found the best dog for a Maltipoo from our list!
Garrett loves animals and is a huge advocate for all Doodle dog breeds. He owns his own Goldendoodle named Kona. In addition, he volunteers at the Humane Society of Silicon Valley, where he fosters dogs and helps animals. Garrett enjoys writing about Doodles and believes that dogs can teach humans more about how to live than humans can teach a dog.
Why Trust We Love Doodles?
At We Love Doodles, we're a team of writers, veterinarians, and puppy trainers that love dogs. Our team of qualified experts researches and provides reliable information on a wide range of dog topics. Our reviews are based on customer feedback, hands-on testing, and in-depth analysis. We are fully transparent and honest to our community of dog owners and future owners.