Your energetic little Yorkie Poo requires optimal nutrition to keep them happy and healthy over their 10+ year lifespan. As a pet parent to a small breed dog, it's often difficult to find the right dog food that is perfect for your little fur baby. 
Luckily, the pet industry and dog food manufacturers listened to the concerns of small breed dog parents and created specially formulated dog food recipes that meet the nutritional needs of small breeds such as Yorkie Poos. You'll find that these dog foods specifically designed for small breeds have smaller kibble size, more dense nutrition, and even help better with weight management. 
The following Yorkie Poo dog food provides a complete and balanced diet that maintains good digestion and health throughout their lifetime. Check them out now to see which one is the best one for your Yorkipoo! 
In a rush? Here are our top picks!
Product
Budget Pick
Hill's Science
Image
This specially formulated dry dog food is created to meet the nutritional needs of Yorkie Poos that are older than 10 months. The size and shape of the kibble are perfect for small bites, muzzles, and digestion. Your dog's tiny little mouth will be able to chew each kibble easily and quickly which not only prevents choking, but also aids with gastrointestinal digestion.
The ingredients include omega 3 & 6 fatty acids and biotin that are responsible for maintaining healthy skin and shiny hair. The special formula is ideal for healthy aging Yorkie Poos and supports long term health into their golden years. In addition, since Yorkie Poos typically have a nonshedding and hypoallergenic coat, you're going to want the important fatty acids, vitamins, and minerals that come in this dog food.
This dry dog food also has tasty flavors and aromas that are great at satisfying picky eaters. Some ingredients in this breed-specific dog food include the following: Chicken Meal, Brewers Rice, Brown Rice, Chicken Fat, Chicken, Corn Gluten Meal, Dried Egg Powder, Barley, Natural Chicken Flavor, Cellulose, Dried Beet Pulp, Anchovy Oil, Dried and Salmon Meal. Overall, you can tell that this Yorkie Poo dog food has no filler ingredients and is completely healthy for your small dog. It's by far the top pick on our list.
Your adult Yorkie Poo will easily digest the ingredients in this dog food and love the taste. The nourishing omega 6 fatty acids and vitamin E ingredients maintain healthy skin and create a shiny coat.
The high-quality protein ingredients in this dog food maintain lean muscles that keep up with your active dog. If you own a Yorkie Poo, you know how much they love to run around the yard and get the zoomies. In addition, this specially formulated antioxidant blend provides lifelong immune support in small dogs.
The tasty chicken meal and rice are made with all-natural ingredients that provide your dog with a complete and balanced diet. Chicken and rice are also part of a bland diet that helps to prevent allergies, sensitive stomachs, or itching.
Some ingredients in this specially formulated dog food include the following:
Chicken Meal, Whole Grain Wheat, Brewers Rice, Whole Grain Sorghum, Soybean Meal, Cracked Pearled Barley, Pork Fat, Soybean Oil, Chicken Liver Flavor, Flaxseed, Lactic Acid, Pork Flavor, Carrots, Spinach, Dried Grape Pomace, Dried Tomato Pomace, Dried Citrus Pulp, Iodized Salt, and Oat Fiber.
This grain-free dog food for Yorkie Poos is an excellent option for dogs that suffer from food allergies. This dog food does not contain soy, wheat, corn, tapioca, white potatoes, or artificial flavors, colors, or preservatives. These are the typical ingredients that dogs like the Yorkie Poo are allergic too. If you notice that your dog is itching themselves, licking their paws, or scratching hotspots then there is a high possibility that your Yorkie Poo is allergic to their dog food.
The high meat formula has 84% animal-based protein that supports lean muscles and overall good health. Additionally, the protein also gives flavor to the kibble and entices picky eaters to finish their meal. 
This small dog breed food formula includes low carbohydrates and glycemic ingredients such as chickpeas, sweet potato, and lentils. The ingredients also aid in digestion and support overall gut health. 
The specially created kibbles have a specific size and design that helps small mouths chew each bit to perfection which makes it easy to digest and an excellent option for dogs that have difficulty chewing. Smaller sized kibbles also prevent against choking if your Yorkie Poo doesn't like to chew their food.
The reduced carbohydrates recipe helps maintain a healthy weight while still meeting nutritional requirements for the breed. Moreover, the probiotics are included in the ingredients and responsible for supporting gut health and maintaining healthy gut flora. The flora bacteria produces lactic acid that helps regulate metabolism and suit the needs of your energetic dog. You won't find any filler ingredients or artificial flavors in this dog food.
Some ingredients in this grain-free dog food include the following: 
Deboned Salmon, Turkey Meal, Menhaden Fish Meal, Lamb Meal, Red Lentils, Sweet Potatoes, Chickpeas, Chicken Fat Miscanthus Grass, and Ground Flaxseed. 
This tasty small dog food is specially formulated for tiny breeds such as Yorkie Poos. It contains real chicken as the #1 ingredient and also features fiber-rich chickpeas and pumpkin. The combined dog food ingredients support healthy digestion and are ideal for sensitive stomachs.
This holistic protein filled dog food provides a balanced and complete diet for all life stages ranging from puppyhood to the golden years. This is great dog food for Yorkie Poo puppies or adults.
The kibble size is created for easy chewing and digesting and it fits perfectly into your Yorkie Poos mouth so they don't need to struggle to chew their food anymore! 
The recipe is specially formulated to provide balanced levels of fat, protein, and fiber that meet your dog's nutritional needs throughout their lifetime. In addition, the fiber-rich prebiotics and probiotics support gut health and maintain a strong immune system. There are all-natural ingredients in this Yorkie Poo dog food which will support a happy and healthy life.
Some ingredients included in this holistic dog recipe include the following: 
Chicken, Chicken Meal, Chickpeas, Peas, Pea Protein, Chicken Fat, Pumpkin, Sweet Potato, Dried Eggs, Ocean Fish Meal, Ground Flaxseed, and Natural Flavors. 
This dry dog food features real meat as their first ingredient and is a great pick for Yorkie Poos. High-quality protein helps your dog maintain healthy muscles and the other healthy ingredients in the recipe include garden vegetables, fruit, and wholesome whole grains. 
Blue Buffalo dog food also contains LifeSource bits that are a precise blend of minerals, vitamins, and antioxidants that are selected by animal nutritionists and holistic veterinarians. For the price, it's one of the most popular dog foods in the world because it provides a balanced diet at an affordable cost.
Some of the ingredients in this natural dog food include the following: Deboned Chicken, Chicken Meal, Brown Rice, Oatmeal, Barley, Menhaden Fish Meal, Chicken Fat, and Flaxseed. 
Purina Pro Plan is a specially formulated dog food recipe that helps protect your Yorkie Poo puppy's health during their first year of life. It's is suitable for sensitive stomachs and features salmon as the first ingredient and main protein source. 
The rice soothes sensitive stomachs while the remaining ingredients maintain overall good digestion and health. It also contains sunflower for healthy skin and a shiny coat.  In addition, the omega-rich fish oil naturally provides nourishment to the brain and supports vision development. If you have a Yorkie Poo puppy, you'll want to find a dog food that is right in oils and fatty acids. These dog food ingredients help to support your puppy's coat and keep it soft.
This protein-rich puppy food is gentle on the digestive system and provides a complete and balanced diet. There are absolutely no filler ingredients, artificial colorings, or artificial flavors. In addition, I've never seen a puppy not like the taste of this dog food.
This wholesome dry dog food features natural ingredients such as farm-raised chicken as the #1 ingredient. Nutro dog food is known for its amazing taste that encourages dogs to eat their meal every time. If you have a picky Yorkie Poo eater at home, this dog food is a must-have! 
It contains a variety of healthy ingredients with added minerals, vitamins, and other nutrients. Moreover, the nutrition is specially tailored for small breeds such as Yorkie Poos. They won't struggle to chew and digest this dog food because it specifically formulated to accommodate smaller mouth sizes.
The combined ingredients promote overall good health, a shiny coat, and healthy skin. Here's a sneak peek at some of the healthy ingredients in this dry dog food: 
Chicken, Chicken Meal, Split Peas, Whole Brown Rice, Brewers Rice, Chicken Fat, Barley, Lamb Meal, Whole Grain Oatmeal, Rice Bran, Dried Sweet Potato, Natural Flavor, Dried Plain Beet Pulp, and Flaxseed.
Here is another option by Royal Canin and they specially create many types of small breed dog foods. This dry dog food is specially formulated for Yorkie Poos and provides precise nutrition to meet the breeds' nutritional needs. Yorkie Poos are often high energy and this dog food has all the nutrition, vitamins, and minerals that meet your dog's energetic needs. 
Royal Canin small breed dog food features essential fatty acids such as DHA and EPA that supports coat and skin health. The small kibble pieces are specially made for miniature jaws so the food can be chewed properly and digested easily. 
In addition, the tasty flavor is suitable for the pickiest eaters! Here's the top ingredients of this healthy dry dog food recipe:
Corn, chicken by-product meal, brewers rice, brown rice, corn gluten meal, chicken fat, natural flavors, dried plain beet pulp, wheat gluten, and fish oil. 
How to Choose a Dog Food for Yorkie Poos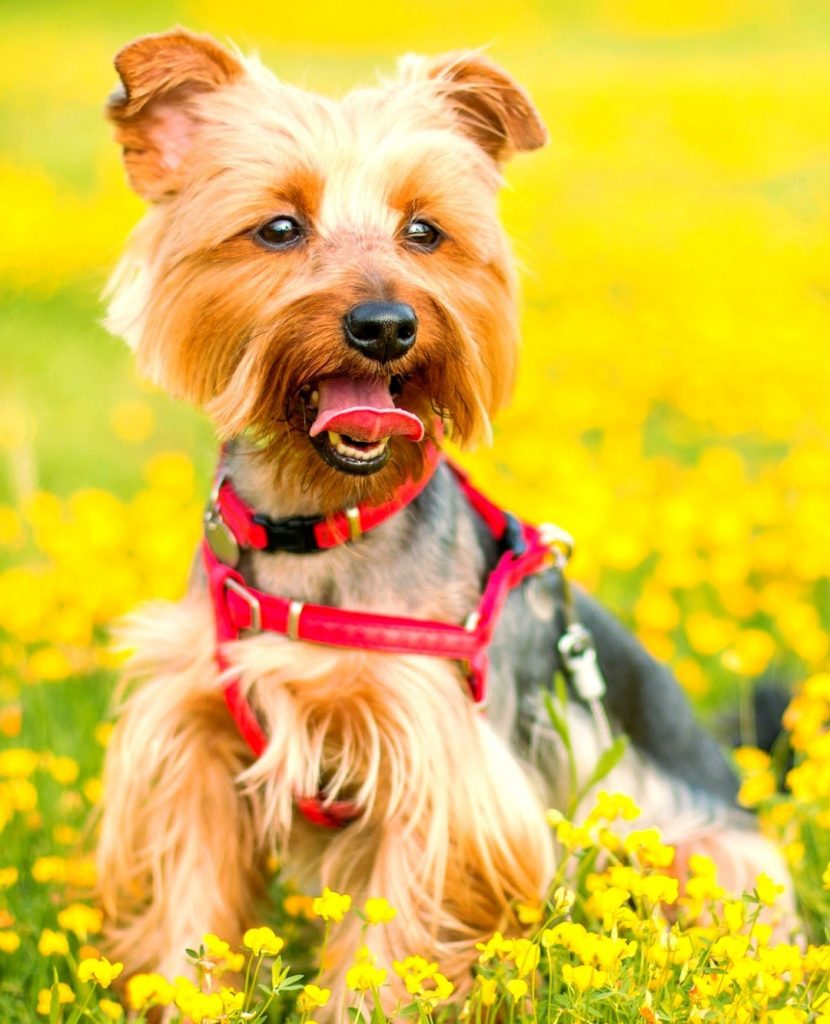 Choosing a dog food for your adorable Yorkie Poo is easier than you think. The dog foods listed above meet the nutritional needs of Yorkie Poos at various life stages whether they are a puppy or adult.
Dog's Preferred Taste
An excellent place to start with picking the perfect Yorkie Poo dog food is to consider your dog's preferred taste. Does your dog like chicken, salmon, or other flavors? Narrow down the choices by choosing the flavor your dog loves the most to ensure they will enjoy eating every meal. Every dog has preferences, so it's best sometimes best to purchase several small dog food bags and see which one your dog likes best.
Kibble Size
The next topic to consider is the kibble size. Yorkie Poos have small jaws that often make it difficult to take big bites or chew on large pieces of food. The dog foods mentioned on the list above have specially designed kibble that is perfect for little jaws and mouths. 
The small kibble size makes it easy for your dog to chew each kibble bit to completion and prevent swallowing large pieces of food that can lead to blockage or chocking. This typically happens more in adult dog food that was created for larger dogs.
Health Issues
Yorkie Poos are known for having sensitive digestive systems that cause discomfort and lead to health issues. Small breed dog foods such as the ones mentioned earlier are specially formulated to provide a balanced and complete diet that includes fiber for easy digestion. In addition, you're going to want to find a Yorkie Poo dog food with fatty acids and oils to support their skin and coat requirements. Because they have a coat that doesn't shed hair and is mostly hypoallergenic, you want to keep it soft to avoid matts and tangles.
When focusing on taste, kibble size, and digestive needs, you will surely find the right dog food for your Yorkie Poo from the list. 
How much should I feed my Yorkie Poo? 
Yorkie Poos can be picky eaters or enjoy food so much they gobble it down quickly without chewing. Generally, most adult Yorkie Poos need 1/2 cup to 2.5 cups of food on a daily basis. However, it's always best to read the recommended serving size that coordinates with your dog's age and health needs. If you aren't sure how much to feed your dog, consult with a veterinarian for further assistance. In general, more active dogs will need to consume more food, regardless of their weight.
What do Yorkie Poos eat? 
All dogs, including Yorkie Poos, naturally crave protein. Depending on your dog's specific tastes you can feed them fish, chicken, beef, or pork to satisfy their hunger for protein. Since dogs are carnivores it's wise to feed them a high protein diet in addition to other ingredients such as fruits, vegetables, and grains.
What if my Yorkie Poo is allergic to grains? 
Many dogs are allergic to grains but that doesn't mean you can't find the right food for them to eat. Many of the options on the list are grain-free so you can easily choose the right one for your dog.
If you see your Yorkie Poo constantly scratching themselves, licking their paws, or biting at their body then they may be allergic to their dog food. It's important to monitor these symptoms and switch your Yorkie Poo on a limited ingredient diet. That means that you can't be feeding them human food and you should switch their dog food.
What if I have two Yorkie Poos with different tastes?
Pet parents who have more than one dog in their household often run into the dilemma of one dog not liking the taste of the food the other dog likes. This situation can become quite costly for pet parents but the only solution is to purchase each dog their own food to ensure they are eating their daily meals. 
Most dogs that don't like the taste of their food will refuse to eat which can lead to loss of weight, malnutrition, and other health issues. It's best to feed your dogs their favorite food to prevent health issues. 
Some pet parents try to teach one dog to like the other food so they only need to purchase one option. A helpful technique to help your dog become accustomed to the flavor of the other food is to mix a few kibble bits into their favorite food. Keep doing this process until your dog eats ever kibble in their bowl every time. If your dog spits out the other food and leaves it in the bowl there's a chance that your dog will never like the other food. 
How much do I feed my Yorkie Poo if they are super hyper? 
Does your Yorkie Poo have a lot of energy? If so, there's a chance they might need a high carbohydrate diet or larger serving sizes to keep up with their energetic needs.
Some Yorkie Poos are more energetic than others and often zoom around the house or yard to let out their energy. All of the exercise from running around requires proper nutrition to ensure your dog has overall good health. If you notice your dog is losing weight even though they eat their entire meal every time, there's a chance an increase in food is needed to meet their needs. If you have any concerns about your dog's dietary needs, consult with a veterinarian or animal nutritionist for further assistance. 
How to help my dog eat slower? 
Does your dog gobble up their food right away? Do you find half of the full-size pieces of kibble in their feces? If so, this is evidence that your dog is gobbling their food so quickly their digestive system can't keep up with the pace. 
Some dogs eat so fast they will finish their meal then go to their sibling's bowl and eat their meal too. An excellent solution to this problem is to put the full meal of kibble in interactive toys. 
There is a variety of interactive treat dispensing toys that you can use but the most popular is the ball. It forces your pup to use their paws to roll it around so the treats fall out. This beneficial toy helps slow your dog's eating and helps give their digestive system the time it needs to fully process the food. 
The interactive toys also prevent your dog from eating their sibling's food because both meals are safely contained in the toys. This method also stimulates your dog's brain and satisfies their natural instinct to forage for their food. 
How do I change my dog's food without causing them to get sick to their stomach? 
Changing your dog's food to a new healthier option is a gradual process. One of the best ways to introduce the food is by removing a small portion of their old food from their bowl and mixing in the same amount as the new food. 
This process needs to be done slowly to prevent stomach upset, vomiting, and diarrhea. During the process, if you notice your dog is experiencing stomach upset, lessen the amount of the new food and make the process go slower. Your dog's digestive system needs time to adjust to the new food. Every dog is different so patience is required during this process. 
If your dog is allergic to their old food, it's wise to consult with a veterinarian to discuss the process needed to meet your dog's specific needs. Allergic reactions to food cause many symptoms that cause your dog to suffer so removing the allergen from their diet as quickly as possible is often recommended. A veterinarian will advise you on the right method to remove allergens from your dog's diet quickly and effectively without causing stomach upset and discomfort. 
Conclusion for Best Yorkie Poo Dog Food
As a pet parent to a Yorkie Poo, you can feel confident your dog will have a complete and balanced diet with any dog food from our list. Each Yorkie Poo dog food brand has been carefully chosen to meet the nutritional, energetic, and digestive needs of small dog breeds. 
Start feeding your dog a healthy diet that maintains good overall health throughout their lifetime. Browse the selection above to make your choice today! 
Garrett loves animals and is a huge advocate for all Doodle dog breeds. He owns his own Goldendoodle named Kona. In addition, he volunteers at the Humane Society of Silicon Valley, where he fosters dogs and helps animals. Garrett enjoys writing about Doodles and believes that dogs can teach humans more about how to live than humans can teach a dog.
Why Trust We Love Doodles?
At We Love Doodles, we're a team of writers, veterinarians, and puppy trainers that love dogs. Our team of qualified experts researches and provides reliable information on a wide range of dog topics. Our reviews are based on customer feedback, hands-on testing, and in-depth analysis. We are fully transparent and honest to our community of dog owners and future owners.