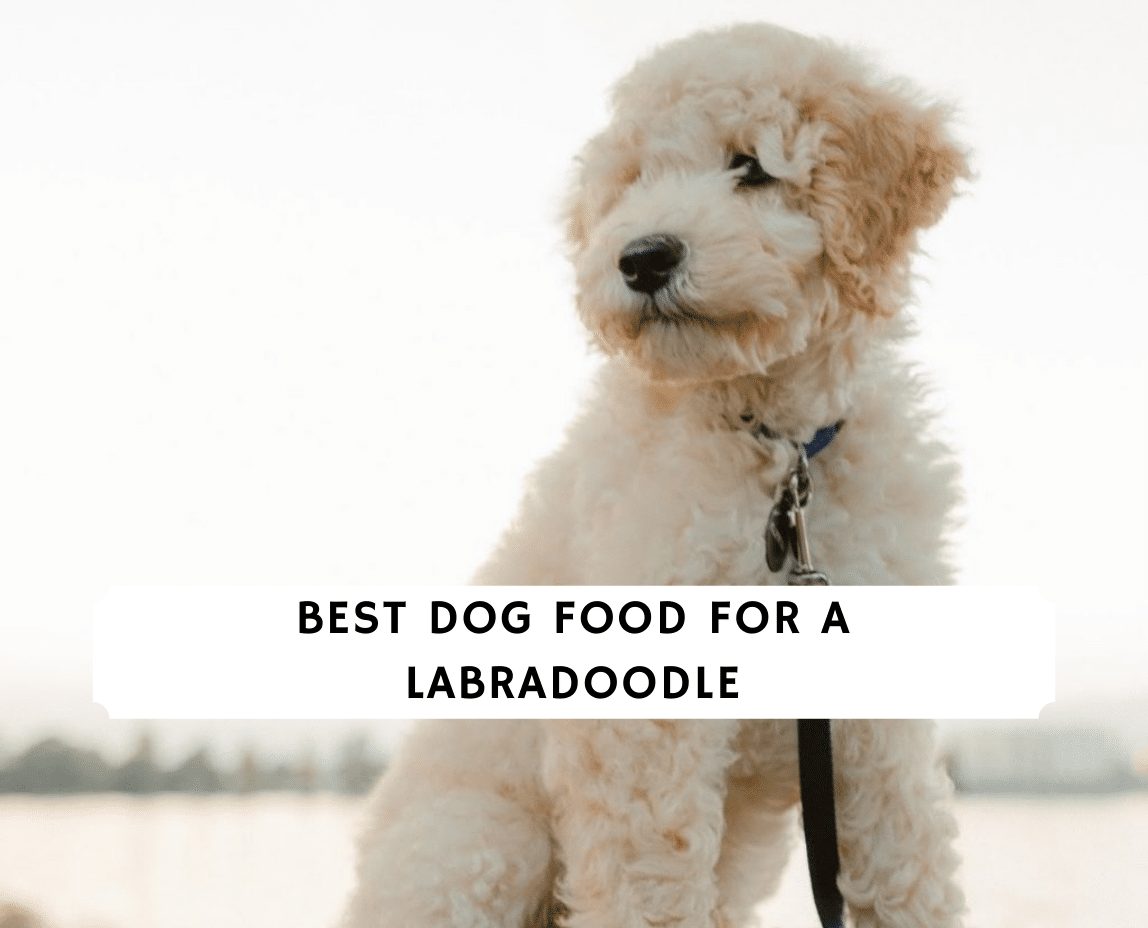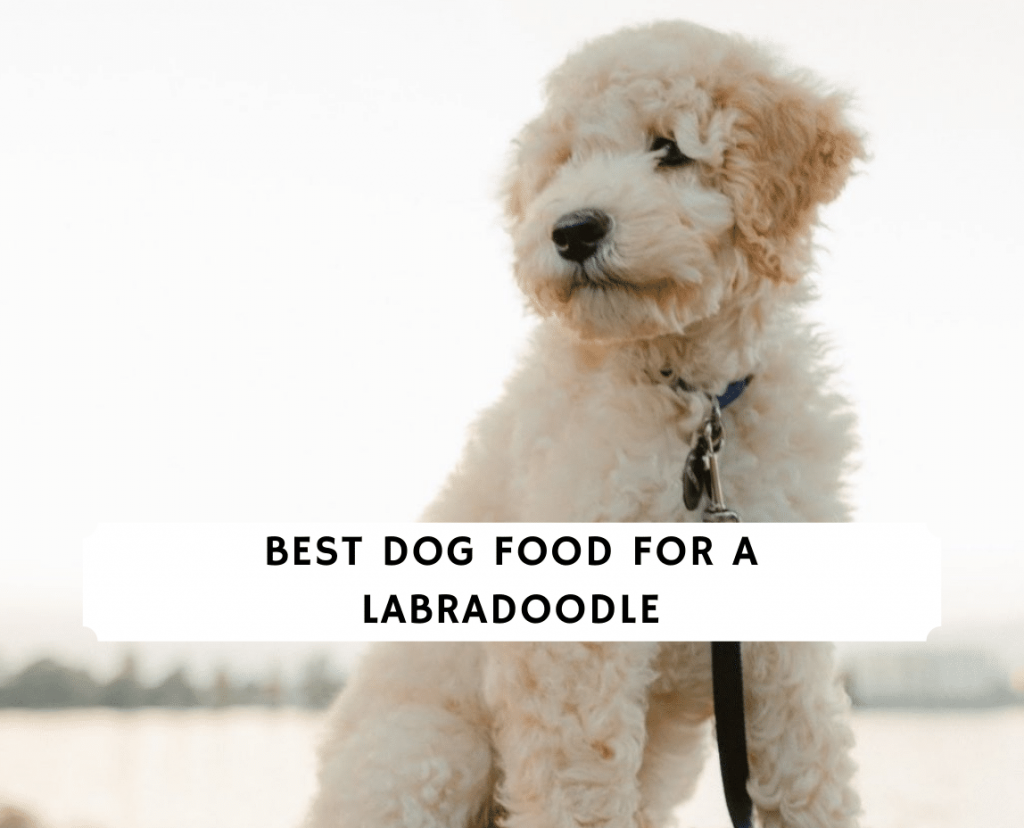 Labradoodles are one of the most trending designer dog breeds in the world. They're caring and fun, with a bit of unique personality and even a unique look amongst various dog breeds. You simply can't go wrong with a Labradoodle addition to your family.
If you have a Labradoodle or you're considering getting one, you need to be well-prepared with the proper health protocols, toys, beds, and dog food. You should use highly nutritious dog food for Labradoodles to ensure you are keeping your dog as healthy as possible. Since Labradoodle typically have a hypoallergenic and nonshedding coat, you'll also want to look for additional vitamins, omega 3's, and minerals in a dog food.
In addition, many Labradoodles have food allergies or sensitive stomachs in which you would want to feed your puppies different food for their growth and health. Don't worry, we've got you covered! There are tons of options for dog food out there, but we've researched and found the very best options for you – no matter what category your Labradoodle may fall into.
In this guide, we will share with you the best dog food for a Labradoodle. We have dog food options for puppies, adults, food allergies, and sensitivities as well. We hope you're ready to find your next best dog food option!
In a rush? Here are our top picks!
Product
Best Brand
Honest Kitchen
Image
The Best Dog Food for Labradoodle Puppy
Let's start with dog food for Labradoodle puppies since you'll want to treat your dog right from the beginning of their lives. Labradoodle puppies require specific nutrition to grow into well-fed and healthy adults. In general, puppy food for Labradoodles will be smaller and more nutritious than your typical adult food. We have 3 really great dog food choices for a Labradoodle puppy!
Purina has always been a well-known brand and they actually have multiple different lines of food. This particular option is the Pro Plan line and it is designed optimally for puppies who are under 1 year of age to provide them with the proper nutrition for growing. We like this dog food because it not only supports a healthy skin, but it also has nutrients for a healthy dog coat.
We specifically like the chicken and rice formula and it is also a dry puppy food. The dog food comes in small circular bites so it will be very easy for your Labradoodle to chew and digest. This food would also be easy to use to transition to a dry dog food if you started your Labradoodle on wet foods. It comes with small bits of real chicken and dogs love the taste of this dry dog food.
Purina Pro Plan puppy food is filled with live probiotics to support immune and digestive health. It's rich with antioxidants while your Labradoodle puppy's immune system is still developing. It also has plenty of calcium and phosphorous to promote strong bones and teeth.
This puppy food for a Labradoodle also has DHA, which helps nourish both vision and brain development. Real chicken is the first ingredient placed into this puppy food so it's not some random mystery bag. Lastly, there are no artificial flavors or colors to worry about in this food. The only downside of this dog food is that it contains corn fillers. While this isn't necessarily bad, most of the premium options on our list will not have filler ingredients.
This option from Nulo is a puppy food that comes in various sizes. You can choose from 4.5, 11, or 24 pounds to feed your Labradoodle. This is definitely a premium puppy food with high-quality ingredients, so it does get a little pricey. However, this is our top choice for a Labradoodle puppy and it is highly-rated and reviewed.
Aside from the size options, you can also choose either a salmon and peas flavor or a turkey and sweet potato flavor. Both flavors are a grain-free puppy food. You won't find any filler ingredients such as wheat, corn, soy, white potatoes, or similar items. This puppy food is also manufactured in the United States for quality control.
This Labradoodle puppy food includes a patented BC30 probiotic to encourage healthy digestion. It is full of calcium and phosphorous to promote balanced growth levels. It also has DHA from real salmon for cognitive development purposes. This food gets 80% of the protein from real animal sources.
You really can't go wrong with this premium dog food option. It was specially designed to fuel your Labradoodle puppy's inner athlete and help them to grow strong and healthy.
Our third dog food for a Labradoodle puppy is another highly-rated option that we think you will be pleased with. This option comes in 6, 17, or 30-pound varieties and has a zip system so you can seal the bag and keep the food fresh between feedings.
This dog food is designed to provide immune system support for your Labradoodle puppy. It will improve their digestive health and keep your dog from having loose stools. This particular dog food was designed for a medium-sized puppy like the Labradoodle and should be fed to a dog between 2 and 12 months of age. After 12 months, you should upgrade to a medium-sized adult food for your Labradoodle.
Royal Canin is full of nutrients for a growing Labradoodle puppy. It promotes healthy digestion and boosts the immune system. It is also rich with antioxidants and vitamins which is good for their skin and coat. The kibble is also small size so your puppy can easily chew and digest them as well.
Best Brands of Dog Food for Labradoodles
This next section is a general section on adult Labradoodle food. Keep in mind these options could also be a good dog food for Australian Labradoodles or even dog food for a mini Labradoodle. Our main criteria was choosing dog foods that would support your Labradoodles active lifestyle, provide nutrition for their nonshedding coat, and doesn't contain filler ingredients. Here are 3 great dog food options for an adult Labradoodle.
It's certainly not every day you see the description human-grade for a dog food brand. That's pretty reassuring in itself though if you're looking for a premium dog food option. This food is unique as it comes in a dehydrated-type format, with 10 pounds of mixture. To serve this food to your Labradoodle, you add water and it actually makes 40 pounds of wet dog food.
Don't worry, there are complete instructions on the box. It's simple to do and it takes up less space in your pantry than a 40-pound bag of dog food. It's also made with all wholesome and natural ingredients that are flavorful and high in protein.
The Honest Kitchen dog food is made with grain-free and cage-free turkey. The dehydration process actually aids with overall digest and helps to retain the natural nutrients in the food. If you're looking for a wet dog food for a Labradoodle, this is definitely one of the top choices. It is all made in the United States and you certainly won't find any fillers or preservatives added to it!
Orijen presents another highly-rated option for one of the best brand of dog foods for a Labradoodles. This dog food comes in multiple bag sizes, but we always recommend going for the 25-pound bag as it is really the best deal and will last longer overall.
This dog food bag has a nice zipper seal so that the food stays fresh between feedings. The food is made with fresh ingredients including free-run turkey and chicken, wild-caught fish, and cage-free eggs. Overall, this dog food provides your Labradoodle with a biologically-appropriate diet that is rich in protein.
There are no by-products or meal products in this dog food which makes it extremely high-quality. The ingredients include the top 10 raw or fresh animal ingredients and contains 85% quality animal ingredients. Overall, this dog food contains 2/3 fresh or raw ingredients and you will find no preservatives or artificial flavors. In addition, all of the ingredients are fresh and regional to the distributor.
To avoid upset stomachs, this company provides you with an overview of the best way to transition their diet and adjust to natural dog foods. You Labradoodle may not be used to eating purely natural foods so you may need to slowly integrate this food into their diet.
Blue Buffalo is a well-known brand for quality dog food products. Their dog food tends to be a bit more budget-friendly, but is still well-made and highly-rated. Their philosophy centers around natural food and ingredients. You can choose from a variety of flavors and sizes that they have to offer.
This company stands by their promise to use real meat first as their primary ingredient. The protein is high-quality and comes from real chicken. In addition, the dog food also contains whole grains as well as garden veggies and fruits to complete a well-balanced diet.
This Labradoodle dog food is full of essential nutrients and minerals for an adult dog. It is designed to meet the high energy levels of Labradoodle. They even have their signature, Life Source Bits, which is their own blend of antioxidants and vitamins to support your Labradoodles skin and coat.
There are absolutely no by-products or corn, wheat, soy, artificial flavors, or preservatives. If you're on a budget, this is a great dog food for a Labradoodle.
Best Dog Food for Labradoodle with Sensitive Stomach
Labradoodles are sensitive to dog foods which can result in diarrhea, vomiting, or lots of itching. It can take some time to figure out what works and adjust accordingly. If you feed your Labradoodle dog food that is specifically designed for sensitive skin or allergies, then they will be less likely to exhibit irritation to their food. We have a great option to share that may put your mind and your dog's stomach at ease.
The Purina Pro Plan focus line was created for dogs who are prone to sensitivities with their skin or stomachs. We know Labradoodles can often have sensitive skin as well as stomachs so this could be a good option if you need something for those situations.
This dog food comes in tons of different options and is one of the most popular dog foods on the market. You can choose between various bag sizes and various food flavors. You can also choose a dry and wet dog food bundle if you'd like to give you dog different food textures. Otherwise, the default is a dry dog food made for adult dogs and it works great for Labradoodles.
In this dog food, salmon is the very first ingredient. It has additional Omega-6 nutrients for your dog's sensitive coat. There are no fillers or corn, wheat, soy, flavors, and colors in it to mess with your dog's sensitive stomach. It also has prebiotic fiber that promotes gastrointestinal digestive health for your dog.
This dog food is formulated to support the total well-being of your Labradoodle in every little well. The ingredients are carefully selected for specific purposes and will likely not upset your dog's stomach or skin.
Best Dog Food for Labradoodle with Allergies
It's not unusual for dogs, particularly Labradoodles to suffer from food or skin allergies. These are not always stomach related but may just be a reaction to certain ingredients that causes skin irritations and more uncomfortable side effects. We have a really great option for the best dog food for Labradoodles with allergies.
There truly is a solution for dogs who suffer from various allergies and it is P.S. for Dogs. This dog food is designed to be hypoallergenic and significantly helps reduce the likelihood of licking, scratching, and allergic reactions. If you have to use shots, pills, or prescription foods, this is a really good alternative that you can try.
This dog food is grain-free and high in protein. Once your Labradoodle gets a taste, they will love it! This was designed with picky dogs in mind so your Labradoodle surely won't snub their nose at this food. The formula has very limited ingredients and is air-dried for gentle processing.
P.S. is made with 90% free-range lamb meat and organs. It is suitable for all life stages of a Labradoodle and has absolutely no potatoes or grains. It is wholesome and nutritious with natural ingredients for your lovable pet. This company offers a satisfaction guarantee or your money back if you don't like their hypoallergenic dog food.
Nutritional Requirements for a Labradoodle
Your Labradoodle needs to eat a quality and nutritious diet to live a long life. In addition, your dog's diet needs to be balanced and natural to support a healthy immune system, coat, and skin. Labradoodles rely on their dose of kibble to provide them with essential vitamins and nutrients for their growth and health.
So what does that mean? What makes a dog food a good option? Well, you really want a balanced meal with the dog food you choose. Ultimately, you want your dog food to have an appropriate balance of these ingredients and features.
Fats
Yes, you read that right. Your dog needs some fats and preferably healthy fats. These help to provide energy to your Labradoodle, but they also are an essential nutrient that does play a part in your dog's overall wellness.
Do you want their food to be heavy in fats? Well, no, but you do want some amount of fats in the food. Fatty acids, in particular, are used for inflammation responses within your Labradoodle's body.
In addition, fats are one of the ingredients in a dog food that can help contribute to a healthy skin and coat for your Labradoodle.
Proteins
We know that protein is an important ingredient in any kind of food. Protein provides healthy energy and lean muscle, but it also plays some other significant roles in your dog's health as well. Protein helps with overall health and growth, but it also offers restorative assistance for repairing damaged tissue.
Your dog needs protein for everyday living, healing, growth, and maintenance purposes. The amino acids that build proteins are what really counts so be sure to check your dog's food for essential amino acids.
These essential amino acids are incredibly important because your Labradoodle cannot forcefully produce them on their own. There are non-essential amino acids that your dog can synthesize and produce so they aren't necessary in dog food.
Carbohydrates
Finally, you want your dog food to have carbohydrates in it. It doesn't need to be heavy in carbs and healthy carbohydrates are really the best option here. This is an energy source for your Labradoodle as they run through dog parks and get the zoomies in your backyard. Proper nutrition, including healthy carbs, will keep your dog properly energized for their day.
Carbohydrates include simple sugars, glucose, complex sugars, and even fiber. Fiber is essential for a Labradoodles digestive system and will promote healthy stools. 
We don't necessarily have a minimum or maximum recommendation for carbohydrates but you understand that this is their primary source of fiber, energy, and lets the protein focus on other areas of need.
How Did We Choose the Best Dog Food for Labradoodles?
There were several factors in choosing the best dog food for Labradoodles in this guide. We understand that not every Labradoodle is the same and not all dog foods are the same. Here are some aspects we considered and recommend that you also consider when you select a dog food for your Labradoodle.
Balanced Formula
All-natural dog food is considered the best, but you also need to make sure that the dog food formula has a balanced diet for your Labradoodle. Remember that they still need proteins, fats, and carbohydrates so look for ingredients that indicate your Labradoodle will be getting a balanced diet from the food.
In the same instance, healthy ingredients are certainly a plus and we recommend that you do the research and understand whether the formula you are feeding your dog is truly healthy.
Your Dog's Needs
What your dog needs may not be the same as what your neighbor's dog needs so keep that expectation at the forefront of your mind. You will want to choose a formula that is suitable for your Labradoodle's size and health needs.
Many dog foods are formulated differently for various sizes of dogs. Be sure to look for this indicator and choose the proper formula. A Labradoodle tends to be a medium to large dog so those are good indicators in this instance. If you're looking for dog food for your mini Labradoodle then you will need to select a small breed dog food.
These formulas are designed for their weight class which helps maintain a healthy weight for their size.
Allergies and Reactions
If your dog is prone to reactions from food, whether it may be allergies or stomach sensitivity, you will most likely need to take extra care in choosing your Labradoodle's dog food. Dogs with sensitive skin may need a formula that is designed for sensitive skin. There could be specific ingredients that cause sensitivities for them like itching or scratching. You know your Labradoodle best.
If your dog is prone to stomach sensitivities, you may need to may need to slowly change their dog food formula to a food with limited ingredients. Don't just change your Labradoodles food in a day and expect your dog to adjust. Most healthy dog foods require an adjustment period for your dog to avoid bad reactions.
Age & Activity Levels
Finally, you should consider your dog's age and activity levels. There are certain phases in a dog's life and these different phases may require different balancing and nutritional requirements as well.
You will notice that there are often formulas designed forLabradoodle puppies and then formulas designed for adult dogs. There might even be a formula for your senior dog as well.
This is because nutritional needs can vary depending on the activity your dog is experiencing and the activity they are likely to be a part of in relation to their stage of life.
Consider both age and activity levels as you select the best dog food for your Labradoodle. 
Conclusion for Best Dog Food for a Labradoodle
Labradoodles come in many different sizes from mini, medium, and standard. In addition, they have hypoallergenic and nonshedding coats that will need extra nutrition if you want them to be soft. You'll have to choose a dog food for your Labradoodle according to their size, weight, and nutritional needs. In general, you'll want to purchase a dog food that is free of filler ingredients like corn, soy, or wheat. The best dog food for a Labradoodle includes all natural ingredients with real meat. This will ultimately help support your Labradoodle's active lifestyle as they will certainly be exercising alot. We hope that you found the perfect food for your dog!
Other articles you might like:
Garrett loves animals and is a huge advocate for all Doodle dog breeds. He owns his own Goldendoodle named Kona. In addition, he volunteers at the Humane Society of Silicon Valley, where he fosters dogs and helps animals. Garrett enjoys writing about Doodles and believes that dogs can teach humans more about how to live than humans can teach a dog.
Why Trust We Love Doodles?
At We Love Doodles, we're a team of writers, veterinarians, and puppy trainers that love dogs. Our team of qualified experts researches and provides reliable information on a wide range of dog topics. Our reviews are based on customer feedback, hands-on testing, and in-depth analysis. We are fully transparent and honest to our community of dog owners and future owners.