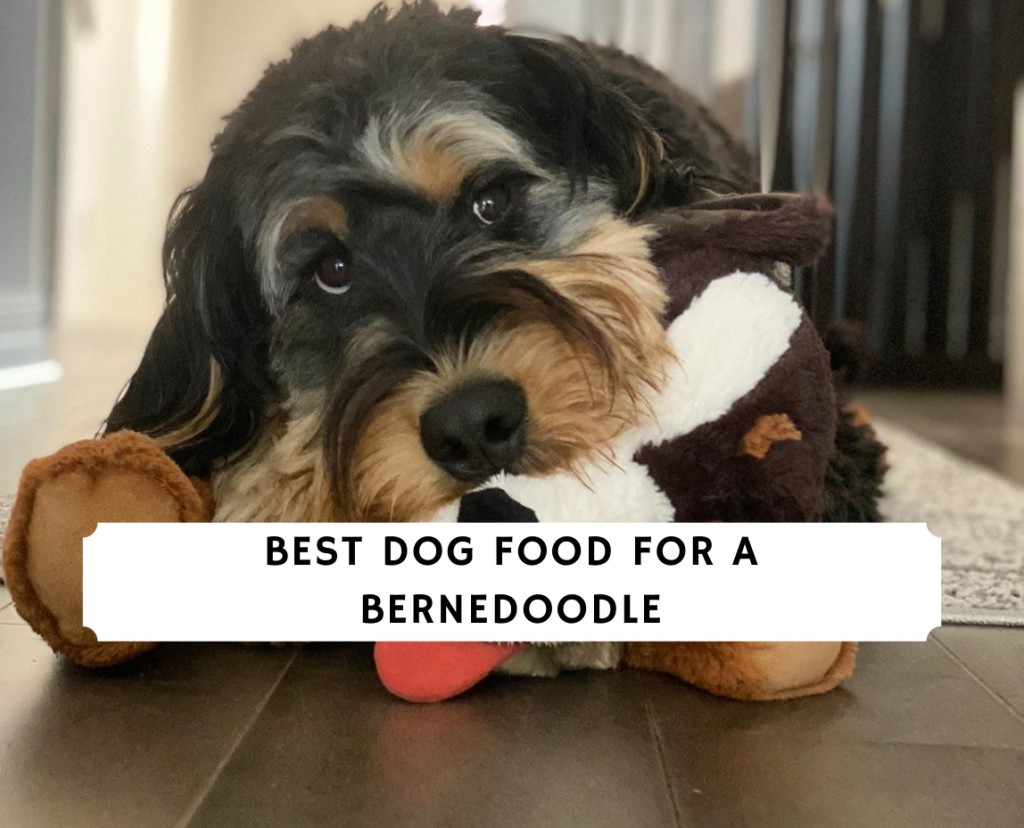 Bernedoodles are precious family assets that come from the Poodle and Bernese Mountain Dog. They make great family pets because they have a goofy nature and easygoing character. In addition, these puppies integrate into any family with ease and will complete your family in ways you never imagined.
If you've been considering a Bernedoodle or simply want to figure out what's best dog food for your Bernedoodle, you're in for a treat. Our Bernedoodles rely on us to provide them with the proper nutrition that they need to be healthy dogs who live long and healthy lives. It's up to us to take care of them!
We've got you covered with a variety of dog food options so that you can find the best dog food for your Bernedoodle, taking their nutritional needs into consideration. We've searched through the options to bring you the very best to choose from.
This guide will cover the best dog food for a Bernedoodle, separated by various categories to cover every possible situation or need for your Bernedoodle. Bernedoodles are far less likely to run into stomach sensitivity issues but it could happen. There are plenty of dog food options that take into account dogs that potentially struggle with sensitivities and allergies. We also have recommendations for Bernedoodle puppies and adult Bernedoodles.
In a rush? Here is our top picks!
Product
Best Allergy Food
The Honest Kitchen
Image
The Best Dog Food for Bernedoodle Puppy
Let's start by talking about feeding puppies. Puppies require special nutrition to help them grow healthy and support those rambunctious puppy energy levels. You've got to feed your Bernedoodle the right dog food from the beginning! Since Bernedoodles typically have hypoallergenic and nonshedding coat, you will want a puppy food that supports healthy coats and skin.
We have 3 great options for the best dog food for a Bernedoodle puppy.
Our first option is a fan favorite that you can rely on. This option comes from the Royal Canin brand is a premium dog food option and is highly-rated across the board. You can choose from various bad sizes and all of the bags have zipping technology to keep the food fresh.
This brand of puppy food takes into consideration the importance of providing Bernedoodle puppies with immune support and digestive health as they grow. Royal Canin also supports your puppy's healthy energy. This Bernedoodle puppy dog food was designed for puppies that are 2 to 12 months old. When your puppy reaches a year old, you should upgrade to adult food.
If you're feeding a growing Bernedoodle puppy, you can rely on this dog food to give them the appropriate health support and nutrients that they need as they grow into adult dogs. This food is loaded with antioxidants and vitamins for total wellness and support. It will support their nonshedding fur as it transitions from a puppy coat to adult coat.
Next comes an option from a popular dog food brand. Purina is not a new name and it's one of the most well-known throughout the industry for good reasons. This particular line is the Pro Plan dog food line and it is designed for puppies younger than a year old. Purina Pro Plan is designed for optimal health in your puppy's first year and works great for Bernedoodle puppies.
The Purina pro plan dry puppy food is made with chicken and rice. Real chicken is the main ingredient in the dog food which provides a adequate amount of protein to support your dog's active puppy lifestyle. In addition, Purina Pro Plan is designed for a puppy so the kibbles are very small and easy for your puppy to eat and digest. There's no choking hazards in this bag if your Bernedoodle is eager to eat and doesn't chew much.
This dog food for a Bernedoodle puppy is made with high-quality ingredients that have probiotics as well as DHA from fish oil. Fish oil is an important source of fatty acids that will help support your dog's growing coat. You will also find this option to have phosphorous and calcium to support bone growth and dental health.
On a final positive note, this dog food does not have any preservatives or additives that would cause a health concern for your Bernedoodle. It's honestly one of the best puppy foods in the market.
Finally, on our favorite puppy food on the list is this option from Nulo. They offer several different size bags so you can start small or buy what you need. This is a premium brand and the price does reflect that but the quality is one of the best in the market.
You can choose from two different flavors for Nulo puppy food. The two flavors are either turkey and sweet potatoes or a salmon and peas flavor. Nulo food is grain-free dog food and also does not contain any potatoes, soy, corn, wheat, or other additives that you don't want.
Nulo puppy food is made in the USA. It has a patented BC30 probiotic formula incorporated into the food to support a healthy immune and digestive system. You will also find phosphorous and calcium as well as DHA from salmon. Additionally, the forefront ingredients are all from animal sources. In our opinion, this is the best dog food for a Bernedoodle puppy but it does tend to cost more as a premium option.
Best Dog Foods for Adult Bernedoodles
The next category on our agenda is to cover the best dog foods for Bernedoodles that are adult dogs. This section is designed to provide you with options for any adult Bernedoodle that can eat standard dog food choices.
What you will find is that these adult foods can be suitably used as the best dog food for mini Bernedoodles as well as standard sized Bernedoodles. You will want to check out the recommended weight information to ensure your dog fits into the standards.
Check out our options for 3 best dog foods for adult Bernedoodles.
The Honest Kitchen earned its spot as number one on this list because of the premium quality that they offer. This is a unique option that is made with dehydrated dog food that turns into wet food. You will need to add water to prepare the food for your dog. The Honest Kitchen comes in a 10-pound box but makes 40 pounds of wet dog food for a Bernedoodle.
You can easily make this food based on the simple instructions provided on the box. The box is simple to work with and could provide you with a solution to take food on the go. This food is dehydrated using natural ingredients that are wholesome and healthy for your pet.
This dog food from The Honest Kitchen uses cage-free and grain-free turkey as the primary ingredient in the food. Everything else is natural and whole foods. The dehydration process actually helps to retain the nutrients for your Bernedoodle than other dry dog foods.
The Honest Kitchen dog food has a unique characteristic in that is also meets human-grade standards. It is made in the USA with no fillers or preservatives in the ingredients. It's a great premium option if you're looking for high quality food for your Bernedoodle.
Next, we have another highly-rated dog food option brought to us from Orijen. This option is designed to be high in protein to support energetic and active dogs even more than some traditional foods might. If your Bernedoodle inherited a significant amount of genetic traits from the Poodle and is very energic, this is a great dog food to replenish their energy. It's a great dog food for Bernedoodles who love to run and play fetch. You can choose your size bag, but the 25-pound bag is really the best deal overall.
This dry dog food comes in a bag with a zipper seal so you never have to worry that the food won't stay fresh. Orijen's premium dry dog food has fresh ingredients that come from wild-caught fish as well as cage-free eggs and cage-free chickens and turkeys. In general, fish and fish oil help support your Bernedoodles fluffy and nonshedding coat.
This dog food has raw and fresh animal ingredients as the primary addition to the mix. Animal ingredients account for 85% of the dog food which is unusual in other foods. One thing that stands out about this option is that everything in the ingredient list comes from resources that are regionally sourced near the manufacturer.
This is very high in natural ingredients and your Bernedoodle may need to slowly transition to this type of diet to adjust and avoid upset stomach issues.
Finally, we have an option from another popular brand name company known as Blue Buffalo. This brand has a reputation for high-quality food and is typically easy to find online and in pet stores due to its popularity. You can choose from a variety of sizes and flavors and all of them are budget-friendly selections.
Blue Buffalo uses real meat as its primary ingredient in their adult natural dry dog food. They stand behind this guarantee and promise customer satisfaction. Everything in this dog food is high-quality as the primary ingredient is real chicken and the other ingredients include whole grains, garden veggies, and fruits to give your Bernedoodle a well-balanced diet.
You will find that this option from Blue Buffalo is packed full of nutrients and minerals that are optimal for adult Bernedoodles. Your dog will get the energy and nutrients that it needs. Finally, this dog food is enhanced with the companies own compilation of vitamins and antioxidants, known as Life Source Bits.
You will be pleased to know that there are no corn, soy, wheat, by-products, additives, or preservatives in this food. Blue Buffalo is a great budget pick if you're looking for lower-cost dog food for a Bernedoodle.
Best Dog Foods for Bernedoodle with Sensitive Stomach or Allergies
Some pets suffer from food sensitivities and it's difficult to figure out what the issue is. It's just a fact of life and something you have to accommodate if your Bernedoodle happens to have a sensitive stomach or food allergies.
We've come up with a couple of really great options for pets with sensitive stomachs or allergies.
The Purina Pro Plan focus line is designed for sensitive dogs. This formula is made to accommodate both sensitive skin and stomachs with a reduced likelihood of issues for your sensitive Bernedoodle.
The Purina Pro Plan focus line has some options that vary as far as both sizes and flavors go. You can choose what flavor you feel will work best for your Bernedoodle. In addition, there is even a bundle that comes with both wet and dry food if you want to try different varieties of dog food. This is an awesome choice of dog food for a Bernedoodle with a sensitive stomach.
Salmon is the primary ingredient in these foods, and it is real salmon not some artificial additive you will see in other foods. You will also find Omega-6 and other necessary nutrients that are gently for your pet but also contribute to skin and coat health in ways that other foods just don't live up to the task. You won't find any indication of things like corn filler, wheat, or soy in this food.
This food is made for the overall health of your Bernedoodle, with a concentration towards potential sensitivities. It has a focused purpose, hence the name.
P.S. for Dogs is a hypoallergenic dog food that happens to be about the only one of its kind on the market. It is more expensive than some other dog food options but it could save you money on veterinarian treatments and medications for sensitive skin and allergies.
This dog food has high protein levels which are one of the contributing factors to the health of your Bernedoodles active lifestyle. In addition, protein does a lot when it comes to sensitive skin and coats. What's more is that most dogs absolutely love the flavor of this food. It is processed to be allergen-free and it is full of nutrition for your Bernedoodle.
P.S. for Dogs is composed of 90% lamb meat and organs as the primary ingredients. This meat is gentle for sensitive dogs and less likely to cause allergic reactions as well. Moreover, it's suitable for puppies or adults and could be one of the best dog foods for a mini Bernedoodles.
The company stands behind its product with a satisfaction guarantee or your money back.
Choosing a Dog Food for a Bernedoodles
We have shared a lot of great options here but you still need to know just how to best choose a dog food for your Bernedoodle. As you prepare to make your decision, we have a few elements that you may want to keep in mind to help you choose the best option for your dog.
It's up to you to know what your dog really needs and to be able to provide for their needs. Follow some of these tips and options to make the best decision and to have your dog enjoying healthy foods in no time!
Balanced Nutrition
You will find that the majority of the options we shared are full of healthy nutrition that is balanced across the board. It's important for your Bernedoodle to get a balanced diet that consists of carbs, fats, and proteins to keep them in their optimal health and truly get the nutrition that their body needs.
Whether your Bernedoodle is a puppy, a mini, an adult, or a dog with some type of sensitivity, there is bound to be something here that will work for your dog. A dog food that offers a balanced nutrition will provide the optimal health for your Bernedoodle.
Allergies and Reactions
Unfortunately, some dogs suffer from allergies and other sensitivities that are out of your control. Luckily for you, there are pet food formulas that are designed to help with these situations. Of course, there is no guarantee, but you should be able to rely on options that will hopefully be more favorable for your pet if they do have allergies or other reactions. Consider a hypoallergenic dog food or food that is specifically designed for skin or stomach allergies.
Keep in mind that sensitive dogs may need some adjustment time if you are changing their dog food. You may need to integrate it slowly to allow your dog to fully adjust to a change in nutrition.
Every Dog is Different
Keep in mind that your Bernedoodle may have different needs from your best friend's dog. It's hard to get a real answer by comparing dogs to dogs because they are all different. From age to activity levels to their own preferences, every Bernedoodle will be different.
Take into consideration what your dog needs from their diet and work to provide that for them to the best of your ability. Make your selection based on your dog and what they might need in the food formula. This includes an option that is appropriate for their size, weight, age, and activity levels.
Conclusion for Best Dog Food for a Bernedoodle
Choosing a dog food for a Bernedoodle is a difficult task. Many dog foods on the market contain filler ingredients that aren't healthy for your dog in the long term. If you want your Bernedoodle to live a healthy and happy life, it's important that you feed their quality dog food that provides an adequate amount of nutrition. In addition, you should consider the needs of your Bernedoodle if they have food allergies or gastrointestinal issues. We hope that you found a dog food on our list for your Bernedoodle!
Garrett loves animals and is a huge advocate for all Doodle dog breeds. He owns his own Goldendoodle named Kona. In addition, he volunteers at the Humane Society of Silicon Valley, where he fosters dogs and helps animals. Garrett enjoys writing about Doodles and believes that dogs can teach humans more about how to live than humans can teach a dog.
Why Trust We Love Doodles?
At We Love Doodles, we're a team of writers, veterinarians, and puppy trainers that love dogs. Our team of qualified experts researches and provides reliable information on a wide range of dog topics. Our reviews are based on customer feedback, hands-on testing, and in-depth analysis. We are fully transparent and honest to our community of dog owners and future owners.