This Maltese-Poodle crossbreed, known for its beautiful bright white coat, packs more than its hypoallergenic and low shedding traits. The Maltipoo has a nonaggressive temperament, making it the perfect doodle for a family with small children.
However, finding reputable Maltipoo breeders in New York can be challenging. There are several Maltipoo puppies in New York that are raised by puppy mills and backyard breeders. These breeders don't take the necessary steps to ensure your new Maltipoo is healthy and will remain that way.
We've scoured the internet to find you the best Maltipoo breeders in New York even though there are very few of them. These Maltipoo breeders take measures to ensure that your future Maltipoo puppy is healthy and comes from an excellent and ethical place.
Other articles you might like: Goldendoodle breeders in New York and Maltipoo Breeders in New Jersey.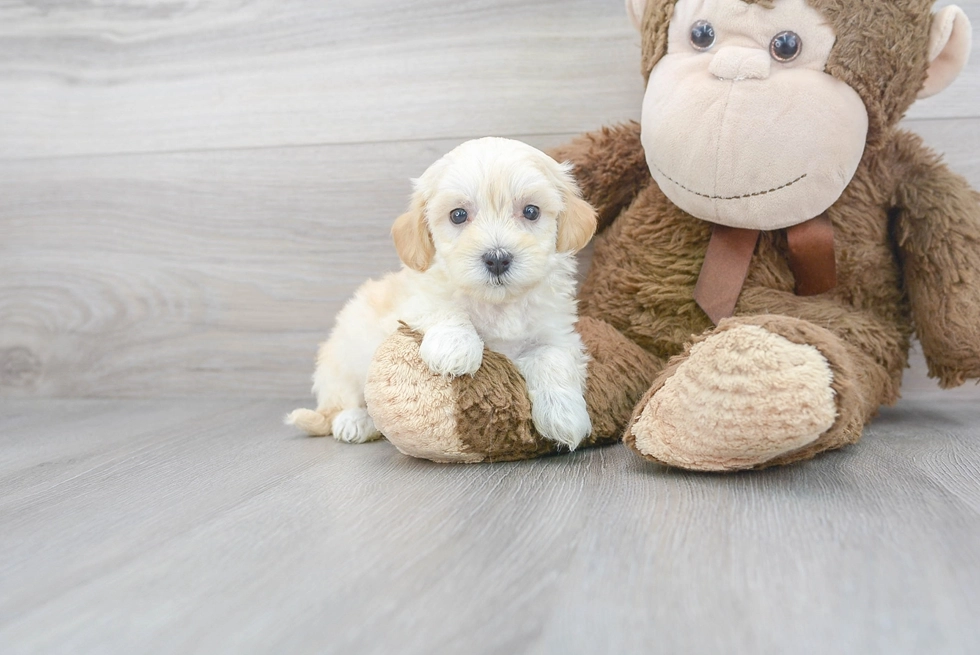 If you're searching for one of the best Maltipoo breeders in New York, you should check out Premier Pups. They focus on breeding miniature doodles.
Additionally, they particularly focus on providing an interactive and friendly adoption experience. Additionally, they have a very friendly web page and provide an easy and practical way to get your hands on a new puppy.
Formerly, the Maltipoo puppy adoption process was something a lot of families would look forward to, there were a lot of feelings like excitement, nervousness and suspense in the air. Premier Pups is committed to making sure that doesn't change, even though they work primarily through digital means.
Adopting a puppy shouldn´t be a tedious process, Premier Pups knows this. They work as hard as they can to ensure they can offer a simple way to make people's lives better.
The company believes that having a Maltipoo puppy can significantly improve people's quality of life, by simply having someone to share your time with.
Breeding Values
Health: Of all the breeding aspects, this one is the most important. Every puppy is bred following the best guidelines and they are blood and DNA tested to ensure they are completely healthy.

Care: Every puppy is handled with care, breeders dedicate a lot of time to ensure the puppies have everything they need to grow healthy.

Patience: Breeding quality puppies takes time and a lot of work, that's why Premier Pups´ breeders work without being rushed or pressured

Love: It is also very important to give love to the puppies.  If you love them, they´ll love you back.
Maltipoo Puppy Information:
Generation: All generations of Maltipoos
Size: Mini Maltipoo puppies
Maltipoo Breeder Information:
Website: Premier Pups
Premier Pups is offering $250 off a Maltipoo puppy with code WLD250. This makes their puppies some of the most affordable in New York.
Whether you're new to this or have experience in finding Maltipoo breeders before, we can all agree that finding the right puppy isn't easy. With PuppySpot's platform, the process of bringing home a Maltipoo is much easier. Like every potential dog owner, we want to avoid supporting puppy mills due to unethical practices and unhealthy puppies. We highly recommend PuppySpot for this very reason.
Before Maltipoo breeders list any puppies on PuppySpot's marketplace, the breeders have to go through a 100-point screening process, be licensed, and be registered with their respective states. With all of the breeder applicants combined, fewer than 10% get accepted. This is a great example showing how strict PuppySpot is when accepting breeders. PuppySpot is also backed by the American Kennel Club (AKC), which is the largest dog organization in the United States.
In case you find yourself struggling to find a compatible companion because you're not sure if the Maltipoo breed is for you, PuppySpot has a quiz on their website. Upon finishing the 8-question quiz, they'll provide you with compatible dogs. Additionally, if the Maltipoo puppy you want is not located in New York then they will safely fly it out to you. We had a really good experience using PuppySpot and highly recommend them. You won't have to wait on a long puppy waitlist because they have Maltipoos for sale today.
Maltipoo Puppy Information:
Generation: F1, F2, F1B, and F2B Maltipoos
Size: Toy, Miniature, and Standard Maltipoo puppies
Maltipoo Breeder Information:
3. Petite Maltipoos of Westbury in New York
Petite Maltipoos of Westbury specializes in breeding toy Maltipoo puppies in West Winfield, New York. Their Maltipoo puppies are born and raised in their home with the breeder's family and they currently don't utilize a guardian program. The puppies are socialized using various methods such as stair climbing to make them fit well in your home's indoor and outdoor environment. You'll also notice that these Maltipoos are well socialized prior to going to their forever home.
These Maltipoo puppies in New York come in all shades from the signature white coat, black coat, and all the way to an apricot-colored coat. The Maltipoo puppies range from $1800 to $2500 depending on color and size. Every Maltipoo comes with a 12-months health guarantee.
The dams and sires undergo extensive health testing to certify they are clear of any health and genetic conditions. In addition, the breeder encourages interested Maltipoo buyers to visit them at their home once the puppy hits 8 weeks to pick the puppy from their home.
You can find up-to-date photos of past and current litters on the Maltipoo breeder's website. If for any reason, you are unable to take care of your Maltipoo puppy – the breeder has an open-arms policy. This simply means that you can return your Maltipoo to the breeder instead of a shelter. We think this is one of the most reputable Maltipoo breeders in New York.
Maltipoo Puppy Information:
Generation: F1b, F2 Maltipoo puppies
Size: Toy Maltipoo puppies
Maltipoo Breeder Information:
Address: West Winfield, New York
Email: petitepoos@gmail.com
4. Canine Coral New York
Canine Coral New York has been in operation since 1963. The family-owned kennel specializes in connecting people with their perfect puppy. They offer the best pet products, services, and do the legwork to connect you with a Maltipoo puppy of your choice from a reputable breeder.
However, Maltipoos are one of the many dog breeds they have. Usually, a Maltipoo breed specialist will speak to you and learn about what you want in a dog, your family, and your lifestyle. The questions also tend to revolve around how active you are, your work schedule, any allergies you have, and your housing situation.
Once that is in place, the search for a new Maltipoo puppy in New York starts. Financing options are also available through the partnerships Canine Coral has built over the years with banks and lending institutions.
They are open Monday through Friday from 11:00 am to 9:00 pm, and on weekends from 11:00 am to 7:00 pm. We recommend that if you buy a Maltipoo from this business that you try to learn more about the breeding practices of a particular breeder. Since they don't breed their own Maltipoo puppies in New York, it's important to understand if they do health testing, genetic testing, and offer a health warranty.
Maltipoo Puppy Information:
Maltipoo Breeder Information:
Address: 1845 New York Ave, Huntington Station, NY 11746
Telephone: 631-549-1544
Email: sales@caninecorral.com
Website: Canine Coral New York
5. Preferable Pups New York
Preferable Pups is a breeder network that spans across the United States to connect dog lovers and their future dog. The network screens all their Maltipoo breeders to ensure that they meet and exceed their breeding standards.
They do all the background checks for you and ensure you have all the proof of where the puppy is from, the state of its health, and also arrange all travel needs.
Their Maltipoo puppy application process is simple. Once you're approved and you've selected your new Maltipoo puppy, the puppy will go under an additional medical exam by PawFax. PawFax is one of the industry's leading health examinations with 20 criteria.
The Maltipoo puppy must have an A+ before it is certified to come home to you. The examination is done to protect you from receiving a puppy from a puppy mill or an unhealthy pup. The price range is similar to what you would get directly from a breeder.
If you buy a Maltipoo from them, we highly suggest that try to get to learn more about the breeder and their breeding practices. 
Maltipoo Puppy Information:
Generation: Multigenerational Maltipoo puppies
Size: Tiny, Toy Maltipoo puppies
Maltipoo Breeder Information:
How much do Maltipoos in New York cost?
Generally, a Maltipoo puppy in New York can cost anywhere from $500 to $3,000. Many Maltipoo breeders, however, price their puppies between $1000 and $1500. Various factors such as the breeder's reputation, location, puppy pedigree, puppy age, size, and demand influence the price of a Maltipoo.
There are also extra costs you need to consider as you purchase your Maltipoo. This includes:
Registering your dog with the state. All dogs in New York, including Maltipoos, must have licenses and the licenses must be visible in public. The license lasts between 12 months and up to 5 years. The price of the license depends on whether the dog is spayed or neutered, and how long the license will be for. Generally, the license costs between $8.50 and $34. A fine of $2 is charged for every year the license is not renewed.
Transportation costs. If you live quite a far distance from the Maltipoo breeder, you will need to think about which transportation options are available to you. Many Maltipoo breeders will offer ground and airline shipping services. Airline shipping typically comes with the costs of an in-flight nanny which can go up to $450 depending on the distance and season.
Training Sessions. The best start to a wonderful relationship with your Maltipoo puppy begins at training. You will need to sign up your Maltipoo for obedience training as soon as they are 8 to 9 weeks old and up to date on their current vaccines. Ideally, your Maltipoo will learn commands such as "heel", "come", and "stay" among others as well as leash training. A session ranges from $75 to $150 depending on where in New York you live.
5 Tips for Buying a Maltipoo in New York
Take your time to go through what it means to raise a Maltipoo puppy, breeders in your area, their process, their credentials, what things you should look out for among others. This will help you to gain a wide base of knowledge about the Maltipoo and the breeders.
Interview Multiple Maltipoo Breeders. A reputable Maltipoo breeder, like the ones on our list, will know all the facts about the breed. Well-researched questions will come in handy here.
Evaluate the Mommy & Daddy. Check the breeder's knowledge of the parent's genealogy, their health records, and how they look to the naked eye. Your Maltipoo will inherit a lot of their parents' traits.
Check out the Litter. A good breeder will know their litter like the back of their hand. They will have taken time to know the forming personality traits, health among other factors.
Go through the Guarantee – A reputable breeder will provide you with a health guarantee. Don't go in blindly. Evaluate the terms and conditions, and read between the lines.
Conclusion for Maltipoo Breeders in New York
Adorable and cuddly, the Maltipoo puppies in New York are extremely popular. If you're ready to get a Maltipoo, we recommend you start with the breeders and networks on our list.
If you're not sure that the Maltipoo is the best choice for you, here are a couple of breeds that might interest you:
Bichon Frise – Nothing spells cheerful like this breed. It is gentle-mannered, playful, and incredibly affectionate
Shih Poo – This breed might be tiny but they pack a big personality. Word has it that they hail from royalty households in ancient China more than 1,000 years ago.
Goldendoodle – This breed hasn't met a stranger who's not a friend. Their bright, outgoing, and loving temperament is all part of the charm.
Bernedoodle – This breed is the ultimate clever goofiness and loyalty combination. They are beautiful, intelligent, and have interesting personalities.
Garrett loves animals and is a huge advocate for all Doodle dog breeds. He owns his own Goldendoodle named Kona. In addition, he volunteers at the Humane Society of Silicon Valley, where he fosters dogs and helps animals. Garrett enjoys writing about Doodles and believes that dogs can teach humans more about how to live than humans can teach a dog.
Why Trust We Love Doodles?
At We Love Doodles, we're a team of writers, veterinarians, and puppy trainers that love dogs. Our team of qualified experts researches and provides reliable information on a wide range of dog topics. Our reviews are based on customer feedback, hands-on testing, and in-depth analysis. We are fully transparent and honest to our community of dog owners and future owners.