Playful, cute, and affectionate, Maltipoo puppies for sale in Michigan are in high demand due to their sweet nature and ability to bring joy to every pet parent and family. In addition, they are generally considered nonshedding and hypoallergenic dogs which means that you don't have to vacuum and you'll sneeze less from pet allergies.
Maltipoos make the perfect addition to any loving household and especially get along well with children. If you're looking for Maltipoo puppies in Michigan, we have compiled a list of the most reputable breeders. We've done our own independent research because we realize that there are a lot of puppy mills and backyard breeders selling unhealthy Maltipoo dogs throughout the state of Michigan.
Other articles you might like: Cockapoo Breeders in Michigan and Cavapoo Breeders in Michigan.
Premier Pups is very similar to PuppySpot except significantly cheaper. They only focus on smaller breed dogs like Maltipoos. Additionally, all their Maltipoo breeders are state registered and inspected.
A team comprising passionate dog lovers and dedicated 24/7 staff, strict breeding policies, and an on-call vet, Premier Pups is consciously and responsibly raising the bar.
They offer ongoing training to both breeders and new puppy owners, ensuring that all pups they place have happy and healthy lives. Every puppy comes with a 10-years health guarantee.
They thoroughly inspect the Maltipoo puppy, from nose to tail, to ensure that you have a healthy dog before they leave for their new home. Their team is knowledgeable and willing to answer any questions you may have.
Their well-trained team cheerfully assists new puppy parents at every turn, from arranging transportation to providing a complete puppy care guide.
Premier Pups offers $250 off a Maltipoo with code WLD250. This makes their puppies extremely affordable.
Maltipoo Breeder Contact Information: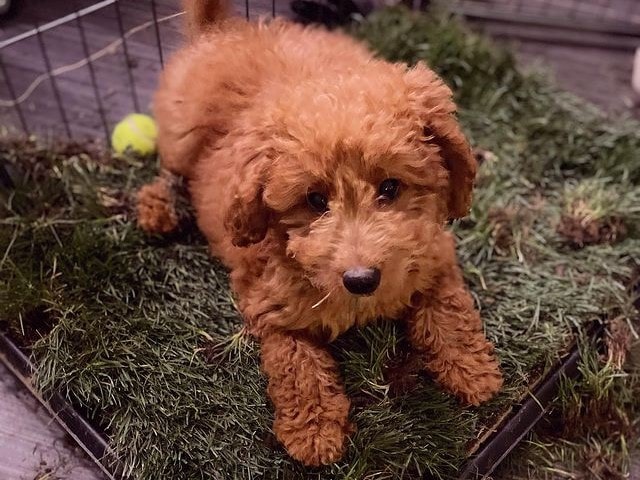 Maltipoo puppies have gotten so popular, especially in Michigan. This makes it hard to find a Maltipoo without having to wait on a breeder's puppy waitlist. One of the best aspects of PuppySpot is a community of ethical dog breeders looking to sell their puppies. This means that they will have Maltipoo puppies for sale today since they are a network of breeders across the United States.
PuppySpot is backed by the AKC and they screen every breeder that wants to sell Maltipoos on their website. Less than 10% of applications are accepted because they have strict requirements such as being a state registered and state licensed Maltipoo breeder. Additionally, they have a "no puppy mill" promise so you know that your Maltipoo puppy will be healthy and happy.
We got one of our doodles from PuppySpot and can attest to the outstanding experience. We were able to pick our future puppy by coat color, gender, price, and size. If the Maltipoo you want isn't located in Michigan then they can fly it out to you safely. If you don't want to have to wait for a Maltipoo puppy and you don't like screening multiple breeders, check out PuppySpot.
Maltipoo Breeder Contact Information:
3. Michigan Puppy Maltipoos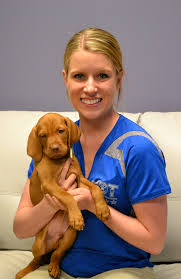 The Yoder family raises Maltipoo puppies in central Michigan and takes pride in finding them the perfect forever home. They have an easy 4 step application process that includes bonding with your Maltipoo puppy. You can pick your puppy up from their location or they will drive the puppy to you if you are located close by. In addition, Michigan Puppy Maltipoos also offers other delivery options if you're out of state. You can view available Maltipoos puppies for sale on their website, check out their reviews, and start the super easy application process online.
You can also schedule an appointment to meet this Maltipoo breeder in Michigan. They operate from Monday to Saturday from 9 a.m. to 6 p.m. Michigan Puppy Maltipoos is located in Hershey, Michigan and they not only sell Maltipoos. If you're interested in other designer dogs like the Schnoodle, Shi Poo, or Morkie then you can check them out at their facilities.
Maltipoo Breeder Contact Information:
Location: Hershey, Michigan
Phone: 1-989-424-1449
Email: info@michiganpuppy.com
4. Mari May Kennels Michigan
This Maltipoo breeder is located in northeast Michigan. They take pride in raising healthy Maltipoo puppies at affordable prices. Mari May Kennels has a holistic dog breeding program that allows the puppies to get a healthy start in life. They have been in business for more than 30 years and have excellent reviews from previous customers.
They have affordable prices that are offered to everyone plus they offer a military discount for active duty and retired soldiers. You can contact Mari May Kennels directly via their email address to inquire about available puppies. They sell a few other types of dogs breeder along with the Maltipoo including the Shipoo and Schnoodle. We consider them one of the most reputable Maltipoo breeders in Michigan.
This breeder is willing to deliver if you're near Detroit, Grand Rapids, Ann Arbor, Traverse City, Kalamazoo, or Flint Michigan for an additional $400. They also do delivery to other areas for a flat fee of $500. 
Maltipoo Breeder Contact Information:
5. The Family Puppy MI
This pet store is located in Novi, Troy, and Flint Michigan. They are an excellent alternative to dealing with a breeder directly. This pet store gets its Maltipoo puppies from high-quality breeders around Michigan that are required to adhere to the USDA Animal Welfare Act minimum requirements and are encouraged to go above and beyond to produce healthy happy puppies.
They have financing available to their customers and have a smooth purchasing process. You can learn more about this trustworthy pet store by visiting their website.
We typically don't recommend that you buy a Maltipoo puppy in Michigan from a pet store. However, if you don't want to deal with a breeder then you can always order one of these dogs online. We ask that you do make sure the breeders are reputable and see if you can ask the pet store a lot of questions regarding health, temperament, and personality of the dog you're purchasing.
Maltipoo Breeder Contact Information:
Novi, Troy, and Flint Michigan
Address #1: 3341 South Linden Road, Flint, MI 48507
Address #2: 44125 12 Mile Rd, Novi, MI 48377
Address #3: 528 W 14 Mile Road, Troy, MI 48083
6. Cuddly Maltipoo Puppies Michigan
Cuddly Maltipoo Puppies Michigan is a breeder who has been in business for more than 12 years and strives towards producing high-quality puppies. They carefully breed the dogs to ensure each one they sell is healthy, has a good temperament, and is deemed healthy by a certified veterinarian. In addition, we like this Maltipoo breeder in Michigan because they take the time to socialize their puppies with adults and children. They will also help to answer all the questions you have about Maltipoo puppies.
Cuddly Maltipoo Puppies Michigan also has a smooth application and purchase process that requires a deposit and involves a waiting list. You can view their current available puppies on their website and contact them directly by phone if you have any questions. 
Contact Information: 
7. Puppy Tots in Michigan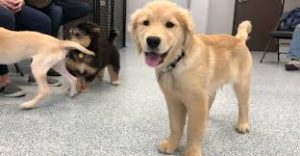 This Maltipoo breeder in Michigan raises puppies in their home and spoils them to the limit. All of the puppies are well cared for and treated like family. They are located near West Michigan near Grand Rapids, but they offer special delivery for a fee. Visit their website to view available puppies and learn more about their smooth application process and friendly customer service.
In addition to Maltipoos, they also sell Yorkies, Pomapoos, and toy Poodles. The owner's name is Jodi and she is a stay-at-home mom with three children. All of her dogs are less than 9 pounds, so you can expect these Maltipoos to not get any bigger than that.
Maltipoo Breeder Contact Information:
Location: West Michigan near Muskegon and Grand Rapids, Michigan.
Phone: (231) 853-0247
Email: bjeaajbundy@gmail.com
How do I know which breeder to choose in Michigan? 
All of the breeders on the list above have been carefully researched and show proven history and demand for excellent care for their Maltipoo puppies in Michigan. The best way to narrow down which breeder you want to use is to find out which one is closest to your home. This allows you to possibly visit the facility where the dogs are bred and gives you an insight into the care the Maltipoo puppies receive from the moment they are born. 
By visiting the facility you also get to bond with the puppy in person and become familiar with their personality to ensure that is the puppy you want. Some pet parents don't mind taking a road trip to pick up their puppy and feel comfortable choosing a high-quality breeder that lives hours away. Most breeders offer a delivery service around Michigan for a fee or encourage you to pick up your puppy in person. Inquire further with the breeder of your choice regarding their delivery options. 
What if I'm afraid to contact a breeder in Michigan directly? 
Many first-time pet parents and some experienced ones don't feel comfortable dealing with a private breeder. If you feel more comfortable dealing with a pet store check out the link to the Family Puppy Pet Store. This pet store only uses high-quality and ethical breeders to produce the puppies they sell. This means no puppy mills or harsh treatment is involved throughout the entire process. 
The pet store is located in three areas throughout Michigan and is worth the drive to find your new furry family member. You are encouraged to view their website and confirm they have Maltipoos for sale in Michigan or if there is a waiting list involved. 
Why do some Maltipoo breeders in Michigan ask for a deposit? 
There are only a certain amount of Maltipoo puppies available and it depends on the number of pups born per litter. Many breeders are high in demand due to their production of healthy and cute puppies so they need to create a waiting list to ensure the process is fair. A small deposit for the puppy of your choice helps the breeder understand that you are serious about the purchase and provides a confirmed hold on a Maltipoo puppy. 
If you feel uncomfortable placing a deposit with a breeder you can always choose to purchase a puppy from a breeder that doesn't charge a deposit fee. Many breeders happily accept full payment at the time of purchase. Some of them even offer financing options to make things easier for you. 
What if the Maltipoo breeder I like lives far away from me? 
If you have your heart set on purchasing your puppy from a specific breeder that may be located within the state of Michigan but is far away from your home you can discuss pick up or delivery options with the breeder. 
Usually, reputable Maltipoo breeders in Michigan encourage pet parents to visit their location in person to get to know the puppies and fill out an application. However, many breeders have also made it easy for customers who live far away to complete the entire purchase process online. 
Most breeder websites post pictures of the available puppies so you can pick out the one you really want. They offer pictures, videos, and sometimes even live video of your puppy to ensure the puppy's personality and energy level will fit into your household perfectly. It also gives you a chance to change your mind before the purchase and perhaps choose a different puppy from the litter. 
Breeders take measures to make sure their customers feel comfortable paying online through verified and secure platforms. They also do their best to offer delivery service to pet parents who can't make it to their facility in person. Most breeders charge an additional fee for delivery but it's worth it to have your new furry family member arrive at your doorstep instead of driving across the state. 
If you enjoy taking road trips, breeders encourage you to pick up your puppy in person. If a long road trip is involved you need to be prepared with a doggie car seat that securely attaches to ensure your puppy has a safe ride home. 
Keep in mind some puppies have never experienced riding in a car and can become nervous and cry or whine all the way home. You need to remain calm during this process and do your best to comfort them along the way. 
The following items need to be brought along for the road trip home with your puppy: 
You should also consider bringing a family member or friend along for the trip so they can hold the puppy in their arms to provide comfort and security. 
Are you ready to welcome a Maltipoo puppy into your life? Get started on your journey to becoming a pet parent today by choosing any of the breeders on the list above! 
Conclusion for Maltipoo Puppies for Sale in Michigan
Maltipoos puppies for sale in Michigan are in extremely high demand. In addition, finding a reputable breeder will be one of your hardest tasks when choosing a puppy. If you purchase a dog from a puppy mill, not only are you support bad breeding practices, but you also may get a Maltipoo that has genetic diseases and you'll be paying a lot in medical bills. Luckily, we've done our own research to find the best Maltipoo breeders in Michigan so you can reach out to them first.
Other articles you would like:
Garrett loves animals and is a huge advocate for all Doodle dog breeds. He owns his own Goldendoodle named Kona. In addition, he volunteers at the Humane Society of Silicon Valley, where he fosters dogs and helps animals. Garrett enjoys writing about Doodles and believes that dogs can teach humans more about how to live than humans can teach a dog.
Why Trust We Love Doodles?
At We Love Doodles, we're a team of writers, veterinarians, and puppy trainers that love dogs. Our team of qualified experts researches and provides reliable information on a wide range of dog topics. Our reviews are based on customer feedback, hands-on testing, and in-depth analysis. We are fully transparent and honest to our community of dog owners and future owners.