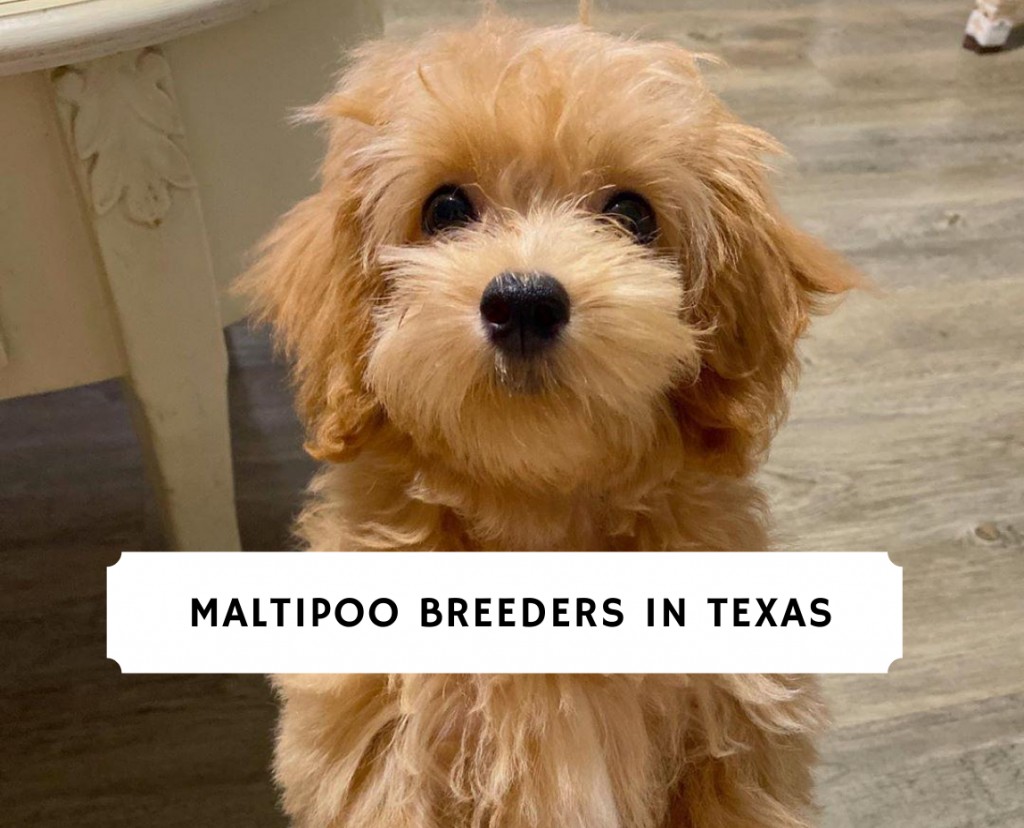 Everything in the Lone Star State is bigger – except the little Maltipoos! Maltipoos breeders in Texas know that the dogs are smart, cute, and that they have a long life expectancy (12 to 16 years!). That's why the pups have grown in popularity over the years, and why breeders are becoming more and more prolific in the state. 
The Maltipoo is a cross between a Maltese and a Poodle, and it's considered largely hypoallergenic as well as a great family dog.
If you're convinced that this is the kind of dog you want in your life, you'll want to check out our list of reputable breeders. Of course, we recommend that you do your own individual research and ask a potential breeder lots of questions in regards to health tests, temperament, and generation of Maltipoo to understand coat color and personality.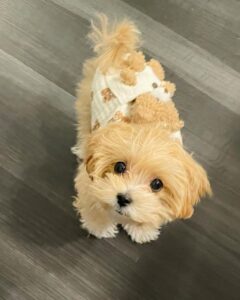 Premier Pups is a team of dog lovers who will help you get healthy small-breed puppies like the Maltipoo. They have collaborated with dependable Maltipoo breeders around the United States who share the same passion for dogs as they have, and who are willing to deliver their puppies nationwide.
Each Maltipoo puppy for sale is health checked extensively, from her wagging tail to her sniffing nose. You also have the option to purchase additional tests such as IDEXX Chem 10; this test will ensure that the puppy's organs are functioning correctly.
Moreover, you can make your dog's future even more secure by purchasing pet insurance. Premier Pups provides an excellent deal of flat 10 percent discount if you purchase insurance from them. The insurance is provided by Fetch, which works with all the licensed vets in the US and Canada.
Besides all this, you get a 10-year health guarantee on every Maltipoo puppy you buy from Premier Pups. They stand behind their puppies for any health issues you may face after they turn eight weeks old.
Maltipoo Puppy Information:
Generation: Multi-Generation Maltipoo puppies
Size: Miniature Maltipoo puppies
Maltipoo Breeder Details: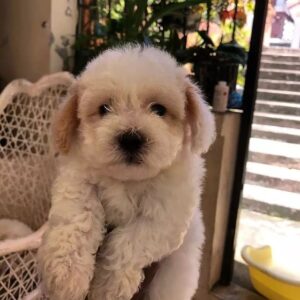 While PuppySpot isn't an individual breeder, we still believe that it holds a top spot because they vet breeders and are backed by the American Kennel Club (AKC). Additionally, the team at PuppySpot ensures that all breeders are licensed before listing any Maltipoo puppies. PuppySpot is completely against unethical breeding practices and puppy mills, which means that these breeders must be scanned before promoting any dogs on the website. They also have a "no puppy mill" promise.
If you don't have much experience reearching a reputable breeder, then PuppySpot is a recommended go-to spot for your companion. Finding a Maltipoo breeder on your own, outside of PuppySpot, will require you to do more in-depth research of the breeder. Choosing PuppySpot means that work has been done for you!
What we also like about PuppySpot is that you won't have to wait 6 months or more for a puppy. Since PuppySpot is a network of breeders, you can get your Maltipoo puppy today. If the puppy isn't located in Texas, they will personally fly it out to you via their USDA-approved airline.
If you want a healthy Maltipoo puppy, try exploring PuppySpot's marketplace before you scroll down this list any further. You can sort Maltipoo puppies by gender, age, color, and cost to find the perfect match for your household.
Maltipoo Puppy Information:
Generation: All generation Maltipoo puppies
Size: Teacup, Toy, Standard Maltipoo puppies
Maltipoo Breeder Details:
3.  Kathy's Little Pups in Texas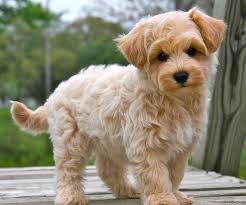 Kathy's Little Pups are Maltipoo breeders in Texas who raise the dogs as personal pets on three acres of land. Unlike other breeders, the dogs are bred and live in the family's house instead of in crates or kennels. Kathy's Little Pups in Texas prides herself on being a responsible breeder who seeks to connect families with pets. If the dogs become bothersome, the breeder requests that you contact her instead of dropping the dogs at a dog shelter. This is a good sign of a reputable Maltipoo breeder in Texas.
The puppies are part of her family, and she would rather have them at her home rather than in a shelter. Her puppies range from $1,500 to $2,200 depending on the gender and color. Since she's a small-scale breeder, her litters are small, and you should place a deposit to reserve a spot on the waiting list.
Maltipoo Puppy Information:
Generation: F1 Maltipoo puppies
Size: Toy Maltipoo puppies
Maltipoo Breeder Details:
Location: Tarrant County. Right near Dallas, Texas, and Fort Worth, Texas.
Address: 803 Barbara Lane, Keller, Texas 76248
Website: Kathy's Little Pups
Email: texdoc1229@aol.com
Telephone: (817) 379-5712
Review: Testimonials
4.  ETX Doodles in Texas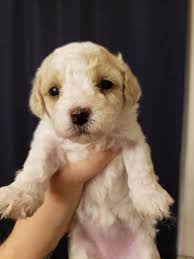 ETX Doodles is based in Austin, Texas, and specializes in breeding non-shedding dogs like the Maltipoo. Breeding for them is a hobby and they enjoy socializing with their dogs on a regular basis. They are not a puppy mill, and they are more interested in placing their Maltipoo dogs in a good home rather than make a huge profit.
The average price of a Maltipoo puppy is $1,250 which is one of the lowest of all the Maltipoo breeders in Texas. You'll pay a $250 deposit to get on the waiting list; your wait could be three or more months. Typically, they breed several litters in a year, and the puppies are raised in their home with the kids, animals, and adults for early socialization and stimulation. 
All their adult dogs are tested for hereditary issues that might be passed on to their offspring. The vets evaluate their puppies before they leave and come with a 1-year health guarantee, up-to-date wormings, puppy pack full of the puppy's current food, blanket with the siblings, or parent's scent as well as 30-day pet insurance.
Maltipoo Puppy Information:
Generation: F2 Maltipoo puppies
Size: Toy and Miniature Maltipoo puppies
Maltipoo Breeder Information:
Location: Bastrop & Travis Counties. Right outside of Austin, Texas. Approximately 100 miles from San Antonio, Texas, and 130 miles from Houston, Texas.
Address: Elgin, TX
Website: ETX Doodles
Email: mizerin1215@aol.com
Telephone: 512-924-3966
5.  Vicky's Toy Puppies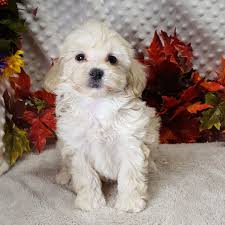 Vicky's Toy Puppies specializes in breeding shed-free dogs such as Maltipoos, Shorkies, Shihpoos, Morkies, and YorkiePoos. Their Maltipoo puppies are bred and raised in rubber-coated cages where they are provided with heat and cooling. Everything is designed for their comfort and to ensure that they enjoy a good life before they go to their next home.
They have bred and raised dogs that went on to become seizure dogs, asthma dogs, service dogs, and even one dog that could detect cancer. Their dogs are raised around their family which includes grandkids so they can get used to smaller children. The owner also takes the dogs for auto rides when they are old enough to introduce them to more people across town.
A Maltipoo puppy ranges from $1,200 to $1,700, and as usual, you'll pay a deposit, and the remainder is due before you collect your puppy. 
Maltipoo Puppy Information:
Generation: F1B Maltipoo puppies
Size: Toy, Miniature Maltipoo puppies
Maltipoo Breeder Details:
Location: Childress County. Approximately 117 miles from Amarillo, Texas, and 140 miles from Lubbock, Texas.
Address: Childress, Texas, 79201
Telephone: 940-937 8392
Website: Vicky's Toy Puppies
Email: vickyharman@sbcglobal.net
Maltipoo Puppies in Texas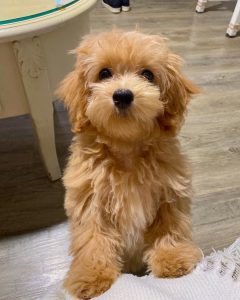 Maltipoo puppies are affectionate and are a suitable choice for first-time pet owners. They are companion dogs that typically like to cuddle, and they're highly sensitive. They love being in the company of their guardians… so much so that they may develop separation anxiety when left alone for too long.
If you intend to get a Maltipoo puppy, we know that you'll want to give back just as much love to your new friend!  Since you want to provide a conducive home for your puppy, be sure to confirm that the climate is favorable for Maltipoos. Since Maltipoos have thick coats, they don't typically do well in extreme heat.
How to Choose a Maltipoo Breeder in Texas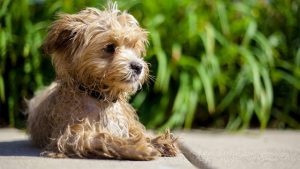 Take your time to find the right breeder as you don't want to end up with a dog riddled with diseases. Also, be cautious not to fall for scams, especially some that lure with the promise of a high-quality dog but at an alarmingly low price.
Below are tips to assist you in your search for Maltipoo breeders in Texas:
1. Research
Research is vital, especially when dealing with pet breeders. Preferably, you want to work with a responsible breeder who is concerned with the health of their dogs. If a breeder has puppies throughout the year, that should be a red flag. This is because most responsible breeders only have several litters a year and tend to have a waiting list.
2. Referrals
Look for referrals from local dog shows, local breed clubs, and the American Kennel Club. If you find several breeders, especially online, you can look for their reviews on Facebook, Yelp, etc. Also, check if the breeders are labeled as scammers by searching their names on search engines.
3. Number of litters
How many litters does the breeder raise per year? If the breeder raises one to two litters a year, you are certain that they can dedicate the time and resources needed to raise the puppies. Besides, responsible breeding dictates that each female is bred only once a year.
Where to Find a Maltipoo Breeder?
You can use the recommendations provided on this list, or you can get suggestions from your vet, Facebook groups, dog shows, and more.
Conclusion for Maltipoo Breeders in Texas
The Maltipoo is an affectionate dog breed that you'll enjoy having as a pet and companion. They typically have non-shedding and hypoallergenic coats which make them easy to care for. You can't go wrong with a Maltipoo, and if you are set on getting on one, the recommendations of breeders provided above will help. Happy puppy hunting!
Other articles you might like:
Garrett loves animals and is a huge advocate for all Doodle dog breeds. He owns his own Goldendoodle named Kona. In addition, he volunteers at the Humane Society of Silicon Valley, where he fosters dogs and helps animals. Garrett enjoys writing about Doodles and believes that dogs can teach humans more about how to live than humans can teach a dog.
Why Trust We Love Doodles?
At We Love Doodles, we're a team of writers, veterinarians, and puppy trainers that love dogs. Our team of qualified experts researches and provides reliable information on a wide range of dog topics. Our reviews are based on customer feedback, hands-on testing, and in-depth analysis. We are fully transparent and honest to our community of dog owners and future owners.