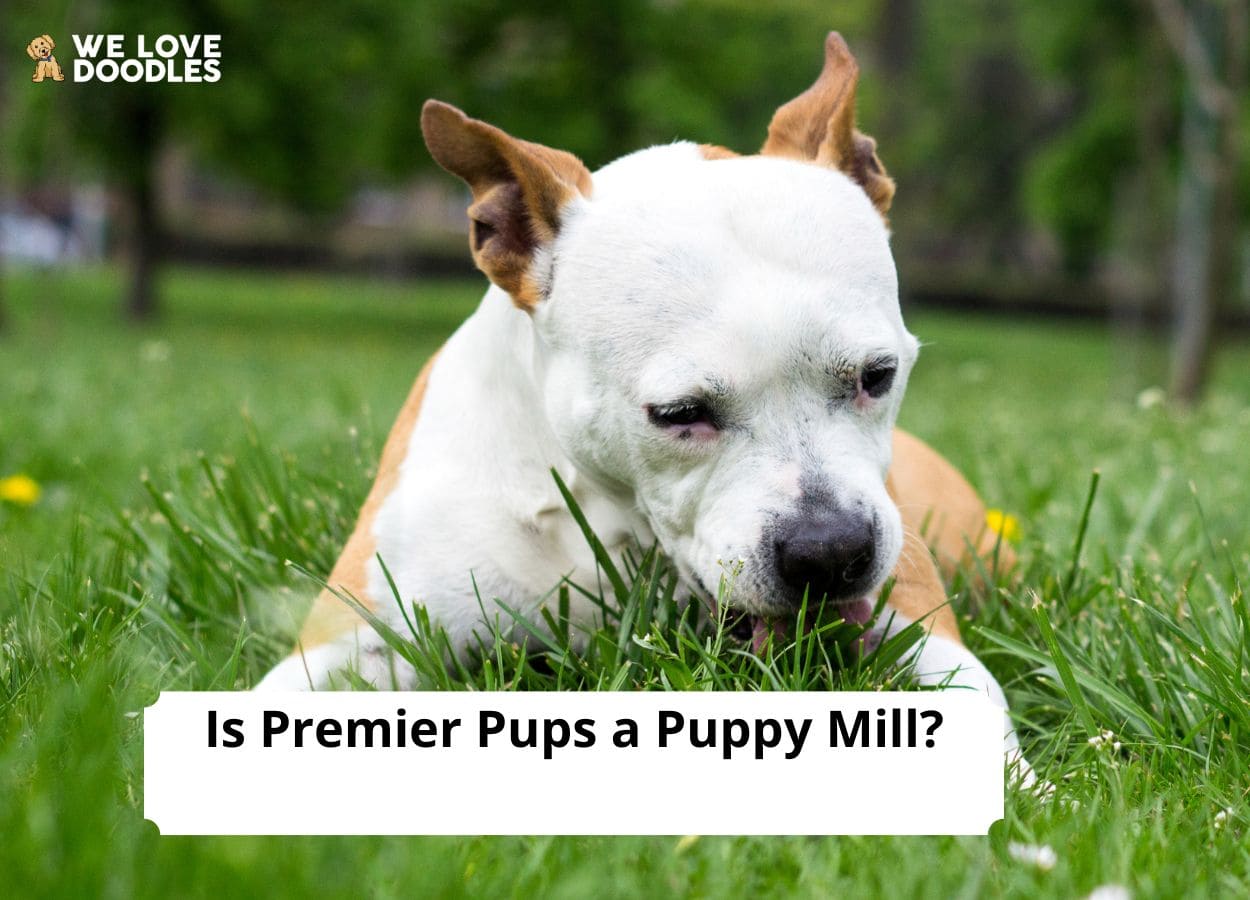 Most people who want to purchase a dog, especially first-time buyers, find out that the dog breeding industry is rife with scams. Once people get some experience, one of the first questions when discovering a company like this should be "is Premier Pups a puppy mill?"
The only reliable way to answer this question is to read customer reviews. Thankfully there are resources where people who have had bad experiences can tell their stories. Hopefully, disreputable breeders will develop such a bad reputation that they cannot continue doing business, at least not under the same name.
With all that having been said, we can easily say that Premier Pups is not a puppy mill. Read on to discover more about what we learned through our research. 
Before scrolling down this guide "Is Premier Pups a Puppy Mill?" check out these helpful dog-related articles from our team at We Love Doodle: Is PuppySpot A Puppy Mill? and PuppySpot Review.
What You Should Know About Puppy Mills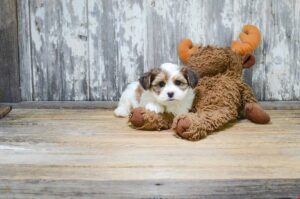 A puppy mill does exactly what the name implies: it attempts to crank out high numbers of puppies for sale. Often puppies and dogs endure poor conditions and inhumane treatment that cause mental and physical illnesses.
The term puppy mill has no legal definition, but reputable breeders must obtain a license and abide by certain laws, similar to the livestock industry. Conditions alone do not decide whether or not a breeder qualifies as a puppy mill. For instance, coercing female dogs to breed beyond their natural capacity also meets the definition.
Under normal conditions, a mother does not go into heat and get pregnant again while breastfeeding and caring for a litter of puppies. When puppy mills separate mothers and puppies too soon, they cause psychological damage to all the animals and disturb the natural order. Premier Pups does not fit this description and is not a puppy mill.
If you're shopping around for breeders, be sure you check out our in-depth review on Premier Pups. They're another large-scale breeder that offers a wide selection of dog breeds. 
Why Do Puppy Mills Have a Bad Image?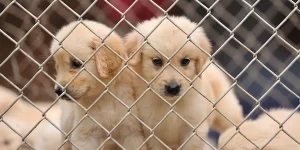 On the most basic level, puppy mills make their animals crank out the highest number of puppies possible. Mother dogs in puppy mills are rarely viewed as dogs… they are just breeders. When they can no longer breed, they're useless. When female dogs can no longer breed, puppy mills often euthanize or abandon them.
Unfortunately, when dog shelters find abandoned dogs from puppy mills, the mental and physical damage often inflicted throughout their lives causes them to die soon after. The other side of the problem is that many puppy mills are cruel to their dogs.
They keep them in cramped cages where food and feces are too close. As a result, disease and parasitic infestations often run rampant. Puppies become poorly socialized because they live in cages with other puppies without enough room to exercise and play. The cages often have a simple wire design that physically harms the animals over time.
Related: Why is PuppySpot So Expensive?
How Do You Spot a Puppy Mill?
While there is a chance that you will physically discover a puppy mill, most people never lay eyes on one. However, astute buyers can discern that breeders are puppy mills. Usually, the evidence that leads to discovery comes from realizing that something is off with a puppy or puppies from a breeder.
In completely neutral settings like the BBB (Better Business Bureau), negative comments regarding puppy health can create enough suspicion for buyers to steer clear of certain breeders. People can also comment on Google Maps or random websites about regional dog breeders.
One thing to be wary of is that people who feel cheated often accuse a breeder of being a puppy mill, regardless of the truth. Look for truly telling comments like multiple buyers reporting that they received a puppy with health problems. Puppy mills usually have unhealthy animals.
What Does a Reputable Dog Breeder on Premier Pups Look Like?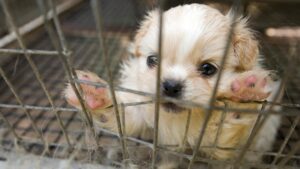 Reputable breeders offer various services that let buyers know they follow good business practices. Good breeders get all their puppies' shots and medical needs sorted out before selling puppies. Good customer service is a must. Quality breeders have informative websites that feel open and inviting.
Buyers expect reputable breeders to provide healthy puppies that have learned good social skills. Puppies learn positive social skills by having ample room and time to run, explore, and play with other puppies. In addition, they need to learn to love people by spending quality time receiving affection and learning to play with people.
The result of raising puppies the right way is that owners will leave comments saying how much they love their new puppies and how they are already family. Conversely, owners will notice and complain when a puppy mill produces poorly socialized pets.
How Does Premier Pups' Company Stack Up?
There are no companies that reach Premier Pups' size that don't have to endure some negative feedback. Premier Pups does enough business that they have many hundreds of comments you can search through. This makes us wonder, is Premier Pups a puppy mill?
The answer is no. They primarily enjoy positive feedback. Most importantly, they do not have customers accusing them of being a puppy mill. One customer specifically writes that Premier Pups is not a puppy mill.
Furthermore, the BBB (Better Business Bureau) gives Premier Pups an excellent rating. There is no mention of the words "puppy mill" in their reviews, which are all 5-star ratings.
How Does the Premier Pups Website Look Like?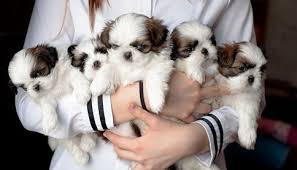 Premier Pups has an excellent website that shows off their top-tier modern facility that houses all their dogs plus an on-site vet. The vet routinely performs health checks on all the puppies, including a final complete checkup before releasing a puppy to a new home!
You can learn about the incredible 10-Year Puppy Replacement Guarantee on the Premier Pups website. The primary purpose of the warranty is to cover hereditary or congenital problems. These problems can arise without warning, and no checkup could detect the problem early in the dog's life.
Especially true of hereditary problems, the best and the only prevention is to ensure that top-quality dogs of the best stock become breeding pairs. Healthy, defect-free parents always have been and always will be the best way to produce healthy puppies with no hereditary issues.
How Transparent is Premier Pups' Online Platform?
Anybody who lives in Ohio, or is willing to visit from out of state, can come to Premier Pups and see the whole operation for themselves. Especially for anybody who lives out of state, we recommend you make the Premier Pups Promise your first stop in deciding whether or not to make a purchase. Premier Pups takes the level of quality they offer very seriously. They quickly address all legitimate negative comments and try to find solutions to customer problems.
Are Breeders on Premier Pups Transparent?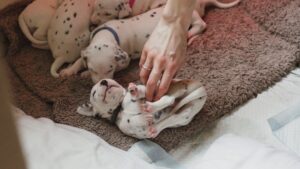 Unfortunately, the company does not answer the question of where Premier Pups get their puppies satisfactorily. Their website has two different guarantees about how they only work with the best and regularly visit their breeders to ensure everything is constantly improving.
The question of who their breeders are is the one area where we would like to see more transparency from Premier Pups. The results on the receiving end, all happy and healthy puppies, are clear. However, having more information about who the breeders are would be nice.
Do Breeders on Premier Pups Send Puppies out of State?
As stated above, anybody who lives in Ohio or can come in from out of state has the opportunity to see with their own eyes the standard of quality Premier Pups offers. Many customers do not have this option, so Premier Pups offers top-quality shipping options so that puppies arrive safe and unharmed, both physically and mentally.
To do everything possible to ensure that puppies arrive in perfect condition, Premier Pups does not package puppies and send them through the mail or any third-party delivery service. The only exception is the lowest-tier airline delivery which means Premier Pups finds the fastest flight route, and you pick the puppy up at the airport.
Another option is to have employees of Premier Pups deliver the puppies themselves, whether traveling by road or by air. The prices of the different services vary, and some services are only available in certain locales.
To see which delivery options are available in your area, enter your zip code and Premier Pups will automatically calculate every available delivery method with final prices. If you live in an area where every delivery method is available, your best choice will usually be ground or air delivery.
Ground Options
Pro Stop Delivery: This option is like setting up a meeting in a parking lot. All puppies enjoy a state-of-the-art, temperature-controlled delivery truck driven by an employee of Premier Pups.
Premium In-Person Delivery: This option, also called Stork delivery, means Premier Pups delivers your new puppy to your doorstep and helps the puppy settle in a while walking you through all the included paperwork and medical documents.
Air Options
VIP Shipping/Priority Shipping: The only real difference between these two is that with VIP Shipping, you have more control over the day and time your puppy arrives. Premier Pups books the best flight available in each case to deliver a happy, stress-free puppy.
Nanny Airport Delivery: This option is the air version of stork delivery. Instead of delivering the puppy to your doorstep, you still have to go to the airport, where the nanny hands the puppy to you in person. The nanny flies with the puppy, soothing its nerves so the journey is as stress-free as possible.
Conclusion For "Is Premier Pups a Puppy Mill"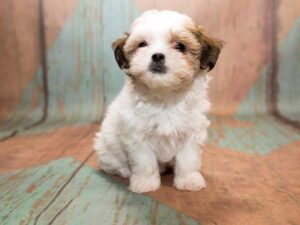 Is Premier Pups a puppy mill? No. Is Premier Pups legit? Yes, apart from very few angry comments, which are impossible to avoid in this day and age, everything Premier Pups does and offers is completely transparent and above board.
They include everything, such as health standards and DNA tests. And any breeder who gets the opportunity to work with Premier Pups must abide by the same laws and meet the same standards so that every puppy is happy and healthy.
If you find this guide, "Is Premier Pups a Puppy Mill," helpful, you can check out these other dog-related guides from our team at We Love Doodles:
You can learn more about Premier Pups by watching "Premier Pups Review" down below: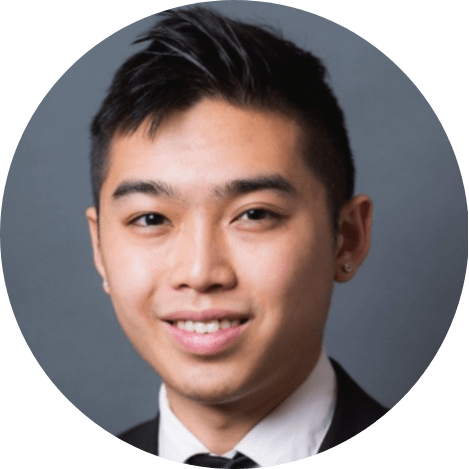 Andy is a full-time animal rescuer and owner of a toy doodle. When he's not saving dogs, Andy is one of our core writers and editors. He has been writing about dogs for over a decade. Andy joined our team because he believes that words are powerful tools that can change a dog's life for the better.
Why Trust We Love Doodles?
At We Love Doodles, we're a team of writers, veterinarians, and puppy trainers that love dogs. Our team of qualified experts researches and provides reliable information on a wide range of dog topics. Our reviews are based on customer feedback, hands-on testing, and in-depth analysis. We are fully transparent and honest to our community of dog owners and future owners.