If you're thinking about adding a Snorkie puppy to your family, you may be wondering where to find one. Read on for our seven top breeder picks with Snorkie puppies for sale in person or online.
A Snorkie is a mix between a Miniature Schnauzer and a Teacup Yorkie. These dogs have become increasingly popular over the past few years, and it's easy to see why. They are small but sturdy, making them perfect for people who live in apartments or small homes.
They are also intelligent and playful, making them great companions. In addition, Snorkies are relatively low-maintenance dogs, and they don't require a lot of exercise.
Before scrolling down this list of Snorkie breeders in the United States, check out: 6 Best F1b Bernedoodle Breeders in the USA! (2023) and 6 Best Chocolate Labradoodle Breeders in the USA! (2023).
1. Keystone Puppies
Trying to decide where to get your new furry friend can be a daunting task. With so many options out there, how can you be sure you're getting a healthy, well-adjusted puppy from a reputable breeder? Look no further than Keystone Puppies.
This Pennsylvania-based company connects prospective dog owners with responsible breeders. All of their breeders are required to adhere to strict guidelines, and they only work with those who they believe will provide a safe and loving home for their puppies.
It's common for businesses to claim that they're the best, but it's another thing entirely to back up that statement with evidence. Here at Keystone Puppies, they not only talk the talk but also walk the walk. Their company includes an Animal Welfare and Breeder Accountability Specialist to combat online puppy scams.
At Keystone Puppies, they want to do everything possible to ensure their breeders are responsible and provide good homes for their puppies. To that end, every Accredited Breeder is required to have two unannounced in-person visits per year for inspection.
Naturally, they look for things like compassionate puppy treatment and healthy living quarters during these check-ins. This way, the only way a breeder can pass is by actually having high standards.
In addition, Keystone offers a wide variety of breeds to choose from. So whether you're looking for a small lap dog or a large working dog, they have something for everyone.
Keystone Puppies Details:
2. Toys In The Garden
The breeder began this operation in the early '80s out of love for Schnauzer dogs. They started by breeding toy and teacup Schnauzers but later moved on to the Snorkie.
This breeder's motto is quality over quantity. They only want to produce the best dogs, even if it takes longer to find the right pair. Breeding can never be hurried, and once puppies are born, kennel staff will make sure they're healthy and well-taken care of until they go to their forever homes.
Snorkies make for excellent emotional support dogs as they can be easily trained to provide support. However, it is difficult to predict the appearance of your Snorkie as it ultimately depends on the parents.
All puppies are furnished with a starter pack filled to the brim with everything required to take care of your furry friend. In addition, their vaccinations and health guarantee state that your pup will be healthy and happy.
This Snorkie breeder has available puppies at prices ranging from $2,000 to $2,500. However, the next litter's date is unknown, so if you're interested, they suggest emailing them and asking about availability and what you're looking for in a puppy.
Toys In The Garden Details:
3. TLC Puppy Love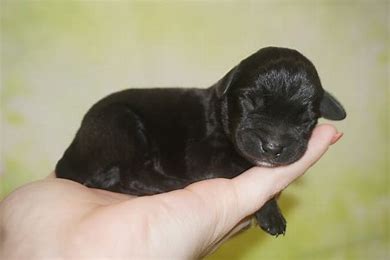 The Collins family runs and operates TLC Puppy Love Kennel. Stacy, the primary owner, is also the doggy midwife. In the 1980s, she began breeding Chow Chows but stopped because she developed severe allergies.
In 2007, she discovered the joy of hypoallergenic dogs. This allowed her to breed again, and she began with Yorkies, Shih Tzus, and Maltese. From there, her love for breeding expanded into different designer breeds.
This Jacksonville, Florida-based kennel not only provides an abundance of socialization to all the dogs but also cares for them until they're ready to go home. In addition, she extends an invitation to potential clients to come to see her facilities as well as the parent breeds she uses in her program.
This Snorkie breeder has various puppies throughout the year. You will need to contact the breeder for information on specific times they will have Snorkie puppies for sale. When the time comes, it is essential to make a deposit as soon as possible since these types of dogs sell out quickly.
TLC Puppy Love Details:
4. C and K Kennel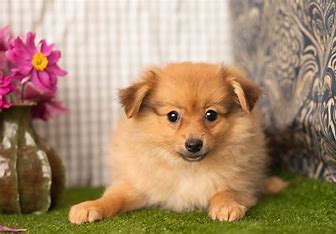 Next on our list of breeders with Snorkie puppies for sale is C and K Kennel. Located in Southwest Arkansas, C and K Kennel specializes in three main breeds: Snorkies, Lhasa Apsos, and Australian Shepherds.
This breeder takes excellent care of all their puppies from birth until they are ready to go home with their new owner. During their first weeks, the puppies are born in the house and given a happy and loving life. Then, when they're four or five weeks old, they'll get vaccinated and start their deworming.
By spending the day playing and socializing with all of the puppies, the breeder ensures they will produce ideal temperaments. The goal is to make sure clients get dogs that are well-tempered, healthy, and joyful.
You must place a deposit to hold your spot for a future litter; the deposit is non-refundable. The breeder never ships their puppies, so you must make arrangements with the breeder in advance to arrange pickup of your dog. 
Don't hesitate to contact the breeder for pricing information and what is required for a deposit.
C and K Kennel Details:
5. Animal Kingdom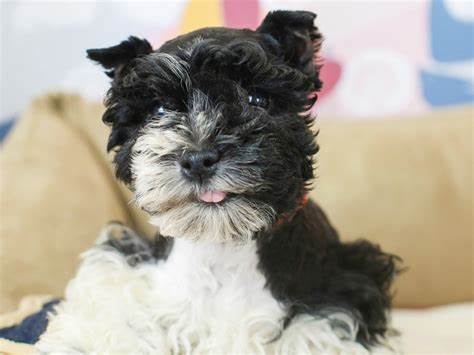 When you're looking for a new best friend, there's no better place to start your search than Animal Kingdom. They believe that all puppies deserve a loving home and are committed to finding the perfect match for every customer.
When you come to Animal Kingdom, you'll be matched with a breed of puppy that fits your lifestyle. They believe that every dog deserves a loving home, but they also know that not every breed is right for every family. That's why their knowledgeable staff takes the time to get to know you.
They only work with reputable breeders who meet their high standards for animal welfare. They know that happy puppies come from happy parents, which is why they only purchase puppies from breeders who meet their rigorous requirements. In addition, they visit each breeder's facility in person to make sure that the conditions are clean and safe and that the puppies are well cared for.
They offer "Homes for Life" support to help you care for your new puppy long after adoption day. Adopting a puppy is a big responsibility, but the breeders don't want you to feel like you're alone on this journey.
Their Homes for Life support program offers guidance from housetraining to obedience training to nutrition. They'll be there for you every step of the way to make sure that your new puppy grows up healthy and happy.
Animal Kingdom Details:
6. Greenfield Puppies
At Greenfield Puppies, only healthy puppies are permitted to be put up for adoption to good homes. In 2000, the Hostetter family set out with this goal in mind and have stuck firmly to it ever since. They are strongly against any breeding practices that don't prioritize the safety and health of dogs and puppies above all else.
The photographer from Greenfield Puppies sees the puppies at the breeder's facility and looks for any red flags about their well-being or care. If they are unable to visit the breeder in person, they do extensive research on them beforehand.
Greenfield Puppies will only allow ethical breeders on their website. They strive to educate dog breeders on the importance of choosing parent dogs with good genetics and raising healthy puppies following breed standards.
All of their breeders are well aware that the marketplace will not tolerate the mistreatment of animals, and any such practice will not be tolerated. Their goal is to establish personal relationships with breeders so that they can learn about their methods.
Pennsylvanian-sold puppies all have a 30-day health guarantee from the breeder. Laws concerning the purchase of puppies vary from state to state, and all breeders are expected to adhere to these guidelines.
All breeders are required to keep their puppies up-to-date on vaccinations and deworming. In addition, all breeders should have their puppies vet checked.
Greenfield Puppies Details:
7. Happytail Puppies
At Happytail Puppies, their mission is to raise healthy and content puppies that they will then place with families that match them perfectly. Their group has nearly 30 members who all share this commitment.
The guardian program was established to allow a safe and wide range of breeds, as well as hire onsite vet techs. This provides new puppy parents with detailed vet reports while also maintaining the bloodlines.
All of their licensed and inspected families not only understand but also respect the importance of raising puppies in a nurturing environment full of love and affection.
Happytail Puppies can give new families a lot of information on bloodlines and family history. They can also provide annual reports from vet visits, pictures, and adult weights of the parents.
When you entrust your puppy search to them, you can be confident they will receive the best possible care. Their program includes only licensed and inspected home kennels, so your pup always has access to fresh water and clean living quarters. They are never taken away from their mother until they are ready, and the breeders provide regular onsite vet checks to ensure they stay happy and healthy.
Happytail Puppies Details:
Frequently Asked Questions
How much is a Snorkie puppy?
Snorkie puppies for sale across the United States can cost $2,000 to $2,500 from a reputable breeder.
What is the lifespan of a Snorkie?
A healthy Snorkie will live for 11 to 15 years.
Are Snorkies loud?
Like its parents the Yorkshire Terrier and Miniature Schnauzer, the Snorkie can be a barky dog.
Conclusion for "Snorkie Puppies For Sale – Top Breeders"
The Snorkie is the perfect breed of dog for families who are looking for a furry friend that will quickly become a member of their household. They are known for their intelligence, good temperaments, and entertaining personalities — making them the perfect pet for any family!
So if you're in the market for a puppy, be sure to add the Snorkie to your list of potential breeds and check out the seven breeders with Snorkie puppies for sale mentioned above.
For more guides similar to this list of Snorkie breeders in the United States, check out:
Before you purchase a Snorkie, learn more about the breed by watching "Top 7 Snorkie Facts You Want to Know About | Miniature Schnauzer and a Yorkshire Terrier Mixes" down below:
Garrett loves animals and is a huge advocate for all Doodle dog breeds. He owns his own Goldendoodle named Kona. In addition, he volunteers at the Humane Society of Silicon Valley, where he fosters dogs and helps animals. Garrett enjoys writing about Doodles and believes that dogs can teach humans more about how to live than humans can teach a dog.
Why Trust We Love Doodles?
At We Love Doodles, we're a team of writers, veterinarians, and puppy trainers that love dogs. Our team of qualified experts researches and provides reliable information on a wide range of dog topics. Our reviews are based on customer feedback, hands-on testing, and in-depth analysis. We are fully transparent and honest to our community of dog owners and future owners.