If you're searching for the best Yorkie breeders in Arizona, you've come to the right place. Yorkies, or Yorkshire Terriers, are one of the world's most popular small breed dogs. This popularity comes from the number of desirable traits that Yorkies possess, such as their small size and the small amount of shedding they do.
These two traits are desirable for dog owners who partake in apartment renting, as landlords tend to restrict larger dog breeds due to how destructive to the property they can be. If you're looking to bring home a Yorkie puppy yourself, then our list of the best Yorkie breeders in Arizona has you covered.
Before scrolling down this list of Yorkie breeders in Arizona, you can check out these other recommendations from our team at We Love Doodles: Best Pitbull Breeders in Arizona and Best Doberman Breeders in Arizona.
How Much Should You Expect to Spend on a Yorkie Puppy in Arizona?
The average cost is around $500 to over $10,000. The price range is so vast due to the breed's popularity, and higher-cost puppies tend to have a lineage of show champion origins.
Like with most other dogs, though, if you choose to adopt a Yorkshire Terrier instead, the cost you can expect to pay will be around $300. This cost is usually just reimbursement for food and vet bills to the adoption facility.
Yorkie Puppies For Sale in Arizona
Ready to fork up some dough for your new furry companion? Then let's get into our list of Yorkie puppies for sale in Arizona.
Yorkie Product Recommendations: Best Shampoo For Curly Hair Dogs and Best Ceramic Dog Bowls.
1. PuppySpot's Yorkies For Arizona
Since you're searching for Yorkie breeders in Arizona, we recommend checking out PuppySpot's online website. PuppySpot is a trusted and reputable dog marketplace where you can search for available Yorkie puppies from the comfort of your home in Arizona.
It would help if you kept in mind that all Yorkie breeders with listed puppies on PuppySpot must meet strict guidelines, so your companion will arrive at your home in Arizona safely. Before continuing on your journey for a Yorkie puppy for sale in Arizona, check out the link to the marketplace below.
PuppySpot Details
2. Cottonwood Ranch Yorkies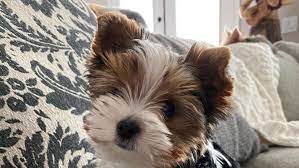 Located just outside Phoenix, Arizona, in nearby Litchfield Park, you can find Cottonwood Ranch Yorkies.
Owned by Anna, this breeder offers a reasonably large variety of Yorkie coat colors:
Traditional Blue & Tan
Black & Tan
Dark Traditional
Trindle
Traditional Parti
Chocolate Parti
Dark Chocolate Parti
Blonde Parti
Blonde
Chocolate
Dark Chocolate
KB Black
Chocolate Merle
Merle
Extreme White/Platinum Parti
This huge selection of coat colors is possible due to the many pairs of Yorkie parents on hand. Of course, like any breeder, the puppies they get will vary in their coats, and you may have to wait a significant amount of time to get a specific color that you are looking for.
Still, they offer all of these colors means you don't have to go to another breeder to get the color you're after. You may want to remember that rarer color coats will usually have a premium price associated with them. As stated above, that price can soar to incredible heights.
The puppies raised by Cottonwood Ranch Yorkies are all bred to AKC standards, but not for the smallest size possible. Instead, each litter is bred with health as the primary concern. To get the most up-to-date information regarding available puppies, Anna recommends checking out their Facebook page, which we've provided a link to below for your convenience.
Additionally, if you need to look into Cottonwood Ranch Yorkies further, we recommend checking out their Website. They request that you carefully fill out their form on there if you are interested in a puppy, as they will only look at requests submitted through that form on their contact page that are correctly filled out.
Cottonwood Ranch Yorkies Details
3. Mirage Yorkies
The next breeder on this list is known as Mirage Yorkies. Owned by Janet, this breeder is committed to adhering to the AKC standard, and all puppies are raised in her home. This sort of environment is desirable, as it will ensure that the puppies are introduced to people and be able to develop important social skills early in life. With that said, not just anyone can buy a Yorkshire Terrier from Mirage Yorkies.
They are very selective in who they allow purchasing a puppy from them to ensure the puppy goes to a caring and responsible household. They care about every puppy they bring into this world deeply. They are like children to Janet. If you buy a Yorkie puppy from Mirage Yorkies, you will not be allowed to breed them – They are only certified in an AKC Limited fashion.
Aside from that, each puppy comes with:
One year genetic health guarantee
A puppy packet with tips on care
Record of vaccinations
Food
Treats
New toys
A blanket with Mom and siblings' scents for calming
And life long breeder support
That last one shows Janet cares for her puppies even after letting them go to their new families. To inquire about and reserve a potential puppy, Janet asks that you contact her via email.
Mirage Yorkies Details
4. Tiny Troubles Yorkies
Next on our list is Tiny Troubles Yorkies – but don't let the name fool you into thinking these puppies are troublesome! Many proud new Yorkie owners who sourced puppies from this breeder have had high praise regarding the behavior of their new puppies. Of course, you have outliers, and behavior is always in flux with dogs, but for the most part, they are very mellow.
This is largely due to how they raise their puppies – in the breeder's home. This attention is essential, as the early years for a dog are the most important for them to learn critical socialization skills and be properly raised to be friendly with children. The owner of Tiny Troubles Yorkies is a retired Veterinary Technician and has ten years of breeding experience.
Tiny Troubles Yorkies Details
5. My Little Blue Yorkies
Last on the list of the best Yorkie breeders in Arizona is "My Little Blue Yorkies." Owned by Debbie, who has been caring for these little puppies since the 1980s, this breeder has focused on breeding the next Champion show dog. Bear in mind, though, if you intend to purchase a Yorkie puppy from Debbie, a male will run you about $4,500, and a female will run you almost $6,000.
All of the puppies raised by My Little Blue Yorkies are raised in Debbie's home. They are given substantial potty pad training, reducing the likelihood of a spontaneous, unplanned accident on your floors or furniture. Additionally, she ensures any interested owners of her puppies are knowledgeable enough about the breed to entrust her babies to their new families. This shows that she cares deeply about her puppies, even after leaving home.
My Little Blue Yorkies Details
Caring For Your Yorkie Puppy in Arizona
A Yorkshire Terrier is one of the most sought-after breeds of dog, and it's no wonder why that is the case. They are easy to care for – They don't shed or drool, are tiny, and are adorable. If you give your furry friend regular baths, you don't need to worry about any allergies to hair.
However, if you fall behind on coat maintenance, their hair is likely to tangle up into mats, which can be uncomfortable for the dog at best, or painful for them at worst, especially when you are de-matting them. Despite their small size, they also need effective exercise, both to keep them in shape and to mellow them out.
Failure to give enough exercise may be unleashed in the form of high-energy frustrated attacks on your upholstery to release that pent-up energy. They are very fragile dogs – You need to be especially careful not to drop them when holding them.
Related: Yorkie vs. Yorkie Poo Guide.
Conclusion For The "Best Yorkie Breeders in Arizona"
If you're ready to take on the responsibility of owning a Yorkie, then these breeders are all solid choices. We hope you find your furry friend.
For more guides similar to this list of Yorkie breeders in Arizona, you can check out:
Before you bring home a Yorkie puppy from a breeder in Arizona, you can learn more about the breed by watching "Yorkshire Terrier – Care and Training Information" down below: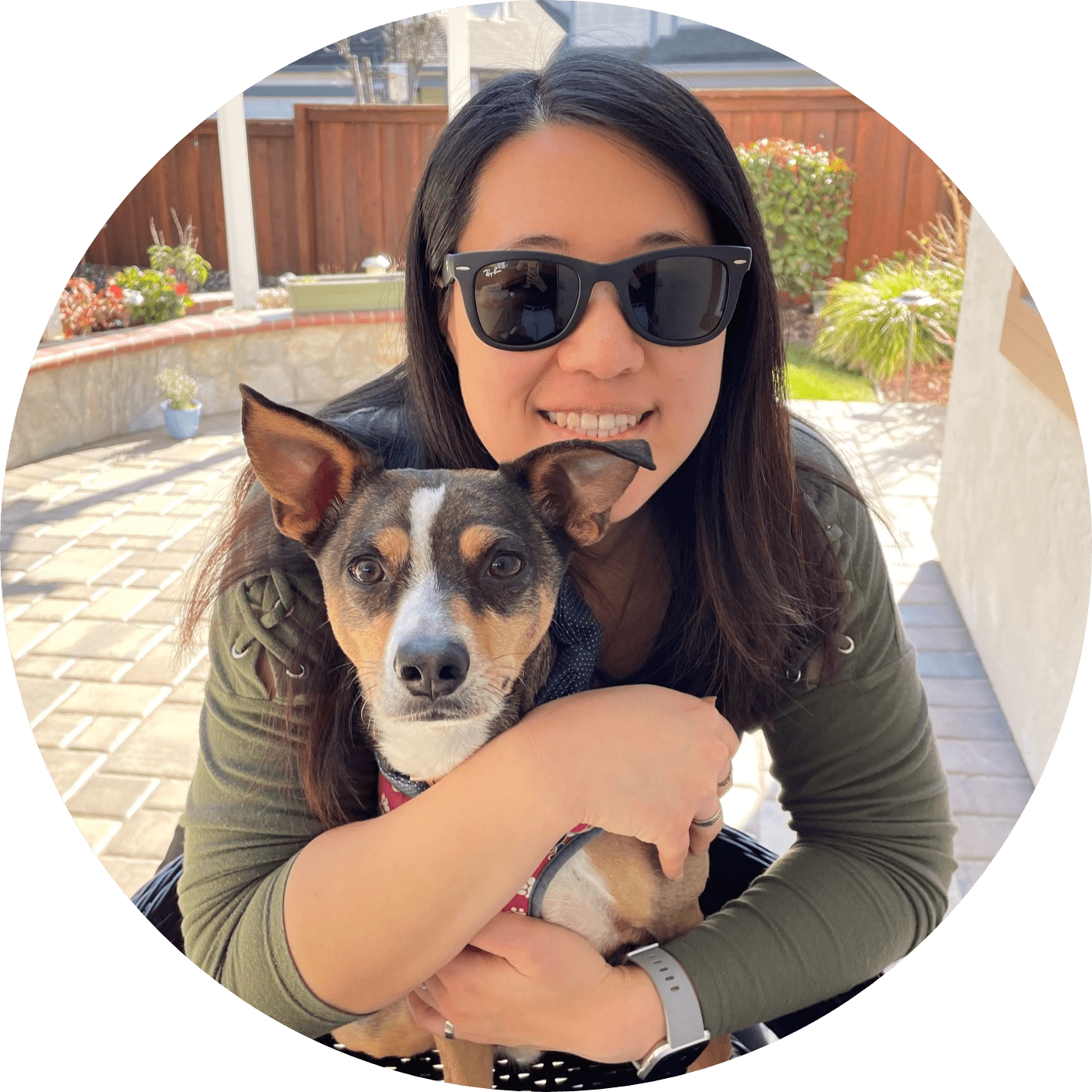 Dr. Sabrina Kong graduated from the Royal Veterinary College in England in 2016 and has been working at a small animal clinic in Northern California since then. She grew up in the Bay Area and got her bachelor's degree from Cal Poly San Luis Obispo. She also became a Certified Canine Rehabilitation Practitioner through a program at the University of Tennessee.
When she isn't in the clinic taking care of her four-legged patients, she enjoys traveling and trying new foods with her friends and her three-legged dog, Apollo. She adopted Apollo from her clinic when he was a puppy with numerous health issues. Dr. Kong truly cares about taking care of animals.