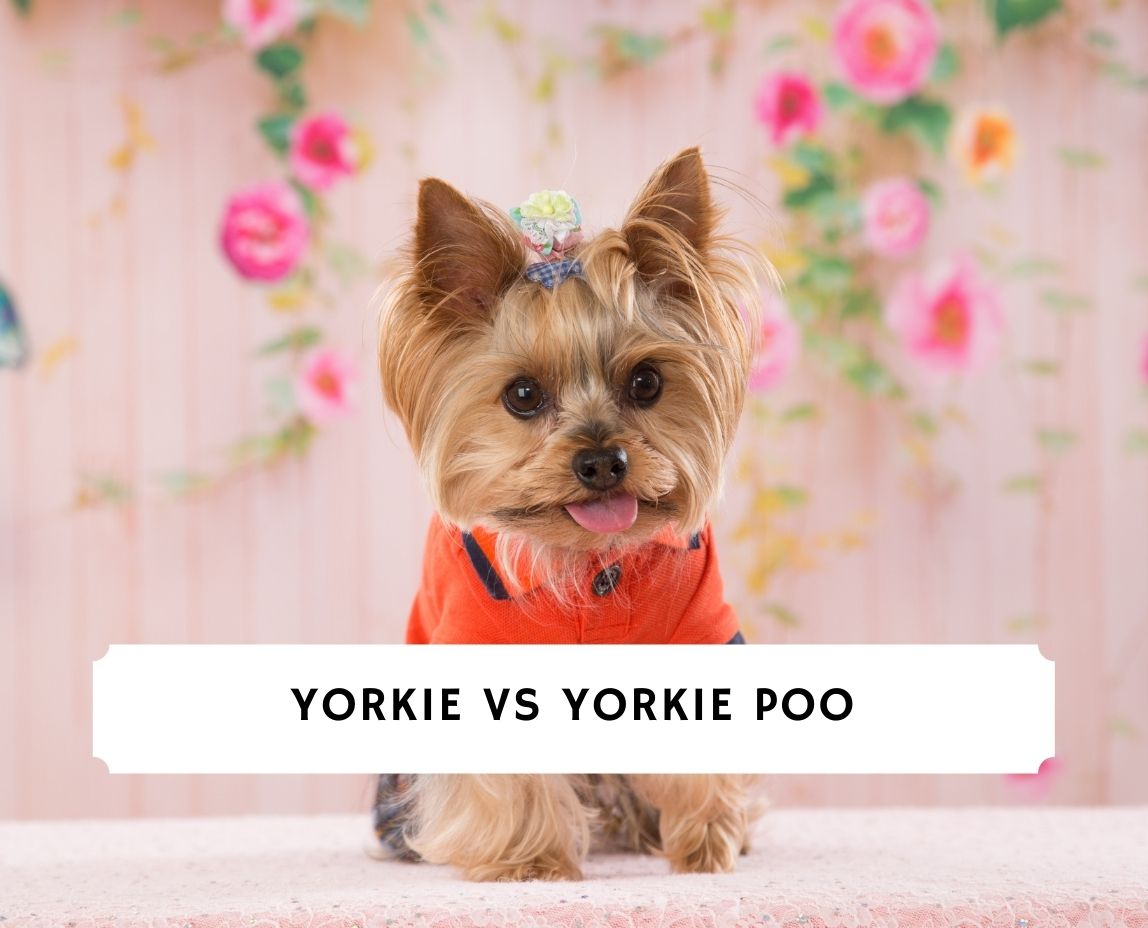 Here's a question for you if you're curious about the difference between a Yorkie vs Yorkie Poo. Are you interested in adopting an affectionate, energetic, and beautiful little dog?
Maybe you have heard Yorkies and Yorkie Poos described as those things? However, this may have led you to wonder, "what is the difference between a Yorkie and a Yorkie Poo?"
Although they do sound similar, there are some differences between these two dog breeds. Below is our Yorkie vs. Yorkie Poo guide, where you will find everything you need to know about these two breeds.
Before scrolling down this guide "Yorkie vs Yorkie Poo," check out these other dog breed comparison guides: Maltipoo vs. Yorkie Poo and Maltese vs. Shih Tzu.
About The Yorkie Dog Breed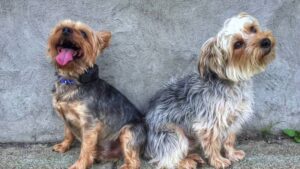 Before we begin, let's have a look at the basics. Yorkies are also known as Yorkshire Terriers. These dogs have bright personalities and distinct appearances. The big thing to remember about these dogs is that they are purebred. This means both Yorkie parents are also Yorkies.
About The Yorkie Poo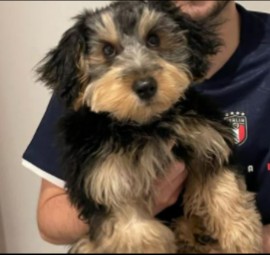 On the other hand, we have the Yorkie Poo. By looking at the name, you may be assuming that these dogs are somehow related to the Yorkie. You are right.
These dogs are a combination of Yorkshire Terrier and Miniature or Toy Poodle. Therefore, these dogs are similar to purebred Yorkies, but they also have some distinctive Poodle characteristics.
Size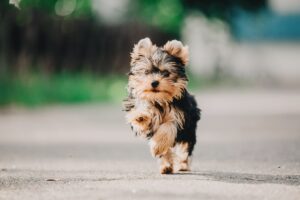 Size is one significant factor that separates a Yorkie from a Yorkie Poo. Purebred Yorkies tend to be smaller than Yorkie Poos. Both of their parents are within the normal Yorkie size range, smaller than the Poodle size range.
However, Yorkie Poo parents differ in size because they are not the same breed. Although Poodles come in various sizes, only two of those sizes are used for breeding Yorkie Poos. These are Toy Poodles and Miniature Poodles.
Toy Poodles typically stand approximately 10 inches tall and weigh 6-9 lbs. Miniature Poodles are slightly larger with a height of 11-15 inches and 10-15 lbs. Therefore, purebred Yorkies tend to be slightly smaller than Yorkie Poos in both height and weight.
Yorkie Size
Height: 7-8 inches
Weight: 7 lbs or less
Yorkie Poo Size
Height: 7-15 inches
Weight: 5-15 lbs
Appearance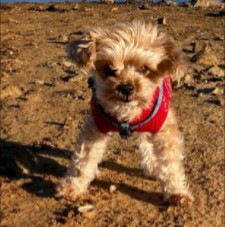 Because Yorkies and Yorkie Poos both have Yorkie genetics, they can sometimes look very similar. However, Yorkie Poo appearances vary significantly between individual dogs because Poodles come in various colors and sizes. Therefore, some Yorkie Poos look identical to Yorkies while others look more like Poodles.
Yorkie's Appearance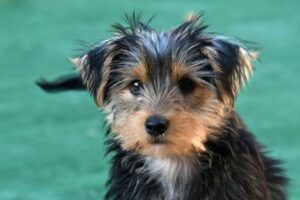 Yorkshire Terriers have relatively uniform appearances, making them easily identifiable. In addition, Yorkies are known for their long and silky hypoallergenic coat. This low-shedding coat makes these dogs extremely popular, especially among people with allergies.
Along with their silky coat, Yorkies have very distinct colors and markings. Blue and tan/gold is the most common color combination amongst Yorkies. However, some Yorkies are slightly darker with a black and tan/gold appearance.
Typically Yorkies have darker colors, such as blue or black, along their back, while lighter colors are found around their face and legs. Another distinctive physical feature of Yorkies is their small, pointed ears.
Yorkies are born with floppy ears that naturally stand up between 3 to 6 months of age. In some cases, ears will stay floppy, but this is rare. Therefore, their pointy ears have become a breed standard, especially in the show ring.
Yorkie Poo's Appearance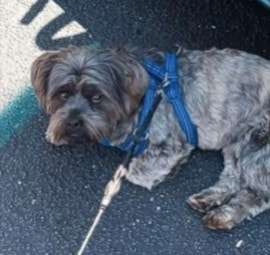 On the other hand, Yorkie Poo appearances can vary significantly between each dog. Because these dogs are composed of both Yorkie genetics and Poodle genetics, the combinations are endless.
Some Yorkie Poos have straight hair like their Yorkie parents, while others have curly hair like their Poodle parents. Most often, Yorkie Poo's hair is at least a little bit curly compared to purebred Yorkies.
Additionally, Poodles and Yorkies both have hypoallergenic fur. Therefore, your Yorkie Poo will also be hypoallergenic. When it comes to Yorkie Poo colors, the possibilities are endless. This is because Poodles come in all different colors.
The most common Poodle colors are white, black, and apricot; therefore, your Yorkie Poo could have any combination of these colors. Some Yorkie Poos have the same markings as purebred Yorkshire Terriers, but others are a solid color.
Many Yorkie Poos have floppy ears compared to the pointed ears of purebred Yorkies. However, if a Yorkie Poo has more Yorkie genetics than Poodle genetics, there is a chance its ears will stand up.
Temperament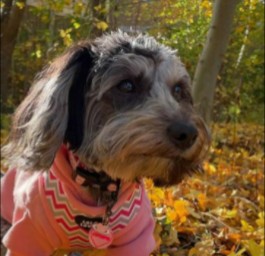 In regards to temperament, Yorkies and Yorkie Poos share some traits. However, because they also have Poodle genetics, Yorkie Poos have unique personality traits that differentiate them from purebred Yorkies.
Yorkie's Temperament
Purebred Yorkshire Terriers are extremely loyal to their family. Unlike many small dogs, Yorkies are great with small children, as long as they are gentle. Unfortunately, this deep devotion to their family sometimes leads to separation anxiety in Yorkies.
Therefore, please do not leave your Yorkie alone for long periods as they do not tolerate this well. These dogs can be timid with strangers, which leads to their tendency to bark. Additionally, Yorkies are known for being stubborn, independent thinkers.
However, this confidence also leads to bravery as these dogs make excellent watchdogs. When first bred, Yorkies were used as ratters in local mines. However, they still contain that feisty attitude needed for hunting, so Yorkies are energetic dogs that love playing.
Yorkie Poo Temperament
Since Yorkie Poos have Yorkie genetics, they share a lot of the same qualities. However, Yorkie Poos inherit some of the best qualities of their Poodle parent as well, making them a highly desirable mixed dog breed.
Both Yorkies and Poodles are intelligent dogs. Therefore, Yorkie Poos are known for their extremely high intelligence. This is one of the most desirable assets of Poodle mixes of any kind. Therefore, your Yorkie Poo is likely to be even brighter than a purebred Yorkie.
Additionally, whereas Yorkies tend to be independent thinkers, Poodles are more easy-going. Therefore, your Yorkie Poo is more likely to be less stubborn than purebred Yorkies.
This also applies to their interactions with other dogs, as sometimes Yorkies can be standoffish. On the other hand, Poodles are more open to other dogs.
Training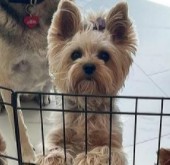 Both Yorkies and Yorkie Poos are intelligent breeds who are capable of learning. However, certain personality traits do make Yorkies more challenging to train than Yorkie Poos.
Regardless of the breed, it is essential to start training as early as possible. This allows your dog to form good habits that will follow them into adulthood. If you adopt an older dog, be patient and consistent with training to get the best results.
Training a Yorkie
As we mentioned, Yorkies are more challenging to train than Yorkie Poos. This is mainly due to their independent personalities. These dogs can be stubborn.
Therefore training can be difficult. It is not that your Yorkie is unable to learn. It is simply choosing to learn on its own terms. Consistency and positive reinforcement work wonder when training Yorkies.
Training a Yorkie Poo
Yorkie Poos are easier to train compared to purebred Yorkies. This is because Poodles are naturally eager to please. Therefore, these dogs are happy to follow your commands because they want to make you happy.
This eagerness to please, combined with their extremely high intelligence, makes Yorkie Poos an excellent choice for beginner dog owners.
Health
To maintain maximum health, all dogs require daily exercise and a nutritious diet. These two things can help prevent common health problems and extend your dog's lifespan.
Yorkie's Health
Yorkies are generally considered a healthy breed. The average Yorkie lifespan ranges from 12-15 years of age. Yorkies are high-energy dogs. However, because of their small size, their exercise needs are not as demanding as larger dogs.
Yorkies are perfectly happy going on two short walks a day or playing fetch in the backyard. These dogs will be able to burn off all their energy with these simple activities quickly.
However, one thing to keep in mind when exercising your Yorkie is the danger of leaving your dog unattended outdoors. These dogs are so small that sometimes they fall victim to predatory animals.
Therefore, you should always remain with your Yorkie when it is outdoors. Yorkies are prone to obesity, so you must be mindful of what you are feeding your dog.
You should provide your Yorkie with a nutritious diet full of protein, vitamins, and minerals. These essential nutrients, along with ample exercise, will allow your Yorkie to remain healthy and happy.
Yorkie Poo's Health
Similar to Yorkies, Yorkie Poos have a typical lifespan of 10-15 years. Therefore, these dogs are considered relatively healthy. However, as with all mixed breeds, Yorkie Poos can be exposed to more health conditions because of Yorkie and Poodle predispositions.
Feeding your Yorkie Poo nutritious food and providing lots of exercise can help prevent these health conditions. However, as these dogs are also relatively small, they do not need excessive amounts of exercise.
20-30 minutes of exercise is sufficient for a Yorkie Poo. This exercise can be through walks or games. Because of their high intelligence Yorkie Poos are especially fond of games that challenge them physically and mentally.
Cost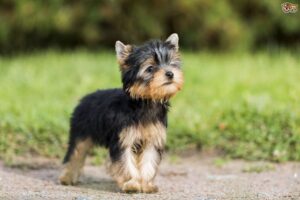 The cost of a dog can vary based on a variety of factors. For example, the price of a puppy is typically higher than an older dog. Additionally, purebred dogs tend to be pricier than mixed breeds.
Yorkie's Cost
If you want a purebred Yorkie puppy, be prepared to pay for it. Yorkie puppies from reputable breeders or pet stores typically cost between $1,500 and $3,000.
If you are willing to adopt an older Yorkie, you may be able to find one for a lower price from a shelter or rescue. Dogs from these places require an adoption fee typically around $400. However, the popularity of these dogs makes them hard to find in local shelters.
Related: Best Dog Food For Yorkie Puppies.
Yorkie Poo's Cost
Yorkie Poos are usually cheaper than purebred Yorkies. Yorkie Poos typically cost between $400-$1,500. Because they are a relatively new breed, there is a wide variance in the price of both puppy and adult Yorkie Poos. However, these dogs continue to become more expensive as hybrid mixes continue to gain popularity.
Related: Best Yorkie Poo Dog Food.
Conclusion For "Yorkie vs Yorkie Poo"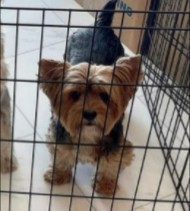 Even though these two breeds have similar names, there's a drastic difference between the Yorkie vs Yorkie Poo. An easier way to memorize what a Yorkie Poo's mix is by looking at the last word of its name. Poo is short for Poodle.
Since Poodles are ranked as one of the most intelligent dog breeds, Yorkie Poos are quite smart. Both types of Yorkies are amazing to raise in your home. We hope this guide will help you choose a suitable Yorkie breed to introduce to your home.
For more dog breed comparison guides, you can check out:
You can learn more about the differences by watching "Yorkie vs Yorkie Poo – What's The Difference" down below: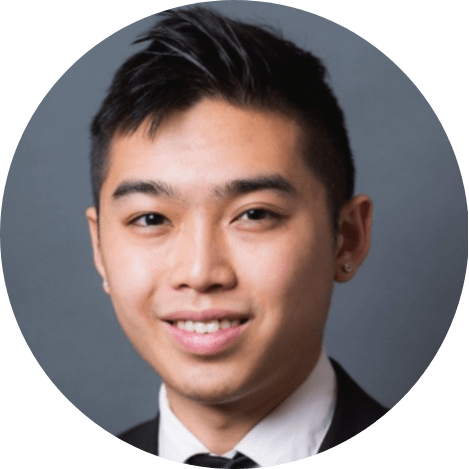 Andy is a full-time animal rescuer and owner of a toy doodle. When he's not saving dogs, Andy is one of our core writers and editors. He has been writing about dogs for over a decade. Andy joined our team because he believes that words are powerful tools that can change a dog's life for the better.
Why Trust We Love Doodles?
At We Love Doodles, we're a team of writers, veterinarians, and puppy trainers that love dogs. Our team of qualified experts researches and provides reliable information on a wide range of dog topics. Our reviews are based on customer feedback, hands-on testing, and in-depth analysis. We are fully transparent and honest to our community of dog owners and future owners.