Here's what you need to know to learn the differences between a Cavapoo vs. Yorkie dog breeds. For some people, the dog breed is an important consideration when choosing a new dog. You might prioritize a dog's size if you live in an apartment.
Others might put the hypoallergenic qualities of dogs like the Cavapoo first. When debating the merits of the Cavapoo vs. Yorkie, there are lots to recommend for both breeds. Here's everything you need to know to make an informed decision about your new pet.
Before you scroll down this dog breed comparison guide, "Cavapoo vs. Yorkie Dog Breed Comparison," you can check out these other dog breed comparison guides from our team at We Love Doodles: Cavapoo vs. Cavoodle Dog Breed Comparison and Sheltie vs Collie: What's the Difference?.
Cavapoo vs. Yorkie Breed Classification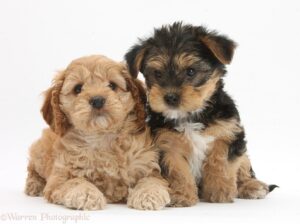 Let's start with one of the most pronounced differences between the Cavapoo and the Yorkie. Cavapoos are a mixed breed. That makes them members of the Mixed Breed Group when classifying dogs. It also means they don't have the same breed standards as purebred dogs. That's because, especially in early breed generations, Cavapoo puppies can be wildly unpredictable in which traits they exhibit.
Conversely, there are exacting breed standards that certified breeders strive to meet when producing Yorkie puppies. The other difference is that Yorkies fall under the Companion Animal classification. In other words, these are dogs raised for their compact size and with no history of working.
Related: Best Cavapoo Breeders in the United States and Best Yorkie Breeders in the United States.
Size Comparison For Yorkies and Cavapoos
One of the primary considerations for owners debating between Cavapoos and Yorkies is size. How big do these dogs grow, and how much space do you need to accommodate them comfortably?
Cavapoos are small to medium-sized dogs. They stand between nine and 14 inches. Depending on their height, they weigh 9 to 25 lbs. Comparatively, Yorkies are small dogs. They are approximately eight or nine inches tall and never weigh more than four to six pounds.
Exercising Yorkies and Cavapoos
That being the case, how much do you need to exercise Yorkies and Cavapoos? Because of their Poodle heritage, Cavapoos have an energy level that belies their moderate stature. They are also extremely clever. This combination means they benefit from significant physical and mental stimulation.
You don't need to go overbroad, but for a happy Cavapoo, at least one rigorous, hour-long walk or interactive play session is ideal. It discourages destructive behavior and enables your Cavapoo to spend the rest of the day sleeping. These play sessions also reduce the chances of your Cavapoo developing separation anxiety, something many under-stimulated Cavapoos succumb to.
But how much exercise does a Yorkie need? Because they are smaller than Cavapoos, it's natural to think they need less energy. Comparatively speaking, this is true. You don't need to walk a Yorkie for as long as you would a Cavapoo, but only because they have shorter legs.
For small dogs, Yorkies are deceptively energetic. They benefit from two short walks, ideally 15 to 30 minutes long. Because of their small legs, they do better with a moderate rather than a brisk pace. But Yorkies are significantly less laid back than Cavapoos and quickly become enthusiastic about games of fetch or runs through the ravine.
Related: Best Weighted Vest For Dogs and Best Low Energy Hypoallergenic Dogs That Don't Shed.
Cavapoo vs. Yorkie Lifespan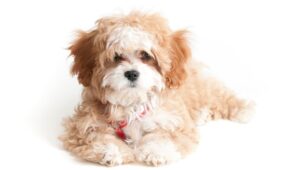 It's not something you want to consider when deciding on a new pet because losing a companion can be painful. But that makes it vital that you stop to think about the lifespan of Cavapoos compared to Yorkies. The Cavapoo's lifespan varies based on size.
Science indicates larger dogs don't live as long as small dogs. But since most Cavapoos are bred to be diminutive, they have a similar life expectancy to Yorkies. Both dogs live to be between 12-15 years old. That said, there's no hard and fast rule about how long Cavapoos or Yorkies live.
An exceptionally healthy Cavapoo might live to an elderly 17. An unlucky Yorkie might be struck down at four. Predicting canine longevity isn't an exact science. But there are things you can do to ensure the dog you choose lives a long and happy life. One of the best ways to do that is by knowing the health problems inherent in each breed.
Related: Cavapoo Pros and Cons.
Cavapoo Health Problems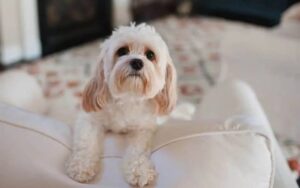 There are several health problems common in Cavapoos. While these aren't the only issues a Cavapoo can experience, they are some of the most frequent.
Related: Common Cavapoo Health Issues.
Progressive Retinal Atrophy
Cavapoos inherit their propensity for Progressive Retinal Atrophy from their Poodle parents. Often owners miss initial symptoms because the sight loss that comes with this condition is gradual. Crucially, the first part of a Cavapoo's sight to be affected is their night vision.
An attentive owner may notice their dog becomes:
Nervous at night
Reluctant to navigate dim rooms
Atypically dilated pupils
Reflective irises
All of these are early indicators of Progressive Retinal Atrophy. However, most owners spot the disease that affects their dog's daytime vision after the damage. Blindness eventually becomes total, but that won't stop your dog from living an otherwise healthy, less active life.
Luxating Patella
Another Cavapoo health problem is the luxating patella. Some Yorkies are similarly prone to this condition. When a dog develops luxating patella, the kneecap moves in and out of its socket. The most obvious sign of luxating patella is the bunny hop it produces. Usually, you see this on your Cavapoos hind legs.
It's possible to fix luxating patella surgically, but few vets do this unless the joint stays out of place for an abnormal period. Usually, it corrects quickly and isn't worth the hassle of surgery. However, dogs with luxating patella are more susceptible to arthritis, sometimes at an earlier age than other dogs whose knees stay put.
Related: Dog Breed Knee Brace For a Luxating Patella.
Mitral Valve Disease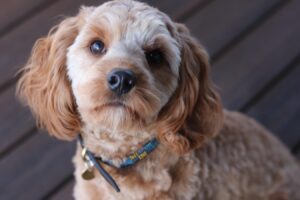 Mitral Valve Disease or MVD is another degenerative condition common to Cavapoos. They inherit the trait from their Cavalier King Charles Spaniel ancestors, and while many breeders try to wean the trait out, it remains persistent.
Even when a Cavapoo's parents and ancestors don't present with MVD, many Cavapoos develop it anyway. The condition causes the mitral valve to malfunction. A healthy heart pumps oxygenated blood into the circulatory system. When a dog has MVD, that blood flows backward and, in extreme cases, causes heart failure.
Signs of MVD include:
Heart murmur
Chronic gagging/coughing/choking
Prolonged periods of weakness
Prolonged weakness means weakness that lasts over 24 hours.
Yorkie Health Problems
There are some health conditions, like luxating patella, that Cavapoos and Yorkies are equally prone to by being small dog breeds. But there are other health problems more common to Yorkies. These are some of the most common.
Hypoglycemia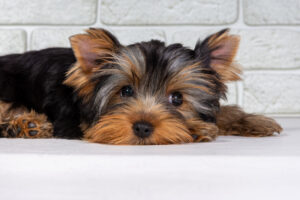 Hypoglycemia is a condition Yorkies experience when their blood glucose level drops below 3.3mmol.
There are various causes of hypoglycemia, including:
Too much insulin
Eating excessive glucose
Failure to produce enough insulin
Left untreated, hypoglycemia can be fatal. Unhelpfully, many dogs with this condition are asymptomatic.
But for Yorkies who do show symptoms, signs include:
Discoordination
Anorexia
Weakness
Vomiting
Seizures
Patent Ductus Arteriosus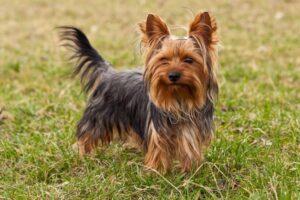 Like Cavapoos, Yorkies can develop heart disease. The strain most common in Yorkies is Patent Ductus Arteriosus. The ductus arteriosus is an unremarkable shunt between the right and left sides of the heart that ensures blood flows where it should, when it should.
In some dog breeds, like the Yorkie, this duct doesn't close properly after birth. The result is that instead of moving through the circulatory system the way it should, the heart pumps oxygenated blood back to lungs that don't need it.
Meanwhile, the left side of the heart has to work twice as hard to access deoxygenated blood. The severity of the defect in the ductus determines the severity of the condition. Many dogs don't show signs until something goes drastically wrong.
It would be best if you always watched out for:
Exercise intolerance
Heart murmur
Atypical pulse
Yorkie puppies with this condition may be thinner than normal.
Skin Allergies
A less dramatic but equally prevalent condition in Yorkies is skin sensitivity or allergies. These can be triggered by various factors like food or the environment. If food is the cause of your Yorkie's skin allergies, it can be managed by a change in diet. Other times it may be necessary to wash your Yorkie routinely with special skincare products.
Related: Everything You Need to Know About Food Allergy in Dogs.
Hypoallergenic Qualities in Cavapoos and Yorkies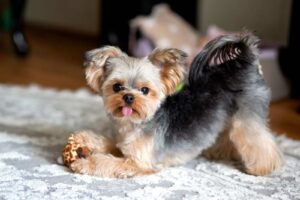 Another consideration for owners debating between Cavapoos and Yorkies is their hypoallergenic status. One of the reasons Cavapoos have the level of popularity they do is that, after a certain generation of breeding, they are fairly consistently hypoallergenic. Yorkies are similarly hypoallergenic.
They have hair, not fur, which means they produce less dander. Since it's dander that dog-allergic people react to, this helps manage allergy symptoms. The major difference is that because Yorkies are purebred dogs rather than a mixed breed, they are reliably hypoallergenic. A Cavapoo litter sometimes splits the difference between dogs with and without hypoallergenic coats.
Related: Do Merle Cavapoos Exist?
Grooming a Yorkie vs. a Cavapoo
Another similarity between hypoallergenic Cavapoos and Yorkies is that they have hair, not fur. Unlike fur, hair grows indefinitely. It reduces the amount of dander in the environment, which is why both breeds can suit people with allergies. However, because that hair never falls out, it requires significant maintenance.
How much grooming Cavapoos need depends on their coat type. Curly-coated Cavapoos require the most grooming, with wavy-haired Cavapoos running them a close second. Ideally, these Cavapoos need grooming every month or six weeks. Additionally, they should be brushed every two to three weeks to prevent mats from developing.
Fleece-coated Cavapoos closely resemble Spaniels. They are less hypoallergenic, but their long hair still requires occasional grooming, and their nails need routine clipping to keep them neat. Yorkies, despite being smaller, have similar grooming demands. Owners who want to keep a happy, healthy-looking dog must groom them every four to six weeks.
Related: How Long Does Dog Grooming Take and Best Dog Grooming Shears.
Is There a Cavapoo Yorkie Mix Dog Breed?
Cavapoo Yorkie mixes do exist. These mixes can be an ideal compromise if you aren't sure which dog is right for you. There are several advantages to breeding a Yorkie into Cavapoo lineage. Most notably, they restore hybrid vigor to later-generation Cavapoos.
Simultaneously, they help re-emphasize the hypoallergenic traits that make Cavapoos popular. This last means you can still get hypoallergenic Cavapoo mix puppies without back-crossing them with a Poodle and reintroducing health problems inherent in that dog breed.
Related: Maltipoo Yorkie Mix Information, Facts, and Images.
Differences Between a Cavapoo vs. a Yorkie
But Cavapoos aren't the only mixed dog breed. The Yorkiepoo is another popular hybrid dog. There are two noticeable differences between the Yorkipoo and the Cavipoo. Firstly, the Yorkipoo is more reliably hypoallergenic since both Yorkies and Poodles are allergy-friendly dogs. The other is temperament. While Cavapoos possess the Poodle's clownish inhibition and high energy, they take after their Spaniel side in placidity and affection.
Conclusion For "Cavapoo vs. Yorkie Dog Breed Comparison"
When it comes to Cavapoos vs. Yorkies, there are lots to recommend for each breed. Yorkies are consistently hypoallergenic, small dogs. But they are higher energy than the medium-sized Cavapoo. Both need significant amounts of grooming, something that remains true when debating the merits of mixes like Cavapoos vs. Yorkipoos, too.
Equally, both breeds have their share of health problems, none of which are guaranteed. The most significant factor when deciding on the right dog for you should be personality. Dogs are a lifetime commitment, and you want one that meshes well with your needs, space, and preferences. So please research, visit a variety of dogs, and don't be surprised when one adopts you, and not the other way around.
If you find this dog breed comparison guide, "Cavapoo vs. Yorkie Dog Breed Comparison," helpful, you can check out these other comparison guides from our team at We Love Doodles:
You can learn more about many other different dog breeds by watching "15 Poodle Mix Breeds That Will Melt Your Heart" down below: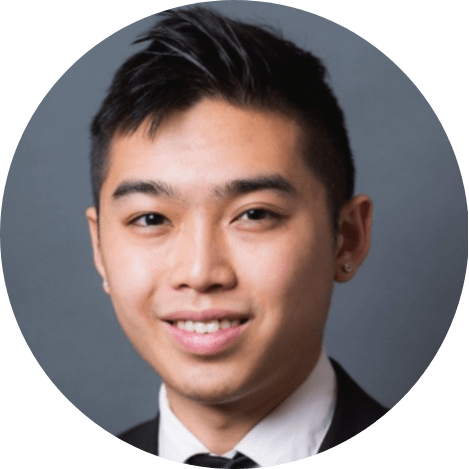 Andy is a full-time animal rescuer and owner of a toy doodle. When he's not saving dogs, Andy is one of our core writers and editors. He has been writing about dogs for over a decade. Andy joined our team because he believes that words are powerful tools that can change a dog's life for the better.
Why Trust We Love Doodles?
At We Love Doodles, we're a team of writers, veterinarians, and puppy trainers that love dogs. Our team of qualified experts researches and provides reliable information on a wide range of dog topics. Our reviews are based on customer feedback, hands-on testing, and in-depth analysis. We are fully transparent and honest to our community of dog owners and future owners.