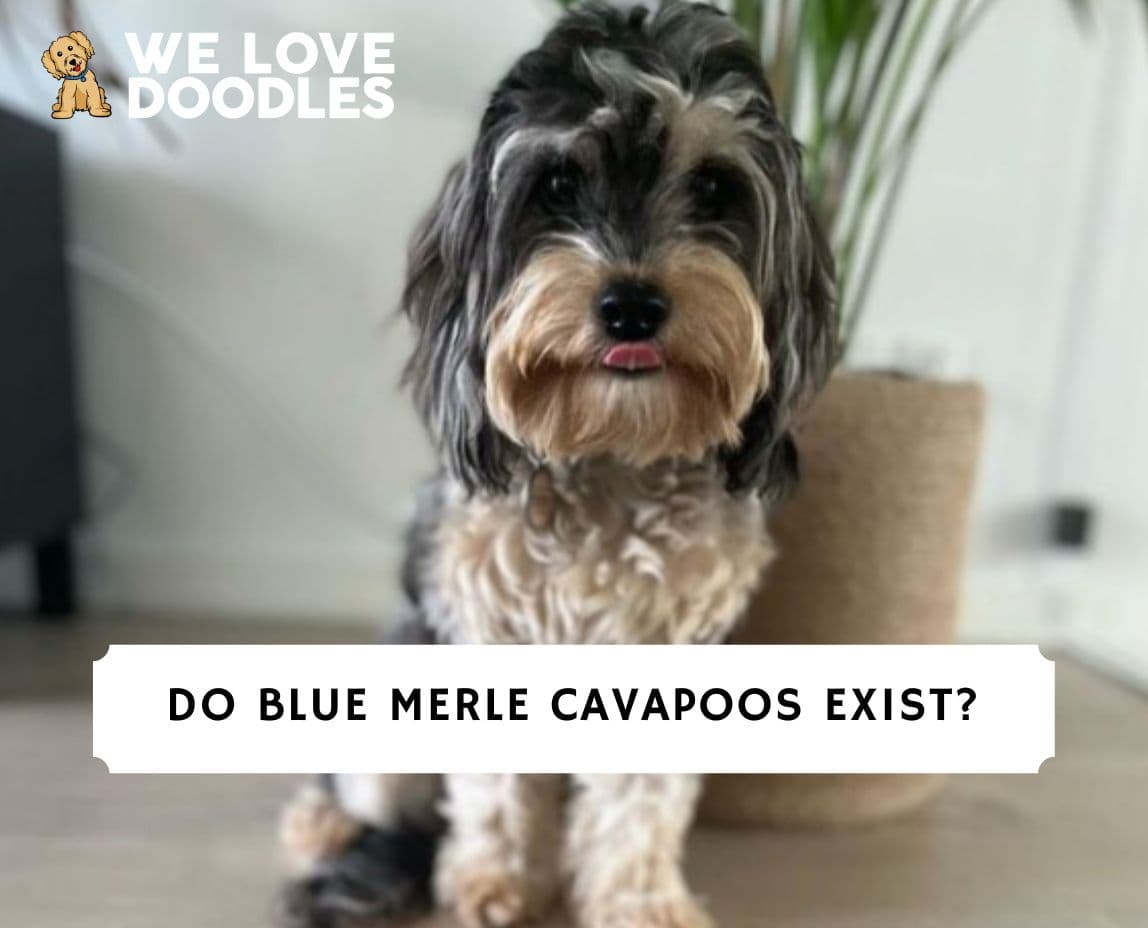 Are you looking to introduce a puppy like the Blue Merle
Cavapoo
into your home? These rare coat colors in the Cavapoo mixed breed are unique and have specific personalities, changing coat colors, and even medical conditions that set them apart from other dog breeds. Want to find out everything you need to know about the Cavapoo Blue Merle breed and the Merle gene? Then keep reading. Learn all about the Blue Merle Cavapoo dog below.
Before you scroll down this guide, "Do Blue Merle Cavapoos Exist," you can check out these other Cavapoo articles from our team at We Love Doodles: Types of Cavapoo Colors and Best Cavapoo Generations.
What Type of Dog Breed is a Cavapoo?
Before we delve further into the Blue Merle coat color, we discuss the Cavapoo breed in detail. The Cavapoo is a mixed breed crossed between a Cavalier King Charles Spaniel and a Poodle. The two different parents of the Cavapoo can come in various coat colors. For instance,
Poodles
come in as many as ten different colors. The
Cavalier King Charles Spaniel
has four colors: ruby, black and tan, tricolor, and Blenheim. The mix of the two dogs can lead to various colors, with the Blue Merle as one possibility.
Related: How Many Dog Breeds Are There in the World?
What Does a Blue Merle Cavapoo Look Like?
The Blue Merle Cavapoo has a faded and patchy coat color. You'll see the puppy has patches of a solid black or tan color with a mix of pale grey. It looks so much lighter due to a genetic defect that led a black coat color of a Blue Merle Cavapoo to turn light grey or nearly blue. The Blue Merle Cavapoo has multiple hues and shades with patches of color. These dogs also suffer from certain health conditions due to the Merle gene.
Related: Cavapoo Pros and Cons.
What Does the Term Blue Merle Mean For a Cavapoo?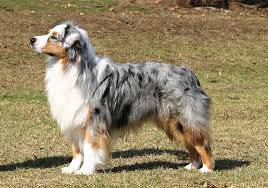 The term Blue Merle relates to the bluish color that Cavapoo dogs have between the patches in their coat. The colors range from a nearly powder blue look to a dark grey pattern. These Cavapoo puppies end up with a bluish coat color due to the Merle gene, which we discuss further below.
What Exactly Is the Merle Gene?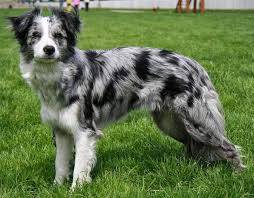 The
Merle gene
is a dominant one with the capital M denoting it. Non-merle is a recessive gene with a lower-case m showing the condition. You can have an MM homozygous dominant Merle dog or an Mm heterozygous dominant Merle canine. The Merle gene makes the coat color more diluted and lighter than the dog would have if the gene were absent. The dog would have colored patches on their fur with jagged edges. The Merle gene also impacts the health problems of these dogs.
How Does the Merle Gene Impact a Typical Dog Like the Cavapoo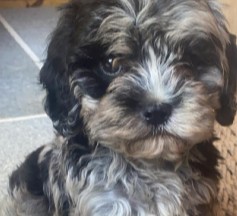 The most common health problems the Merle gene leads to are deafness, deformed eyes, blindness, skin cancer risks, and sun sensitivity. The nerve cells in the dog's ears can have a drop in its blood supply and may even die. Dogs with a heterozygous Merle (
Mm
) gene are less likely to have health problems, and canines with homozygous Merle (MM) genes are more likely to face health issues. B breeding two
Merle dogs
together is a bad idea, as it can lead the puppies to even more health problems.
Related: When is a Cavapoo Full Grown?
The Health Issues of Dogs with the Merle Gene
Along with blindness and deafness, dogs with a dominant Merle gene can have the following health issues:
Neurological problems
Kidney issues
Allergies
Skeletal defects
Reduced lifespan
If you want a healthy puppy, check that your Blue Merle Cavapoo does not have a homozygous dominant Merle gene. Dogs with those gene types have a higher risk of developing major health problems.
The Problems and Health Risks of Mating Double Merles
You will need to find reputable dog breeders instead of those who have mated double Merles, otherwise known as those with homozygous dominant Merle genes. There is a common trend among less knowledgable breeders to mate Double Merles. However, that can lead to serious medical problems and risks for the puppies. Such a puppy can have a lower lifespan due to mere accidents. For instance, a deaf or blind dog can easily escape from the house and get hit by a car.
How Rare Are Blue Merle Cavapoos?
The Blue Merle is a rare color on a Cavapoo dog. The Merle Cavapoo puppies are much rarer than the same mixed breed solid-colored dogs. The Merle gene is also very rare among Poodles, while the King Charles Cavalier Spaniels seldom have a Blue Merle coat color. The rare color is nearly blue or a light gray with a patchwork of different colors.
Are There Other Rare Cavapoo Colors?
Cavapoo dogs with a black coat color are also rather rare. A completely black coat is not common in breeding Cavapoo puppies. The black color is usually a recessive trait of Poodles, making the coat much rarer. Tri-colored Cavapoo canines are also rather rare compared to other more common coat colors of Cavapoos.
Related: Cavapoo vs. Cavachon Dog Breed Comparison.
Before Introducing a Blue Merle Cavapoo Into Your Home
It would be best if you surely considered
adopting a Blue Merle Cavapoo
. The mixed breed is known for staying calm and obedient. You will find it easy to train a Blue Merle Cavapoo. These dogs are also affectionate and loving, so you'll have a sweet pet to cuddle with every night. Black Merles are quieter, intelligent, and caring but stay away from strangers. You would benefit from purchasing a Merle Cavapoo puppy with such nice temperaments.
The Costs of Blue Merle Cavapoos
The average
cost of purchasing a Cavapoo puppy
is usually between $1,200 and $2,000. However, Blue Merle Cavapoos are rarer dogs, and you can expect to pay several hundred dollars more for the puppy. You may even spend an extra $1,000 to purchase a Blue Merle Cavapoo.
Related: Best Names For Blue and Merle Dogs.
Frequently Asked Questions (FAQs)
Read on to find answers to some common questions about Cavapoo Blue Merle puppies.
Are Blue Merle Cavapoo puppies hypoallergenic?
Regardless of whether they have a Blue Merle coat, Cavapoos are often advertised as
hypoallergenic dogs
. Most Cavapoos do not have any allergy-causing factors. Yet, if a recessive gene is present in a Cavapoo puppy, it may cause allergies. As such, experts do not officially call Cavapoos hypoallergenic canines.
What type of temperament and personality does a Blue Merle Cavapoo have?
Blue Merle Cavapoos and other Cavapoo puppies are known for their sensitive and kind temperament. They have a calm demeanor and are very affectionate. These are loyal and devoted dogs with a curious and loving nature.
Do Merle-colored dogs change their coat color as they grow older?
As your Merle-colored dog grows older, they are likely to have grey hairs pop up. The same goes for any aging canine. However, the color of their patched blueish and blackish coat will stay the same. Their coat color does not fade. They have mostly the same coat color until old age.
Conclusion For "Do Blue Merle Cavapoos Exist"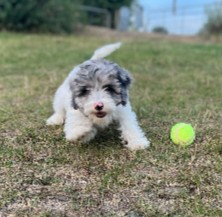 Cavapoo Blue Merle-colored puppies can make great pets for your home and your family to enjoy. If you are willing to take on the possible health risks of dogs with the Merle gene, then you can go out and adopt the gorgeous puppy. These puppies are calm, obedient, and quite smart. There's no trouble with training the dog either. You will love bringing the sweet puppy into your home. Your kids will have a pet to play with for their entire childhood. You won't regret it.
If you find this guide, "Do Blue Merle Cavapoos Exist," you can check out these other content from our team at We Love Doodles:
Now that you learned about the Blue Merle Cavapoo, you can find out more interesting things about this dog breed by watching the "Cavapoo: Everything You Need to Know – Is it the Right Dog For You" down below: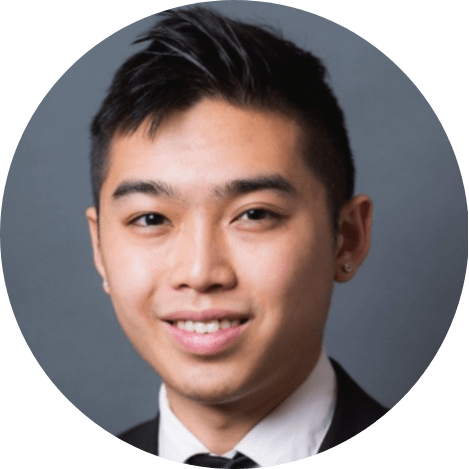 Andy is a full-time animal rescuer and owner of a toy doodle. When he's not saving dogs, Andy is one of our core writers and editors. He has been writing about dogs for over a decade. Andy joined our team because he believes that words are powerful tools that can change a dog's life for the better.
Why Trust We Love Doodles?
At We Love Doodles, we're a team of writers, veterinarians, and puppy trainers that love dogs. Our team of qualified experts researches and provides reliable information on a wide range of dog topics. Our reviews are based on customer feedback, hands-on testing, and in-depth analysis. We are fully transparent and honest to our community of dog owners and future owners.