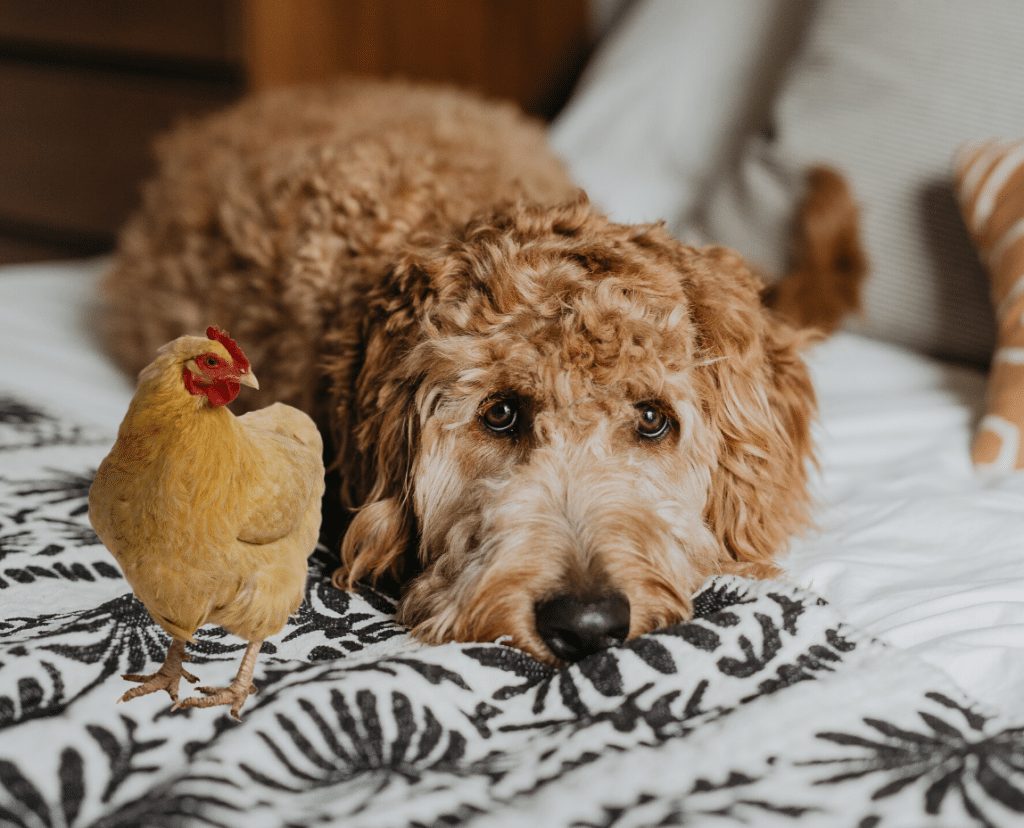 I did some research on the chicken allergy in dogs, after I bought our dog the "Kirkland Signature Adult Formula Chicken, Rice, and Vegetable Dog Food."  We were transitioning our Goldendoodle dog from his expensive puppy dog food to adult dog food.  A couple of days after eating his first scoop of the new chicken food, my dog started to severely itch his body, lick his paws, and had gastrointestinal issues including diarrhea.  Our Goldendoodle dog had eaten several different types of rice and vegetables before, but he has yet to eat chicken.  I deduced that our dog had a chicken allergy.
Chicken is one of the most common meats in dog food because it is a cheaper alternative to ingredients such as beef and lamb.  Thus, you'll find chicken in many different forms of wet dog food, dry dog food, and dog treats.  Many veterinarians also recommend giving your dog a bland diet of chicken and rice when they are sick.  However, though unusual, the chicken allergy in dogs is possible and dogs can develop food intolerances and food sensitivities to poultry products such as chicken, turkey, and duck.
What is the Chicken Allergy in Dogs?
The chicken allergy in dogs is known as a food allergy.  Food allergies are one of the most common forms allergies in dogs and can become severely discomforting for your dog if left untreated.  Often times, you'll notice that your dog is itching their head like crazy or shaking their head constantly.  Around 10% or most of all dog allergy cases are due to food allergies.  If your dog is allergic to one type of food, chances are that your dog is allergic to many types of foods.  So it's best to monitor your dog's diet closely.
The chicken allergy in dogs is essentially an immune system response after consuming chicken or any type of byproduct including duck or turkey.  The purpose of the immune system is to defend the body of harmful microorganisms that can invade the body.  Antibodies will begin to attack the microorganism which triggers itching, rashes, and other symptoms.
While often confusing, dog food allergies are slightly different from dog food intolerances or sensitivities.  A dog food allergy is when your dog's body or immune system react to defend your dog's body.  On the hand, a dog food intolerance or sensitivity is a reaction to a certain kind of food, such as chicken, as a result of your dogs digestive tract.
Symptoms of the Chicken Allergy in Dogs
Severe itching and scratching around their face, ears, or mouth
Constant licking of the paws or other areas of their skin
Dog attempting to scratch their butt by either scooting across the floor or licking their rear end
Rashes and inflammation to the skin caused by itching
Loss of hair or bleeding from the skin from itching
Vomiting, diarrhea, and other gastrointestinal issues
Other symptoms may also occur, but these are the main symptoms that occur for a chicken allergy in dogs.
What Causes the Chicken Allergy in Dogs?
Dog food allergies such as the chicken allergy in dogs often develop at a young age due to their genetics and other factors such as their environment.  Shortly after ingestion, dog food allergies manifest themselves in the form of itchy skin, rashes, or diarrhea as an immune system response to defend your dog's body.
There is a lot of research going on to determine exactly what makes the immune system more likely to express allergies in your dog.  For example, younger dogs treated with antibiotics at an early age could have a higher threat of developing allergies later on life.  This is because antibiotics fundamental change the immune system.
Chicken Allergy Treatment and Diagnosis
First, transition your dog back to the previous food that they were on.  Next, survey all the food that your dog has eaten over the last 24 to 48 hours.  Have you recently changed dog foods or given your dog a usual snack?  Have they eaten anything off the floor?  Last, make sure to consult your veterinarian in order to determine that your dog was actually allergic to chicken.
Likely, your veterinarian is going to prescribe a special bland diet or homemade diet that doesn't contain chicken.  After a period of one or two weeks when all the symptoms have subsided then they may have you reintroduce chicken to your dog to see if the chicken allergy symptoms occur again.  If chicken allergy symptoms occur then you will know that your dog is allergic to chicken.  Alternatively, they may run an allergy test on your dog to quickly determine the allergy.  However, the dog allergy test option typically costs money that dog owners don't like to spend.
The most effective way to treat your dog's chicken food allergy is to completely eliminate the food from your dog's diet.  This includes all dry food, dog treats, and similar types of food such as turkey, duck, or poultry.
Conclusion
Some of the most common dog food allergies are chicken, wheat, soy, milk, beef, eggs, and corn.  Since chicken is so commonly used in all types of dog food it may difficult to deduce that your dog has a chicken allergy.  If you're unsure whether or not your dog has a chicken allergy, it's best to consult a veterinarian so they can either provide an allergy test or prescribe a bland diet for your dog.
In retrospect, the best way to treat your dog's chicken allergy is get rid of it from their diet.  This includes all similar products such as turkey, duck, or any type of poultry.  For more information about dog food, check out Pet Health Partnership.
Frequently Asked Questions
When do dogs develop the chicken allergy?
The chicken allergy in dogs is possible to develop at any stage of your dog's life, including when they are older.  This is similar to humans who have allergies to peanuts when they are younger, but may go away as they get older.  Dog's can experience the same allergy reactions, and they may be present when they are younger or older.
Are some breeds more prone to chicken allergies?
It's difficult to tell and depends on which veterinarians you ask.  The chicken allergy in dogs is likely spread by breeders who breed the same type of dog over and over again and are genetically susceptible to developing the allergy.  Dog breeds who may be more susceptible to the chicken allergy are Golden Retrievers, Labrador Retrievers, German Shephards, and Cocker Spaniels. 
How common is chicken allergy in dogs?
There are several types of food allergies that are common in dogs and the chicken allergy is one of them.  However, food allergies as a whole tend to only effect around 10% of the allergy cases in dogs.  The main food allergies for dogs are chicken, wheat, soy, milk, beef, eggs, and corn.  It's relatively common for a food allergy.
Can chicken cause diarrhea in dogs?
Yes, chicken can cause diarrhea in dogs if they are allergic, have a food intolerance, or are simply sensitive to eating chicken.  If your dog is constantly getting diarrhea after you feed them chicken we recommend that you stop feeding them chicken and consult a veterinarian.
Dog allergic to chicken is turkey ok?
If your dog is allergic to chicken, the recommendation is to not feed them any poultry products such as turkey or duck.  It's very likely that if your dog is allergic to chicken that they are also going to be allergic to other forms of poultry.
Other articles to read:
Garrett loves animals and is a huge advocate for all Doodle dog breeds. He owns his own Goldendoodle named Kona. In addition, he volunteers at the Humane Society of Silicon Valley, where he fosters dogs and helps animals. Garrett enjoys writing about Doodles and believes that dogs can teach humans more about how to live than humans can teach a dog.
Why Trust We Love Doodles?
At We Love Doodles, we're a team of writers, veterinarians, and puppy trainers that love dogs. Our team of qualified experts researches and provides reliable information on a wide range of dog topics. Our reviews are based on customer feedback, hands-on testing, and in-depth analysis. We are fully transparent and honest to our community of dog owners and future owners.