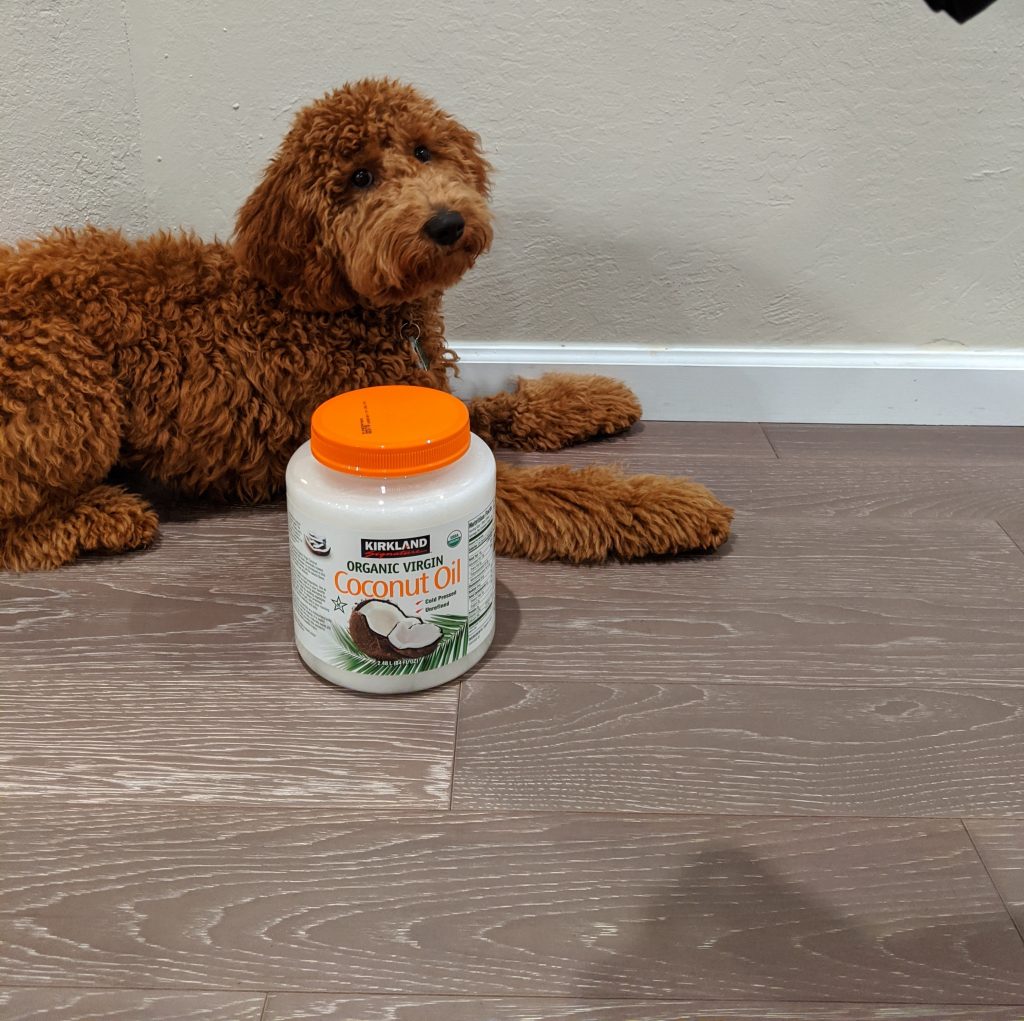 We received the question: "My dog ate coconut oil.  What should I do?"  The answer is that it highly depends on the amount of coconut oil that your dog ate.  In general, 100% coconut oil is safe for your dog if consumed in small quantities.  In small quantities, coconut oil is actually healthy for your dog's skin as it provides nutrients and prevents their skin from drying out.  However, in large quantities, coconut oil will cause gastrointestinal issues as well as pancreatitis.
Coconut oil is extremely high in saturated fat — typically containing over 80% saturated fat.  These fats are generally considered good for your dog as saturated fat can boost fat burning, create healthier looking skin, and increase brain functions.
During the winter, our dog gets dry skin so we tend to feed in him 1 tablespoon of coconut oil per day.  Small quantities are healthy if your dog likes to eat coconut oil.
Other articles you would like: My Dog Ate Guacamole: What Should I Do?
What to do if my dog ate

a lot

of coconut oil?
If your dog ate a large quantity of coconut oil then chances are they are going to have a significant amount of liquid diarrhea that will smell extremely bad and may be partially white.  In addition, your dog may exhibit symptoms of vomiting, low energy, smelly gas, or an upset stomach.  This could last for as long as 3 days depending on how fast or slow your dog digests the coconut oil.
Although rare, the biggest concern if your dog ate a lot coconut oil is pancreatitis.  The pancreas organ is responsible for releasing enzymes that aid in digestion and pancreatitis prevents proper digestion.  Common signs of pancreatitis is a hunched back, repeated vomiting, diarrhea, and pain in the abdomen.  Consult a vet immediately if you notice signs of pancreatitis. 
Since your dog will almost certainly get diarrhea, make sure your dog is drinking plenty of water.  Dehydration is extremely common in dogs that have diarrhea.  If your dog isn't drinking, try soaking their daily meals in water in order to avoid dehydration.  If the diarrhea continues for more than 48 hours, I would recommend calling a veterinarian.  There have been reported cases of dogs being allergic to coconut oil so it's important to rule out this case.
After all the coconut oil subsides, you may also notice that your dog has an extra shiny coat of fur and that their skin may be slightly smoother.  These are some of the external effects of the coconut oil on your dog.
How to mitigate diarrhea after dog eats coconut oil:
Feed your dog 100% canned pumpkin in small quantities.  Canned pumpkin hardens loose stools.  This will help prevent your dog from pooping out all their liquids.
Consider a bland diet.  If diarrhea and vomiting occur, consider a bland diet of cooked chicken and rice for a few days.  This will help make the vomiting less frequent and the stools harder.  In addition, it will limit the amount of coconut oil food reaction in your dog.
Benefits of Coconut Oil for Dogs
There are many health benefits for dogs that consume coconut oil.  Below are some of the benefits of coconut oil for dogs:
Skin and Coat improvements.  Coconut oil helps clear up dry skin in dogs as well as yeast, fungal, and eczema issues.  You can either feed your dog coconut oil or apply it directly to their skin.
Faster digestion and potential weight loss.  Coconut oil helps aid faster digestion in dogs which correlates with weight loss. Saturated fats help with the thyroid which gives energy and increases your dogs mood.
Disease control.  Coconut oil improves your dogs immune system, helps balance insulin to prevent diabetes, and provides additional support for joints.
Lessen's itchiness against bites and stings.  Coconut oil reduces itchiness irritation as it prevents the skin from drying out.  It also works to take the itchiness out of bee stings, spider bites, and flea bites.
In general, you can feed your dog approximately 1 tablespoon of coconut oil per day for every 10 pounds (4.54 kg) of dog you have.  Remember to start your dog slowly on coconut oil and ramp up to the respective amount they are supposed to consume.
Conclusion
In general, if your dog ate coconut oil in small quantities I would not worry.  If your dog ate coconut oil in large quantities, I would monitor them for a significant amount of diarrhea and vomiting.  If the diarrhea and vomiting continue for over 48 hours, I would consult a veterinarian.
Other popular articles you should read: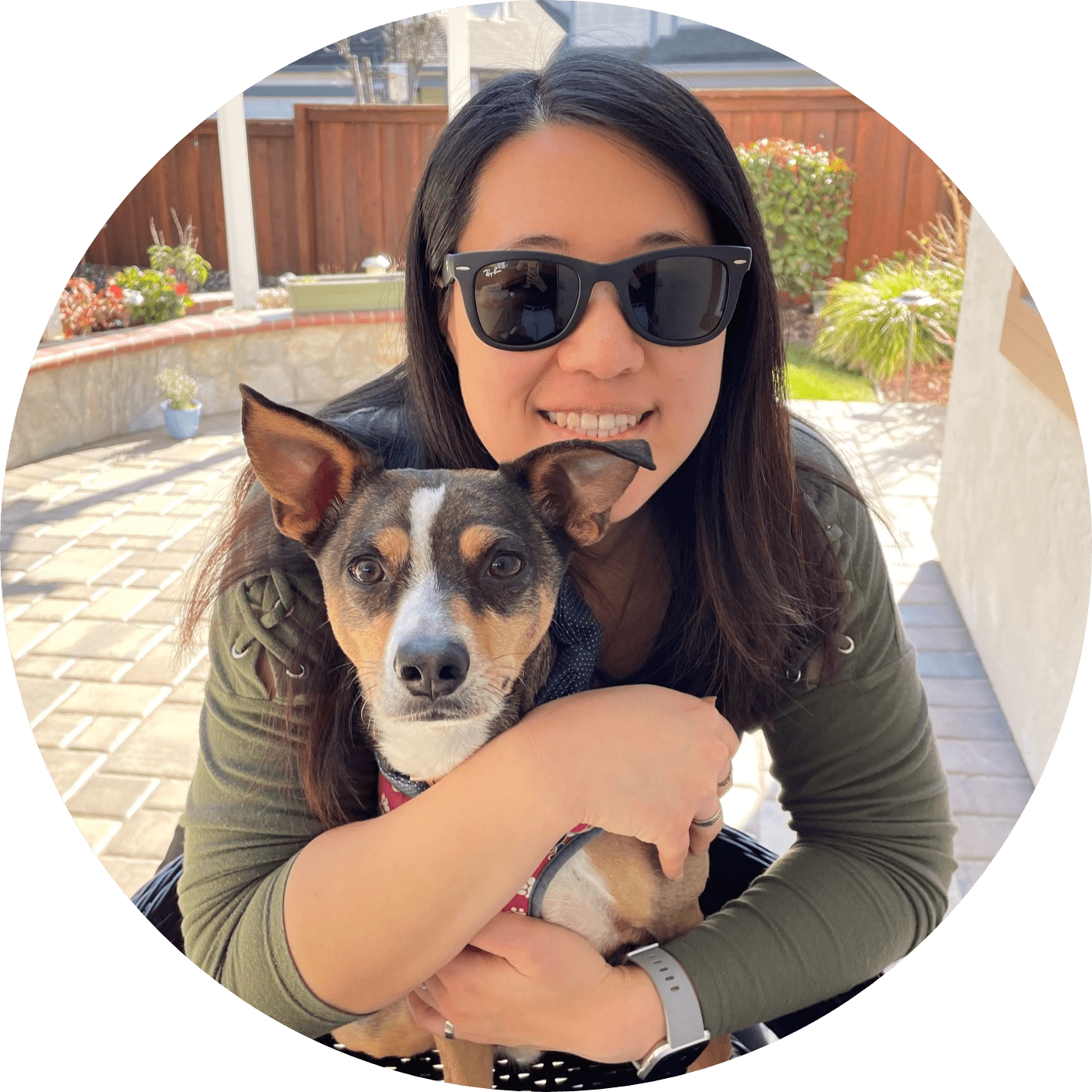 Dr. Sabrina Kong graduated from the Royal Veterinary College in England in 2016 and has been working at a small animal clinic in Northern California since then. She grew up in the Bay Area and got her bachelor's degree from Cal Poly San Luis Obispo. She also became a Certified Canine Rehabilitation Practitioner through a program at the University of Tennessee.
When she isn't in the clinic taking care of her four-legged patients, she enjoys traveling and trying new foods with her friends and her three-legged dog, Apollo. She adopted Apollo from her clinic when he was a puppy with numerous health issues. Dr. Kong truly cares about taking care of animals.