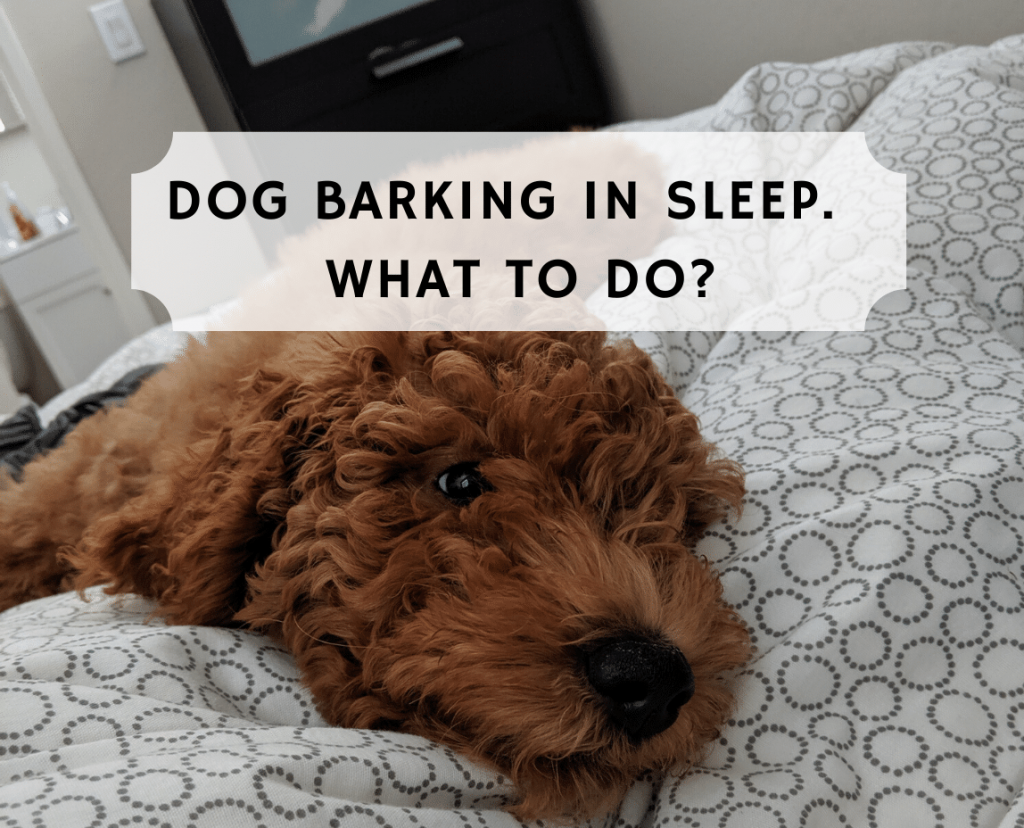 We recently received the question "Dog barking in sleep.  What Should I do?"  Well, the answer is nothing, because your dog is just dreaming.  The first time I saw my puppy bark in his sleep was in the middle of the night and my wife had freaked out.  Our puppy started barking, followed by a light growl, and then he started moving his legs around while sleeping.  It started to become so common that we just called them "dog dreams".  Just like humans, dogs have REM sleep cycles and dream on a regular basis.
If you think your dog is having a nightmare by howling really loudly, panting, or crying in his sleep, you can simply wake them up by petting them or lightly calling their name.  Dogs can go into a distressed state and have nightmares in their sleep as well.  
Dog Barking in Sleep Meaning
Dogs barking is equivalent to humans speaking.  Essentially, it a dog's way of communicating or expressing how they feel at any given moment.  When your dog is barking in his sleep it's simply because all mammals dream.  Dog dreams can be entertaining, sad, or happy.  Dreams are essentially a recreation of images and experiences that your dog may have experienced.  This may cause your dog to bark in their dreams as a form of communication, also known as sleep talking.
It's pretty crazy to think that humans and dogs share the same semi-conscious trance state of dreaming.  Often times, you'll also see your dog move their legs to mimic running or wag their tail in a sleep dream.  They may even twitch their eyelids or snore.  Sometimes it's cute and sometimes is extremely annoying.
Is your dog barking in sleep disturbing your sleep?
If your dog's nightly barking is disrupting your sleep schedule, there are definitely things that you can do to try to sleep better.  The first thing I would do is find a new place for your dog to sleep that would minimize the noise impact for others in the household.  Alternatively, you can try getting a white noise machine which does a good job of drowning out the noise at night.  If you don't like white noise, you can try other noise cancelling remedies like ear plugs.  Lastly, if your dog is crate trained, putting a thick blanket over their crate seems to minimize noise enough for me to sleep comfortably at night.
Dog barking in dream – Understanding REM
Vivid dog dreams will occur the most in a sleep phase called Rapid Eye Movement (REM).  In the REM sleep phase, the dog's brain is most active and many experts say that dogs dream at least 4-6 times per night.  It's also well known that smaller dogs tend to dream more often and bark in their sleep as compared to larger dogs.  This is the same effect as in humans as babies can spent 50% of their sleep in a REM cycle.
REM sleep typically occurs anywhere from 20-90 minutes after sleeping and typically lasts for a 10-minute period.  This means that your dog will dream for around 10-minutes and barking is most common in this sleep state.
Conclusion
It is very normal for dogs to bark in their sleep and nothing you should be immediately concerned about.  In fact, our dog, Kona, does this almost on a nightly basis during his REM sleep cycle.  If you think your dog is having a nightmare from recent stress, fear, or trauma, you can wake them up by petting them or calling their name.  If your dog barking in their sleep is bothering you, then try to move his dog bed into another room.  Otherwise, you can try a white noise machine or earplugs.  We hope you enjoyed our articles on Dogs Barking in Sleep.
Other popular articles:
Garrett loves animals and is a huge advocate for all Doodle dog breeds. He owns his own Goldendoodle named Kona. In addition, he volunteers at the Humane Society of Silicon Valley, where he fosters dogs and helps animals. Garrett enjoys writing about Doodles and believes that dogs can teach humans more about how to live than humans can teach a dog.
Why Trust We Love Doodles?
At We Love Doodles, we're a team of writers, veterinarians, and puppy trainers that love dogs. Our team of qualified experts researches and provides reliable information on a wide range of dog topics. Our reviews are based on customer feedback, hands-on testing, and in-depth analysis. We are fully transparent and honest to our community of dog owners and future owners.