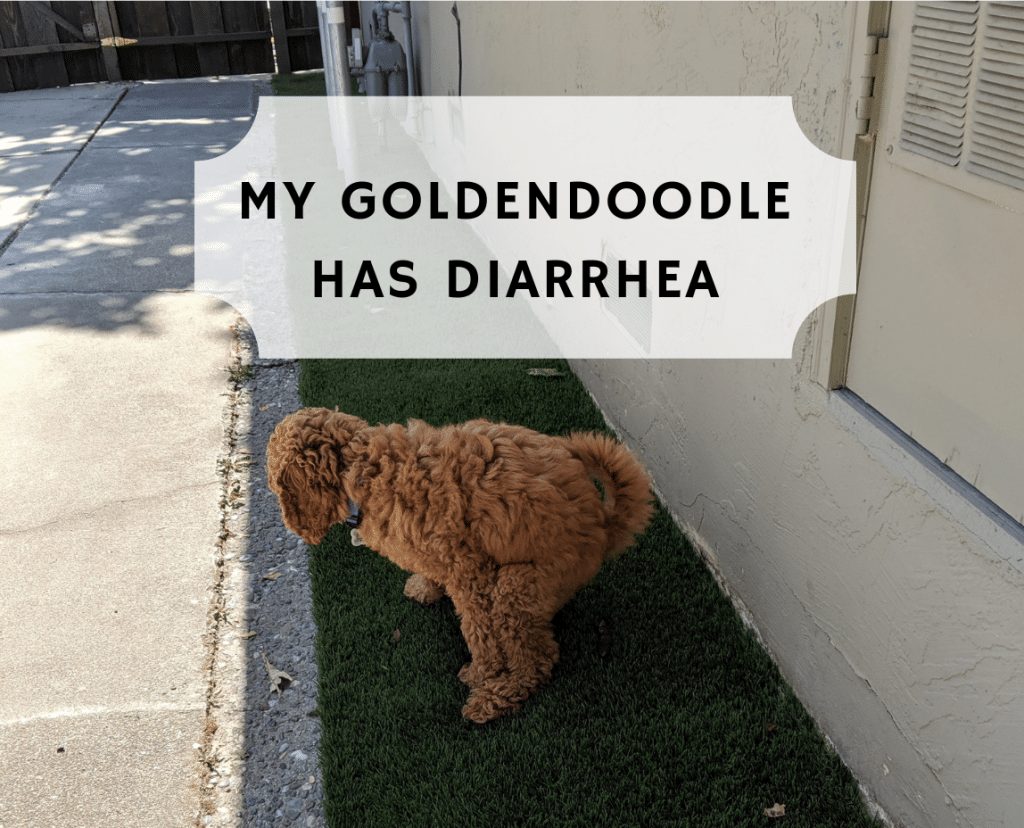 Our Goldendoodle, Kona Bear, had diarrhea for the first time when he was 2 months old. Needless to say, as new puppy parents we freaked out and took him to the veterinarian twice in one week. In addition, we also researched hours online on why he had diarrhea. It turned out he was allergic to his puppy food, so we changed up his puppy food. You can read my Best Food For a Goldendoodle Puppy article for my recommendations. Here are also the top alternatives:
Product
Best Seller
Zesty Paws Probiotic for Diarrhea
Runner Up
Purina Supplements for Diarrhea
Best Budget Pick
Immunity Probiotics for Diarrhea
Image
My Goldendoodle Has Diarrhea, what should I do?
The first step is remain calm. It's common for Goldendoodle puppy's or even adults to sniff around and eat EVERYTHING from dirt to leaves to rocks. Ingesting food outside of their normal puppy kibble will cause your Goldendoodle to get diarrhea. Our Goldendoodle has had diarrhea several times for various different reasons and each time his stools have gone back to normal after about a week.
Here's what you should monitor if your Goldendoodle is having diarrhea:
Color. Your dogs poop should always be a brown color coming out of the digestive tract. If your Goldendoodle's poop isn't brown and it has blood in it, I would take him to the vet as this could be an indication of gastric ulcers, colitis, or hemorrhagic gastroenteritis.
Coating. Goldendoodle stool's should be free of any coating. Our dog had a thick white mucus coat that was slimy which means that there was digestion issues with the large intestine. If there's some type of white or yellow coating, I would take my dog to the veterinarian.
Contents. Upon examining the Goldendoodle diarrhea, it should be free of any large objects. If you see any white specs that resemble noodles, this could mean your Goldendoodle has worms in his gastrointestinal tract. Take your dog to the vet if your see any unusual objects.
Consistency. Poop should be soft, but solid enough to pick up. Hard stool means your Goldendoodle is constipated.
How to tell if your Goldendoodle Diarrhea is serious?
I would call my vet if:
If the diarrhea persists over 24 hours, or seems to worsen (blood, mucus, etc.)
Your Goldendoodle started to get lethargic after diarrhea and doesn't seem to be drinking much.
Other symptoms start occurring like vomiting, lack of appetite, or anything out of the ordinary.
Possible causes of Diarrhea in Goldendoodles
Parasites such as worms will cause diarrhea
Intestinal obstruction of the Goldendoodles intestinal tract
Viral infection from parvovirus, distemper, or coronavirus will cause diarrhea in Goldendoodles
Dietary changes of food, food intolerance, or food allergies
How to stop Diarrhea in Goldendoodles?
If your Goldendoodle is experiencing common diarrhea and is acting fine with high energy, I would recommend the following for 24 hours before seeing a veterinarian:
Feed a bland diet. Feed your dog boneless and skinless chicken breast and white rice. Make sure that you cook the chicken thoroughly to avoid any bacteria in raw meat!
Chicken, rice, and pumpkin diet. Pumpkin is great for your Goldendoodle because it is rich in fiber and they love to eat it! It will also harden your dogs stool.
Gastrointestinal Food. If you go to your veterinarian, they will often times prescribe gastrointestinal food. We've had great results with the Royal Canine gastrointestinal food. See if you can pick some up at your local pet store or buy some food with probiotic in it.
Probiotics. Our veterinarian prescribed probiotics in packets to improve diarrhea. Probiotics are basically the "good" bacteria that colonizes the gut and improves your dogs colon health. I recommend that you keep a few packets of probiotic handy to see if this will clear up your Goldendoodles diarrhea. You simply sprinkle the the probiotic in your Goldendoodles food.
Hydration. Make sure your dog is drinking to avoid dehydration. If your dog is not hydrated, the diarrhea could be signs of some other serious illness.
How to Avoid Diarrhea in Goldendoodles?
Make sure your Goldendoodle is dewormed on a regular basis.
Make sure your Goldendoodle is up to date on their vaccinations
Avoid feeding your dog raw food. The issue is raw food is that it can carry many different pathogens that your dog is not used too. This causes the digestive tract to improperly process food.
Feed your dog high quality dog food.
Prevent your dog from eating rocks, or any unusual objects that could block the digestive track.
Conclusion for My Goldendoodle Has Diarrhea
Diarrhea isn't fun for either Goldendoodles or for their owners. However, it is extremely common since Goldendoodles are known for sniffing and eating basically anything! Don't panic and try a bland diet with probiotics. If you start seeing blood or mucus, I would immediately contact your veterinarian.
Garrett loves animals and is a huge advocate for all Doodle dog breeds. He owns his own Goldendoodle named Kona. In addition, he volunteers at the Humane Society of Silicon Valley, where he fosters dogs and helps animals. Garrett enjoys writing about Doodles and believes that dogs can teach humans more about how to live than humans can teach a dog.
Why Trust We Love Doodles?
At We Love Doodles, we're a team of writers, veterinarians, and puppy trainers that love dogs. Our team of qualified experts researches and provides reliable information on a wide range of dog topics. Our reviews are based on customer feedback, hands-on testing, and in-depth analysis. We are fully transparent and honest to our community of dog owners and future owners.