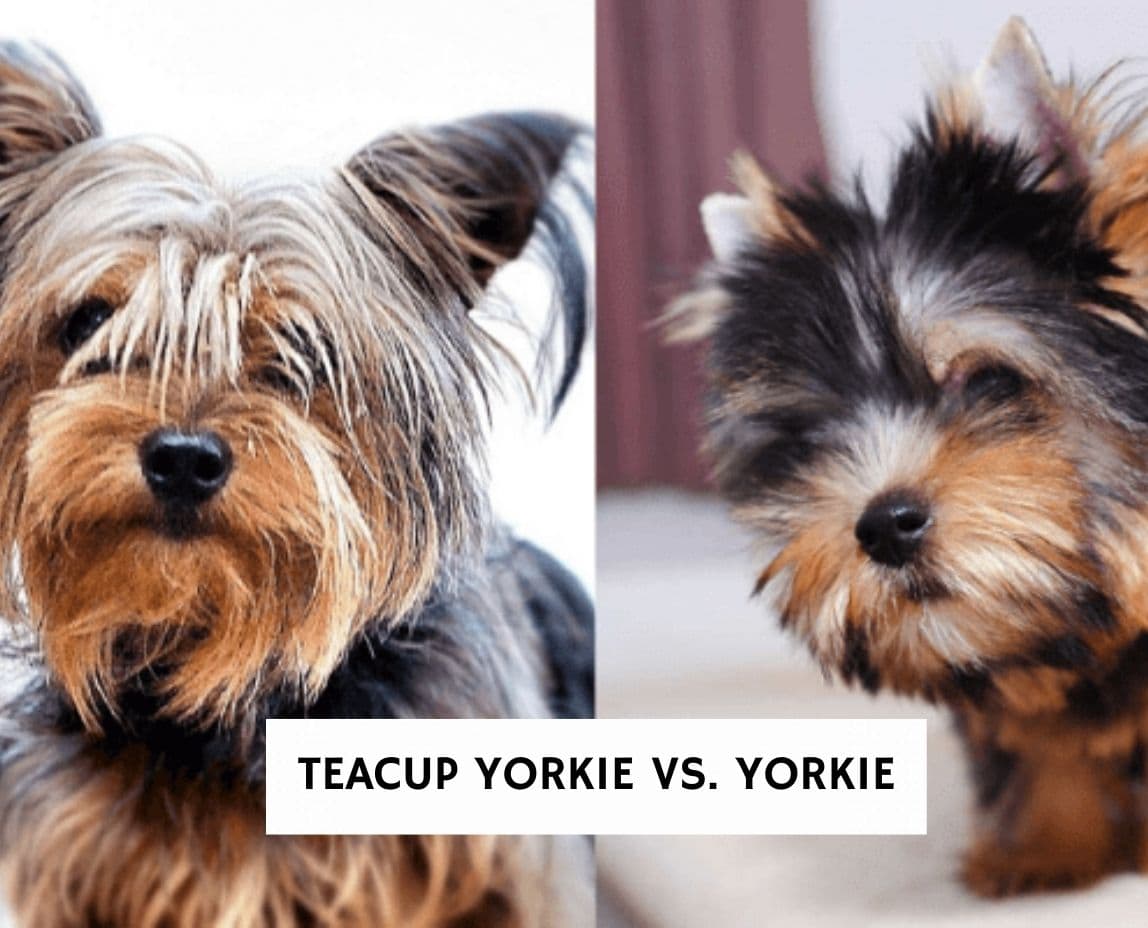 What's the difference between a teacup Yorkie vs. Yorkie? Yorkshire Terriers are a great choice because they are all small, but some are even smaller than others. Regular Yorkies are known for being small puppies, but Teacup Yorkies are even tinier.
You might wonder, "What is the difference between a Teacup Yorkie vs. Yorkie?" Well, as their name suggests, these dogs are extremely similar. However, there are some small differences between a Teacup Yorkie and a regular Yorkie. Below you will find everything there is to know about both dogs and how they compare to each other.
Before scrolling down this guide for teacup Yorkie vs Yorkie, check out these other guides that will help you: How Much Does a Yorkshire Terrier Cost? and Best Yorkshire Terrier Breeders in Wisconsin.
Origins
The Yorkshire Terrier was originally bred in Yorkshire, England. These little dogs were bred to hunt rats and other small vermin within mines and mines. Their small size was specially developed to target this small prey.
However, their times as hunters did not last long as these dogs quickly became a perfect companion breed. Which they remain today. Teacup Yorkies share the same history as regular-sized Yorkies because they are the same breed, just in a different size.
Teacup Yorkies have the same genes as regular-sized Yorkies; they are smaller. Therefore, there is a slightly different method for breeding these tiny puppies, but this method does not change the fact that they are still purebred Yorkies.
Regular-sized Yorkshire Terriers are bred in the traditional way of taking two average-sized purebred adult Yorkies and making puppies. These dogs are well-loved all over the world and make great companions.
On the other hand, Teacup Yorkies are specifically bred for certain characteristics. Specifically, these dogs are purposefully bred to be extra small. Teacup Yorkie breeders choose their parent dogs for their small size.
Therefore, they focus on breeding runts so their puppies will be as small as possible. As time has passed and Teacup Yorkies have become more popular, breeders can breed Teacup Yorkies together to make more puppies. Therefore, they do not have to rely on the runts of a litter as heavily as before.
Related: Teacup Australian Shepherd Information and What is a Teacup Maltipoo?
Size
The biggest difference between a Teacup Yorkie and a regular Yorkie is their size. Because these dogs share the same genetics–they are both Yorkies–their size determines whether a dog falls into the Teacup Yorkie category or the regular Yorkie category.
As we mentioned above, Teacup Yorkies are bred to be especially small. That is why these dogs are also sometimes referred to as Micro Yorkies or Toy Yorkies. They are the result of breeding the runts of a regular Yorkie litter, resulting in tiny puppies.
A dog is considered a Teacup Yorkie if it weighs 2- 4 lbs and is 5-7 inches tall. On the other hand, regular Yorkies typically weigh 5-7 lbs with a height of 7-8 inches. Therefore, any Yorkie larger than 4 lbs and greater than 5 inches tall is considered a standard-sized Yorkie. Anything smaller is considered a Teacup size.
Yorkie
Height: 7-8 inches
Weight: 5-7 lbs
Teacup Yorkie
Height: 5-7 inches
Weight: 2-4 lbs
Appearance
Besides their size, Teacup Yorkies and Yorkies have very similar appearances. This is because these dogs have the same genetics. They are just different sizes. Therefore, these dogs will have the same colors and patterns shared with all purebred Yorkshire Terriers.
The most common colors for Yorkies of any size are black, tan, blue, and gold. These colors come in different combinations depending on the individual dog. The most common combinations include black and tan, black and gold, blue and gold, and blue and tan.
Most Yorkies also change colors as they age. Typically this change means your dog will get lighter in color. These beautiful coat colors are not the only thing that makes these dogs so popular. Their hypoallergenic coats also contribute to Yorkie's popularity. Yorkie hair is similar to human hair.
Therefore, it sheds extremely minimally, making these dogs a great option for allergy sufferers. However, it is important to note that if you are allergic to dog saliva rather than dander, Yorkies still may not be a good idea for you. This is because the hypoallergenic coat reduces the amount of dead skin that comes off of your Yorkie, but it cannot take the proteins out of the saliva.
Grooming
If the saliva does not bother you, then a Teacup Yorkie or regular-sized Yorkie is a great choice. However, these dogs require extensive grooming because their hair grows quickly and does not fall naturally.
It must be brushed daily to prevent knots if you decide to keep your Yorkie's hair long. Yorkie hair grows long if left untrimmed, so it is important to visit a groomer every 6-8 weeks to get your dog a haircut.
This long hair also commonly covers these dogs' eyes, so it needs to be trimmed more frequently than the rest of the body. Some people may opt to put the hair in a small ponytail on the top of their Yorkie's head instead of trimming it. Both Teacup Yorkies and Yorkies should have a bath every other week.
These regular baths remove any dirt and debris in your Yorkie's long hair. However, too many baths can dry out a Yorkie's skin, so it is important to provide your dog with moisturizing shampoo and conditioner to prevent skin irritation.
Temperament
Similar to many other characteristics, Yorkies and Teacup Yorkies have many commonalities in their temperaments. Yorkies of all sizes are known for being affectionate, energetic, playful little puppies. These dogs are immensely devoted to their family.
However, despite their similarities, Teacup Yorkies are known for being slightly more independent and fierce than other Yorkies. These dogs sometimes bark and become defensive around new people, especially new dogs.
This may be partly because of their small size, causing them to become nervous or overprotective. Regardless, Yorkies of all sizes adore their family. Whether you are romping around in the backyard or cuddling on the couch, your Yorkie will be happy to spend time with you.
Health
Despite their common genes, Teacup Yorkies, unfortunately, have many more health problems than normal Yorkies. Average-sized Yorkies live long and healthy lives of approximately 11-15 years. On the other hand, Teacup Yorkies only live for around 7-9 years.
This short lifespan is due to the selective breeding practices that result in Teacup Yorkies. Because breeders use runts to create Teacup Yorkies, there are often underlying health problems with the parent breeds that are passed to the puppies. These dogs are often so small because of congenital disabilities or disease, but they are still used in breeding anyway because of their small size.
Some common health problems found among Teacup Yorkies are:
Hypoglycemia
Collapsing Trachea
Heart Problems
Blindness
Respiratory Issues
Seizures
Digestive Problems
Dental Problems
Patellar Luxation
In addition to these common health problems, it is important to remember that Yorkies, in general, are small and delicate creatures. These dogs require extreme care when being handled. Without enough care, Yorkies can become seriously injured, even by accident.
This is especially applicable to Teacup Yorkies because they are even smaller. This small size is why Yorkies (regular or Teacup-sized) should never be left outside unsupervised. These dogs can be mistaken for rodents and targeted by birds of prey.
Their size is also why these dogs are not recommended for families with small children. Unfortunately, children can pose a risk because they do not understand how delicate these dogs are, resulting in unintentional injury.
Diet
Yorkies of any size should be fed a well-rounded diet full of healthy nutrients. However, the size difference between regular Yorkies and Teacup Yorkies means that these dogs do not require the same amount of food.
Regular-sized adult Yorkshire Terriers require approximately ⅔ of a cup of kibble daily. Teacup Yorkies require between ⅓ to ½ a cup of kibble daily. It is important to spread your Yorkie's food intake into multiple meals daily. This is due to their small size.
Yorkies (both regular-sized and Teacup) have extremely small stomachs that cannot digest large amounts of food at once. Therefore, you should spread your Yorkie's food over 2-3 meals a day to avoid unnecessary digestive problems.
Related: Best Air-Dried Dog Food and Best Soft Dry Dog Foods.
Exercise
Yorkshire Terriers, of the standard variety and the Teacup variety, require moderate exercise. Typically 30 minutes of activity a day is sufficient. This may seem like a lot for a dog of such small size, but it is important to remember that these are a Terrier breed, resulting in higher energy levels.
When exercising your Yorkie, you must remember that it should never be left alone outside. Their tiny size makes these dogs vulnerable to many different outdoor threats. Unsupervised Yorkies can become prey to larger animals, accidentally step on, and lose.
Therefore, you should use your Yorkie's exercise time as an opportunity to spend some quality time with your dog. Yorkies love going for walks, playing fetch, and hunting for toys.
Related: Best Weighted Vest For Dogs.
Conclusion For "Teacup Yorkie vs. Yorkie"
There are many similarities between Teacup Yorkies and Yorkies. However, some differences can help separate these two dogs. It is important to remember that these dogs have the same Yorkie genes. Some are just smaller than others.
However, you should be aware of the many health problems that come with breeding teacup dogs, as these can affect your dog's quality of life and have lasting financial implications for owners.
For more guides similar to this Teacup Yorkie vs. Yorkie guide, check out these other guides:
If this guide for Teacup Yorkie vs. Yorkie helped you, we think you may also want to take a long at this "Teacup Yorkie & Everything You Need To Know" video down below:
Garrett loves animals and is a huge advocate for all Doodle dog breeds. He owns his own Goldendoodle named Kona. In addition, he volunteers at the Humane Society of Silicon Valley, where he fosters dogs and helps animals. Garrett enjoys writing about Doodles and believes that dogs can teach humans more about how to live than humans can teach a dog.
Why Trust We Love Doodles?
At We Love Doodles, we're a team of writers, veterinarians, and puppy trainers that love dogs. Our team of qualified experts researches and provides reliable information on a wide range of dog topics. Our reviews are based on customer feedback, hands-on testing, and in-depth analysis. We are fully transparent and honest to our community of dog owners and future owners.