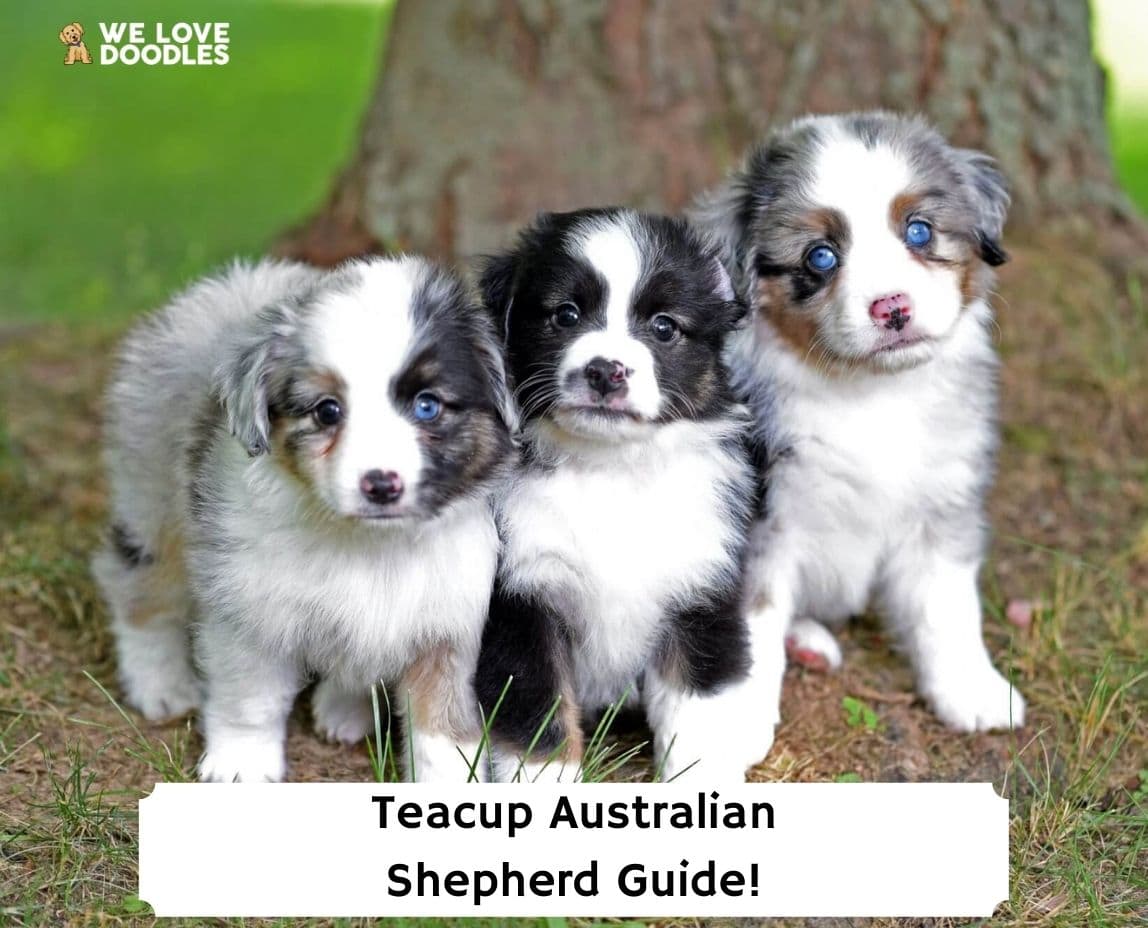 Here's what you need to know if you want to learn about the teacup Australian Shepherd. The Australian Shepherd is a gorgeous breed.
They are phenomenal in looks and intelligence. This is one of the smartest breeds around. As with many popular breeds, there are different versions to choose from. You can find mini and teacup Aussies to love on, in addition to the standard breed.
In this guide, we are going to focus specifically on the teacup Australian Shepherd. We will let you in on everything that you need to know about this breed. From size to temperament to health and every little detail in between.
Before scrolling down this teacup Australian Shepherd guide, you can check out these other dog breed guides: Red French Bulldog Guide and Twoodle Dog Breed Guide.
Teacup Australian Shepherd Overview
What you will find is that even the teacup version of the Aussie is often just categorized as a mini Australian Shepherd. However, there are both mini and teacup versions. They will be very similar for breeding, color, temperament, and appearance.
The most noteworthy difference between the two is that the teacup Australian Shepherd is slightly smaller still. It can be confusing because names like toy, teacup, and mini are all used. They are not meant to be interchangeable but that typically ends up being what happens.
We will try to make sure we identify if we mention anything aside from the teacup Australian Shepherd here. What you should know is that the teacup and toy Australian Shepherd are typically the same things. While this version of the Australian Shepherd is much smaller, they are still not tiny.
Remember that the Aussie is a rather large dog so you can only get so small with other versions of them. The teacup breed is the smallest of all Aussie breeds though. Let's break down more details to give you a clear picture of this type of dog.
Related: Australian Shepherd Chihuahua Mix Guide and Great Pyrenees Australian Shepherd Mix Guide.
Size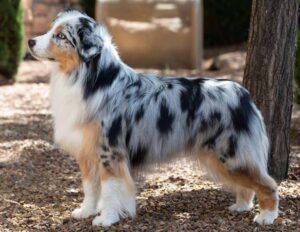 The interesting thing about the toy and mini Australian Shepherds is that they still are fully bred from Aussies. While some breeders will create a hybrid with a small breed like the Chihuahua, they achieved this size originally by breeding first very small Aussies to create a smaller version.
They then used small versions of the mini Aussie to create toy and teacup Aussies. It took some time to get to that point. This isn't a process that happens overnight but now that the breed is there, it's far easier to achieve. Ultimately, with the breeding process, a dwarf gene becomes present.
Once that gene is there, you can continue to breed from the line to create the tiny size. Teacup Australian Shepherds do still gain some size. This is not like you're the purse puppy that fits in your hands.
And yet, they are smaller than their standard breed counterparts. These puppies will typically grow to stand somewhere between 10-13 inches in height. They will not weigh a lot, with their maximum weight being less than 20 pounds. The average is 12-17 pounds.
Related: Best Hypoallergenic Teacup Dogs.
Appearance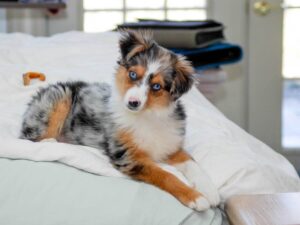 We've talked about the size but there are several other facets of the appearance you might be curious about. Here's the thing. Take all of the details you know about the appearance of a standard Australian Shepherd and apply them here. While the teacup version is much smaller, by comparison, they have the same physical features.
This breed is known for its unique coloring. They often have that marbled coloring that is unique to the Aussie breed. It's the same with teacups. They are not always marbled but it's a popular color pattern. They also could have other colors or no marbling. These puppies could be dual-colored or tri-colored.
They are very rarely a single color. Their color patterns can vary too. It just depends on the parents and the litter typically. Teacup Australian Shepherds have long coats. We will talk about grooming in a bit but you need to plan for grooming needs. They have long hair, they do shed, and they require brushing.
The teacup Australian Shepherd is lithe and agile. They have a certain amount of athleticism to their build. Their coats are long, or medium. They might be wavy but they might also be straight. They could be a combination as well. Australian Shepherds are often known for having blue eyes.
That is not always the case though. They also are known for sometimes having one blue eye and then an eye of another color. Those are highly sought after and rare. This particular size of Aussie never really grows into their ears. Despite being smaller, they tend to have somewhat large ears that are just a bit long. It's also completely adorable.
Personality
Let's move on to personality. Again, you can take what you know of the standard Australian Shepherd and pretty much apply the same details here. Since they are bred most of the same breed with little cross-breeding, they inherit primarily Aussie traits. They are so smart. We can't emphasize that enough.
Their intelligence is just about unmatched by any other breed. This generally makes them pretty easy to train. They are guard dogs and tend to bark. Your UPS man will likely never make it by without proper attention from your puppy. It's just the way they are. Even the teacup version of the Aussie has herding tendencies.
They like to run and play and they are herding dogs by nature. You might see this displayed with kiddos or other animals but it's rarely mean or ill-tempered. They are very rarely aggressive. They are guardians though so you might see some slightly aggressive behavior if they feel that their family or their home is being threatened in some way.
A bit of training will go a long way here. However, they always keep that protective nature about them. We will talk about training a bit more but their breed requires exercise and attention. They need playtime and attention time.
They need exercise. They are very active. The teacup Australian Shepherd is very adaptable. They are agile and athletic. They also get bored easily so keep that in mind as well when you are planning schedules.
Related: Best Teacup Dogs That Don't Shed.
Grooming Requirements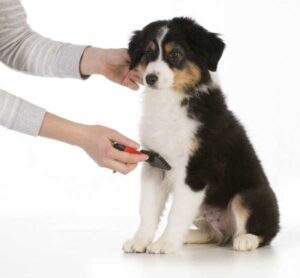 Aussies have a lot of hair and that means teacup Australian Shepherds also have a lot of hair. They do shed quite a bit so if allergies are a concern, they may not be the best fit. You will need to plan on regular grooming visits and then some grooming habits at home in between as well.
Since they have long coats that can be straight or wavy, they need to be brushed. Brushing them several times a week will help keep their shedding under control as well. This will also help clear out dirt and debris that might stick to their hair after they've spent time outside. It helps keep their coats maintained better.
Australian Shepherds can be prone to tangles and matted hair. Their hair also grows quickly. It will occasionally need to be trimmed up to keep it looking nice and your groomer can help with that process. The groomer could also help with other maintenance, like nail trimming if you like.
Australian Shepherds are surprisingly more sensitive to the cold. You never want to just shave their topcoats. This provides a top protective layer on their coats and it helps them to regulate their body temperatures in the heat. Again, some trimming might be necessary where the hair gets long but that should be sufficient.
Related: Australian Shepherd German Shepherd Mix Guide and Aussiepoo vs. Aussiedoodle.
Training & Exercise
One of the most challenging parts of raising a teacup Aussie is making sure their exercise needs are met. These dogs, regardless of their size, are very active. They need a lot of playtimes and running time. It's great if you have a yard that they can run and play in. Because they are agile, these dogs are often trained for doggy sports.
The teacup Aussie is not officially recognized as the Australian Shepherd is when it comes to championships but they are just as agile. They will run and play for hours if you let them. They love things like fetch or chasing a Frisbee so this is a great pastime and a good way to expel some of their crazy energy levels.
They are more likely to get in trouble when they get bored. To avoid destructive or obnoxious behaviors, you should be proactive in entertaining them. Even if you can't constantly play, try making sure they have a variety of toys to switch between and intrigue them so they don't just get bored and move on to tearing something up instead.
The teacup Australian Shepherd is very smart so training is pretty simple. They respond best to positive reinforcement when it comes to training. They love when you are kind and encouraging to them and it makes them want to repeat the behavior.
They can be a tad bit stubborn but they pick up commands and training activities pretty quickly. The downside is they can be barkers. They are natural guardians so they do bark a bit more than some other breeds. The teacup size is known for barking.
It's a pretty common trait amongst a lot of small dogs so that's consistent here. However, the full-sized Australian Shepherd is known for barking too so it's part of the breed. Consistency and plenty of exercises are what will keep your teacup Australian Shepherd from getting into trouble.
Related: Australian Shepherd Husky Mix Guide.
Health
Overall, teacup Australian Shepherds are relatively healthy. They could potentially face a few health issues as they get older. One of their most common health ailments is arthritis. This is a characteristic of the breed itself and is carried to the teacup version as well.
Some statistics show merle (marbled) Aussies are more prone to going deaf or even blind as they age. This does not mean that every single one faces this issue. It just means it is a possibility. The other potential health issue that your teacup Australian Shepherd might face is hip dysplasia. They are very active puppies.
They run and they use their legs extensively. This can wear on their hips over time. Since the teacup model is smaller, they may not face this issue quite as much as the standard breed.
Most breeders will have health testing on the parents and the puppies. These are often good indicators of whether or not your puppy will be likely to face routine health challenges.
Related: Best Australian Shepherd Rescues For Adoption in the United States.
Frequently Asked Questions
What does a teacup Aussi look like?
The toy and mini Australian Shepherds are fully bred from Aussies, and some are as small as Chihuahuas. They will usually grow to stand between 10-13 inches in height, weighing between 12 and 17 pounds. 
The teacup version is a smaller version of the Australian Shepherd with the same physical features. They have unique, often marbled coloring and may have other colors with no marbling. This is a lithe and agile hybrid that, despite being smaller, is athletic. 
They also feature Collie-like faces with triangular ears. Teacup Aussies have Collie-like coats with neck roughs and feathery back ends, legs, and tails.
How big does a teacup Australian get?
Teacup Australian Shepherd will stand between 10-13 inches in height. They are smaller than the Australian Shepherd counterparts but not small enough to fit into your handbag. They are intelligent and self-motivated and share many breed similarities with the Australian Shepherd.
How are mini Shepherds measured?
This is done from the ground to a dog's withers. This is the highest point of a dog's shoulder blades. This is the usual manner of measuring height in all dog breeds and allows you to get the correct measurement each time.
How big do toy mini Australian Shepherds get?
The mini Australian Shepherd is the smallest version that you can get of the Aussi. This is done by breeding down the Aussie. As they reach adulthood, they stand between 10 and 14 inches tall at the shoulder and weigh around 12-17 pounds.
The agile toy mini Australian Shepherd will inherit all the herding instincts of the larger Australian Shepherd. The Australian Shepherd will have an average size of between 20-23 inches for males and 18-21 inches for females.
How is a mini Aussi bigger than a toy Aussi? 
The Toy Aussie is smaller than the mini Aussie and usually reaches heights of between 10 and 14 inches. Teacup Australian Shepherds are smaller than mini Aussies, but all will have a strong work drive and are highly trainable. Playful and loving, the mini Aussi is good with children and with other pets, including horses.
How big is a micro Aussie?
The breed characteristics of a "micro" Aussie are the following:
Size: 14-18 inches (males) Females: 14-17 inches
Weight: 20-40 pounds
Lifespan: 11-15 years
Coat: Long double coat
Is there a teacup Australian Shepherd?
The cutest and smallest version of the Australian Shepherd is the teacup, bred for companionship and not as working dogs.
Do mini Aussies stay small?
Yes, the mini Aussie will reach maturity by 18 months and reach their full height by then. When reaching 2.5 years, they will fill out and lose their lankiness. 
The mini Aussie will still have the same features as the standard Australian Shepherd, with almond-shaped eyes that can be blue, brown, amber, or any combination with flecks or marbling.
Why you shouldn't get a Mini Aussie?
The video below does a good job explaining why you should get a mini Aussie.
Conclusion For "Teacup Australian Shepherd Information, Facts, Images"
The teacup Australian Shepherd is precious. It takes all of the great personality and intelligence traits and just bundles them into a smaller package. You get the same looks, the same temperament, and the same characteristics. The only difference is you get all of that in a dog that weighs less than 20 pounds as opposed to 40 pounds.
Keep in mind that teacup Aussies are still very active. You are committing to caring for their socialization and exercise needs. You also need to be ready for grooming. If you're prepared for these things, you and your teacup Australian Shepherd should get along just fine.
If you find this teacup Australian Shepherd guide helpful and you're ready to introduce one into your home, check out these breeder recommendations:
Before you purchase a teacup Australian Shepherd from a breeder, you can learn more about this dog breed by watching "The Different Sizes of a Mini Aussie" down below: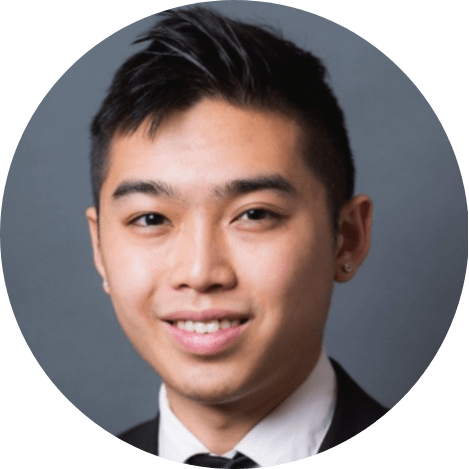 Andy is a full-time animal rescuer and owner of a toy doodle. When he's not saving dogs, Andy is one of our core writers and editors. He has been writing about dogs for over a decade. Andy joined our team because he believes that words are powerful tools that can change a dog's life for the better.
Why Trust We Love Doodles?
At We Love Doodles, we're a team of writers, veterinarians, and puppy trainers that love dogs. Our team of qualified experts researches and provides reliable information on a wide range of dog topics. Our reviews are based on customer feedback, hands-on testing, and in-depth analysis. We are fully transparent and honest to our community of dog owners and future owners.