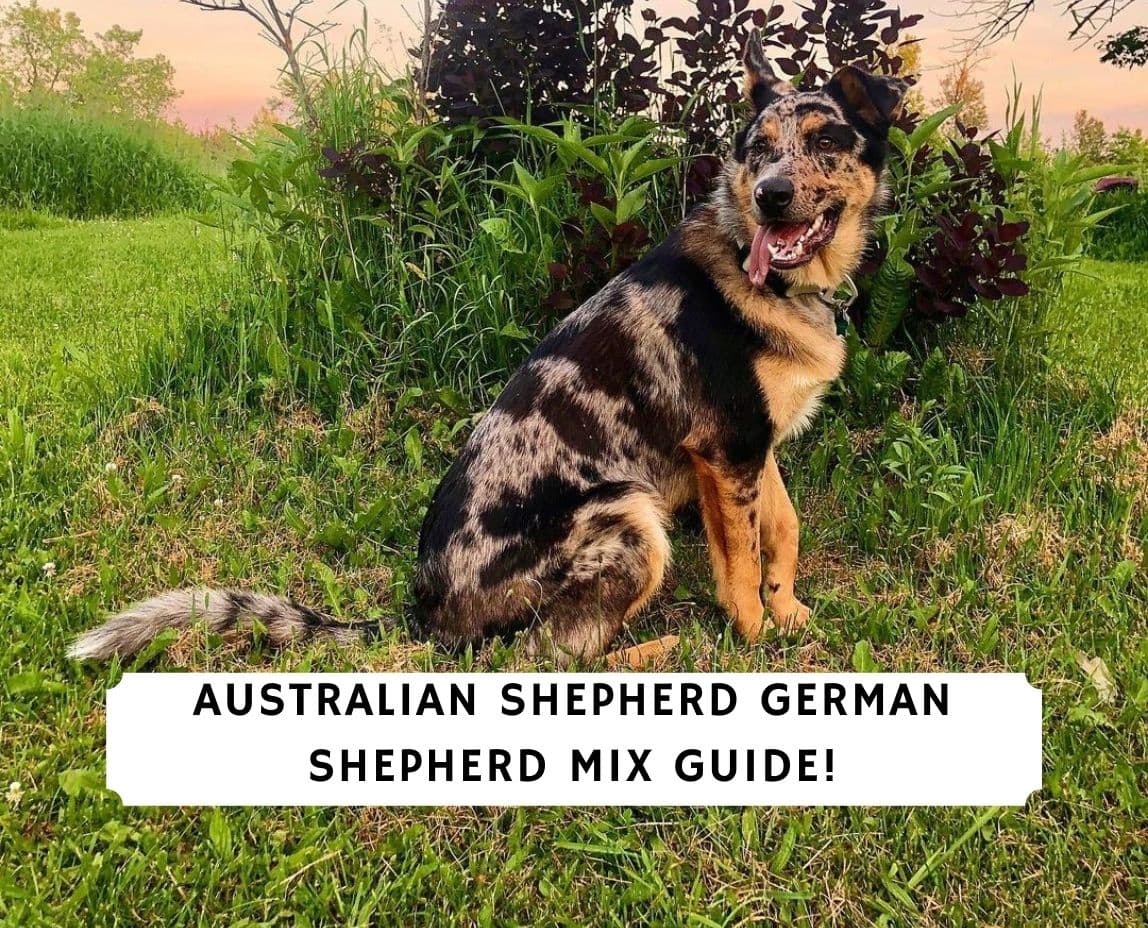 You love the loyalty and hard work of the Australian Shepherd, and you also love the protective and intelligence of the German Shepherd. So what happens when you mix these two great breeds together?
You get a beautiful dog that's known as the Australian Shepherd German Shepherd mix. Some people call them Australian German Shepherds or Aussie German Shepherds. Either way, both the German Shepherd and Australian Shepherd have grown in popularity for families and individuals. They are very active dog breeds and fit in well with families and children.
With those characteristics, the adorable and lively German Australian Shepherd mix can be a great choice. If you're considering getting a dog and love both the Australian Shepherd and the German Shepherd, you may want to look at available mixes in your area.
Whether you've never heard of this possibility or have been dreaming of an Australian German Shepherd mix for years, in this guide, we will share exactly what you need to know about this loyal, hard-working, and beautiful hybrid breed.
Other articles you might like: Best Hypoallergenic Dog Mixes and How Much Does a German Shepherd Cost?
Introducing the Australian Shepherd German Shepherd Mix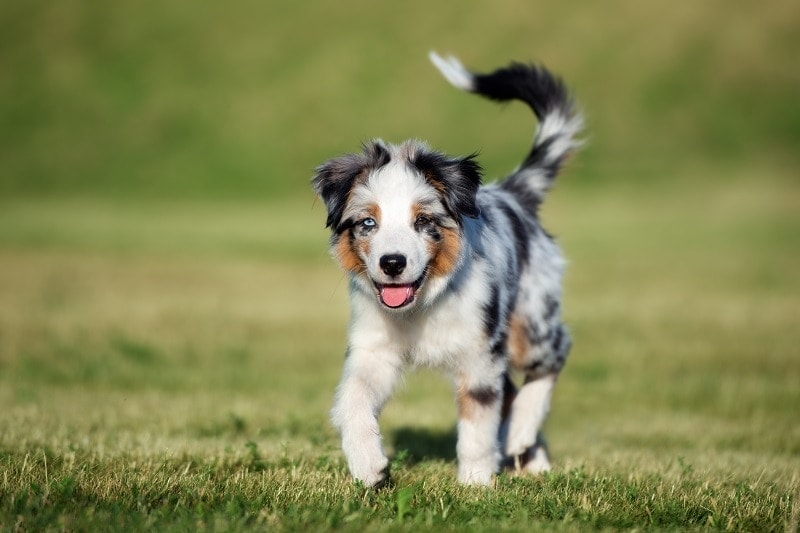 From the Labradoodle to Goldendoodle to the Maltipoo, mixed dog breeds have found their way into the hearts and homes of many. Hybrid breeds that bring together two different breeds of similar sizes can bring a lot of benefits. They can bring genetic traits that are the best of both breeds when it comes to appearances and temperaments. They also are less likely to develop genetic issues that are common among their purebred parent breeds.
With their similar temperaments, appearances, and sizes, the German Shepherd and Australian Shepherd can make a great mixed breed. As you consider whether this hybrid breed is the right breed for you, here are some important features to think about before you get one.
Appearance
The German Australian Shepherd mix can bring physical characteristics from both the German Shepherd and the Australian Shepherd. However, the exact appearance of the dog can vary significantly. This diversity depends on how much Australian Shepherd or German Shepherd genetics the puppy has. The genetic ratio of the parent dogs can be a great indication of what they'll look like.
Typically, an Australian Shepherd German Shepherd mix will have a large or medium-sized body. That should come as no surprise as both the parent dogs they come are rather large. These bodies are also very muscular and strong, which is no surprise in following with the Shepherd genes.
When fully grown, Australian German Shepherds will weigh between about 45-80 pounds and reach a tall height between 20-25 inches. This size is consistent with both the Australian Shepherd and the German Shepherd. However, they typically are smaller than the purebred German Shepherd but slightly larger than the Australian Shepherd. Additionally, male Australian German Shepherd mixes will be larger than females by around 10% in body weight.
As a mixed breed, you can almost guarantee that their coat's exact look and color are unique. As both the Australian and German Shepherd can have diverse coats themselves, putting these two breeds together makes an even more colorful and diverse look for a dog's coat. Their coats can come in a variety of patterns in colors like white, tan, gray, blue merle, red merle, and black. Their markings can be very different than their parents or quite similar.
The Australian and German Shepherd mix is also made of a lot of muscle, especially around their shoulders and thighs. This muscle gives them the strength and stamina to stay active as much as they want. They also have triangle-shaped ears that perk up when they are alert to a situation. Overall, you'll be able to recognize this dog type if you know what a German or Australian Shepherd typically looks like.
Temperament
Knowing the German Shepherd and the Australian Shepherd's personality and temperament, it should be no surprise that the German Australian Shepherd mix is lively, hard-working, and very loyal. They are very intelligent and make a great watchdog since Shepherds are one of the smartest breeds in the world. The Australian and German Shepherd mix are also very observant and will alert you whenever they sense danger or something out of the ordinary. This can be a very helpful characteristic to have, especially in professions like police or similar fields.
In addition to their loyal personalities,  German and Australian Shepherd mixes are very friendly and social dogs. They enjoy being around people and both receiving and showing affection. However, keep in mind that they are also in the herding dog category, which means they can be very protective at times. An Australian German Shepherd likes to watch over their family and ensure they are in the best care.
These German Australian Shepherd mixes are also known to be reserved around people they aren't familiar with. This can be beneficial because they typically won't be overly annoying to anyone who walks past them. However, it can also make them appear hostile and aggressive when they aren't properly trained. This is another important characteristic to keep in mind, especially if young children are around the house. These breeds are protective, but they also have a strong personality and can let you know that.
Exercise
As these dogs have a lot of energy, it's important that they are able to get a lot of daily physical activity. Whether that's playing around in a park, going out for a run, or playing endless games of fetch in the backyard, they must have space to move, breathe and stay active. This is an important requirement to consider as you determine whether your environment is suitable for a German Australian Shepherd. For example, if you live in a small apartment without much access to large spaces to run and roam, your puppy may have a more difficult time meeting its need for physical activity.
Their desire for activity also is demonstrated in their skill and agility in running, jumping, and chasing. It can be fun to train your dog through an obstacle course or time them on runs. They are quick to run and can follow a target easily.
Whether you're into training your dog to do certain tricks or just as a companion pet to go on regular walks with, the Australian Shepherd and German Shepherd mix can be a great companion for a variety of reasons.
Training
These Australian Shepherd German Shepherd mixes are also fairly easy to train with their high level of intelligence. They are quick to learn and pick up on new tricks and behaviors. Due to their sometimes bold and direct personalities, they require a strong leader in the home to ensure they know that they are not the boss of others. This is often demonstrated through training and behavioral exercises. It would be best if you instilled in their mind that you are the leader of the pack rather than them. This will help them listen to you more eagerly and look to you for direction and approval.
When training, be sure to praise them for good behavior with dog treats, toys, and other rewards. German Shepherd Australian Shepherd mixes respond positively to these types of rewards because they are a highly food-motivated dog breed. Using simple commands, you can help them become a personable and friendly dog that's ready for all occasions. Make sure to also socialize them with other dogs when they are puppies so they can come familiar with different environments.
Grooming
Since both the Australian Shepherd and German Shepherd have thick coats that have two layers, it's no surprise that these German Australian mixes will have a lot of hair that needs regular grooming. As a result, you'll be required to spend some time grooming and brushing their long coats in order to prevent mats and tangles.
Their coats may be short to medium in fur length and may also be straight or wavy. Keep in mind that these dogs also shed pretty heavily about twice a year. Be sure to get your vacuum and air purifiers ready as the temperatures begin to warm up during the springtime and cool down during the fall time. Keep in mind that their shedding can be minimized with proper grooming practices such as brushing, bathing, and trimming them when needed.
With their thick coats, be sure not to overwash a German Shepherd and Australian Shepard's fur too much. Being too aggressive in washing their skin can leave their skin stripped of natural oils, which can cause them to itch, scratch, or lick their skin. An occasional bath can help their coats soft and shiny.
You'll also want to brush their teeth every once in a while and examine that their gums are healthy and free of any health concern. You'll also want to clip their nails to prevent them from growing out too long. You can either do this yourself or have a groomer take care of it when your dog goes in for a trim.
Conclusion for the Australian Shepherd German Shepherd Mix Guide
There's a lot to love about the calm, furry, and loveable Australian Shepherd. There's also a lot to love about the energetic and loyal German Shepherd. When you mix these breeds, you get a beautiful dog that can keep you on your feet and aware of your surroundings.
With their active and lively personalities, the Australian Shepherd German Shepherd mix can be a great fit for a variety of families and individuals. Keep in mind that they'll need adequate space to roam and run around since they are a medium to large dog breed. One of the most fun aspects about an Australian Shepherd and German Shepherd mix is that you never know what your puppy will appear like since it's a hybrid dog breed. Their colors and markings add to their uniqueness as a breed which will have everyone who passes by asking what kind of beautiful dog this is.
Other articles you might like:
Still not convinced? Check out this German Shepherd Australian Shepherd mix video:
Garrett loves animals and is a huge advocate for all Doodle dog breeds. He owns his own Goldendoodle named Kona. In addition, he volunteers at the Humane Society of Silicon Valley, where he fosters dogs and helps animals. Garrett enjoys writing about Doodles and believes that dogs can teach humans more about how to live than humans can teach a dog.
Why Trust We Love Doodles?
At We Love Doodles, we're a team of writers, veterinarians, and puppy trainers that love dogs. Our team of qualified experts researches and provides reliable information on a wide range of dog topics. Our reviews are based on customer feedback, hands-on testing, and in-depth analysis. We are fully transparent and honest to our community of dog owners and future owners.