Here's what you need to know about the Australian Shepherd Chihuahua mix. The Aussie Chi is a mixed-run breed if you love colorful, spunky, small dogs.
This is yet another designer breed that has become popular because you get the best of two combined breeds that are popular. The result is a gorgeous dog with characteristics from the Australian Shepherd and the Chihuahua.
You might hear this particular blend called the Aussie Hua Hua or perhaps the Aussie Chi. Call it what you will. It's an Australian Shepherd Chihuahua mix. In this guide, we're going to break it down for you and let you know just what to expect from this breed.
We will talk about their appearance, health, personalities, training, and more. Gather your notes so you can learn all about this mixed breed and determine if one might be right for you.
Before scrolling down this Australian Shepherd Chihuahua mix guide, check out these other mixed dog breeds: Australian Shepherd German Shepherd Mix Dog Breed Guide and Beagle Aussie Mix Dog Breed Guide.
Australian Shepherd and Chihuahua Dog Breed
As the name suggests, the Australian Shepherd Chihuahua is a mix of these two breeds. This hybrid is pretty unique because Australian Shepherds and Chihuahuas are different sizes, and they look and act quite a bit different as well.
This means what you get in a puppy could vary pretty quickly. It would be best to look forward to some general expectations, but the variety is always there. Perhaps that is part of the fun, though.
Australian Shepherds are gorgeous dogs with wonderful coloring and some unique traits. They have been called rodeo dogs because they are natural performers.
They are athletic and incredibly intelligent at the same time. They are medium to large dogs. Then you have the Chihuahua with tiny to a small dog.
They tend to be sassy, but they are charming simultaneously. They are not your athletic dog, but they can certainly have some energy and a major stubborn streak. Both dogs are known watchdogs for the home.
More Mixed Dog Breeds: Aussiedoodle Dog Breed Guide and Chihuahua Poodle Mix Dog Breed Guide.
Appearance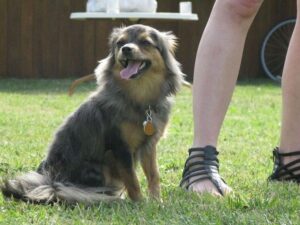 There's no guarantee what your Aussie Chi will look like, but most of them end up being cute and fluffy. Their fur typically takes after the Australian Shepherd more since it is the larger dog.
This might mean that you can get some classic Shepherd coloring, like marbled coats. The hybrid also tends to have a face more similar to the small face like a Chihuahua and then some temperament and personality characteristics common of both breeds.
The parents will play a part in all of these details. Here's the thing. Since there is such a size difference between the two, it's almost impossible to know what size the puppies will be.
There is a big variation in sizes and weights among the Aussie Chi. While it's hard to estimate the sizes and weights you can plan for, you can expect to still get a reasonably small dog from the mixed breed.
The size will fall somewhere in between the standard size of a Chihuahua and the standard size of an Australian Shepherd. They're still a reasonably new breed, but most litters end up with small dogs so far.
For some reference points, let's look at the sizes of the original breeds. Australian Shepherds can sometimes get pretty significant, but they are usually medium dogs. These dogs grow from 18-23 inches tall and weigh anywhere from 40-55 pounds.
The Chihuahua is considered a toy breed, so they are pretty small. These dogs typically grow from 5-8 inches tall, and most of the time, they weigh 6 pounds or less.
The ears will be tall and pointed more like the Chihuahua in most cases, and the eyes often take after the Chihuahua as well. So when you think about these, your dog could weigh anywhere from 6-55 pounds and stand up to 23 inches tall.
On average, they land somewhere in the middle with a height of around 14 inches and weight somewhere around 30-35 inches. The coat is a benefit of the Aussie in the mix. You will rarely get a solid coat on this breed.
The coats can be bi-colored or tri-colored and may include red, blue, white, black, gray, and merle. The tail will most likely be bushy, but for some of the puppies, it stands up like a Chihuahua, and for some, it sags like the Australian Shepherd.
Related: Is My Chihuahua Too Skinny and Why Do Chihuahuas Lick So Much?
Personality
Like with all of their other traits, you can expect a variety when it comes to personality. Australian Shepherds are runners. They are herding dogs, so they like to run and play.
They are very active and energetic. Australian Shepherds are also incredibly smart. Their intelligence is remarkable. They are easy to train because of that intelligence factor. They are very loyal and also very protective.
They typically will do fine around children, people, and other animals, but they might need some socialization and adjustment time to do so. The Chihuahua is an easy-going dog that is also pretty smart.
They are sweet cuddlers, but they have plenty of energy, considering their sizes. They like to play, but they also like to be independent and do their own thing when they want to be.
They typically integrate with others, but they are slightly stubborn, so mixing up their routine can be challenging. The Chihuahua is also a protective dog, and they tend to bark quite a bit.
They will protect the home and alert their humans when they suspect something is happening. Of course, this might be the mailman delivering a package, but your Chihuahua is undoubtedly going to let you know about them.
When you create the Aussie Chi mix, you get a blend of all of these personality traits built into one small puppy. But you never really know what exactly is going to stand out more.
You can expect them to be still intelligent. The Australian Shepherd brings the brains to share with the parts. Thanks to this, they usually will train up pretty quickly and even do well with crate training.
Both breeds like to play, so you're going to get a blend of playfulness and energy. Remember that the Australian Shepherd usually has a lot of energy, but the Chihuahua has milder energy.
The hybrid breed blends the two energy levels and typically creates a balance between the two. Both breeds, and the hybrid breed, do best when you can spend quite a bit of time with them.
This includes active time and just laid-back downtime as well. They need the reassurance of your actions, which comes from being around them and just hanging out as much as possible.
Don't forget to make sure they get some physical activity in too. These dogs are curious, so they might find themselves getting into trouble if they are left to get bored or left unattended too often.
They need some things to keep them entertained when you're away. But, ultimately, you will find that they are sensitive, happy-go-lucky dogs that want to play and want to be loved.
They are bright, and they are caring. They also are watchdogs thanks to both breeds to see some protective traits, but they also warm up to people as they get to know them.
Related: Ways to Make Your Chihuahua Happy and How to Care For a Chihuahua Puppy.
Grooming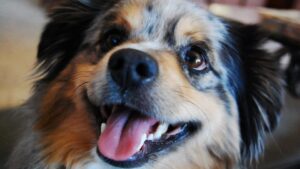 The grooming is something you should go ahead and set your expectations for. This dog inherits most of the traits of its coat from the Australian Shepherd.
This means they will have long hair, and it will require brushing, bathing, grooming, and trimming to keep it from turning funky. In addition, their hair grows quickly, and they are sensitive to heat.
While you certainly don't need to shave off their coats to keep them cool, you should keep the hair trimmed to keep it manageable. This is just trimming the ends, which you can have done by a groomer if you prefer.
The coats are thick and long, so they are prone to matting and tangling. The more you can keep them brushed, the better the coats will be to avoid those issues.
If you can brush them daily, that's great. Otherwise, plan to brush them 3-5 times a week at a minimum. The Aussie Chi is also probably going to shed quite a bit. But, again, this comes with the territory.
You're probably going to have plenty of doggy hair everywhere. You can help reduce the shedding mess by making sure you brush your dog frequently.
You don't want to bathe them too often as their skin can sometimes be sensitive with frequent bathing. However, you should bathe them as needed and try to use a gentle shampoo that has maybe oatmeal or aloe vera when you do bathe them.
Of course, they also need their nails trimmed on occasion, so don't forget to plan that as well. If you can take care of the regular brushing, you can always schedule with a professional groomer to help with your puppy's bathing and trimming needs.
Since their hair is so long, you probably want a pin brush or most certainly a de-shedder brush to help with the loose hair, and make sure you get down to the base of the coat to pull moisture through the hair. This is a great way to keep their coats looking shiny and nice.
Related: How Do You Groom with a Slicker Brush and How Long Does Dog Grooming Take?
Health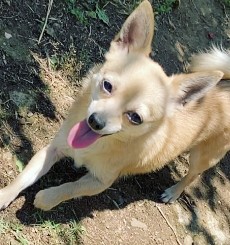 Alright, now let's talk about health. Can you expect this small breed to be healthy and have a long life? The good news is that they are relatively healthy, and they can live up to 17 years.
Chihuahuas are known for living long lives. On the other hand, Aussies are also known to have decently long life spans. This means the two hybrids bring you anywhere from 12-17 years of enjoyment with your puppy.
One of the best ways to know what your puppy might experience about health is understanding if the parents have any health ailments.
A good breeder will provide you with genetic testing to give you an idea of health expectations. But, of course, that doesn't always cover every single health issue. So here are some common health challenges you might experience with an Aussie Chi.
Skin sensitivity
Teeth problems
Not too bad, and most of these you can quickly work with just by being proactive with their grooming care and their teeth care. They may still experience some issues, but most of these health ailments are pretty manageable compared to others out there.
Health-Related: Rare Dog Diseases Every Owner Should Know.
Training & Exercise
These hybrid dogs are pretty easy to train. They are pleasers, so they want to make you happy. They do well with positive reinforcement. They learn quickly from their mistakes and will work to correct their behavior when they get into trouble.
They need a decent amount of exercise to help curb some of their natural energy and enthusiasm. The Australian Shepherd has high exercise needs while the Chihuahua has lighter needs, so the hybrid falls in the middle somewhere.
Ensuring they get plenty of activity and exercise will also help reduce the likelihood of them finding trouble to get into. It's a great way to counteract that boredom that can often lead to acting out if you aren't careful.
Related: Popular Italian Dog Commands For Training and German Dog Commands.
Conclusion For "Australian Shepherd Chihuahua Mix Guide"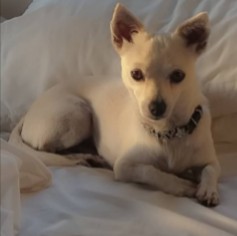 The Aussie Chi hybrid is undoubtedly one for the books. With the gentle but protective nature of the Chihuahua paired with the active and intelligent nature of the Australian Shepherd, you get a great combination when you combine the two.
Your puppy will be absolutely beautiful, and they will have an overall great personality. Not to mention they have very few health issues, and the ones they do have are nothing major that you have to worry over or have expensive treatments for all of the time.
For more mixed dog breeds similar to this Australian Shepherd Chihuahua mix guide, you can check out:
You can learn more about the Australian Shepherd Chihuahua mix dog breed by watching "Chihuahua and Australian Shepherd Mix – Dog Breed Info" down below: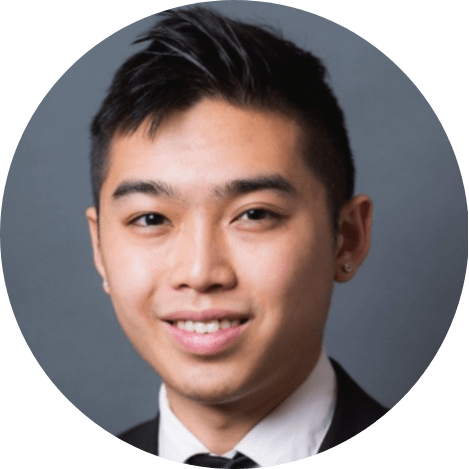 Andy is a full-time animal rescuer and owner of a toy doodle. When he's not saving dogs, Andy is one of our core writers and editors. He has been writing about dogs for over a decade. Andy joined our team because he believes that words are powerful tools that can change a dog's life for the better.
Why Trust We Love Doodles?
At We Love Doodles, we're a team of writers, veterinarians, and puppy trainers that love dogs. Our team of qualified experts researches and provides reliable information on a wide range of dog topics. Our reviews are based on customer feedback, hands-on testing, and in-depth analysis. We are fully transparent and honest to our community of dog owners and future owners.