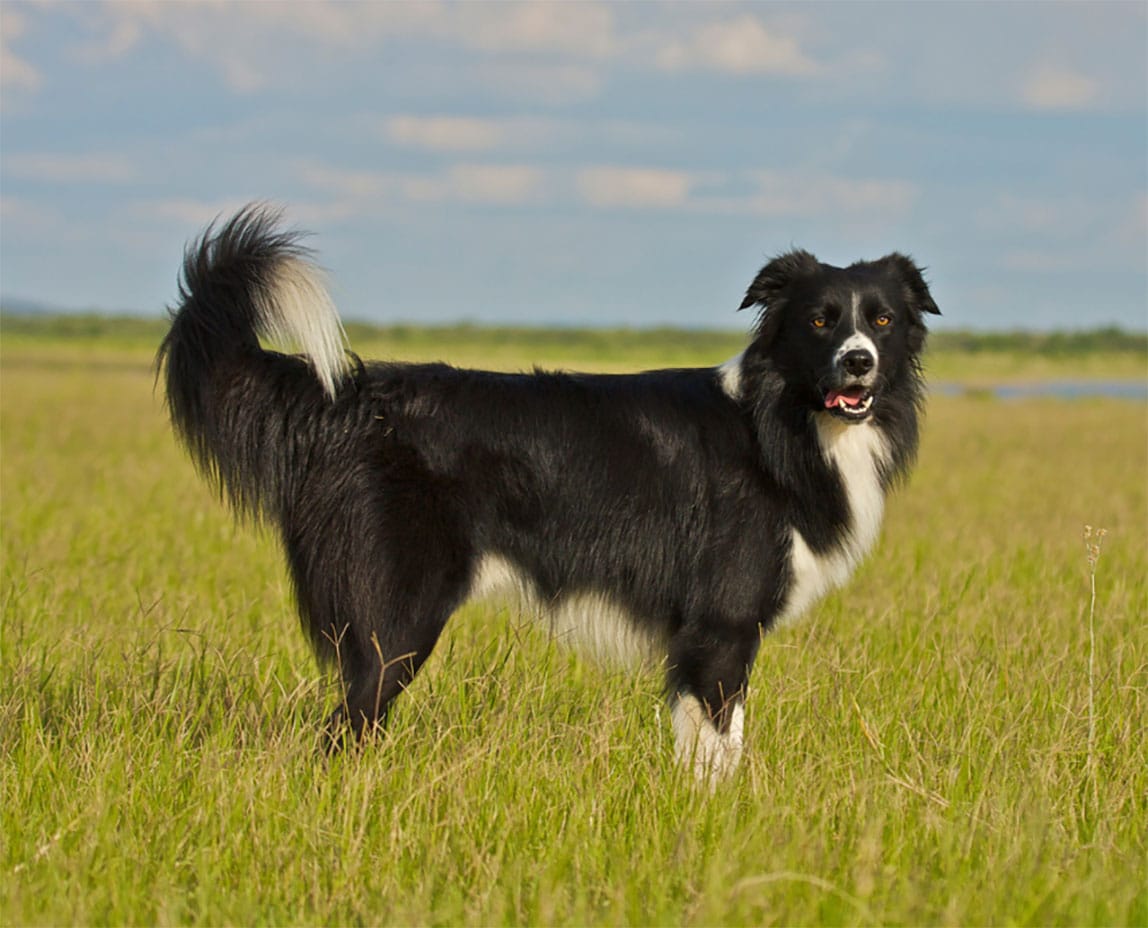 The Border Collie is a popular and well-loved breed of dog. Not only are they really cute, but they are also sociable and intelligent animals. Because of this, Border Collies are popular pets and are among the most common dog breeds in American households. 
Did you know that the Border Collie can breed with lots of different dogs? If so, then you would be correct. The Border Collie can mix with other breeds to make some really cute dogs. This means that there are loads of different mixed breeds for you to choose from. 
To help you, we have compiled a guide of some of the top Border Collie mixed breeds available. If you are interested in getting a Border Collie, please read our list of nine of the best Border Collie mixed breeds before you invest in a dog. Of course, other great mixed breeds should be considered too.
1. Border Collie & Husky Mix
Weighing between 30 and 50lbs, the Border Collie and Husky mix is an energetic medium-sized dog. In terms of height, they will be approximately 18 to 22 inches.
If you are lucky, this mixed breed may even have the distinctive eyes of the husky. In terms of appearance, this crossbreed will inherit the appearance of both parent breeds, making it a combination of both parents. 
This mixed breed will be very energetic, meaning they are not suitable for all homes. You should only get a Border Collie and Husky mixed breed if you are willing to regularly take them on long walks and play with them frequently. 
2. Border Collie & Corgi Mix
Referred to as the Borgi, the Border Collie and Corgi mixed breed is another great choice of dog.
Like the previous breed, these little creatures will need to get plenty of exercise. They also tend to be good at herding sheep, due to the fact that both their parents are herding dogs. 
In terms of height and weight, this combination will be about 10 to 20 inches tall and will weigh around 30 to 40 pounds. Unlike corgis, they are unlikely to have docked tails. 
3. Border Collie & Jack Russell Mix
Thirdly, is the Border Collie and Jack Russell mixed breed. Like the Jack Russell, this is efficient at ratting. Since both its parents are boisterous and active, the Border Jack will frequently require extensive exercise.
When training this dog, you will need to be firm. This will be the only successful method of taming their energy. These dogs are somewhat small, making them ideal for people who prefer small dogs.
They measure between 15 to 20 inches and will weigh between 20 and 40 pounds. 
3. Border Collie & Poodle Mix
Perhaps the most popular mixed breed on this list, the Border Collie and Poodle combination has been nicknamed the Borderdoodle by many. They tend to make very clever dogs.
The maximum height they tend to reach is 22 inches and the Border Collie/ Poodle mix will weigh between 35 and 65 pounds. This dog will require frequent grooming, thanks to its curls which can easily become tangled.
If this is not something you can commit to doing, you should perhaps invest in a different Border Collie mixed breed. Akin to other Border Collie mixes, they are energetic and will need to be exercised and engaged in activities. 
4. Border Collie & Doberman Mix
This mixed breed is affectionately known as the Dobie. Due to their Doberman traits, this mixed breed will make a successful guard dog. Though they will fiercely defend you, this breed can also be very docile. They will enjoy receiving affection and being hugged. 
They can be larger than some of the other mixed breeds on this list, weighing approximately 50 to 80 pounds. They will also be taller, being around 20 to 25 inches in height.
They tend to have more of a Doberman appearance than that of a Border Collie. You might, however, be able to notice their Border Collie genes in the form of white markings. 
5. Border Collie & Golden Retriever Mix
If you are searching for a friendly mixed breed, this might be the dog for you! They are less energetic than other Border Collie breeds, meaning they will be better suited to those with a hectic lifestyle.
Regardless, they will still need to participate in a good amount of exercise, preferably at least 1 hour a day! Because of their fun and loyal personalities, they can be good dogs for families. The hue of the furs of this breed can be a number of colors, including black, white, gold, or yellow.
The Golden Retriever and Border Collie mix can weigh around 40 to 70 pounds and will be at least 20 inches tall. Consequently, they are larger than some of the other breeds featured here. One thing to bear in mind is that this cross can suffer from health problems, including eye and heart problems.
6. Border Collie & Newfoundland Mix
Next, the Border Collie and Newfoundland mix is another handsome dog for you.
They are big and fluffy dogs to take care of, though they are considered gentle giants due to their lack of aggression. However, it may take some time for this mixed breed to feel comfortable around you. 
Since they are so fluffy, this breed will shed a lot of fur. If this is a turnoff for you, please look for a different brand that is better suited for you. They can also drool a lot.
Unlike other dogs featured in this guide, this combination is not overly energetic and so will not need as much exercise. This is due to their size, given that this mix can weigh up to 120 pounds.
In terms of how tall they are, the Border Collie and Newfoundland combination will be around 22 to 25 inches. 
7. Border Collie & German Shepherd Mix
Because both of its parents are herding dogs, the Border Collie and German Shepherd mixed breed will be amazing herders. They are loyal, intelligent, protective, and affectionate animals, meaning they are ideal pets. 
Like the Newfoundland mix, they will shed quite considerably. They will be at least 20 inches tall and will weigh in the region of 45 to 75 pounds.
The patterns on their fur will be more akin to their German Shepherd parent. In terms of color, they can be brown, black, or white. 
8. Border Collie & Pitbull Mix
Penultimately, this mix was bred to be less aggressive than the Pitbull frequently is. Though not all Pitbulls are aggressive, they have sadly managed to acquire a reputation for being violent. This mix, however, tends to be more playful and intelligent. 
Most Border Collie and Pitbull mix-breeds will be about 20 inches in height. They will weigh approximately 30 to 55 pounds. They will have short coats of fur.
One of the most distinctive features of this crossbreed is their wide smiles, giving off a happy appearance. 
9. Border Collie & Great Dane Mix
Last of all is the Border Collie and Great Dane mix. They will need plenty of training, especially given their size. Once trained, they should be playful but protective. Though Great Danes can be lazy, they are more active when paired with the Border Collie. 
They are quite large dogs, thanks to their Great Dane heritage. Because of this, they will be better suited to a family with lots of space. This mixture should be at least 2o inches tall and weigh between 50 and 100 pounds. 
Frequently Asked Questions
Are Border Collie Mixed Breeds Calm?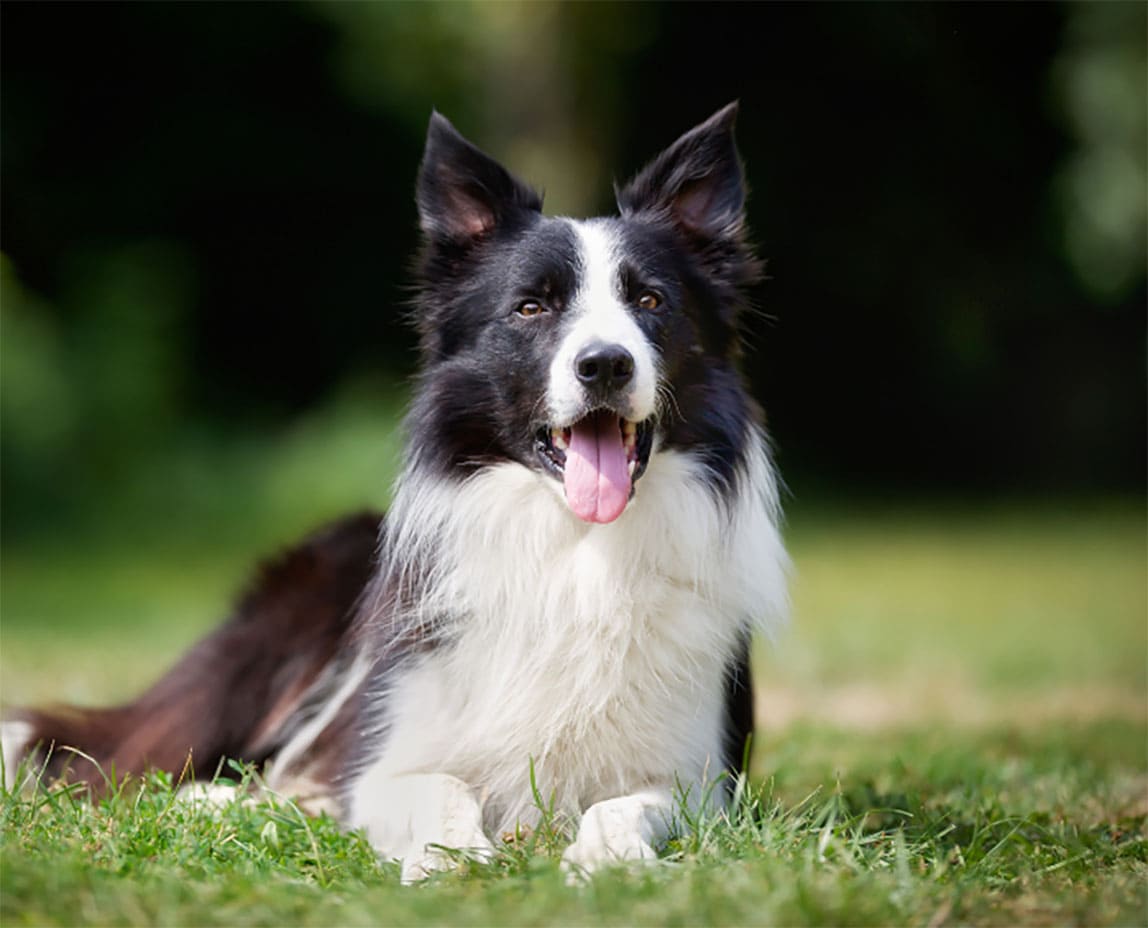 This will depend not only on the breed with which the Border Collie is mixed with, but also the dog itself.
Some dog breeds tend to be more energetic than others. Not only this, but some dogs will naturally have more lively personalities. However, a lot of mixed breeds will be energetic.
If your lifestyle does not suit having an active dog, some Border Collie mixes will not be appropriate for you. 
Is The Border Collie A Good Breed For Families?
Yes, Border Collies can be great dogs for families. Border Collies are affectionate, meaning they will fit into a family. To ensure that your dog will be suitable, you should train your dog carefully.
Untrained Border Collies could unintentionally injure smaller children through their excited behavior.
Because they are intelligent dogs, Border Collies are quite easy to train. They should begin to respond to commands fairly quickly. 
Conclusion for Border Collie Mixed Breeds
If you are hoping to adopt a Border Collie mixed breed into your home, there are plenty of amazing combinations to choose from. Before you commit to a breed, please do your research. 
Different mixed breeds will have different needs. Many tend to be energetic and lively, and so will need lots of exercise that not every household can provide. Others will not need as much physical activity but will have other important requirements.
You should also think about the temperament of a breed, as well as how easy they will be to train. This will be especially crucial if you are raising the dog in a household with young children. Please consider these factors before adopting a Border Collie mixed breed.
Other articles you might like:
Garrett loves animals and is a huge advocate for all Doodle dog breeds. He owns his own Goldendoodle named Kona. In addition, he volunteers at the Humane Society of Silicon Valley, where he fosters dogs and helps animals. Garrett enjoys writing about Doodles and believes that dogs can teach humans more about how to live than humans can teach a dog.
Why Trust We Love Doodles?
At We Love Doodles, we're a team of writers, veterinarians, and puppy trainers that love dogs. Our team of qualified experts researches and provides reliable information on a wide range of dog topics. Our reviews are based on customer feedback, hands-on testing, and in-depth analysis. We are fully transparent and honest to our community of dog owners and future owners.