This guide will teach you everything you need to know about the Chihuahua Poodle mix breed. Before we get started, here's a question we have for you. Have you ever wanted to adopt a tiny puppy who is cute and cuddly, with a dose of high energy? If yes, then a Chihuahua Poodle mix is the dog for you. These dogs inherited all the best qualities from their parent breeds, leading them to be an extremely popular breed worldwide. Dogs don't get much smaller than these little cuties as both parent breeds are tiny. If you live in a small space, a Chihuahua Poodle mix might be the best option for you. Below you will find everything there is to know about this beautiful breed.
Before scrolling down this Chihuahua Poodle mix guide, we think you might be interested in other dog mixes: Best Poodle Mixes and Best Giant Doodle Breeds.
What is a Chihuahua Poodle Mix?
As the name suggests, these dogs are a hybrid mix of Chihuahua and Poodle. Notably, these dogs are bred to be extremely small. When breeding, the parent Poodle is a Teacup, Toy, or Miniature Poodle. No Standard Poodles are used when breeding this mix as the size difference is too significant. These little puppies are sometimes referred to as designer dog breed because they have been specially designed to include the best characteristics of each parent breed. There are many names for Chihuahua Poodle mixes such as Chipoo, Choodle, Chipoodle, Poochi, and (my favorite) Poohuahua.
Chihuahua Questions: How Many Puppies Can a Chihuahua Have?
Physical Characteristics
These dogs were purposefully designed to provide dog owners with a cute and cuddly companion. The physical appearance of these dogs can vary. Some puppies may take after the Poodle parent more, whereas others take after the Chihuahua parent more. Puppies that take after their Chihuahua parent will have pointy ears. In contrast, puppies, more like their Poodle parent, will have floppier ears.
Chihuahua Questions: Why Does My Chihuahua Have Floppy Ears?
Size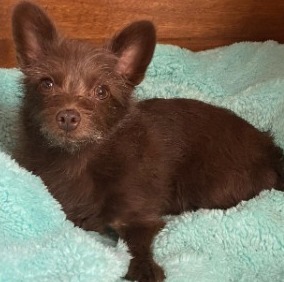 Although their general appearance can vary, their small size unifies this breed as both parent dogs are small. The size of the Poodle used in breeding is what determines the size of your Chipoo. Although all Poodle sizes used when breeding Chipoos are small, some are smaller than others. If your Chipoo has a Teacup or Toy Poodle parent, it will be on the smaller side. If the Poodle used in breeding is a Miniature Poodle, your puppy will grow to be a little bit larger. Female Chipoos also tend to run a little smaller than males, so a female is the better choice if you are looking for your smallest option.
Height: 9-15 inches (male), 7-12 inches (female)
Weight: 10-20lbs (male), 7-17lbs (female)
Chihuahua Questions: How Long is a Chihuahua Pregnant For?
Color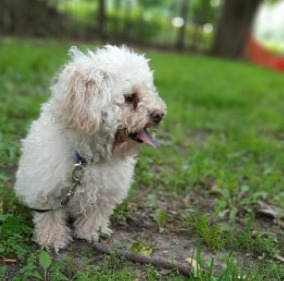 Due to the variety of colors found in Poodles and Chihuahuas, Chipoos can be several different colors. From black to brown to white, you will be able to find a Chipoo in any color you desire. In addition to solid-colored Chipoos, some of these dogs have two or more colors in their fur. The most significant indicator of what color a Chipoo puppy will be is the parent dogs' color.
Chihuahua Questions: What Should I Do If I Have a Crying Chihuahua?
Coat
Once again, parent dogs' choice when breeding is a contributing factor to the texture and length of the coat of Chipoos. Many different combinations can lead to a variety of coat textures for Chipoo puppies. Chihuahuas can be long-haired or short-haired. Long-haired coats are slightly curlier, whereas short-haired coats are smoother and straighter. On the other hand, Poodles have a pretty uniform coat across the breed. Poodles are typically wiry, curly, and stiff in texture. Therefore, because of this variety, Chipoo puppies can differ significantly between litters. Typically Chipoo breeders opt to use a short-haired Chihuahua. Short-haired Chihuahuas will lead to a shorter, less curly coat on the Chipoo puppies. However, any combination will result in beautiful little puppies.
Related Poodle Articles: Sable Poodle Guide.
Grooming
When it comes to grooming your Chipoo, it all depends on the texture of the coat. As we have mentioned, Chipoos coats vary greatly, so grooming depends on what coat texture your dog has. However, regardless of the texture, you should brush your Chipoo 2 to 3 times a week minimum to prevent any knots from forming. This brushing also ensures any loose hairs are collected in one concentrated place. Overall, because of Poodle genetics, Chipoos shed very little, requiring regular bathing and trimming to ensure their coat is beautiful and healthy. If your dog has a longer coat, you should bathe it once a month.
If your Chipoo has a shorter coat, bathing once every other month should be sufficient. However, if your dog is very active outdoors, it may need a bath more regularly. These baths should include both shampooing and conditioning. Please ensure that you use products made especially for dogs to prevent irritation of the skin and eyes. When it comes to trimming your dog's fur, you can hire a professional groomer or do it yourself. Since Chipoos don't shed, they do require regular trimmings. Typically longer Chipoos will need more frequent trims as their hair is more likely to get tangled and unruly. You can shave your Chipoo if you want a shorter style that is easier to maintain.
The typical length of a shaved Chipoo is 1-2 inches across the entire body. If you are grooming your dog at home, this may be an easier option. The last step to grooming your Chipoo is trimming its nails. You should carefully trim the nails once a month. This prevents nails from becoming too long, which can be a risk for you and your dog. In addition to scratching risks, your dog can also get caught in things such as rugs if nails are not properly maintained. Make sure you use clippers that are specially designed for dogs. Examine the nails very carefully before trimming, or else you may cut the skin. If you are uncomfortable with this, you can bring your dog to a professional groomer or veterinarian.
Related Poodle Articles: Poody Teddy Bear Cut Guide and Corded Poodle Guide.
Temperament
Poodles and Chihuahuas may be known for having different personalities. Still, the great thing about Chipoos is that they have inherited all the best qualities of both breeds. They are faithful, intelligent, and active, all attributes they inherited from both parent dogs. Chipoos are devoted dogs who form a powerful attachment to their family. Sometimes Chipoos form a powerful bond with their owners. However, this is not always the case. Their devotion to their family can sometimes cause suspicion around strangers.
Socialization from an early age will ensure your Chipoo is comfortable and well-behaved around new people. If you are worried about training your Chipoo, we have some good news for you: these dogs are fast learners. Chipoos take after their Poodle parents when it comes to their high intelligence. This intelligence allows them to learn new commands very quickly from a very early age. In combination with their love and devotion for their owners, this intelligence makes these dogs easy to train as they want to please you.
Finally, probably the most well-known trait of Chipoos is their lively attitude. These dogs are spunky and active, making them a fun companion for kids. Just remember, these dogs are incredibly tiny and fragile, so children must understand how careful they must be with these dogs. Chipoos thrive on attention, so they are constantly seeking out their owners wanting to play. However, this energy will run out eventually, giving you some quality time to snuggle with your puppy.
Chihuahua Questions: Why is My Chihuahua Howling and Are Chihuahuas Mean Dogs?
Health
Generally speaking, Chipoos tend to live long and healthy lives. Chipoos have an average life expectancy of 12-15 years which is common among smaller dogs. Unfortunately, these dogs do sometimes inherit some health issues. The problem with designer dog breeds is that it is hard to predict if they will inherit problems common among one breed, the other, or both. Below you will find a list of the most common health problems encountered among Chipoos. These can range in severity and may affect your dog in different ways. However, these are the general problems that Chipoos tend to face.
Digestive Issues: Chipoos are known for having sensitive stomachs. Many common dry dog foods upset these little puppies' tummies, so you will need to be careful what you feed your Chipoo. Your best chance of avoiding stomach problems is by giving your Chipoo high-quality dog food made with small dogs in mind. Consult your veterinarian if you find the food you are providing is still upsetting your dog's stomach. They will be able to recommend a food that works for your dog.
Hypoglycemia: Along with digestive issues, your Chipoo may suffer from hypoglycemia or low blood sugar. The food you feed your dog can affect this condition. Still, the most significant contributing factor is the timing of meals. You should feed these dogs several small meals throughout the day to prevent any spikes and dips in blood sugar.
Obesity: Chipoos are prone to obesity. When you feed your Chipoo meals throughout the day, ensure that they are small. Obesity can lead to other health problems in these dogs, such as cancer, heart disease, and arthritis.
Dry Skin: Unfortunately, Chipoos often suffer from dry skin. This ailment can lead to more significant problems because the skin is unable to soak up topical remedies. For example, Chipoos with dry skin may be unable to soak up flea and tick prevention, exposing them to other health problems. It is essential to use a skin-sensitive shampoo and conditioner when you bathe your Chipoo. You may also consult a veterinarian for other ointments that may improve your dog's skin condition.
Luxating Patellas: If your Chipoo takes after its Chihuahua parent, it may suffer from luxating patellas. This is a prevalent condition among Chihuahuas and may vary in severity. This condition occurs when the dog's kneecap slides out of place. If you think your Chipoo is suffering from this problem, take it to the veterinarian. Your vet will help you develop a plan to reduce any pain your dog is feeling. One of the easiest things you can do is prevent your dog from jumping off of high surfaces. Some of the more intrusive interventions include surgery.
Eye Problems: There are various eye problems that Chipoos can suffer from throughout their lives, ranging from mild to severe. These conditions include, but are not limited to, overactive tear ducts and glaucoma. Overactive tear ducts can cause tear stains on your dog's face; this excessive moisture can also lead to sores. Glaucoma is a more severe condition that can worsen over time. Glaucoma is an increase in eye pressure. This condition can cause pain and even blindness in your Chipoo.
Chihuahua Guides: How To Care For a Chihuahua Puppy and Ways To Make Your Chihuahua Happy.
Exercise
Although these dogs are tiny, they still have a lot of energy stored up in those little bodies. Your Chipoo will need daily exercise in the form of walks or other activities. Providing your Chipoo with ample exercise ensures it won't get bored. As mentioned before, these are brilliant dogs, so providing them with productive outlets for their energy ensures they aren't using their energy for being naughty. If your Chipoo doesn't get enough exercise, it may begin to chew inappropriate things, or it may take to barking/howling. One thing to remember when taking your Chipoo outside for activities is that these dogs should be kept on a leash. Unfortunately, their small size can make them easy prey for larger animals or birds. Make sure to keep a watchful eye on your Chipoo at all times when it is outdoors.
Chihuahua Questions: How Fast Can a Chihuahua Run?
Cost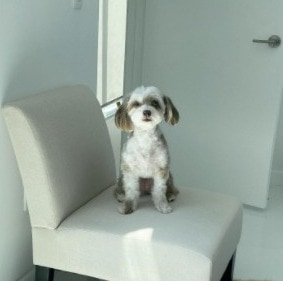 You may be pleasantly surprised to find that these little puppies are relatively affordable in price. Chipoos from reputable breeders typically cost between $500 to $1,000. This cost is akin to the Chihuahua parent, who typically costs around $800. In contrast, Poodles usually sell for $1,000 or more depending on the size. Chipoos may be cheaper than their purebred parents because they are not purebred themselves. However, these little puppies are a great addition to any family, regardless of their mixed breed status.
Helpful Dog Tips: Tips For Choosing a Good Dog Food.
Conclusion For The "Chihuahua Poodle Mix Information, Facts, Images"
Now that you know everything there is to know about Chihuahua Poodle mixes, you may have decided to add a new member to your family! Just remember, when adopting a dog, make sure it is coming from a reputable source. This will ensure you receive the healthiest and happiest puppy possible.
For more similar and helpful Chihuahua guides, you can check out:
To learn more about the Chihuahua Poodle mix, watch "Interesting and Shocking Facts About The Chihuahua Poodle Mix" from Little Paws Training down below: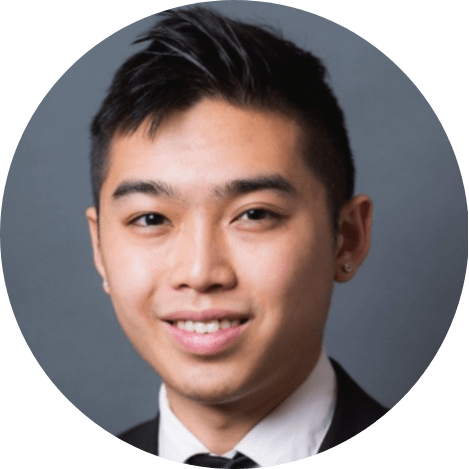 Andy is a full-time animal rescuer and owner of a toy doodle. When he's not saving dogs, Andy is one of our core writers and editors. He has been writing about dogs for over a decade. Andy joined our team because he believes that words are powerful tools that can change a dog's life for the better.
Why Trust We Love Doodles?
At We Love Doodles, we're a team of writers, veterinarians, and puppy trainers that love dogs. Our team of qualified experts researches and provides reliable information on a wide range of dog topics. Our reviews are based on customer feedback, hands-on testing, and in-depth analysis. We are fully transparent and honest to our community of dog owners and future owners.