If you're wondering about a corded Poodle, then this guide will help explain what it is and how you can achieve this appearance. Before getting started, here's what you need to know. Each breed has its unique characteristics, colors, and styles that make them who they are. When it comes to the Poodle, you can find a lot of diversity among this one breed. Poodles are often well-known for their elegant and beautiful appearances. They can also have coats that shed very little, making them an excellent choice for people with allergies.
Poodles also are highly intelligent, friendly, and make a great family friend for all ages. Poodles can also come in various sizes, ranging from Toy to Miniature to Medium to Standard. Each size has its range of weight, height, and life span. If you are looking for a Poodle friend, you can find one that will work well whether you live in a small apartment or have a large backyard. With the Poodle's appearance, there is also a range of different styles, textures, and colors that their coats can incorporate. Their coats can come in dark colors like black, brown, blue, and red.
They can also be lighter in color, with options like cream, beige, tan, apricot, and white. Sometimes, Poodles can incorporate several different colors in the markings on their coat. For all dogs, but especially for the Poodle, proper grooming and trimming practices are essential to keeping them healthy and free of skin irritations. While their coats can be somewhat complex to manage, it's necessary to keep up taking care of your dog's hair. Sometimes, that can be done through different hairstyles for Poodles.
Although one of the more common hairstyles for Poodles is short to keep their hair more manageable, there are several other hairstyle options that you can choose should you want a more sophisticated and unique look for your Poodle. One such hairstyle is corded. With its popularity and unique design, it can be an excellent option for your Poodle. To help you best take care of your Poodle's coat, here we share what a corded coat is and other best practices in grooming to help your Poodle look and feel their best.
Before scrolling down this article "What is a Corded Poodle," you might be interested in these guides: Best Shampoo For Poodles and Best Brush For a Poodle.
What is a Corded Poodle?
A corded hairstyle for Poodles is represented by longer curls or cords that cover the dog's body. These cords resemble dreadlocks and can be an exciting and beautiful hairstyle. Keep in mind that this corded look takes a bit of time to do and maintain afterward. However, it's an intriguing and attractive look for a Poodle. Much of the beauty comes in the fact that cords develop when you don't brush your Poodle, making them able to cord their coats, in a sense. Your job, then, is to keep the cords separated and well maintained throughout grooming practices.
The Poodle's coat can begin to cord when they are between seven to nine months old. This is when their puppy coat fades, and their adult coat begins to set in. Cording generally happens only on the body of the Poodle. The hair on the head, ears, and face are usually kept longer and bushier or styled in another way. The hair around the ankles and tails may also be trimmed up short to provide an elegant style.
Poodle-Related Guides: Best Poodle Mixes and Poodle vs. Goldendoodle.
How To Cord a Poodle's Coat
Cording a Poodle's coat involves several trimming and combing steps to get this particular look you're aiming for. You can either take your dog to a professional groomer to have this hairstyle done for your Poodle, or you can try it out for yourself. One of the first steps in cording a Poodle coat is to trim the hair surrounding Poodle's hindquarters. Keeping the hair short here will prevent urine and feces from getting into the cords. Another thing to keep in mind if you want to cord your dog's coat is not to brush them.
While this sounds very counterintuitive for proper best practices in grooming, the design of the cord is to make the hair curly and tangled. This means you'll also want to hold off on clipping and washing your Poodle for a length of time. With this hairstyle, you want your dog to develop mats in their hair. These mats are what will create the cords. Once matted, you'll want to take a section of matted fur and separate it from the rest of the hair. Start with the dog's neck and work your way backward.
Roll and twist up the section of hair until it forms a dreadlock-looking strand. Use scissors and a comb to separate the mat even more so. Be sure not to pull on the strands of hair too tightly, which may cause pain. Continue separating these matted sections until all the hair on your Poodle's body has been corded. Typically, Poodles are corded in smaller sections, which can help them have a smoother coat. You may even want to consider rolling each cord in a type of petroleum jelly or other holders to keep the cords even more intact.
Poodle-Related Guide: Poodle Teddy Bear Cut Information
Grooming Practices With a Corded Poodle
With a corded Poodle comes some more unique grooming practices that may differ from other breeds and other Poodles who do not have a corded coat. Taking care of the Poodle's corded coat ensures that the cords will maintain, even in the activity of daily life.
Bathe Weekly
During bathtime, you'll want to do your best to keep your Poodle's cords intact. While other Poodles may be able to jump right in the tub and be shampooed all over their coat, a corded Poodle takes a bit of extra effort. Baths can undo the cords of the Poodle's coat easily, so it's essential to be intentional about how you bathe your Poodle. With dog shampoo at the ready, squeeze soap into each cord of your Poodle's coat.
Ensure that the shampoo gets into the hair and cleans out any debris or dirt you don't want to stay in their coat. After all the cords have been thoroughly shampooed, rinse each cord with warm water to remove all the soap. Keep in mind that bathtime may take longer with a corded Poodle than a non-corded. You may also want to consider using a leave-in conditioner to keep the hair soft and smooth.
When it comes to drying off your corded Poodle after a bath, squeeze out any excess water that you can from each cord with a soft towel. Then, grab a blow dryer and dry each cord. Be sure to keep the cords separated as you dry each cord. Even after blow-drying, you'll want to put a fan in front of your dog to dry each cord thoroughly. Without proper drying, cords can start to develop skin irritations and other foul smells.
Don't Brush
While this may go against every other grooming recommendation for other dogs, it's not recommended to brush your corded Poodle's coat. Brushing their coat will result in deteriorating cords that you've worked so hard to maintain for your Poodle. Regular bathing and drying of their coat can keep them clean, so they wouldn't need brushing.
Grooming-Related Articles: How Long Does Dog Grooming Take and Best Dog Grooming Kit.
Conclusion For "What is a Corded Poodle"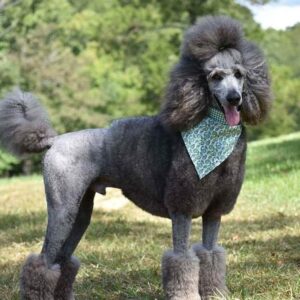 When it comes to choosing a hairstyle for your Poodle, you have a lot of options. Regardless of your Poodle's coat color or marking patterns, you can develop a hairstyle for them that matches their personality and your lifestyle. The corded look for a Poodle can be a unique and beautiful style that is worth the effort. While bathing and general grooming may take up a bit more time, their distinctive look may make it an easy task to keep your Poodle looking their best. Whatever hairstyle or look you choose for your Poodle, be sure to keep up on the recommended grooming practices. Bathe them regularly and ensure their skin is well taken care of.
For articles with mentions of the Poodle, check out:
To learn about the Poodle haircuts, watch "Top 5 Poodle Hairstyles" from CITIPEDIA down below: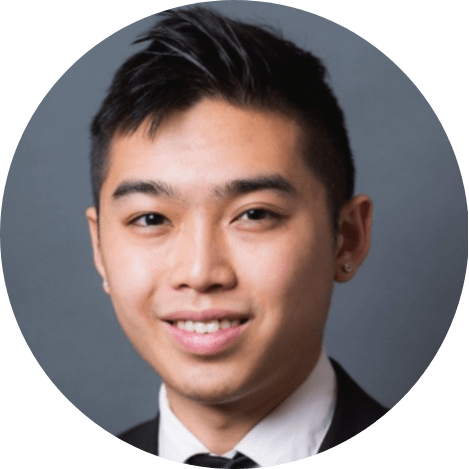 Andy is a full-time animal rescuer and owner of a toy doodle. When he's not saving dogs, Andy is one of our core writers and editors. He has been writing about dogs for over a decade. Andy joined our team because he believes that words are powerful tools that can change a dog's life for the better.
Why Trust We Love Doodles?
At We Love Doodles, we're a team of writers, veterinarians, and puppy trainers that love dogs. Our team of qualified experts researches and provides reliable information on a wide range of dog topics. Our reviews are based on customer feedback, hands-on testing, and in-depth analysis. We are fully transparent and honest to our community of dog owners and future owners.