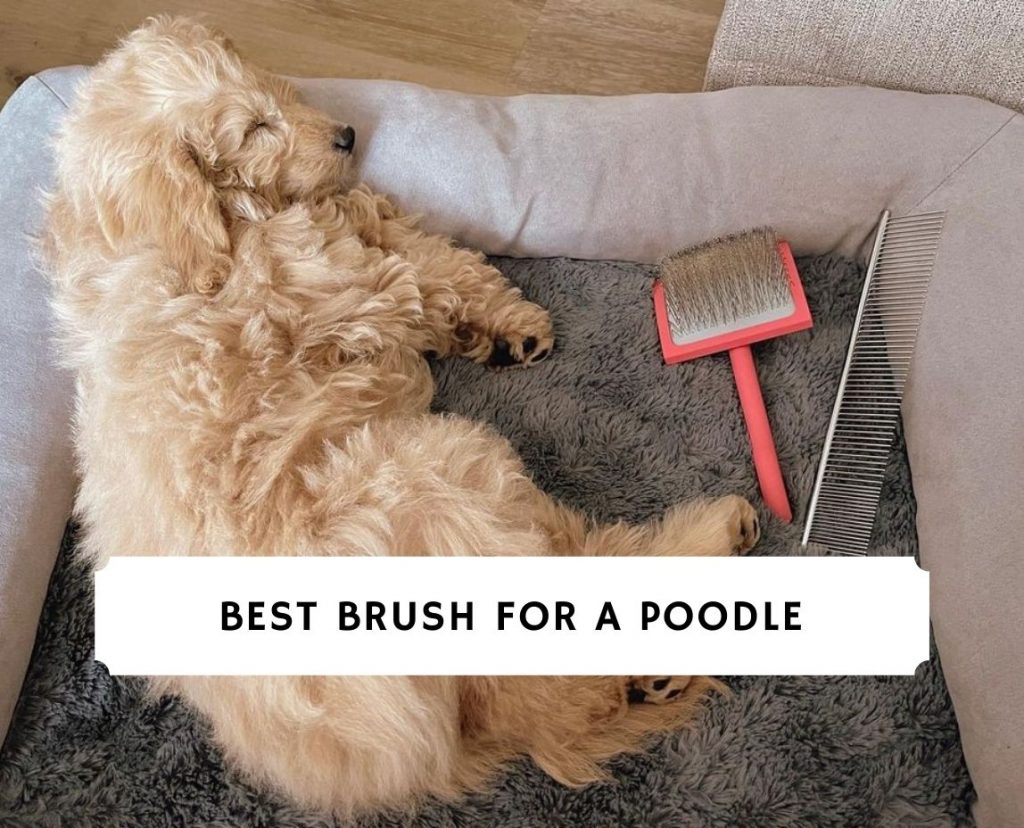 Poodles are smart and beautiful due to their hypoallergenic and nonshedding coats. Since Poodles don't have fur, they have hair that grows continuously. While that curly coat of hair makes them look adorable and beautiful, maintaining a Poodles coat and keeping it tangle-free from mats can be a full-time job. That is why it's essential to have the best brush for a Poodle.
Poodle hair requires intensive grooming. You will have to regularly brush, trim their fur, and clip their naturally curly fur. If you neglect to brush and groom your Poodle regularly, they will develop terrible mats that start to pull at their skin. You may even have to shave off the mats if you don't brush your Poodle.
If you want to avoid that situation, we recommend buying a good brush for your Poodle. There are some really good slicker brushes on the market that make brushing Poodle hair easy. We have personally tried and tested over 10 different slicker brushes and will give you our honest review.
In a rush? Here are the top picks!
Product
Best Overall
We Love Doodles Slicker Brush
Runner Up
Chris Christensen
Best Pin Brush
Pin Brush For Dogs
Best Dematting Tool
Dematting Brush For Dogs
Image
Best Brushes for Poodles Reviewed
Keeping your Poodle's hair neat and clean is important to your dog's health and appearance. If you have been struggling to prevent tangles or mats in your Poodle, we are here to help. In this article, we have listed the top 6 brushes to help you get started. There were several slicker brushes that we could not recommend because they either scratch your Poodles skin or the pins don't reach far into their coat.
We highly recommend that you purchase a long-pin slicker brush if you have a Poodle. By far the best slicker brush on the market right now is by Chris Christensen. While it comes at a steep price point, it will save you at least 5 minutes during every brushing session. Over time, this brush saves you tons of time because of the dense pin count.  
The We Love Doodles slicker brush was just released in 2022 and has taken the market by storm. With over 1000+ reviews in less than a year, it's the slicker brush to have with it's extremely long pins that are angled at 45 degrees so it won't scratch your Poodles skin.
Additionally, each pin is over 1 inch long to get deep into your Poodles long coat and remove all mats, knots, and tangles. Another benefit is that there are 30% more pins when compared to the nearest competitor – this means more efficient brushing and saving you time.
This brush also comes with a 100% satisfaction guarantee so if you or your Poodle don't like the brush, you can get a full refund. We highly recommend that you check out this slicker brush if you're looking for an affordably priced slicker brush that will get the job done.
There are many types of brushes out there on the market. You can choose whatever you think is appropriate for the length, thickness, and texture of your Poodle's hair. However, the most popular brush that Poodle owners purchase is a slicker brush. A slicker brush has fine wire bristles with a flat or curved base. These types of brushes are suitable for dogs with a curly coat which is why they are highly recommended for Poodles.
The Chris Christensen slicker brush comes in a coral color and weighs only 0.25 pounds. It is large so you can use it to brush the body of your pet. You can buy the medium-sized brush for your Poodle's legs and tail if you want a smaller brush head. This slicker brush by far the best one on the market and will easily remove the tangles and knots from your Poodles coat. It is best for Poodles with long and medium hair because it can effectively remove the loose hair from a Poodles undercoat with its long pins.
This slicker brush for Poodles will be gentle on the skin of your dog. The pins are thin and bent in an L-shape to not scratch the surface of your Poodles skin. Additionally, the slight bend creates a lift and movement in the hair. The cushion of the pins is soft and flexible. Additionally, the brush is easy to use since the handle is long and ergonomic. Your arm and hand won't get strained like when you brush a Poodle with a steel comb.
This version of Chris Christensen's brush has 40% more pins than any other slicker brush we saw. It not only saves you a ton of time brushing, but it will fluff up your Poodle like no other brush. This slicker brush will work from the roots of the hair all the way towards the tips. You can easily use it to shape the head, topline, and legs of your Poodle to make them look well-groomed.
If your Poodle hates to be brushed with a slicker brush, we highly suggest that you try out a pin brush. Pin brushes won't pull your dog's hair and they generally have rounded tips so it won't poke your dog's skin. This pin brush by We Love Doodles is extremely affordable and has a nearly 5 star review on Amazon.
The reason it's great for a Poodle is because it has extremely long pins (over 1 inch long at 27 mm). This allows you to brush deep into your Poodles hair and remove light tangles, debris, and keeping their coat looking healthy. This is also a great everyday brush since it has a long ergonomic handle.
We highly encourage to give this brush a shot if your Poodle has sensitive skin and you're looking for a great pin brush. Not only is this pin brush extremely affordable, but it also comes with a lifetime warranty and satisfaction guarantee. If you don't like the brush, you can simply return it.
Slicker brushes are great for thick and curly Poodle hair. If you want a high-quality brush with sturdiness to match then this brush would be a good choice. The Show Tech Slicker brush for Poodle hair comes in two varieties. One brush has long and soft pins while the other one has regular pins. We are fans of both, but if your dog has extra thick and long hair we'd recommend going for the brush with long and soft pins. The longer pins will allow you to get the deep tangles and mats out of your Poodles hair.
This brush weighs 0.15 pounds and comes in dark blue color. The handle is long and thicker towards the end. It has an ergonomic design so your hand won't be sore afterward. The pins of this slicker brush have a straight base with angled tips. It will effectively take out the undercoat and loose hair from a dog's body.
The thin pins might look fragile but they are strong enough to get the job done. Additionally, the metal pins are gentle and easy for your Poodle's skin. The head of the brush is curved so the long needles will reach deep into a dog's hair. If you're on a budget and can't afford the Chris Christensen, this is the second-best brush for Poodles.
If you are one of those Poodle owners who think that no slicker brush has pins long enough for maintaining their dog, then you'd be happy with this brush. The pins of the Doodle brush are long and curved. It will easily glide through the coat of your lovely pet and remove all tangles, mats, and loose hair.
This brush for Poodle mixes has two flexible heads to make brushing your dog easier and a comfortable experience. The brush fits the form of your dog as you continue brushing. You will notice that it snags less than other traditional slicker brushes. It is a very good dog grooming brush for Poodle.
If your Poodle has a very thick, long, and messy coat that gets matted easily then you should get this brush. It detangles hair with ease and in less time. Because the pins are long, they will access both the over and undercoat. It will brush the hair from the roots outward. This high-quality Doodle Brush will make sure that you don't feel the need for other accessories.
This slicker brush will remove tangles and knots from a Poodle's coat. It is very similar to other slicker brushes on the market. However, it differs because it has a self-cleaning button. This allows the pins to pull into the head of the brush and removes all the collected hair and debris easily. This is the only brush on this list that offers a self-cleaning feature.
You may have to pay a few dollars more for this slicker brush, but it will make things easier for you. We like the fact that your Poodle won't experience any discomfort as you brush them with the firm yet gentles bristles of this brush. The bristles are made of stainless steel while the brush body and head are plastic.
The Pet Portal brush was designed for Poodles with thick and long hair. If you use this brush every day, you likely won't see any mats and tangles on your Poodle. This brush has a comfortable grip that is rubberized and has an ergonomic design. The rubber won't let your hand slip away. 
The plastic body was more durable than we expected. This brush is backed by 5 years money-back warranty if you're satisfied with the product. This brush will for sure last for years and is a great pin brush for Poodles.
This slicker brush is specifically designed for Poodles who suffer from terrible mats and tangles a lot. It will help you to gently and quickly remove all the loose hair and mats out of the coat of your dog. With time you will not only notice that the tangles and mats have been reduced, but also that your dog's hair will look shiny and extra fluffy.
Regular brushing of your Poodles hair will also improve your dog's hair health because it naturally helps to spread the oils around your dog's fur. The pins on this slicker brush have a high density which makes brushing quick and easy. It will reach deep into the roots of your Poodle to remove dead hair. What makes using it easier is its retracting feature. The pins retract back and make cleaning it easy. 
This slicker brush is suitable for dogs and cats of all types of fur. It effectively removes dander, loose hair, tangles and mats. It will not hurt your pet cat or dog. It will go deep till the roots and clean that messy fur. It doesn't make any vibration sound unlike some other complicated devices.
You start the self-cleaning process of the brush with just a click of a single button. The Hertzko slicker brush cleans the hair of your Poodle and also gently massages it. As the blood circulation improves in the skin the fur will look shiny and healthy.
This slicker brush is small, light, and very portable. You can carry it with you wherever you take your Poodle. The smooth bristles will easily move through your dog's hair and the handle has an anti-slip grip which makes it easy to hold. Compared to other Poodle brushes on our list, it is extremely affordable.
How to Choose the Best Brush for a Poodle?
Brushing is an integral part of the grooming process for any dog, but it is especially true for Poodles. Grooming a Poodle takes a lot of work, but the benefits of them being hypoallergenic and nonshedding mean you won't have to vacuum your house every day to keep it clean. Additionally, brushing your Poodle leaves their fur soft and fluffy without mats or tangles.
There are many brands of dog brushes available, but to find the one that meets your Poodle's needs perfectly is a difficult decision. We have compiled a list of features to look for when selecting the best brush for Poodles.
Flexible Pins
A slicker brush with flexible pins that are strong enough to tackle a Poodles thick fur yet not scratch their skin is the ideal choice. A straight and stiff pinned brush might hurt your Poodle which can cause infection and wounds. Not to mention, your Poodle likely won't ever let you brush them again.
Comfortable Handle
A brush to groom your Poodle should have a comfortable and ergonomic handle. The brush should provide a firm grip, and the design must prevent wrist strain and stiffness in your arms because you will brushing a Poodle often and for a long time.
Light Weight and Durable
Grooming brushes for Poodles are best if they are lightweight and glide smoothly through your dog's hair. It makes it easy to detangle and get rid of knotted or matted hair. Ultimately, you want a lightweight brush that is going to be durable. We like the Chris Christensen brush because it's made out of wood as opposed to plastic.
Large Head Brushes
Imagine having a small-sized brush and having to spend a long time brushing your Poodle. No one would want that, right? Choose a dog brush that has a wide head so you can brush through your dog's hair quickly and easily.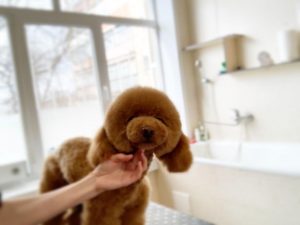 How to Brush a Poodle: Step by Step Guide
You first want to buy a high-quality brush with thin and long needles. The needles shouldn't be sharp because you don't want to scratch your Poodles skin.
There is no special way to brush a Poodle, but it may make things easier for you if you start with the head. Slowly make your way forward to the tail area.
Next, we like to brush the back legs using a downward stroke. Gently part the hair and use your free hand to hold down the unbrushed hair. Separate the brushed hair from the unbrushed sections.
Make the Poodle turn towards you and brush the front of the chest. Don't forget to brush under their armpits because that area is most prone to mats and tangles.
Slowly brush the front legs using downward strokes. Make sure that you pay attention to the back of their legs which often develop mats from them laying down.
Next, sit the Poodle in front of you and brush the top of the head backward and forwards. Also, brush the hair on the ears in a downward direction. Behind and underneath the ears of a Poodle are another area when they get mats.
When the dog is all brushed, comb the whole coat again so that there are no tangles.
Tips for Brushing a Poodle
Poodle hair is soft and gets tangled easily. Groomers need to take special care when brushing their Poodle's hair. If you own a Poodle, then you know that you will be brushing them regularly. Here are our top tips for brushing a Poodle.
1. Brush Regularly and Often
Make it a habit to brush your Poodle regularly. Ideally, you should brush your Poodle daily. This will help prevent the fur from matting and tangling which makes life easier for your groomer and Poodle.
2. Brush Thoroughly
While brushing, make an effort to brush your Poodle'ss hair thoroughly, especially the often neglected areas that are prone to mats. These are mostly around their ears, genitals, legs, and belly.
3. Choose Your Brush Wisely
Before beginning to brush your Poodle's hair, select a slicker brush that will be best suitable for the task. Your Poodle needs to feel comfortable while brushing or they won't let you brush them. If the brush hurts or irritates their skin, the dog will get jumpy and reluctant to participate in future grooming activities. 
Conclusion for Best Brush for a Poodle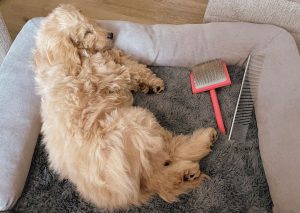 Grooming a Poodle might sound complicated and hard at first, but if you buy the best brush for a Poodle, it's actually a pretty easy task. Poodles make a great pet because they are hardly shed and are hypoallergenic. However, the downside is that they still require regular grooming to prevent their thick and long fur from matting or tangling. If you are ready to buy a brush, we recommend choosing a brush that we tested. 
Other articles you will like:
FAQs (Frequently Asked Questions)
How often should I brush my Poodle?
Poodles have a thick and long hair coat, so it would be best if you brushed your dog at least 2 to 3 times a week. This will not only get rid of the regular mats and tangles but also reduce them. If you feel like your Poodle has a thicker and longer coat you may even have to brush them every day. Regular brushing is also great for healthy hair and skin. The natural skin oil gets distributed to the whole body when brushed. Regular brushing may sound like a lot of work, but once you get started and stick to it will become a part of your daily routine.
What kind of brush do I use on my Poodle?
There are different types of brushes and combs. While it also depends on what type of fur your Poodle has, generally, you should use a slicker brush for removing loose from the dog's coat. You can also use a double-sided pin brush for finishing touches and a detangling comb for removing the tangles and mats.
If you want the optimal results then you may have to use more than one brush. This usually requires a bit of experimentation on what would suit your dog best. You also have to keep the comfort of your Poodle in mind when buying a brush.
Do Poodles have an undercoat?
No, Poodles technically do not have an undercoat. They only have the top coat that will continually grow. This is why they are considered hypoallergenic. This is also the main differentiating factor between them and other breeds of dogs. Although Poodles don't have an undercoat their hair still requires a lot of maintenance.
Do Poodles shed?
Poodles technically shed, but it's way less hair than the average dog breed. They may shed loose hair from time to time but they don't really "shed". This feature is what attracts many people to the Poodle.
This slicker brush is suitable for dogs and cats of all types of fur. It effectively removes dander, loose hair, tangles and mats. It will not hurt your pet cat or dog. It will go deep till the roots and clean that messy fur. It doesn't make any vibration sound unlike some other complicated devices.
You start the self-cleaning process of the brush by just a click of a single button. This slicker brush cleans the fur of your pet and also gently massages it. As the blood circulation improves in the skin the fur will look shiny and healthy.
This slicker brush is small, light and very portable. So, you can carry it with wherever you take your pet. The smooth bristles will easily move through the pet's hair. This brush is also easy to hold. The handle has anti-slip grip and is long enough to comfortably fit your palm.
It is durable and will last for a long time. This brush is very user friendly and gentle on the pet. Compared to other brushes, it is also affordable. You won't have to buy other grooming tools so your money will be saved there as well.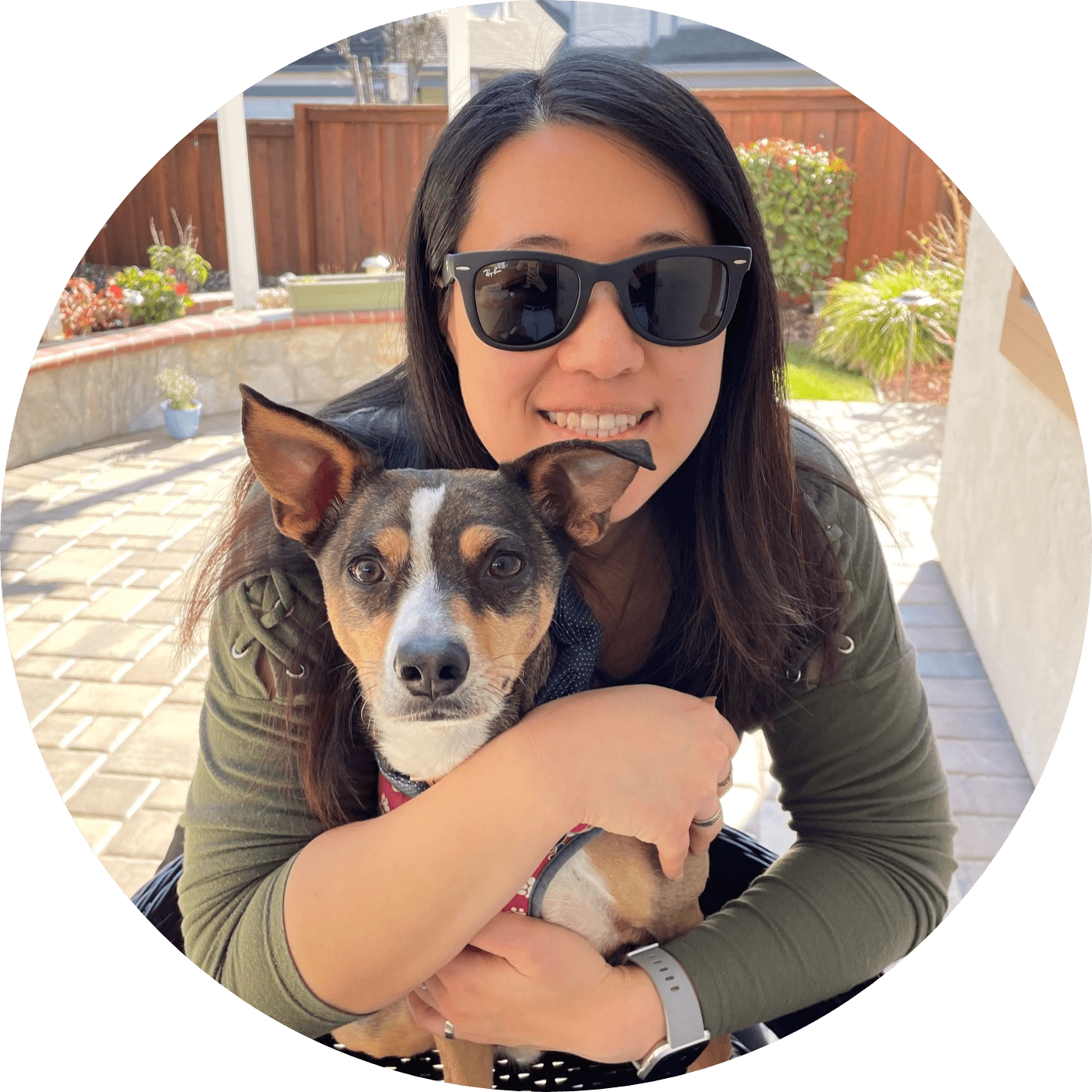 Dr. Sabrina Kong graduated from the Royal Veterinary College in England in 2016 and has been working at a small animal clinic in Northern California since then. She grew up in the Bay Area and got her bachelor's degree from Cal Poly San Luis Obispo. She also became a Certified Canine Rehabilitation Practitioner through a program at the University of Tennessee.
When she isn't in the clinic taking care of her four-legged patients, she enjoys traveling and trying new foods with her friends and her three-legged dog, Apollo. She adopted Apollo from her clinic when he was a puppy with numerous health issues. Dr. Kong truly cares about taking care of animals.