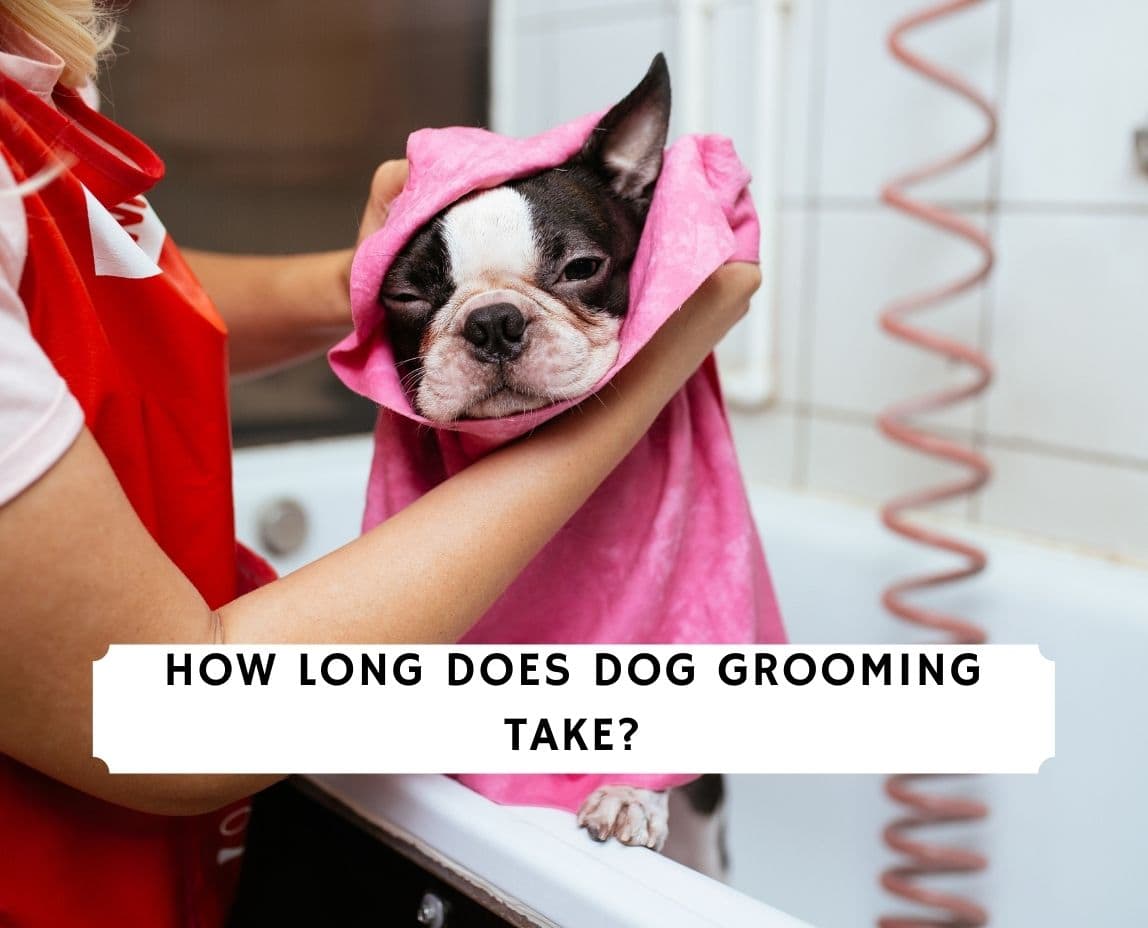 How long does dog grooming take depends on various factors. You might think that the task of being a dog groomer is easy. After all, how much time and effort can go into simply bathing a dog and cutting his hair and nails, right? Wrong. Dog grooming is a time-consuming task that professionals have dedicated years to learning. And even after doing it day in and day out, groomers have to extend the same amount of caution and concern to every dog. This could slow things down a little with multiple factors to keep in mind.
When working with sharp objects like scissors, clippers, or nail trimmers, it is always better to be slow and safe than hasty and sorry. There are several things that a groomer needs to get done in a short period, which affects how much time they will take. It's not possible to presume the exact amount of time it would take to groom a dog. However, on average, it could take around 2 to 3 hours. The time taken to groom a dog varies based on a variety of factors. Let's take a look at some of them.
If you're planning to groom on your own, check out: Best Dog Grooming Kits and Best Dog Grooming Shears.
Factors that Influence Grooming Time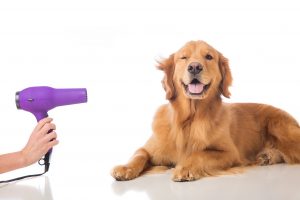 Available Services: The longer it will take for the grooming process to finish, the more services you choose. Minor services such as a simple bath and shampoo, or only nail trimming, should not take any longer than 15 to 30 minutes. However, if you have opted for a complete package inclusive of a bath, haircut, nail trims, gland expressions, nail polish, etc., then it would be better if you set aside at least 2 to 3 hours of your day.
Waiting Time: Often, it's not the grooming services that take longer, but the queue at the groomers' place. If there is a long waiting period, it could be an hour or two before your pet even reaches the grooming table. The wait may often be troublesome but is all too commonly seen with groomers that only cater to one pet at a time. This does ensure better grooming services but comes with a long queue to wait in with your dog.
Dog's Behavior: Your dog's behavior plays a huge role in determining how long it will take before the groomer is done with him. Sometimes, dogs can get very excited at the sight of scissors or cordless clippers and create a ruckus at the grooming table. This often leads to a longer wait for you. On the other hand, if your dog is calm and allows the groomers to do their job without any hassle, the grooming process can be done much quicker than anticipated.
Size: Your dog's size is bound to play a role in how long it would take to groom him or her. If you have a large dog with a thick coat, the time taken for bathing and trimming may differ significantly compared with if you had a smaller dog.
Dog Breed: Breed plays a significant role in the grooming process. Some dog breeds may be smaller in size but may need more grooming. This is seen mainly in designer breeds as well as in certain pure breeds. The best example is a poodle or a Shih Tzu — small dogs that tend to take the longest time to groom as their unique coats require particular attention.
Accidentals: No matter how hard one tries to be careful, accidents happen. At the groomers', an accident can mean anything from a soap allergy to an injury caused by something sharp and pointy. If an accident does happen, the groomer will take all the necessary precautions such as cleaning the wound, bandaging it, or in some extreme cases, even involving a vet. This will add an indefinite amount of time to the grooming process, and rightfully so, as the dog's health is the priority.
Possible Fleas: A flea infestation is sure to prolong the grooming session. If your dog has fleas, then taking them out and killing them becomes the groomer's priority. This will involve a possibly long shampooing process, followed by combing the dog's coat to get the little beasts out.
Beautification: If you have availed of added beauty treatments such as nail paint, hair styling with bows or bandanas, or hair coloring, it is bound to take that much longer at the groomers' place. Some pet groomers offer all kinds of beauty treatments right up from facials to hair color, which can take up almost half of your day.
Spa: If you choose to treat your dog to a spa treatment, it will take a lot longer than you expected. Spa treatments often include relaxing baths with essential oils and lavender-scented soaps. This will relax your dog and keep him calm and well-rested. And this little extra time is undoubtedly a worthy price to pay to go home with a well-rested and happy dog.
Frequently Asked Questions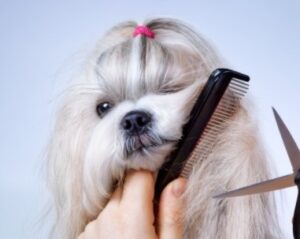 Below, you can find frequently asked questions related to "How Long Does Dog Grooming Take."
How long does it take to cut a small dog's hair?
If you're cutting your dog's hair, it can take anywhere between 15 minutes to 30 minutes depending on its coat type. The curlier, the more cutting and trimming required.
Do dogs feel better after grooming?
Your dog will definitely feel better after grooming. Not to mention, grooming will benefit your companion in numerous ways.
Is grooming stressful for dogs?
Taking your dog to a professional groomer can be stressful because they're exposed to a different environment. However, grooming your dog at home should help them feel less stressed. While it's worth knowing this information, it's important to bring your dog to professional grooming at least once every several months.
Conclusion For "How Long Does Dog Grooming Take"
A day out at the dog groomers could take anywhere between half an hour to an entire day. There is no way to predict to the minute the amount of time it will take. The time taken will be influenced by his or her breed, size, the services involved, the wait at the groomers' place, all of which we've explored above. The good news is – you do not need to wait there the entire time while your dog is being groomed. Often groomers have the option of leaving your dog with them while you go about your day.
There are even daycare packages available with some groomers. Yes, it is quite an enduring experience to be the one waiting while your dog is getting groomed. But let's face it, for all the joy they fill our lives with, waiting for a little while as your dog finishes his or her grooming session is the least that you could do for your furry little best friend.
For more grooming recommendations, check out:
To see a dog being groomed in action, watch "Grooming The Dog Everyone Refused" from Rover's Makeover Dog Grooming down below: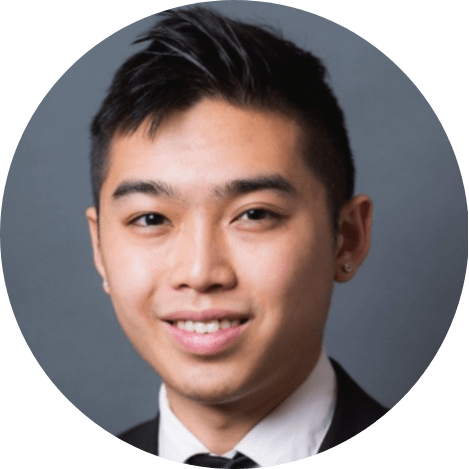 Andy is a full-time animal rescuer and owner of a toy doodle. When he's not saving dogs, Andy is one of our core writers and editors. He has been writing about dogs for over a decade. Andy joined our team because he believes that words are powerful tools that can change a dog's life for the better.
Why Trust We Love Doodles?
At We Love Doodles, we're a team of writers, veterinarians, and puppy trainers that love dogs. Our team of qualified experts researches and provides reliable information on a wide range of dog topics. Our reviews are based on customer feedback, hands-on testing, and in-depth analysis. We are fully transparent and honest to our community of dog owners and future owners.