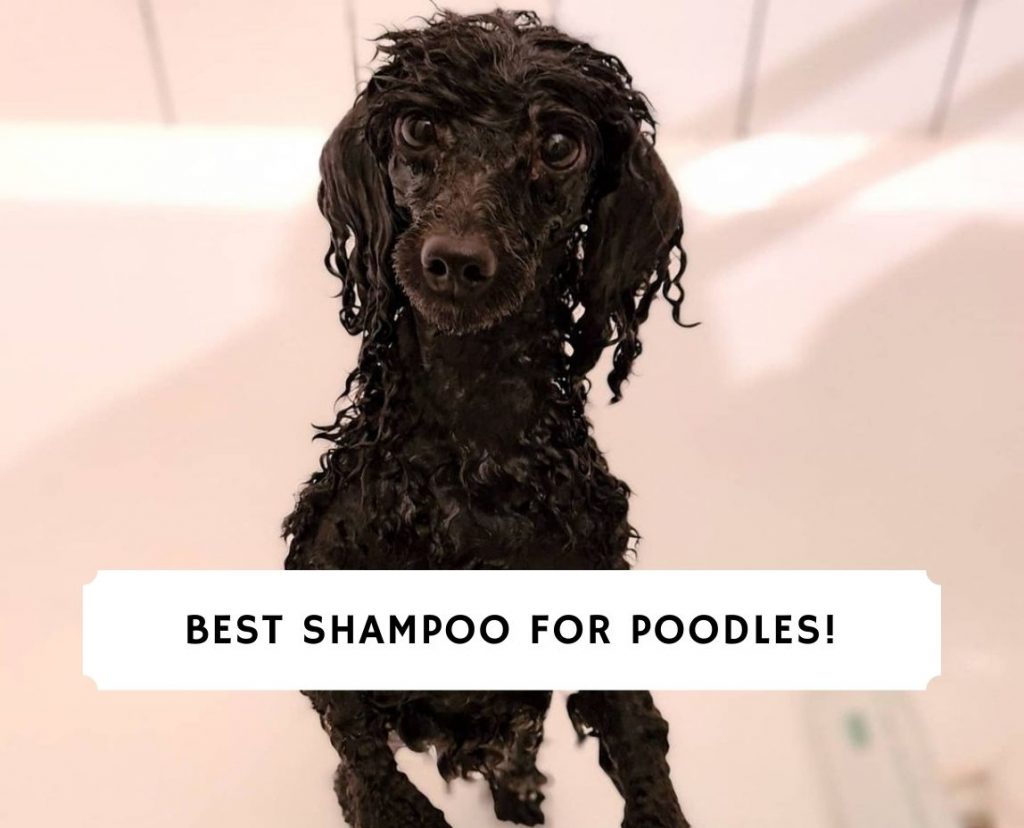 Poodles have very unique coats that are considered hypoallergenic and nonshedding. It is absolutely essential that you take proper care of a Poodles coat in order to avoid matted hair or tangles that not only look awful but can hurt your dog! You will want a shampoo and possibly even a conditioner that will clean off your Poodle's coat and leave their coat soft and healthy.
Poodles have single-layer coats that are thick, curly, and slightly coarse as well. They also have over 12 standard unique coat colors. Some of those coat colors are very light while others are dark. Choosing a shampoo for Poodles should include supporting all of the characteristics of your dog.
When it comes to choosing shampoo and conditioner for Poodles, we want you to have the very best. That's why we've scoured the market to narrow it down to the top 10 choices out there. Stick with us to learn about the 10 best shampoos for Poodles.
In a rush? Here are the top picks!
Product
Runner Up
We Love Doodles Dog Shampoo
Best Overall
Lillian Ruff Shampoo
Image
The 10 Best Shampoos for a Poodle
In this section, you will find our reviews of our top picks for the best dog shampoo and conditioner for Poodles. We will provide detailed overviews as well as a list of pros and cons for each item.
The We Love Doodles shampoo was specifically designed for hypoallergenic and nonshedding dogs like the Poodle. It's a 4-in-1 pet shampoo with conditioner, detangler, and moisturizer. It will effectively clean your Poodle while making it easier to groom them after a bath due to the detangler. This shampoo is currently being used by several different grooming shops around the United States and just started recently selling to the public in April 2022.
The reason why this dog shampoo is different is that it is made in the USA with USDA-certified organic ingredients. Most only dog shampoos will only contain 1% natural ingredients while the We Love Doodles shampoo is derived from 98.25% natural ingredients. It is safe for you to use on your Poodle and contains no harsh ingredients like dyes, alcohol, parabens, sulfates, or formaldehyde.
It's also formulated and created by one of the largest dog shampoo manufacturers in the United States. If you or your dog doesn't like this shampoo, there is a 100% satisfaction guarantee and you can get your money back. We highly suggest that you try it out.
Pros:
Specifically designed for hypoallergenic and nonshedding dogs
4-in-1 dog shampoo with detangler, conditioner, and moisturizer
Made in the United States
Contains USDA Certified Organic ingredients
No harsh chemicals or artificial ingredients
100% satisfaction gaurantee
Cons:
Newly released on Amazon, but is used all around the United States by grooming businesses.
Only one scent of Lavender and Chamomile
Our first option is a classic dog shampoo winner that takes place as the best overall choice money will buy. It's relatively affordable for the quality and it is a highly-rated Poodle shampoo across the board. You can get a variety of sizes from 16 ounces to 1 gallon. You can also choose a set that has shampoo and conditioner for Poodles as well.
Overall, this is a gentle oatmeal shampoo so it will not irritate your Poodles skin or dry it out. In addition, the shampoo provides moisture while also cleansing and soothing the skin. It was formulated specifically for dogs and is a professional-quality choice. 
This shampoo comes in a light lavender coconut scent which will make your Poodle smell great. In addition, it has a balanced formula that can be used as a shampoo for Poodle puppies or adults. This formula is sulfate-free, vegan-friendly, paraben-free, gluten-free, dye-free, and tear-free.
As a bonus, this dog shampoo naturally repels fleas and ticks. It's really easy to use and easily rinses off as well.
Pros:
Naturally repels teas and flicks
Light and refreshing scent
A deep cleanser that is gentle and soothing
Great for sensitive skin
Professional quality formula
Cons:
Doesn't come with any kind of a pump which is slightly inconvenient
The scent is mild and may not always completely deodorize the dog
This option from Honey Dew is a natural dog shampoo that is made with colloidal oatmeal. It's great for Poodle puppies and full-grown dogs. The shampoo is designed to clean the dog and eliminate odors. It comes enhanced with lavender essential oil for a pleasant smell and soothing nature.
This shampoo is designed to be especially gentle for Poodle puppies. It is also great for skin sensitivities which Poodles are often prone to. This is a natural option that has medicated strength with the inclusion of jojoba, lavender essential oil, and colloidal oatmeal.
This formula is made to be tear-free, paraben-free, cruelty-free, and sulfate-free. It does only come in a small 8-ounce bottle size which is slightly inconvenient if you bathe your dog a lot. It works to fight and eliminate odors, rejuvenate soft fur, and soothe skin. Furthermore, it is natural and made with quality ingredients that you can't really go wrong with.
Pros:
Natural formula
Enhanced with lavender essential oil
Soothing to skin
Eliminates odors
Made with colloidal oatmeal
Cons:
This soap has a thick consistency, which makes it hard to squeeze out of the bottle with the small opening on the lid.
A very small bottle of shampoo for the price
This is a fairly new dog shampoo option but it's also highly-rated already and it's a top recommendation across the board. This shampoo is made in the USA and it's designed for both dogs and puppies. The main ingredients include oatmeal, aloe, and shea butter formula that is designed to be soothing while not irritating skin and leaving their fur silky soft.
This shampoo will moisturize the skin and deodorize your Poodle's coat. It has a very light scent that has a sweet and fresh smell when you're done. The shampoo formula is cruelty-free, paraben-free, tear-free, and hypoallergenic. The ingredients list is very minimal with nothing to be concerned about in it.
The shea butter will leave your Poodle's coat extra-soft and fluffy after a bath. The brand advertises that this deodorizes and the fresh smells lasts long when compared to others that just don't tend to last long. This is perfect for a Poodle's sensitive skin and works for any type of coat as well. Overall, this is a good dog shampoo for Poodles.
Pros:
Ingredients are minimal with quality items
Deodorizes and leaves a lasting scent
Great for puppies and adult poodles
Shea butter leaves fur super-soft
Great for sensitive skin
Cons:
A little bit pricy but it can last a long time if you're careful
The bottle is fairly small and you may use quite a bit for larger dogs
If you're mostly worried about getting rid of that stinky dog smell, this is a really great option for Poodles. You get quite a bit of shampoo for the price and this option goes a long way in getting rid of that odor that you simply can't seem to beat with other dog shampoos.
This is a dye-free shampoo that is gentle and made with natural ingredients. It's healthy for your Poodle's skin and coat and fights odors incomparably. It leaves behind a light honey scent as well. This is a 4-in-1 dog shampoo and conditioner for Poodles. You will find that it deodorizes, neutralizes, cleans, and conditions your dog's coat.
It's safe and gentle for pets and doesn't contain dyes or parabens that often cause skin irritations. It can even be compatible with flea and tick products as well. It also is proven to keep Poodle hair cleaner and smelling fresh for longer!
Pros:
Odor-control shampoo and conditioner for poodles
Natural ingredients
Budget-friendly with a large bottle
Light honey scent
4-in-1 shampoo and conditioner
Cons:
The bottle is large and heavy so it may get slippery during bath time
The deodorization action takes time to truly set in after bathing
Next, comes a highly-recommended option from veterinarians nationwide. It is designed to clean, moisturize, and condition skin. It is listed as a medicated shampoo that will be soothing to dry skin and will not irritate your Poodle's sensitive skin.
This shampoo is very affordable for the quality. It's ideally designed for any dogs who have dandruff, skin sensitivities, flaky skin, or itchy skin. The shampoo for dogs a natural formula so you don't have to worry about chemicals. It is made with oatmeal, tea tree oil, and salicylic acid.
You can easily bathe your dog in 3-5 minutes and provide them with medicated relief as well as clean and smooth results. You can pair this with other treatments as well which makes it a versatile option. This is a veterinarian-formulated option that offers total care with a light scent. It's also great for a Poodle's coarse hair.
Pros:
Veterinarian formula that is vet recommended
Soothes and conditions skin
Great for sensitive skin or dandruff and flaky skin
Total care option
Easy to use and can be combined with other treatments
Cons:
The shampoo is a little on the watery side
We've all heard of Burt's Bees. This company is known for using high-quality natural ingredients that use things like honeysuckle. The formula in this shampoo for Poodle puppies and adults is designed to soothe itchy skin while also softening your poodle's coat in the process.
All of the ingredients are natural. This shampoo is gentle and effective with a light scent. It's great for all dogs, particularly those with troublesome coats and skin. There are absolutely no parabens or sulfates in the formula. It is also free of dyes, fragrances, and cruelty. This formula has been pH balanced for dogs as well.
If your Poodle noticeably struggles with irritated skin, itchy skin, or inflammation, you can count on Burt's Bees to help cleanse and nourish while also soothing the skin. The best part of this shampoo is that it has 99.97% natural ingredients only.
Pros:
Made with natural ingredients
Perfect for sensitive skin
Cleans and nourishes skin and coat
Light honeysuckle scent
Great for dogs and puppies
Cons:
The packaging isn't great and some online purchasers experienced leaks and damaged packages
We love the company for this one – Pets are Kids Too! It's pretty catchy and absolutely true! Our pets are often treated much like our children, and sometimes better (am I right?). Not only does this have a fun and true name, but it's a high-quality pet shampoo that is highly-rated across the board.
This pet shampoo is designed to fight itchy, flaky skin as well as dog odors. You will notice immediate relief and soothing of dry or itchy skin and you should also notice a shiny, soft, and beautiful coat as well. This brand gives the term "smells like a dog" a whole new meaning. It's great for any standard or toy Poodle!
This oatmeal shampoo for dogs is naturally deodorizing with a slight oatmeal scent after you wash your Poodle off! It is designed to offer premium results without being overly expensive for the quality. The company also has bundle and save opportunities as well.
Pros:
Professional quality shampoo
A delicious oatmeal scent that is deodorizing
Bundle and save options
Hypoallergenic formula
All-natural ingredients that truly work
Cons:
Does not help all itching issues but helps many
It's unclear whether it is suitable for puppies
Mighty Petz has all of the needs of your dog in mind with this shampoo and conditioner for Poodles in one. It's sweet and simple with a light lavender fragrance to help reduce that dog smell that no one really likes. It's perfect for itching sensitivity and works really well.
This formula is an oatmeal shampoo that is all-natural. It's shampoo and conditioner in one solution. This formula also has certified organic oats and aloe vera so you know you're really getting the best ingredients in your shampoo and conditioner bottle.
There are only 7 ingredients in the formula and each ingredient serves an active purpose. These include mineral salt, coconut cleanser, water, organic oats, organic aloe vera, and baking soda. The formula is pH balanced and will be gentle on the skin while cleaning out bad odors.
Pros:
Light lavender scent
Natural ingredients, only 7 ingredients
Organic formula
Great for sensitive skin
Shampoo and conditioner for poodles
Cons:
This is not very sudsy which may take some getting used to
The smell is pretty plain and unnoticeable
Here's a shampoo for curly hair Poodles that really works hard to clean their hair and skin while also providing antibacterial and antifungal properties to treat sensitive and itchy skin in the process. This can be used to treat issues like infections and ringworm, but it also works well as a traditional shampoo for Poodle puppies and adults to prevent skin problems.
You can get a 1-pack or a 2-pack and the cost isn't bad. This medicated shampoo freshens and deodorizes at the same time that it treats itchy and dry skin. The scent is light and pleasant but won't be strong or overly noticeable.
The formula can be used for horses, cats, and dogs. It is free of both sulfates and parabens so it's a reliably healthy option as well. If your dog is prone to itching and breakouts that you just can't seem to tackle, this option will work wonderfully for you!
Pros:
Designed for anti-itch properties
Perfect for any dog and other animals
Medicated shampoo that deodorizes
Has a light, fresh scent
Recommended by veterinarians to treat itch
Cons:
It's not perfect for deodorization
Does not work for all dogs consistently
How to Choose a Shampoo for a Poodle?
As you check out these options for the best shampoo for Poodles, you will find that there are several different types of options on the market. They could all be great options for a Poodle, but some are better than others.
Here are some of the different types of shampoos you might notice in your search.
Antifungal or antibacterial
Shed control
Dandruff control
Deodorizing
What you may also notice is that some shampoo options have more than one of these properties, but most of them still have a specific focus even if they can handle more than one task in the same formula.
Poodles have skin that can often get itchy and they have coarse, curly coats. You want something that will treat their coat well and keep them soft, but you also want to take care of their skin and get them clean in the process.
Here are a few specific things we recommend looking for in your search for a shampoo for Poodles.
All-natural – The more natural the formula the better. Natural ingredients are less likely to cause reactions that can make your dog uncomfortable or even harm them. You want to avoid sulfates and parabens as well as any other harsh chemicals.
Hypoallergenic – Poodles tend to be sensitive to things that make them itch. Choosing a hypoallergenic option will help reduce this possibility in the process.
Deodorizing – Let's be honest, you bathe your dog to get rid of the smell! Find something that will be deodorizing even if the scent is light in the end. The goal is to freshen up and get rid of the dog smell.
Moisturizing – Finally, your Poodle has curly and coarse hair and it needs to be conditioned. A shampoo that conditions or moisturizes is always a good choice for a poodle.
How to Keep Poodles Hair Soft?
Poodles have very unique coat hair. It's coarse but fine, and it has a tight curl that is deceivingly complex. Your Poodle's hair can easily become not so soft to touch if you don't have the proper care regimen in place.
Bathing on a routine is necessary just to keep their coat clean but there are some other things you can do to help keep your Poodle's hair soft and refreshed as well.
Brush Poodle on a daily basis
Choose a nutritious diet that sustains their coat and skin (Check out our article on the Best Dog Food for Poodles)
Clip and maintain Poodle's fur to avoid mattes and keep it trimmed up
Use a professional groomer every 8 weeks
Choose the right shampoo for the job and bathe in between grooming trips. This will help keep your Poodle's coat soft!
Conclusion for Best Shampoo for Poodles
No matter what kind of skin and hair needs you have for your Poodle, there is bound to be something here to help clean and care for their coat. We hope this guide helps you choose the best shampoo for Poodles and helps get rid of the dog smell.
There are plenty of options to choose from and all of the relevant information you need to make an educated decision. Now, who's ready for a fresh and clean Poodle?
Other articles you will like:
Garrett loves animals and is a huge advocate for all Doodle dog breeds. He owns his own Goldendoodle named Kona. In addition, he volunteers at the Humane Society of Silicon Valley, where he fosters dogs and helps animals. Garrett enjoys writing about Doodles and believes that dogs can teach humans more about how to live than humans can teach a dog.
Why Trust We Love Doodles?
At We Love Doodles, we're a team of writers, veterinarians, and puppy trainers that love dogs. Our team of qualified experts researches and provides reliable information on a wide range of dog topics. Our reviews are based on customer feedback, hands-on testing, and in-depth analysis. We are fully transparent and honest to our community of dog owners and future owners.