Dogs may repeatedly try to scratch an incision site. This affects the skin, prevents healing, and increases the risk of infection. It's imperative that the incision not be licked or nibbled at as it heals. So how do you stop your dog from scratching stitches with its hind legs?
For starters, it's important to make sure your dog is comfortable. To provide a barrier between her claws and the incision site, you can also use a t-shirt or socks. It's also important to keep an anti-itch spray or cream on hand to make sure your dog does not feel tempted to scratch.
Before you scroll down this guide, "How to Stop Your Dog Scratching Stitches With Hind Legs," check out: How to Stop Your Dog from Scratching the Door (2023) and Why Does My Dog Scratch the Carpet? (2023).
What Causes Female Dogs to Scratch their Spay Incisions?
Your dog will be put under anesthetic for the spaying procedure. The ovaries and uterus can then be removed by the veterinarian through an abdominal incision made just below the belly button. Ovariohysterectomy, sometimes known as a spay surgery, is frequently performed on female dogs who are at least six months old.
While there are certain dangers associated with this operation, such as infection or bleeding, it is still regarded as one of the safest options for dog owners to avoid unintended pregnancies. Scratching is quite natural after surgery, but it can lead to serious issues including removing the sutures, opening the incision, and becoming infected.
Continue reading to find out why your dog can itch near her incision. The methods of prevention are covered below.
Beginning to Regrow Hair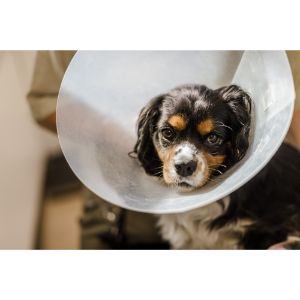 The first indication that your dog's body is starting to develop hair again might be scratching at the incision. This frequently causes irritation, which is why it's typical for dogs to lick or scratch their paws or ears following surgery.
Dealing with a New Situation
When you consider everything, a female dog is going through, spaying is a significant procedure. Even people, let alone little dogs, cannot get used to being placed under anesthesia and having a scalpel inserted into their abdomen.
When they come back, they are likely still disoriented and sleepy, and once the effects wear off, your dog will be interested in examining the fresh incision site.
Environmental Variables
We do not advise letting your dog outside after a spay operation. But, if you do, you should be aware that the surroundings could be uncomfortable. Your dog will itch because air and dirt are irritating the wound.
Pain or Anxiety
Dogs frequently display behavior that is, in some ways, comparable to our own. Sometimes we unintentionally engage in a reflex action when we are uncomfortable or tense, such as putting our hands in our pockets, fumbling with a pen, or twisting our hair.
Similar to humans, dogs might experience anxiety or nervousness and exhibit behaviors like self-scratching or even just continuing to sit after being spayed. Moreover, your dog could lick the incision wound when feeling pain there.
There Is an Infection (or Other Problem)
It's critical to understand that if your dog starts licking or scratching excessively, there may be a deeper issue. For instance, if your dog's wound is not healing properly, it may require antibiotics or other drugs like Prednisone to reduce inflammation. Allergies to sutures, mites, fleas, and other skin irritations are also typical reasons for compulsive licking.
How Can I Keep My Dog From Scratching After Being Spayed?
You must prevent your dog from scratching the incision site to ensure normal healing and prevent infection. You should also keep a watchful eye on your dog during the healing process for indications of infection, such as swelling, inflammation around the incision site, discomfort on contact, and drainage from the wound.
Keep Your Dog Calm
Your dog should refrain from jumping or moving about much after surgery until the wound has healed. Try placing her in a crate to limit her activity, but make sure to take her out as neede. It is not advisable to take her for strolls or for fun at this time.
Keep Her Cozy and at Ease
After surgery, dogs are susceptible to feeling chilly. So, make sure she has access to food and water and a nice bed where she can rest without placing undue strain on her incision site. Ensure that all drafty spaces, such as windows or doors that allow chilly air in, are fully sealed.
Keep Her in a T-Shirt
T-shirts are frequently the only thing you need to keep your fur baby safe. It keeps the incision covered and stops the stitches from coming undone, but a persistent scratcher might not be discouraged.
As a result, you must constantly keep an eye on her, especially in the early days when the itch would be unbearably intense. An old t-shirt could work, or you could purchase something online or at the pet store. When using an old shirt, make sure it fits snugly by tying a knot to keep it from dangling too freely.
Put On Socks or Boots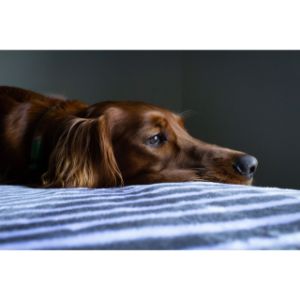 Dog shoes have always seemed like a bad idea because they clearly cause discomfort for the animal. Nonetheless, there are times when they are advantageous, such as while walking on hot ground or in this situation, when they stop anything from clawing at the site of an incision.
We suggest saving it for bedtime and putting rugs all around the space to stop her from slipping and sliding.
Use a Hot-And-Cold Compress
It's good to keep a hot and cold comfort pack in your house, especially if your dog is sick.  It can aid with wound healing as well as the reduction of pain and edema.
Cream and Spray for Itching
Each dog owner has to have a decent anti-itch spray and cream. These items are useful to have on hand in case your dog comes into contact with poison ivy or bee stings. In this situation, they can aid in preventing your dog from self-injuring scratches.
Provide Comfortable Bedding
After surgery, put her on soft bedding for a while. Also, it keeps her from moving too much or inadvertently hurting herself. This will facilitate healing and keep your dog at ease while they are recovering.
Consider Hiring a Dog Sitter
It's not a bad idea to hire a dog sitter if you're going to leave your dog home alone. By doing this, you can offer her the additional attention she requires and keep her from spending an extended period of time alone, which can contribute to her already high level of stress.
Do All Surgical Incisions Require the Same Post-Op Care Instructions?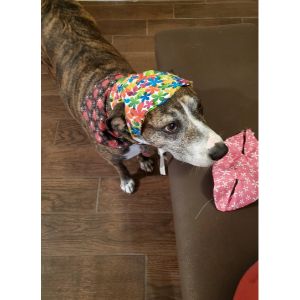 All incisions from surgical procedures require the same basic aftercare.
A dog that has just had surgery should never be released from its leash. During a period of seven to 14 days, limit your dog's activities to give the wound time to heal. When you do take your dog outside, put her on a short leash and avoid extended walks.
Allowing your dog to jump, wrestle with other dogs, or partake in any intense activity that can cause the surgical incision to stretch excessively is not advised, particularly in the first few days following the procedure. Excessive exercise might lead to the incision bleeding or the sutures coming undone.
Depending on the situation, your veterinarian can advise cage rest or confinement to a tiny space.
Never wash your dog or let the wound become moist. Avoid any lotion, ointment, disinfectant, or other product on the wound unless your veterinarian explicitly instructs you to. Never use alcohol or hydrogen peroxide to clean the wound since they will harm the cells and slow recovery.
Avoid letting your dog lick or touch the wound. Doing so increases the risk of the dog ripping out the sutures or infecting the wound.
Check the incision at least twice per day if it is not wrapped. In cases where a surgical drain was inserted at the site of the incision, you may be required to empty and clean it many times daily. As soon as your vet has determined that the drain can be safely removed, they will have you come back in.
What Should the Incision Look Like?
As a rule of thumb, the incision should be free of blood and debris, with the cut edges contacting one another. A normal or slightly reddish-pink skin tone is ideal. When healing starts, it is normal for the incision to get a little redder over the first few days.
Bruising around the surgery site is frequently seen in dogs with light-colored skin. This might not become apparent for a few days following the procedure and, in certain situations, may seem excessive. This is typical and is caused by blood seeping under the skin's borders.
For up to 24 hours, a small quantity of blood may occasionally leak from a new wound in some circumstances, especially if your dog is active.
When Do I Need to Start Worrying?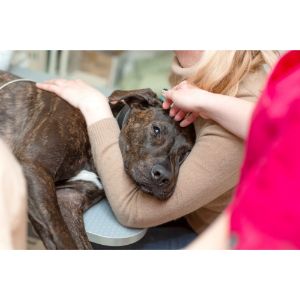 If you notice any of the following at the surgery site, you should be worried and get in touch with the hospital right away:
Blood or other fluids flowing or seeping continuously from the wound for longer than 24 hours.
Inflammation, a redder-than-usual complexion, discharge, or pustules.
When Should the Sutures Be Taken Out?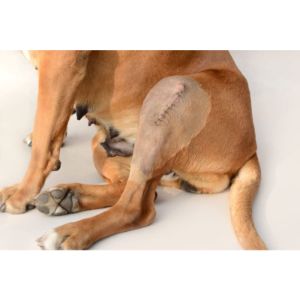 Sutures hidden under the skin's surface after your dog's incision was closed do not need to be removed. The removal of non-dissolving skin stitches, staples, or stent sutures from your dog's wound normally takes place 10 to 14 days after the procedure; the exact period depends on the kind of surgery.
When it is time to come back in for your dog to have her stitches or staples removed, your veterinarian will give you specific instructions.
When Can My Dog Resume Routine Activities?
The specifics will be determined based on your dog's procedure. Until a few days after the stitches are removed following a surgical treatment that involves a tiny incision, there should be restrictions placed on the dog's ability to engage in physical activity.
The recovery process will take longer if a significant procedure was performed or if there is a huge incision present, and your dog may need to be inside for a few weeks. You'll receive specific instructions from your vet on how long you should limit your dog's activity after surgery.
Frequently Asked Questions
Should I put Vaseline on my dog's stitches?
Your dog's incision spot should be kept dry, so avoid washing it or applying a product like Vaseline.
Can I take the cone off my dog after seven days?
If your dog needs to wear a cone during recovery, leave it on until the site is fully healed or the veterinarian removes the sutures.
Can I take my dog's cone off at night?
Cones are intended to be worn while a dog is sleeping, and you should leave the cone on whenever you aren't actively supervising your dog, including overnight.
Conclusion for "How to Stop Your Dog Scratching Stitches With Hind Legs"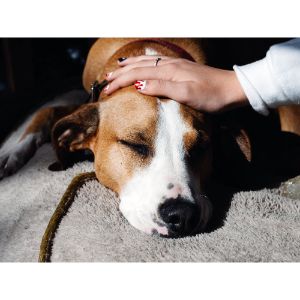 In this article, we discussed the different ways you can protect your dog's incision site and stop your dog from scratching stitches with hind legs. It's important to do so to make sure that the incision heals without any problems, such as an infection.
If you find this guide, "How to Stop Your Dog Scratching Stitches With Hind Legs," helpful, check out:
Learn more by watching "How to Care for a Dog With Stitches || Dog Stitches Removal || Dog Stitches at Home" down below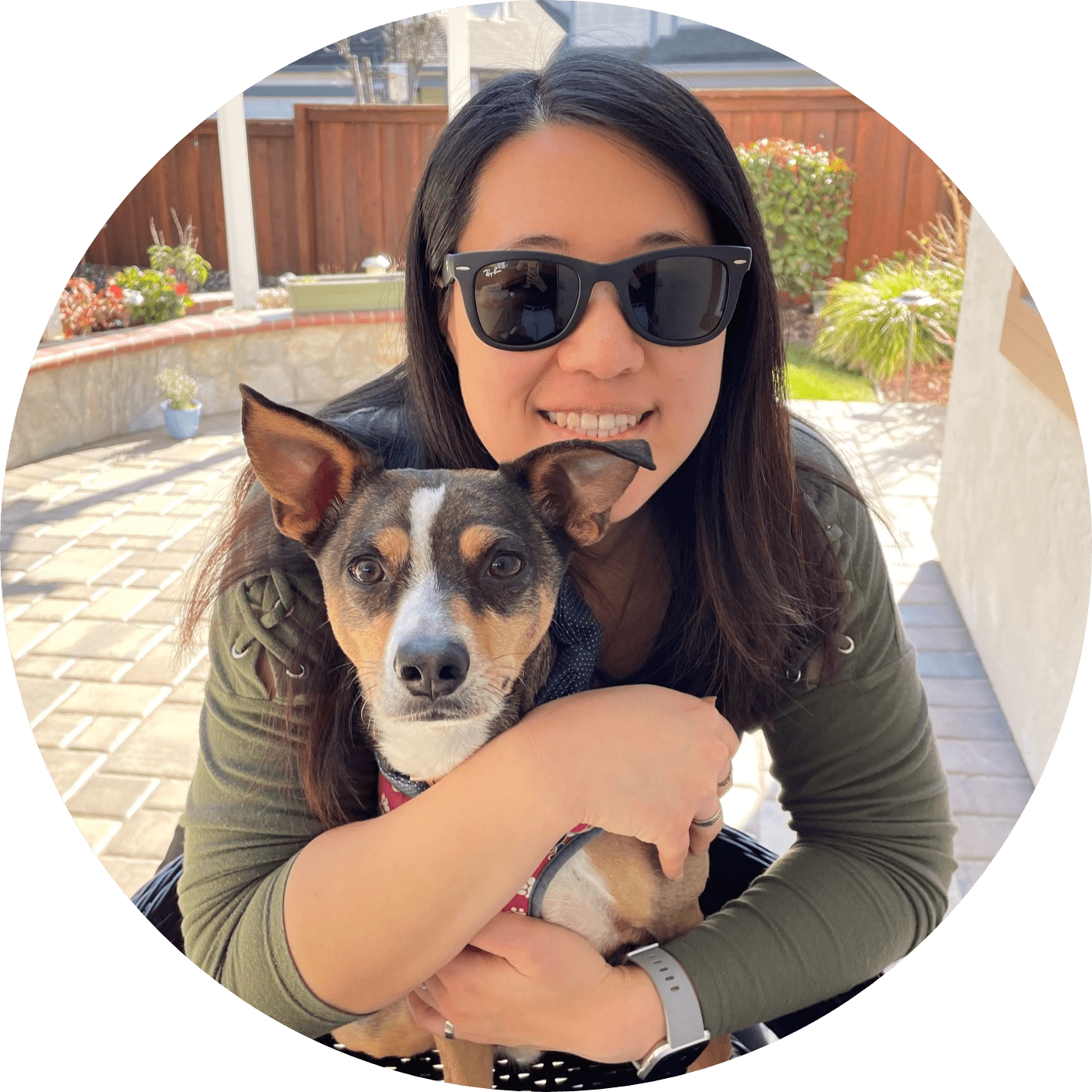 Dr. Sabrina Kong graduated from the Royal Veterinary College in England in 2016 and has been working at a small animal clinic in Northern California since then. She grew up in the Bay Area and got her bachelor's degree from Cal Poly San Luis Obispo. She also became a Certified Canine Rehabilitation Practitioner through a program at the University of Tennessee.
When she isn't in the clinic taking care of her four-legged patients, she enjoys traveling and trying new foods with her friends and her three-legged dog, Apollo. She adopted Apollo from her clinic when he was a puppy with numerous health issues. Dr. Kong truly cares about taking care of animals.