It is said that animals have feelings and emotions much like what a human might experience. For example, some dogs are terrified of fireworks and suffer from anxiety when they hear the explosively loud noises.
Other pets suffer from stress and anxiety on a routine basis and may have anxiety attacks at any given time. Thankfully, there are things we can do to help calm our pets when those stressful activities hit. We don't have to let them suffer through it or watch while they panic. There are solutions!
Nutracalm for dogs is one such solution that minimizes anxiety and panic attacks. This tablet was designed to act fast to calm your anxious animal down. Nutracalm is a natural supplement that can be used for dogs, cats, or even horses when you need it. This formula is designed to start calming within 1 hour of use – and it's not a sedative!
In this review, we will dive deeper into this Nutracalm for dogs product, discovering just what it's all about and whether or not it's really worth a try. We have a lot of information to cover and we think you might just be surprised at the results.
Stick with us to learn all about the Nutravet Nutracalm for dogs in an extensive review.
What is Nutracalm?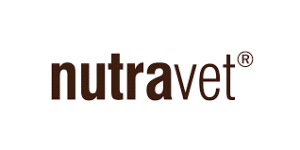 Nutracalm is a product created and offered by Nutravet. Nutravet is a British veterinary company that came together to develop natural products for animals. They were founded in 2008 and they have a myriad of products that are all designed to provide natural solutions.
These products include Nutracalm as well as other things like joint support, probiotics, liver support, inflammation, and more. Their products are sold only at veterinary practices, they cannot be found on Amazon, pet shops, or other online retailers. They can, however, be purchased without a prescription.
Nutracalm for dogs was developed as a mechanism to calm stressed or fretful pets without any added sedative effect. Here are some of the things Nutracalm for dogs may be beneficial for.
Vet visits
Kennel stays
Separation anxiety
Traveling
Loud noises
Routine changes
Fireworks
Thunderstorms
These are just a few examples of when your dog may need a calming mechanism like Nutracalm. If there is something not on this list that causes stress or anxiety for your dog, Nutracalm should help.
One of the best things about Nutracalm for dogs is the use of natural ingredients. You don't have to worry about what you're pumping into your pet's body and whether or not it will have an adverse reaction. Additionally, this formula is not a sedative so you can calm your dog without just making it sleepy.
This formula was designed to be strong and fast-acting. The ingredients are high-quality and you can administer this to your pet quite easily. The capsule can be opened and sprinkled over food if that's the easiest way to get your pet to take it.
Nutracalm Ingredient Review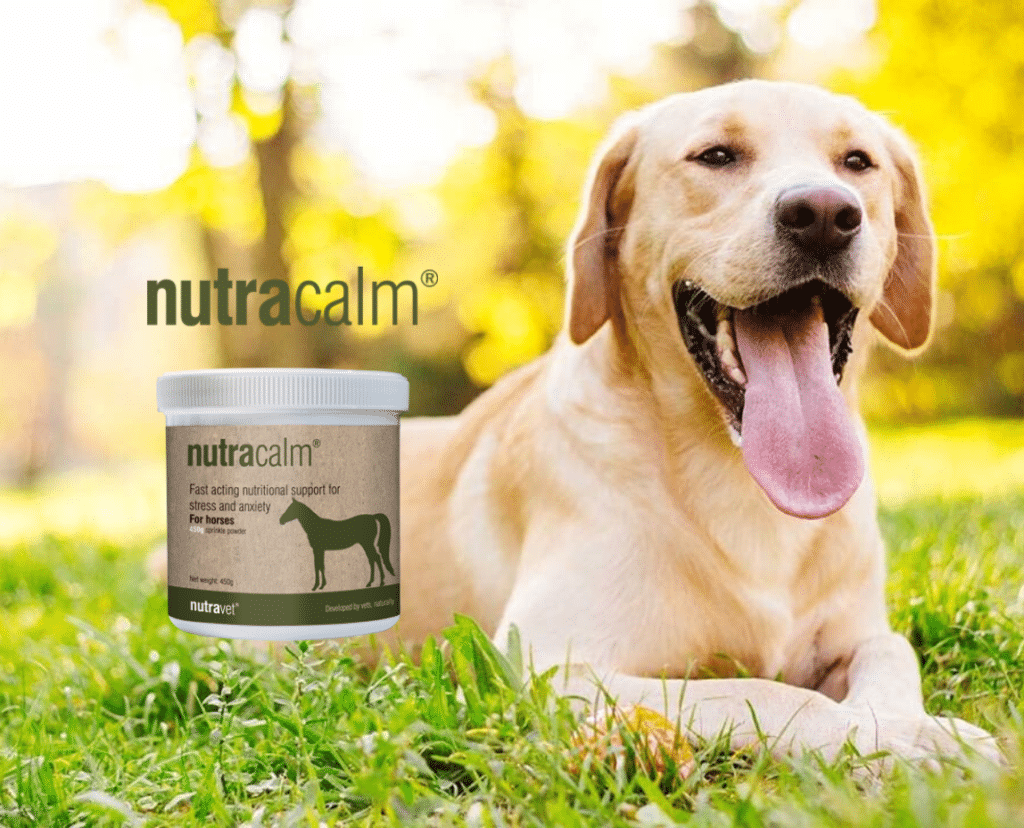 Any medicine product can claim to be all-natural but then not truly be natural. This is not so of Nutravet Nutracalm for dogs. It really is made with natural active ingredients and doesn't contain a bunch of fillers for the capsule either.
The primary ingredients in Nutracalm for dogs are:
L-Tryptophan
GABA
L-Theanine
Passiflora Incarnata
B Vitamins
If you're looking at this list, it's quite possible these terms mean nothing to you. They're just terms that you have no idea what they mean. So, let's discuss each of these ingredients a bit further.
L-Tryptophan
This ingredient is a natural amino acid. Each Nutracalm capsule contains 150 mg of L-Tryptophan that is 99% pure. This amino acid is found in proteins that are closely related to the production of Serotonin. Serotonin is a hormone in the system that relieves both stress and aggression tendencies.
L-Tryptophan also created Niacin, which is another player in Serotonin that helps control both mood and sleep in dogs. The benefits of this particular ingredient include improved sleep quality, emotional well-being, anxiety relief, depression relief, and improved behavior.
GABA
GABA affects the neurotransmitters of the brain, relaxing the nervous system. GABA is short for gamma-aminobutyric acid. It is a chemical that's made in the brain that directly communicates to the central nervous system. Nutracalm for dogs contains 100 mg that is 99% pure.
GABA calms the activity of the nerve cells, which in turn calms anxious behavior that is caused by excessive activity from these nerve cells. The benefits of GABA is the relaxation of your cat or dog's nervous system and anxiety reduction.
L-Theanine
L-Theanine is another amino acid, it's often found in Green Tea and it affects the Dopamine transmitter function in your dog. Nutracalm for dogs contains 100 mg that is 98% pure in each capsule.
L-Theanine is primarily used for the natural calming in pets like dogs. It is one of the most important ingredients for calming purposes.
Passiflora Incarnata
This particular ingredient is also commonly known as passionflower extract. It is known for reducing tension and relaxing. Each tablet contains 50 mg of this natural extract.
The passionflower extract coordinates with the GABA to calm the brain receptors, leading to a relaxed pet that is not nearly as tense or anxious. This is great for calming your dog of anxiety or panic attacks.
B Vitamins
Nutracalm for dogs contains Inositol as well as Vitamins B1, B3, B6, and B12. These vitamins are added because they improve the health and integrity of the neurotransmitters in the brain so that they function at the appropriate level.
These vitamins are each in low dosages of either 10 or 15 mg per vitamin.
All of these ingredients combined together are what make the Nutravet Nutracalm for dogs so effective. Remember that all of these ingredients are pure and natural so you aren't pumping your dog full of chemicals.
Everything used in this formulation has been carefully chosen and studied for its effects.
Does Nutracalm Really Work for Dogs?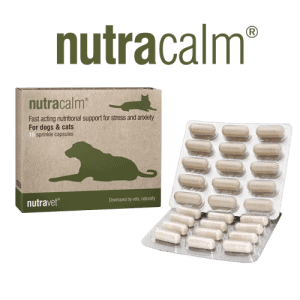 Nutracalm for dogs is very effective for use in anxiety situations. It may not help with static behaviors, depending on the situation. If you know your dog is going to be facing a stressful situation, that is the best time to use Nutracalm and you should administer it 2-4 hours before the stress would occur.
Nutracalm for dogs is not fail-safe and it may not work for every pet situation. If your dog is anxious and stressed every single day, Nutracalm might not be the ideal long term solution. It can be used long-term but it seems to be more effective for use on a case-by-case basis.
Nutracalm is a great coping mechanism for stressful times for your dog and you will notice that it doesn't make your dog sleepy or lethargic when you use it, which is perhaps one of the best benefits of using this supplement.
This solution is perhaps best meant for treating anxiety or stressful situation and treating them quickly.
How Long Does Nutracalm Last for Dogs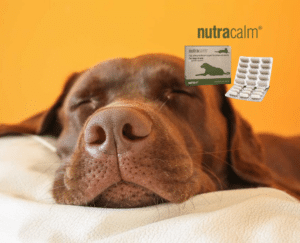 Nutracalm fro dogs can affect each dog differently. One pack comes with about 15 capsules and dosage varies depending on the size of your dog. Most dogs can be treated with 1-2 capsules but bit dogs (25+ pounds) require 3-4 capsules.
Overall, one Nutracalm dosage should last for about 18 hours on average.
Remember this could vary based on your dog and their anxiety as well as the extent of the circumstances involved.
How Long Does Nutracalm for Dogs Take to Work?
Nutracalm is meant to be fast-acting. It is stated to working with 1-2 hours. It's a high-strength approach to calming an anxious pet. It can be administered when the pet is already anxious or when you know a situation is coming that will cause anxiety.
Is Nutracalm a Good Option?
Nutracalm is an all-natural stress treatment. It appears that is works best on a case-by-case situation rather than used for typical behavioral issues. It's very effective when used for stressful situations.
Nutracalm for dogs may be hard to find since you have to get it from an authorized veterinarian. A prescription is not required but you will not find this supplement for sale online or at your local pet store.
One of the best things about Nutravet Nutracalm for dogs is that it is all-natural and does not have any ill side effects. It does not contain sedatives so your dog will not be sleepy or lethargic, they will just be calm in an anxious situation.
There are many great benefits to Nutracalm, here are a few.
Fast-acting (no more than 2 hours)
Reduces stress naturally
Calms the treated animal
High-strength formula
No sedative effects
No negative side effects
Easy to administer
Conclusion
If you're in the market for a good solution for your pet when you need it, Nutracalm is a good option. It works quickly and naturally to relieve the stress your dog may be feeling when faced with changes, loud noises, or other stressful situations.
If you know a nerve-wracking situation is approaching, you can prepare and treat your dog ahead of time or you can treat your dog when it hits and knows that the calming will come quickly (within 1-2 hours).
This solution doesn't appear to always be effective for day-to-day behavioral treatments but it is effective for tension and anxiety when needed. It's safe, natural, and reliable.
Other articles you might like: