Dogs are like family, and we want to make sure that we take care of their health.  One important aspect of pet health is ear care. Dogs can get ear infections much like a human can. Thankfully, there are treatment solutions for your dog's ear. Zymox Ear Solution for dogs is one of the best solutions that a majority of the pet owners in the world use. Zymox was designed to treat outer ear infections for dogs. 
In a hurry? The Top 3 Zymox ear solutions for dogs are below. We recommend that you pick the Zymox Plus Otic-HC if your dog has an ear infection.
Zymox ear solution isn't only used for ear infections, but it is also used for keeping your dog's ear clean and healthy.  In the case of an ear infection, Zymox is gentle and will provide extremely soothing relief for your dog.
In this review, we will cover everything you need to know about Zymox ear solutions, including how it works, the benefits, the ingredients, and potential side effects.  With over 5,000 reviews on Amazon, you'll want to stick with us to learn the most important information in our Zymox Ear Solution for Dogs Review!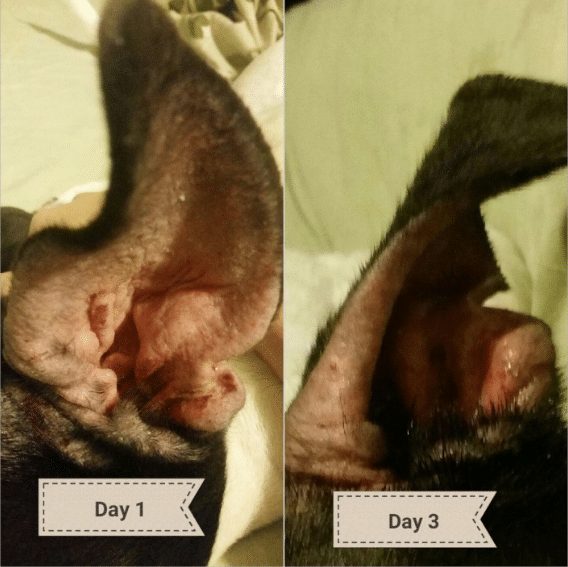 What is the company Zymox?
Zymox is a pet company that falls under Pet King Brands which is essentially a large pet company. The company Zymox is focused on helping pets find relief from all types of ear, skin, and mouth conditions. They are most famous for their ear care solutions and treatments. Zymox and Pet King Brands are committed to effective products for the most common problems without the concern of side effects.
What is Zymox for Dogs?
Zymox for dogs comes in three primary forms. Zymox offers an ear solution that contains a small amount of hydrocortisone (most famous for the ZYMOX Plus OTIC-HC). They also offer an ear solution that does not contain the hydrocortisone. These two products are designed by Zymox and Pet King Brands to clean the ear, treat allergies, and fight bacteria or fungus in your dogs ear.


Zymox ear solution with hydrocortisone has the additional benefits of also fighting inflammation and treating itchy or smelly ears. The Zymox ear solution has the additional benefits of being appropriate for pregnant or lactating dogs, treating occasional occurrences, and for maintenance and prevention purposes.
The other product is the Zymox Ear Cleaner. This product is designed for cleaning purposes. We're primarily focusing on the ear solution in this review, but I wanted to touch on this product as well so you know your options. The ear cleaner is a great product to clean out your dog's ears if they are prone to ear infections.
The Zymox enzymatic ear cleaner is also great for humid environments or swimming as well as being the perfect solution for cleaning dirty ears and providing a solution for maintenance and prevention purposes.
All of Zymox's enzymatic ear solution products are designed to be gentle and non-toxic. They can be used on dogs of all sizes. The formula takes an enzymatic approach that contains 3 bio-active enzymes. The combined enzymes work as an antimicrobial defense within the dog's ear.
Benefits of Zymox for Dogs
The Zymox enzymatic ear solution offers a lot of great benefits when it is used correctly. We will share some tips for how to properly use the solution here in a bit but we thought it important to cover the benefits so you know it's worth your while to continue reading this review. Here are some of the most notable benefits of Zymox for dogs:
Limited side effects reported
Natural enzymatic treatment for ear infections and cleaning
Treats both inner and outer ear infections caused by bacterial, yeast, or fungus
Can be used on dogs of all sizes
Can be purchased with or without hydrocortisone
Soothing and gentle treatment
Effective when pus or debris is present in the ear
Treatment is non-invasive and requires no cleaning
As you can see from the benefits, the Zymox enzymatic ear solution product was designed for a simple yet effective treatment for your dog's ear. It really is that easy and uses natural products are gentle. Zymox has even created solutions for dogs that may be sensitive to hydrocortisone (like a lactating mother).
This is the perfect solution when your dog deals with acute or chronic ear infections. The treatment is most reliable for outer infections but can be used for inner infections as well. Some of the information we dug up for the review points to inconsistency when the dog has a severe ear infection.
However, if you're paying attention and watching the signs, you will know when to treat your dog before the ear infection gets too severe and hopefully not have any issues. The benefits and simplicity of this treatment make it one of the top solutions on the market.
Zymox Ingredients & How it Works
Zymox ear cleanser contains a very simple compound that is enzyme-based (they call it "enzymatic" on the bottle and for marketing purposes). The active ingredients include Benzyl alcohol, dextrose, glucose oxidase, glycerin, hydroxypropyl cellulose, lactoperoxidase, lysozyme, Potassium Iodide, propylene glycol, purified water, and .5% hydrocortisone. The solution that is hydrocortisone-free contains all of the same ingredients, but obviously without the added hydrocortisone.
Because this solution is designed with natural enzymes, it works in a unique way. When these enzymes combine, they are quite powerful for antimicrobial purposes.
The 3 active enzymes are the following:
Glucose oxidase
Lactoperoxidase
Lactoferrin
What happens is each of these has its own unique functions, but combined they make a powerful fighter against ear infections that are related to yeast, fungus, or bacteria. They form antimicrobial ions and a protein that fights the growth of microorganisms by depriving the oxygen for their growth.
The combined efforts of these enzymes cause the microorganisms to not be able to grow and flourish while the enzyme Lysozyme kills bacteria and the formation of bacteria. The reason hydrocortisone is added is to reduce itching as well as inflammation.
Tips for Using Zymox Ear Solution
As with any type of medication or treatment, there are do's and do not's for using Zymox for your dog. If you follow best practices, you will find that Zymox ear solution will work quickly and simply.
Zymox requires a once-daily application while using for treatment. First off, you should understand that there are things you should specifically NOT do for effective ear treatment solutions. Here are a few do not's for you to keep in mind if you use Zymox ear cleanser for your dog.
Do not clean the dog's ear before or after use in order to let the enzymes do their work
Do not combine Zymox with other topical treatments or cleaners
Zymox is intended for pets only
If your dog's eardrum is punctured, you should seek professional treatment
Pregnant and lactating females should use the hydrocortisone-free options
When using Zymox, do not allow water in or around the dog's ears
If treatment seems ineffective, do not continue using
Most of these do not's seem like common sense but it's still important to know and understand the details to provide you and your dog the highest likelihood of success with the use of Zymox enzymatic ear solution.
Now, let's talk about the proper use of Zymox ear solution to get your dog better quickly.
Read all instructions and know the appropriate dosage and application procedures.
Shake the bottle well before use.
Gently lift the ear or prepare the dog however necessary.
Using your dominant hand apply drops to fill the ear canal.
Gently massage the area to help work the drops in.
Wipe around the outside of the ear to clean up any excess or other liquids.
Once the drops have filtered in, allow the dog to shake their head.
Repeat this process once a day for 7 days.
It's simple! Depending on how your dog responds to ear drops, you may need an additional person to help you hold the dog or apply the drops in the gentlest way possible. Remember that they are probably experiencing some discomfort if they have an ear infection.
Zymox Ear Solution Side Effects
There are no known or reported side effects from the use of Zymox ear solution, be it the cleanser, solution, or cleaner. However, it is a treatment, and therefore if you notice any type of discomfort, increased swelling, or irritation while using Zymox you should stop using it and reach out to your local veterinarian. While no side effects have been noted, you know your pet so watch them for any unusual reactions.
Final Verdict: Why You Should Buy Zymox
If you do any basic research, you will notice that Zymox is one of the most highly recommended ear solutions for treating or cleaning your dog's ears at home. It's a simple and safe solution that works in a gentle way to make the cleansing process as painless as possible for your canine friend.
Other articles you might like:
Zymox Frequently Asked Questions
Which Zymox product should I use?
We strongly recommend the ZYMOX Plus OTIC-HC because it contains the enzymatic functions and hydrocortisone which provides the most all-around benefits. The only reason I wouldn't use this one is if my dog was pregnant.
What Do I Do if I Just Cleaned My Dog's Ears?
Zymox recommends waiting 24 hours after cleaning your dog's ears so that the enzymes will be able to work as they are intended.
If My Dog is on an Antibiotic Can I use Zymox?
As long as the antibiotic is not a topical application and is taken orally, you should be able to use them at the same time. We do not recommend Zymox with any other topical solutions.
Garrett loves animals and is a huge advocate for all Doodle dog breeds. He owns his own Goldendoodle named Kona. In addition, he volunteers at the Humane Society of Silicon Valley, where he fosters dogs and helps animals. Garrett enjoys writing about Doodles and believes that dogs can teach humans more about how to live than humans can teach a dog.
Why Trust We Love Doodles?
At We Love Doodles, we're a team of writers, veterinarians, and puppy trainers that love dogs. Our team of qualified experts researches and provides reliable information on a wide range of dog topics. Our reviews are based on customer feedback, hands-on testing, and in-depth analysis. We are fully transparent and honest to our community of dog owners and future owners.