Are there dogs who have trouble with their weight? We've probably all seen the Dachshund who looks like he's about to pop from being too heavy or an emaciated dog who needs special care to put some pounds on.
Either condition – being underweight or overweight – can take up to 2 ½ years from a dog's life. It's important that you solve the issue and get your dog to a healthy weight.
So let's learn about the symptoms to watch for in an underweight dog and an exact plan to move forward and help them gain weight. But first, we will answer the question of how long it takes for a dog to gain weight. It's really not a simple answer and depends on many factors such as your dog's breed, how underweight they are, and how many pounds they need to gain. In general, it will take several months of a constant routine to help your dog gain a significant amount of weight. A rule of thumb is that a large dog will take 3 to 4 months to gain 20 pounds. Smaller dogs could take up to 3 months to gain 10 pounds, depending on how skinny they are to start.
Before scrolling down this guide, check out these related topics: How to Make a Dog Gain Weight Fast in 7 Ways!
How long does it take for a dog to gain weight?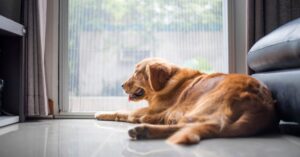 It depends on the dog's age, health, environment, stress level, and current weight among other things. When you're armed with the right information, you can move forward with a plan you and your veterinarian can agree on.
It may take up to six months for a skinny dog to gain up to 20 lbs. Or it might only take a month to start seeing results from an otherwise healthy dog who is only slightly underweight. Your dog may also gain weight for a couple of weeks, stop for a period of time, and then continue gaining weight again. A dog's weight tends to fluctuate exactly as a human does.
Don't worry. There are avenues and solutions available to help you pinpoint what your dog is going through if he needs to add weight. There may be a few more hurdles if you've rescued an abused or homeless animal, but you probably knew what you were signing onto when you adopted your dog.
They might just need a little more patience from you if they're facing an underweight issue.
How to Regulate Your Dog's Weight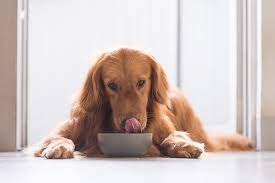 1. Make a game plan with your veterinarian. They're the experts and so are you. You'll see your puppy daily so you're the best person to monitor his weight fluctuations. Ask your vet about which food, what portions, and how often you should be feeding your dog.
Also ask about supplements. Although the average dog food generally has the recommended daily amounts of vitamins and minerals your dog needs, your one-of-a-kind canine may have other issues to be considered that could benefit from supplements.
2. Educate yourself about dog nutrition. Fortunately, we have the world at our fingers thanks to the Internet. You are the best advocate for and protector of your dog so learn what makes his body function at its maximum capacity.
3. Read labels. All dog food isn't alike and there is no regulatory guidance for what it consists of. Get accustomed to learning what your dog is actually eating.
But remember, while the ingredient list is set in stone, the feeding frequency is only a suggestion. That's something you and your vet will decide for your particular dog.
4. Stick to a feeding schedule. Feeding your dog at different times every day doesn't do him any favors. Just like us, keeping regular times to eat (8 am and 5 pm? 6 am and 3 pm?) will ensure you're doing what you can to help control his weight.
5. Monitor your sweetie. Keep an eye on your dog's weight. You may want to schedule monthly visits to your vet just to have your dog weighed in the beginning. It's tough to notice weight gain (or loss) when you see him on a daily basis, but we'll talk about symptoms to watch for now.
6. Feed him weight gain snacks. They can supplement your dog's diet without adding useless calories and instead focus on giving animals a healthy way to gain weight. They're nutrient-dense so make sure you keep your vet in the loop so he or she can regulate how much of one food he's getting and to let you know how many weight gain snacks to give him.
What Are The Signs a Dog Needs to Gain Weight?
There are some clear signs that a dog is underweight or needs to gain weight. These signs are:
Depression
Poor eating habits
Dull, dry, or shedding coat
Also, watch for signs of them picking at their food, having irregular bowel movements, drinking too much or too little water, and any signs of pain. These could be symptoms of having a weight gain issue.
Reasons Why Your Dog Could Be Underweight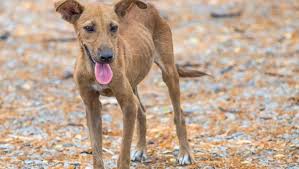 1. Homelessness – If you've rescued a stray, it could be he just hasn't been able to eat enough. Homeless dogs usually don't get proper nutrition.
2. Internal and/or external parasites – Roundworms, hookworms, and tapeworms can take necessary nutrients from a dog since they live in the intestinal tract. Fleas and ticks can cause anemia if he's infested with them which can affect weight.
3. Health issues – Diabetes and kidney or liver disease are just two conditions that can affect a dog's ability to gain weight.
4. Not getting proper nutrition – It's imperative a dog gets the necessary nutrients he needs in order to maintain a healthy weight. If they've consumed food that contains mostly fillers, it could pose a problem.
5. It's age-related – Older dogs sometimes begin to slow down with the amount of food they consume due to changes in hormones, metabolism, or they could even have dental issues.
Puppies need different amounts of food than adult dogs so you could be inadvertently underfeeding them.
6. Stress/Anxiety – If a dog comes from an abusive situation or has gone through another type of traumatic experience, it can affect his eating habits.
7. Picky eaters – You may have had experience with a diva dog who will only eat particular foods. This can cause frustration for your 4-legged best friend and you, too.
8. From eating low-quality dog food – Generally, the product you buy from stores other than pet-related companies can contain less protein and fat than your dog needs. It's one of the reasons why the foods with the best ingredients are more expensive.
These issues need to be addressed by you and your vet since they're not easy to tackle alone. And try to keep a list of:
1. What your dog's eating
2. His bowel habits
3. His exercise routine
4. Any significant changes in behavior (lethargy, scratching, withdrawing from activities he'd normally love, etc.)
5. Be sure to keep track of any food-protective or guarding behavior they may display and any anxiety or fear. It might help you and your vet know if there's a mental illness that might be affecting his or her appetite.
6. Notes that describe your dog's body language when he's enjoying his food. This will help you read him easier if he stops enjoying his food.
Conclusion for How Long Does it Take for a Dog to Gain Weight?
Dogs mimic us when it comes to weight gain and how it affects health. If we don't get the proper nutrition we need, things will eventually start breaking down in our minds and bodies. How long it takes for your dog to gain weight depends on so many different variables, but oftentimes it will take up to a few months of a constant routine with your veterinarian.
Our dogs are similar in that the nutrition they get affects everything from their fur to their teeth.
Work closely with your vet to create the best plan for your dog to gain weight. Having an advocate as you navigate your way through nutritional facts and exercise regimens (yes, dogs who need to gain weight still need to exercise) will help you help your dog.
This will give him the best shot at having a long and healthy life. Although they don't live forever, don't we wish, you'll almost certainly extend his life by giving him the guidance, food, and exercise he needs. It's a small way we can repay them for everything they do for us.
You will also like:
Garrett loves animals and is a huge advocate for all Doodle dog breeds. He owns his own Goldendoodle named Kona. In addition, he volunteers at the Humane Society of Silicon Valley, where he fosters dogs and helps animals. Garrett enjoys writing about Doodles and believes that dogs can teach humans more about how to live than humans can teach a dog.
Why Trust We Love Doodles?
At We Love Doodles, we're a team of writers, veterinarians, and puppy trainers that love dogs. Our team of qualified experts researches and provides reliable information on a wide range of dog topics. Our reviews are based on customer feedback, hands-on testing, and in-depth analysis. We are fully transparent and honest to our community of dog owners and future owners.