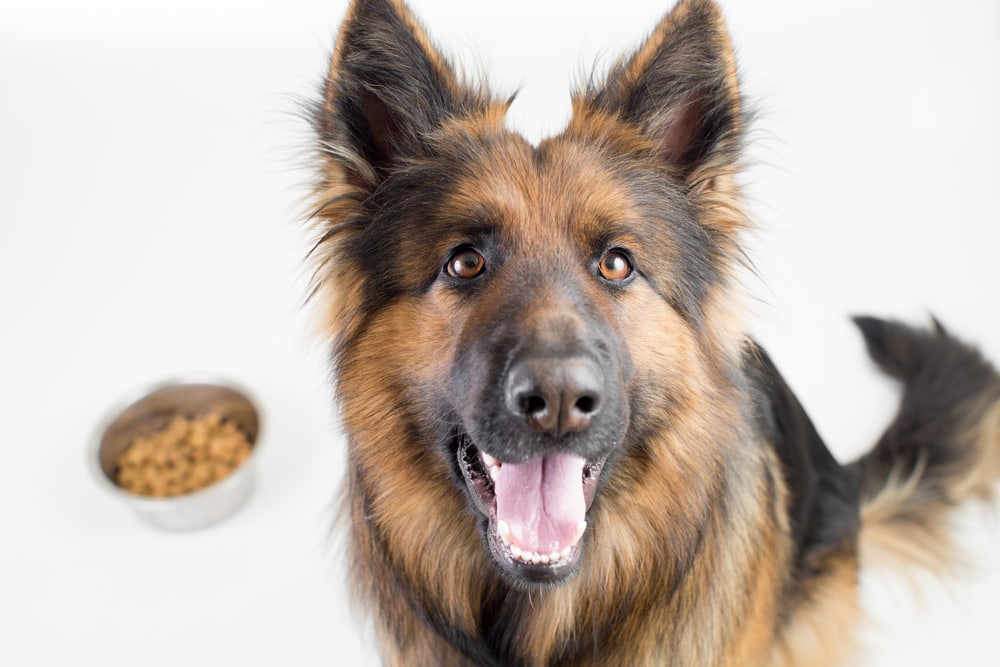 The German Shepherd is one of the most energetic and active dog breeds there is. If you're a German Shepherd owner, you'll know that these dogs can run for miles without even getting tired. This means that they burn a lot of calories and fat, meaning that they can get very skinny despite feeding them the right amount of nutrition.
While your dog might not be malnourished, a skinny German Shepherd can be an issue especially if they are growing. A too skinny dog can also be susceptible to health conditions such as weaker bones and joint troubles.
These two issues can be detrimental to German Shepherds because they won't be able to fulfill their active lifestyle. This can also lead to depression, hair loss, or skin disease.
Luckily, there is an easy solution to your dog losing too much weight. They simply need a better diet to help them gain weight. We have found the five best dog foods for a German Shepherd to gain weight.
We've also compiled a list of important factors to consider before committing to purchase your dog's new diet to ensure that you get the best option out there. This is listed below our recommendations, so stick around until the end!
Product
Best Overall
Bully Max High Performance Super Premium Dog Food
Runner-up
CRAVE Grain Free High Protein Adult Dry Dog Food
Maximum Bully Elite K9 Nutrition Chicken And Pork Dog Food
Image
Starting off our list is a premium dog kibble from Bully Max. The formula is made up of only meat rather than plant-based ingredients, giving it a higher protein content and making it ideal for a German Shepherd to not only gain weight, but also muscle
The additional meat within the formula also allows puppy food to contain more calories than any other dog food in its class. With 535 calories per cup, it's almost certain that this food will have a higher calorie content than your dog's current food, allowing them to gain weight easily.
Plus, the great calorie content means that you will only have to feed your German Shepherd 50% less food, giving the bag better value for money and lasting longer. With a 30/20 ratio for protein and fat, Bully Max has created an excellent formula designed to bulk your German Shepherd up.
Next up we have a high protein dog food from CRAVE, which is inspired by the diets of wolves with all of their products. This dog food is made with only real animal protein without the less effective by-products.
With 34% of the protein in every meal, your German Shepherd will be getting more than enough protein to enhance their muscles and gain weight. Grain-free carbohydrate sources, such as peas, are also included to keep your dog active and energized to strengthen their bodies.
The crude fat volume in a serving is 17%, which is an ideal amount to ensure that the protein is being properly digested and used within your German Shepherd's body. Zero fillers have been used, such as corn, soy, and wheat, ensuring your puppy gets the most out of every bite. This dog food will certainly fatten up a German Shepherd.
This dog food is nutrient-dense and offers plenty of protein thanks to the four sources of animal meal found in the formula. These are made from poultry, beef, pork, and fish, all of which offer different nutrients to create one super-kibble.
It is fortified with vitamins, minerals, and omega fatty acids, ensuring that your German Shepherd is looked after in more ways than one. Just because you're trying to see weight gains, doesn't mean that their health should take a backseat.
Excellent digestibility means that your dog will have to eat less to feel fuller. The 30% protein and 20% fat compares well to the Bully Max kibble we looked at earlier. This nutrient-rich dog food will help your German Shepherd gain weight.
This Maximum Bully dog food is similar to our first place spot in terms of the protein to fat ratio. With 32% protein and 22% fat, it actually offers more macronutrients and is, therefore, better value for money, as you won't need to feed your German Shepherd as much kibble. Alternatively, you can feed them the same amount of kibble to help them gain muscle.
Calories are slightly lower; however, with 491 calories per cup. This is still a great amount and will easily allow your dog to bulk up in a healthy manner. There are multiple protein sources used within the formula, ensuring your pooch gets the best of more animal meats.
Plenty of amino acids can be found in this food, which promotes muscle growth and strength, which is ideal for gaining weight healthily. Whole grains are responsible for carbohydrates, giving your German Shepherd more energy than ever.
Our last product today is another one from Purina, with a 30/20 ratio for protein and fat. This chicken and rice formula uses real chicken as the number one ingredient, ensuring that your dog gets the most protein out of every bite.
The ratio between fat and protein is ideal for fuelling metabolic needs and maintaining lean muscle. This means that your German Shepherd can exercise as much as they want, they won't lose muscle mass and therefore weight.
Amino acids are also fortified into the kibble to help keep these muscles healthy and happy so that your dog can recover fully between exercise sessions. If your puppy is aching, they won't want to work out and gain muscle!
How to Choose a Dog Food for German Shepherds to Gain Weight
The food that you've been feeding your German shepherd until now just isn't cutting it – they need something more substantial to bulk them up more than they can burn off.
To ensure that you choose a food that is going to help them, rather than a similar food to their old diet which did next to nothing, make sure to keep our advice below in mind.
Calories
An easy way to ensure that your German Shepherd gains weight is to increase the number of calories you're feeding them. To do this, check the packaging of their current food and determine their daily amount depending on how much you're feeding them.
Then take this number and bear it in mind when choosing their new food. You will have to consider where this influx of calories is coming from – protein, fat, or carbohydrate sources.
We'll be looking at these in the next section. However, to ensure that your dog gains weight, they always need to be consuming a higher number of calories.
Macronutrients
Protein and Fat
When it comes to gaining weight, it's vital that your German Shepherd gets enough protein and fat within their diet. Protein is used to make and repair muscles and body tissue, which can help them bulk up and get more muscle on their bones.
All dogs should be getting a high protein diet to keep their energy levels up as well. However, a high-fat diet is not usually recommended in dogs.
This is because they often don't move enough to burn it all and therefore the rest can be stored up within the body. This could then contribute to health concerns such as heart diseases.
However, with a German Shepherd looking to gain weight, they should be consuming a larger amount of fat within their diet. A high-fat diet will contain at least 18 to 20% fat in each portion.
This increase in fat will help the body to process the protein better so that all of it is being used to the best of its ability. Otherwise, your dog will gain fat rather than muscle mass.
So, you shouldn't feed your dog a high protein diet without it also being high in fat if you want to get the most from the protein.
An important thing to note is that a high-fat diet is not recommended for too long, as it is still linked to unhealthy lifestyles and health concerns.
So, once your German Shepherd has gained a suitable amount of weight, you should switch them back to a lower-fat diet with around 12 to 15% fat in each portion.
Carbohydrates
Carbohydrates are good sources of energy when used soon after consumption. When carbohydrates are not used after consumption; however, they are stored as fat instead. This means that a high-carb diet can also help your German Shepherd gain weight.
However, this isn't considered a healthy way to gain weight. Your dog might suffer from health conditions by consuming a surplus of carbohydrates when not using them up.
This is a topic that has German Shepherd owners divided – your dog is so active that they'll burn the fat eventually, so gaining weight with carbohydrates isn't that bad for them, right? Some people say yes, others say no.
Either way, German Shepherds need enough carbohydrates to give them the energy needed to gain muscle. So, your dog food should not neglect its need for carbohydrates.
Filler Ingredients
Some manufacturers want to save money wherever possible, adding filler ingredients to the formula so that they don't have to spend so much on high-quality ingredients such as chicken and vegetables.
However, fillers do nothing for your dog's nutritional needs and won't contribute to their weight gain. Fillers can actually stop your dog from gaining weight due to the fact that you think you're feeding them more than you really are.
Fillers can make your dog bloated rather than gaining weight. Giving your dog a cup of kibble with fillers compared to a cup of kibble without fillers, they will gain more weight with the second food.
This is due to the filler-free kibble having more protein, fat, and carbs within it, your German Shepherd will gain more weight than food that half of the ingredients will automatically turn to waste products in the digestive system.
So, fillers should always be avoided when trying to gain weight on your dog. Remember, bloating is not the same as weight gain and it should be avoided in an agile breed like a German Shepherd.
Conclusion for The Best Food for a German Shepherd to Gain Weight
German Shepherds are one of the most active dog breeds in the world which means that you will need to watch their weight, especially if they are growing.
We researched and found the 5 best dog foods for a German Shepherd to gain weight. In general, you'll want a high-calorie dog food that is right in protein and fat.
Additionally, you'll want to read the label to make sure that there are not any filler ingredients like wheat, soy, or artificial preservatives.
Other articles you might like:
Frequently Asked Questions
Why is my German shepherd so skinny?
The right diet is a common reason why German shepherds are so skinny. Another reason might be that they have an untreated illness.
If you feed your dog one of these foods above and still see no improvement, you should consult a veterinarian to make sure that nothing sinister is causing the weight loss.
Garrett loves animals and is a huge advocate for all Doodle dog breeds. He owns his own Goldendoodle named Kona. In addition, he volunteers at the Humane Society of Silicon Valley, where he fosters dogs and helps animals. Garrett enjoys writing about Doodles and believes that dogs can teach humans more about how to live than humans can teach a dog.
Why Trust We Love Doodles?
At We Love Doodles, we're a team of writers, veterinarians, and puppy trainers that love dogs. Our team of qualified experts researches and provides reliable information on a wide range of dog topics. Our reviews are based on customer feedback, hands-on testing, and in-depth analysis. We are fully transparent and honest to our community of dog owners and future owners.