We all know what we're getting ourselves into when we get a dog. Yes, we're going to have to clean up their messes. 
However, such a taboo subject is hardly ever talked about, and therefore new dog owners don't know exactly how much they're signing themselves up for.
If you're a new dog owner and you find that your dog's poops are much larger and more frequent than you first thought they would be, there are a few things that can do. 
For starters, the size of your dog will affect what their mess looks like.
For example, Russell Terrier's poops will be much smaller than a Labrador Retrievers. If your dog is producing large poops it could just be a large dog breed. 
However, if you think that your dog is producing messes that are too big or frequent for their body, you might be able to alter this with their diet.
The number of times your dog poops might be due to what they are eating and how much they're eating. 
You can work out how much your dog should be eating and modify their meals accordingly. Just make sure that you're feeding them enough so that they don't become underweight.
If you know that you're feeding your dog the correct amount of food, you might need to adjust their diet. 
Sometimes dogs poop more often because they're not eating food that agrees with their digestive system. Other times, the food that you're feeding them could be increasing their metabolism.
Below we have listed the best dog food for less poop so you won't have to pick it up as often. We also have a buyers guide and answered some frequently asked questions at the end of the article so stick around for them.
In a hurry? Here are our top picks!
Product
Best Overall
Blue Buffalo
Runner Up
Stella & Chewy's
Budget Pick
Hill's Science
Image
We know that picking up poop is not why you adopted your cute little puppy, and it can become tiresome if it seemingly never ends. 
For this reason, we understand that you might just want to know the best food right away to reduce their pooping. 
We like the Blue Buffalo Wilderness High Protein Natural Adult Dry Dog Food the best, and we think that it has a great chance of stopping your dog from pooping so much. 
Here are a few reasons as to why:
There is at least 30% protein in each serving. 

Blue Buffalo is a trusted manufacturer of dog food.

Ensures that your dog fills fuller for longer.

There are no filler ingredients within the dog food recipe.
The 5 Best Dog Food to Produce Less Poop
In this section, you will find all of our recommendations for dog food to reduce pooping. 
We will provide detailed overviews of each dog food and review the ingredients involved in the food.
Kicking off our list is a dry kibble from Blue Buffalo, a highly regarded dog food manufacturer. 
Dry food is always best if your main goal is to stop your dog from pooping as much as you won't have to feed them as much for them to get full. The less food in their system, the less you have to clean up later. 
Protein is also very important when it comes to finding food that is going to reduce pooping. As your dog will be running the majority of the protein off – provided they are offered a large space to exercise – they won't be pooping as much of it out. 
We love this kibble so much because it has 30% protein in every serving which is very high compared to other dog foods.
There are no difficult to digest ingredients such as corn, soy, or wheat, and there are no artificial flavors or preservatives either. This ensures that the dog food is actually useful to your dog rather than passing straight through their digestive system. 
Choose between three high-quality sources of protein.
These dinner patties from Stella & Chewy are made from 95% meat, so you already know that they're packed with protein and useful nutrients for your dog.
There is a minimum of 44% protein in every serving! There is also a maximum of 5% fiber, which is something that you should avoid if you want to stop your dog pooping so much. 
Foods with high fibers will increase the number of times that your dog poops per day.
The manufacturer ensures that there are zero filler ingredients or added antibiotics or hormones. You know that your dog is only eating what is best for them – meat. 
These patties are also supposed to offer your pet better digestion which will help reduce pooping as well.
After the meat, all of the other ingredients are either vitamins, minerals, or important nutrients. These ingredients will help your dog live life to the fullest without you having to chase behind them with a little black bag. 
It's a great dog food for less poop.
Next up is a dry kibble from Hill's Science, which is another well-known brand for making excellent quality dog food. 
This dry dog food has been made specifically for dogs with sensitive stomachs and skin, meaning that it is easily digestible.
As the food can be digested in your dog's body without any issues, more of the ingredients will be put to work and therefore less will be left as waste. The added prebiotic fiber is also good for fuelling beneficial gut bacteria.
All of the ingredients found within this dog food are high-quality and natural, meaning that there are no fillers or useless ingredients. 
The kibble is enriched with enough omega 6 fatty acids to maintain a healthy coat, but not too much that it will increase their pooping. 
If your dog has a sensitive stomach, this is one of the best dog foods to produce less poop.
The Whole Earth Farms dry dog food is another option for you to consider, which is enriched in protein thanks to multiple sources being used in one formula. 
There are at least two protein sources in each flavor option, if not three. This ensures that there is a minimum amount of 24% protein in every serving.
With a minimum of 14% fat and a maximum amount of fiber at 3.5%, this food offers your dog just enough of each group without becoming overwhelming for your dog's body. This means that you won't need to clean up after them as much thanks to too much of one food group.
There are zero grains used within the recipe, ensuring that your dog is only eating high-quality ingredients with an actual purpose for their benefit. 
There are also added vitamins and minerals to ensure they remain in good health. With quality ingredients, this dog food will also help make your dogs poop firmer.
Wellness Core offers you the chance to choose whether this kibble comes with zero grains added, or only wholesome grains. 
While the latter is better than useless grains, we would still advise you to opt for the grainless recipe to avoid excess poops.
As well as being grain-free, the manufacturer also ensures that the formula for this food is also with limited ingredients. This allows dogs with sensitive stomachs to be able to eat it without falling ill.
Plenty of protein is used alongside superfoods to offer your puppy a balanced diet with all of the necessary nutrients they need. 
As there are no useless ingredients, your dog will only need to poop minimal amounts of food that has been used up in the body. It is also a dog food that reduces poop smell due to the ingredients.
Best Dog Food for Less Poop Buyers Guide
Now that you know what the best dog food for less poop is, let's take a look into what you should look out for when choosing your dog's new diet.
It's very important to note that not every dog isn't the same and they won't respond to every new dog food. So, don't get discouraged if your dog doesn't stop pooping so much after trying one new food change.
To avoid switching foods every couple of weeks, we have compiled a list of the important factors to consider when choosing your dog's food. 
Research is vital when it comes to feeding your dog, and with our buyer's guide, you'll know exactly what to look for.
Quality
The higher the quality of your dog food, the less likely it is that it will be full of filler ingredients. 
Filler ingredients can be bad for your dog's digestion as they're much more difficult to break up than high-quality ingredients.
As the filler ingredients don't offer any nutritional benefits for your dog, their stomachs are not designed to accommodate them. 
For this reason, the fillers travel straight through your dog's system and create more poop for you to deal with.
If you want to avoid having to clean up so much dog mess, stay away from filler ingredients. The worst to look out for is cellulose, which is another name for sawdust. 
Others include cereals and grains, such as corn, wheat, and soy.
Fiber Content
Fiber is a good ingredient for dog food focused on dieting your dog to help them lose weight. Want to know why this is? Because it makes them poop much more often! No wonder they're losing weight.
Some dog foods on the market can house up to 30% fiber, which is way too much if you want to stop such frequent poops. Look for foods with smaller amounts of fiber, usually no more than 10 to 15%.
Fiber is necessary for your dog's diet, but they do not need much unless they are overweight. Be cautious of ingredients that are high in fiber.
Lots of Protein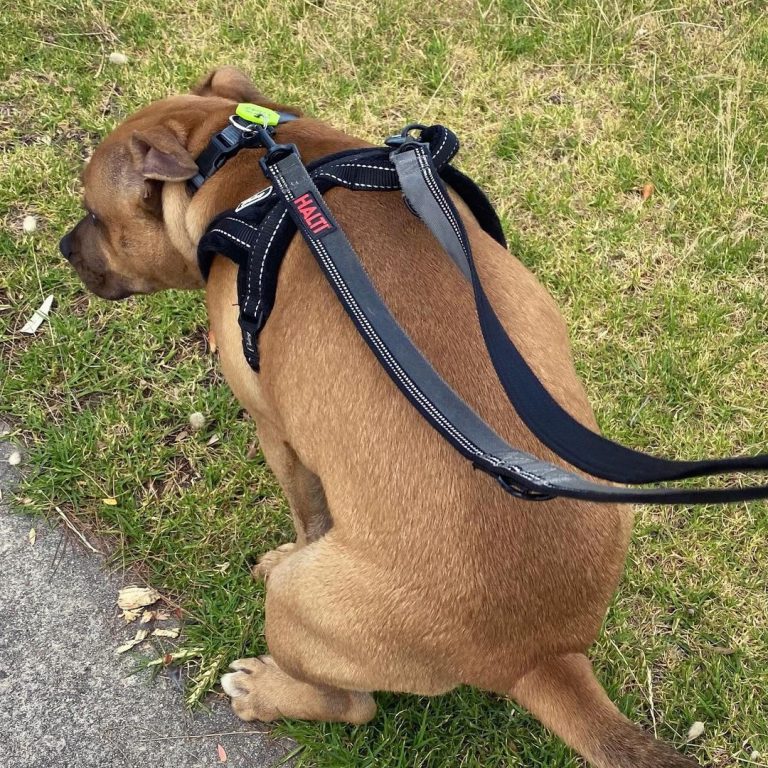 We always say that protein is the most important ingredient in dog food as it has plenty of benefits that can help your dog in a number of ways.
Protein is used for energy in your dog, so most of it will be used as they're running around burning it all off.
For this reason, a sedentary lifestyle wants to be avoided at all costs for your dog. If the protein is not used it will pass through as extra poop.
However, if it is burned through thanks to plenty of exercises, the protein will fill your dog up without causing excess poop.
Digestible Ingredients
As we've already mentioned, the ingredients of your dog's food need to be digestible to avoid ingredients passing right through and making more poops.
Some manufacturers offer a digestibility rating for their food so that you know exactly what the food is going to do in your dog's stomach.
We recommend that you only opt for dog food with a digestibility rating of higher than 80% if you want to control the messes you will have to clean up.
How Much Fat?
There is a stigma around consuming fats, and it is true that you and your dog shouldn't consume an excessive amount of fat.
However, an amount of fat is required to keep your dog's energy, taste buds, and immune system on top form.
That being said, too much fat can increase the fat content which can lead to diarrhea, which is one thing that we definitely want to avoid cleaning up. Look for a food with no more than 15% fat in each portion.
Ingredients To Avoid
Now that we've looked at some ingredients that you want to include in your dog's diet, let's take a look at some that you definitely want to avoid at all costs.
We've already mentioned filler ingredients, but what else? There are three things we have that you should not feed your dog to ensure that they don't poop more than they should be.
Artificial Ingredients
Cheaper dog foods include artificial flavorings and colorings in their formula. These can trick the buyer into choosing the food as it looks and smells more appealing. 
However, these ingredients are similar to filler ingredients and therefore pass right through your dog's body.
Mystery Meats
We said that protein was the most important ingredient, and we stand by this fact. However, you should be careful of mystery meats. Only choose a dog food in which you know what the protein is exactly.
For example, you might see 'meat by-product' on the ingredient list – but what does this even mean? Only feed your dog what you know rather than mysterious unidentified protein sources.
As you don't know what they are, they might make your dog poop more.
Additives or Irritants
Some ingredients are risk factors for dogs with intolerances. For example, dairy can be dangerous for dogs. 
As dogs are rather sensitive when it comes to their stomachs, irritants are a hard pass when you want to reduce their poops.
Wet or Dry Food?
Wet food includes lots of water and juices, which can be helpful if your dog has an issue with not drinking enough water. 
However, if your dog doesn't have this issue and can eat kibble, you should stick to dry food.
Kibble can be offered up in smaller amounts as there is no water within it. So, if you want to reduce pooping you should feed your dog a primarily kibble-based diet.
Portion Sizes
Manufacturers will offer you their opinion on how much food you should serve to your dog per day. 
Some foods can be served in smaller quantities than others, and this will reduce how much your dog has to poop.
For this reason, it's always worth checking to see how much of one food you will have to give to your dog every day. 
Choosing a rich kibble will require you to feed your dog less each day without them feeling hungry. So, they remain full and you don't have to clean up as much poop – everyone wins!
Conclusion
We hope that you enjoyed our article on how to get your dog to poop less. Remember, it's important to have a high-quality dog food without filler ingredients. 
Filler ingredients cause your dog to eat more food to get the same amount of nutrition. Thus, they will poop more. 
If you choose a nutritious dog food that is high in protein, your dog will not only poop less, but their stools become more firm.
Other articles you would like:
Frequently Asked Questions
Do dogs poop less with homemade food?
There are a lot of cases in which dogs have stopped pooping as much thanks to a homemade diet. 
This can be put down to the fact that there are no filler ingredients in homemade dog food like there are in manufactured foods.
However, homemade dog food is a big commitment that you might not want to make right away. Instead, we would recommend you to look at our list of foods above. 
These are all high-quality with a great ingredients list to prevent pooping.
Do dogs poop after every meal?
Yes, it does seem as though dogs poop after every meal. However, it could be hours after their meal that they need to go to the toilet. 
So, don't worry about hurrying them outside as soon as they've finished eating. If your dog is housebroken they'll tell you when they want you to let them outside.
Alternatively, some dogs do poop right after they finish eating. This is called gastrocolic reflex and is a result of food entering the stomach. 
It's not necessarily a worry, but you can always talk to your veterinarian if you're worried about it.
Garrett loves animals and is a huge advocate for all Doodle dog breeds. He owns his own Goldendoodle named Kona. In addition, he volunteers at the Humane Society of Silicon Valley, where he fosters dogs and helps animals. Garrett enjoys writing about Doodles and believes that dogs can teach humans more about how to live than humans can teach a dog.
Why Trust We Love Doodles?
At We Love Doodles, we're a team of writers, veterinarians, and puppy trainers that love dogs. Our team of qualified experts researches and provides reliable information on a wide range of dog topics. Our reviews are based on customer feedback, hands-on testing, and in-depth analysis. We are fully transparent and honest to our community of dog owners and future owners.