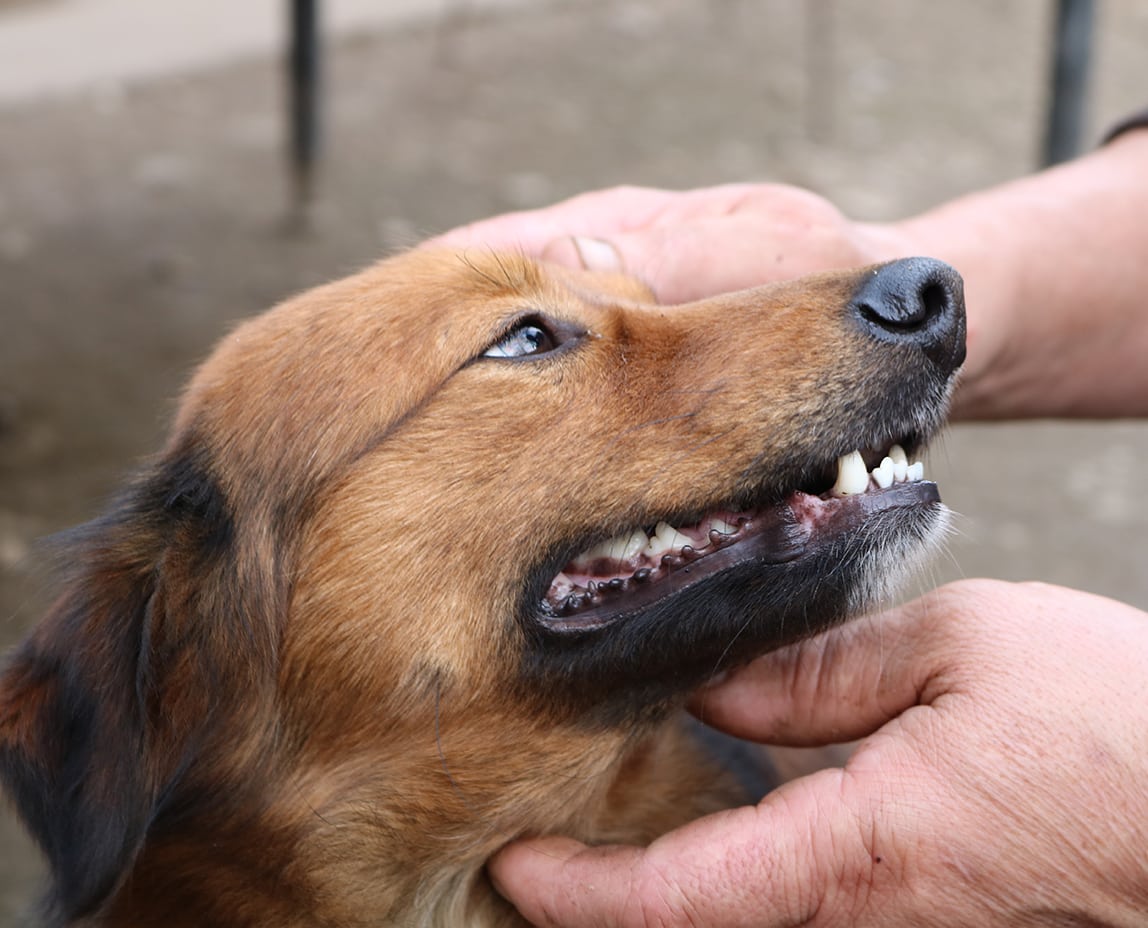 We all love our dogs, but there is something about their breath that just makes our eyes water. Rather than having to get as far away from their mouths as possible in order to stop yourself gagging, you might want to look to their diet to avoid the problem. 
Chances are that the bad breath problem isn't just an inconvenience for you – it's probably not very pleasant for your dog either. It's your job as their human to help fix the issue as quickly as possible, which is usually their diet. 
Some dogs have just drawn the short straw in life and been dealt the smelly mouth card. In this case, you might not be able to rectify the stench. However, changing their diet for a less smelly food could be an easy fix for the problem. 
Today, we're going to be looking into the five best dog foods for bad breath, as well as a buyers guide to determine what could be causing the bad breath. 
In a hurry? Here are our top picks!
Product
Best Overall
Blue Buffalo Life Protection Formula Natural Adult Dry Dog Food
Runner Up
Natural Balance L.I.D. Limited Ingredient Diets Dry Dog Food
Budget Pick
Hill's Science Diet Adult Oral Care for Dental Health Dog Food
Halo Natural Dry Dog Food, Small Breed Recipe
Hill's Prescription Diet T/D Dental Care Small Bites Chicken Flavor Dry Dog Food
Image
Best Overall
Product
Blue Buffalo Life Protection Formula Natural Adult Dry Dog Food
Image
Runner Up
Product
Natural Balance L.I.D. Limited Ingredient Diets Dry Dog Food
Image
Budget Pick
Product
Hill's Science Diet Adult Oral Care for Dental Health Dog Food
Image
Dog Foods for Bad Breath Reviewed
Want to get back to enjoying your dog's kisses instead of retching and running to the bathroom?
Don't worry, we're going to let you into our secret right now. Make sure to read our buyers guide to see what other causes there could be for the smelly breath. 
Our favorite dog food for bad breath is the Blue Buffalo Life Protection Formula Dog Food, and here are a few reasons why we think it's the best on the market: 
The ingredients are of the highest quality without any fillers or byproducts being used. 

It aids your dog's immune system so that it can continue fighting away potential dental diseases. 

Blue Buffalo is a well-known brand with an excellent reputation amongst dog owners.
Blue Buffalo is an incredibly popular brand for dog food, with their Life Protection Formula dog food having over 20 thousand reviews. It's not surprising that this is at the top of our list, as the ingredients are all high-quality and beneficial to your dog. 
The first and most used ingredient is deboned chicken, so you know that your dog is only eating the best food with an excellent source of protein as its main ingredient. The other top ingredients include brown rice, blueberries, cranberries, peas, carrots, and sweet potatoes. You won't find any additives or artificial flavors that can be contributing to bad breathe or periodontal disease.
The kibble is rich in antioxidants and essential vitamins and minerals to keep your dog's immune system on top form. Prevent any dental diseases by feeding your puppy a well-balanced diet with everything they need for a healthy lifestyle. 
There are no artificial or low-quality ingredients within the dog food, such as filler wheat and corn or poultry byproducts. Choose between three bag sizes and five flavor options to ensure your dog enjoys their food every day.
Limited ingredients mean that there is a smaller chance for your dog to be eating kibble full of filler ingredients and unnecessary components. Natural Balance L.I.D. dog food has only three types of ingredients within the bag – protein, sweet potatoes, and essential minerals and vitamins. This makes it an excellent choice of dog food for dogs with bad breathe.
The venison is an excellent source of amino acids and protein, keeping your dog healthy and covered in strong muscles. Sweet potatoes include enough fiber to promote healthy digestion, and essential minerals and vitamins ensure that your dog meets its nutritional needs. 
These limited ingredients still ensure that your dog has a good immune system to prevent them from developing any diseases that could cause bad breath. Moreover, there are no by-products or fillers which are unnecessary to your dog's overall health. 
Rest assured that your dog will be consuming zero artificial colors, flavors, or preservatives either. You can choose between six sizes of the bag with nine flavors for your dog to enjoy.
Hill's Science Diet is another popular brand of dog food, and they seem to have a specific product for every circumstance. Bad breath is no different – that's where the Oral Care for Dental Health Dog Food comes in. 
The kibble has been made with ridges to remove plaque and tartar to keep their mouth healthy and free of bacteria. This is definitely a dog food that helps with bad breathe. 
This food has been clinically proven to remove buildup on dog's teeth, so you can expect to see a reduction in bad breath almost immediately. An interlocking fiber within the food can also clean the teeth with each crunch.
There is plenty of vitamins and minerals within the formula to keep your dog's overall health good and immune system working. The main ingredient is chicken and there are zero filler or unuseful ingredients included within the formula, so you know that your pooch is only getting the best. There are two bag size options to choose from, with savings when choosing the larger option. This dog food not only prevents bad breath, but it also helps to eliminate it.
Halo Natural Dry Dog Food has been specifically formulated for small breeds of dogs, who are at particular risk of dental diseases and therefore bad breath. The kibble is smaller in size to ensure that your puppy can eat it without any issue, yet still large enough to get a good crunch and teeth cleaning during mealtimes. 
The ingredients used are the only real meat and there are zero byproducts on the ingredients list. Rest assured that your dog is eating the best it can without all of the filler or useless ingredients within their food. 
Speaking of ingredients, the chicken that finds its way into your dog's kibble is responsibly sourced from cage-free farms. Not only is this kibble healthy, but it is also humane. Feed your dog without feeling the guilt towards the ingredients. 
Halo assures that even picky eaters can't help but enjoy this crunchy food. There is also the opportunity to choose grain-free options in either a 4 or 10-pound bag. This is a dog food that doesn't cause bad breathe.
Last but not least is another kibble from Hill's Science, but this time it's from their Prescription Diet store. You do not need a prescription from a veterinarian to purchase this food; however, your dog is getting a veterinarian recommended food without the hassle. 
The kibble has been carefully formulated by Hill's nutritionists and veterinarians, so professionals have created this food for your pup. It has been clinically proven to reduce plaque and tartar buildup, as well as removing stains. It will also help improve your dog's breath.
The shape of the kibble has been created to remove more buildup than other dog kibbles out there, so you know that your dog is getting the best chance at having good oral health.
What's more, the fiber matrix technology fights against bacteria in the mouth to prevent infections.  Not only does the food protect and clean your puppy's mouth, but it also promotes their overall health due to balanced nutrition and high-quality ingredients.
Best Dog Food for Bad Breath Buying Guide
Our buyer's guide is to help you determine which is the best dog food to prevent your puppy from suffering from a smelly mouth.
We've researched the possible causes and triggers so you don't have to, but make sure that you read here to choose the best option for your pet. But before that, let's take a quick look at what could be causing the bad breath. 
What causes bad breath in dogs? 
Sometimes the answer is as simple as a poorly chosen diet, but other times the cause can be a little more serious than that. It's important that you take your dog to the veterinarian right away if you're worried about their overall health, as bad breath could be a symptom. 
Subpar Oral Hygiene 
Dogs are just like humans in some respects, such as their teeth need to be brushed. Think back to the last time you brushed your dog's teeth, then think about how you'd feel if you suffered through the same amount of time without a toothbrush. 
The build-up of plaque and tartar can be the cause of bad breath in your dog's mouth. If not treated, your dog might be subjected to gum disease, cavities, and tooth loss. 
Kidney and Liver Disease
Some dogs like to drink urine if they have a kidney infection. Not the nicest subject, we know. However, it is still important to note in case you start smelling urine on your dog's breath. 
Other symptoms are yellowing gums and vomiting. These can also be signs of liver disease. Both kidney and liver disease can develop into something worse, so it's important that you visit the vets as soon as you see these worrisome signs.
Bad Eating Habits
Dogs like to eat what they can when they can – no matter what is in front of them. Some dogs have more class than others, but others tend to rummage through trash and eat rotten leftovers. 
A select few will also choose to eat poop. Yep, you read that right – poop. Now try not to gag the next time you get a whiff of your dog's breath. Around 24% of dogs eat poop once in their lifetime while 16% will make it a habit. 
If you catch your dog in the act, get to work training them not to as soon as possible. Poop contains tons of bacteria which could be the source of your dog's bad breath.
Periodontal Diseases
Periodontal diseases simply refer to the diseases around a dog's teeth and mouth. Dog's can suffer from four stages of these diseases. Gingivitis is the first stage and can be characterized by stained teeth and swollen gums. 
If not treated the teeth and roots will begin rotting away, causing bleeding gums, bad breath, and stained teeth.
Wet Dog Food vs Dry Dog Food
Dog owners never stop debating whether they should be purchasing wet or dry food for the benefits – but which is better for dog breath?
While wet food is good for dogs with fussy tastebuds, dry kibble is definitely better for rectifying bad breath. 
This is because the wet food manufacturers often enhance the food smell to get your dog to eat it. It is also more likely to get stuck within your dog's teeth and cause an unpleasant smell the longer it stays there. 
What's more, dry food works as a kind of toothbrush for your dog and helps to remove plaque and tartar. That crunch when your dog is chewing their food helps to scrape off bacteria that can be contributing to their bad breath.
This can prevent diseases from forming in the mouth which can also cause bad breath. So, dry food is the best option to avoid your dog having bad breath.
However, wet food contains moisture that helps your dog to get enough water in their diet. Without this, your dog could be more at risk for kidney infections. 
While we are focusing on dry food today, the best diets for dogs are ones that have a mixture of wet and dry food. 
High-Quality Ingredients
Dog food made with high-quality ingredients is less likely to make your dog's breath smell than low-quality foods. This is because low-quality ingredients are more likely to promote bacteria growth on your dog's teeth, which can lead to bad breath. 
Foods with lots of sugar can also promote cavities and therefore bad breath. To avoid this, look for natural ingredients or foods with limited ingredients. The fewer ingredients there are included within your dog's diet, the less there is to potentially damage their teeth.
Your Dog's Size
Smaller dogs are more likely to get dental diseases and therefore you need to get the correct food for their size. Choosing a kibble made specifically for smaller dogs will leave them with an easier meal time so that they're not struggling to eat their food. 
Smaller pieces of kibble will also be easier for them to crunch and get the full effects of the 'teeth brushing' benefit. On the other hand, small pieces of kibble will do nothing for larger dogs.
They have larger mouths and throats and they might simply swallow the small kibble without even chewing. Therefore they won't be getting any of the plaque or tartar removed from their teeth either. 
Price
While your puppy deserves the best dog food that money can buy, you still need to look for the best option that is within your price range. Remember that you will need to continue purchasing the same dog food repeatedly once it runs out, so can you afford to do this? Changing a dog's food can often result in an upset stomach.
Also, look for the value for money and how many portions are within a bag. While the initial cost might be the lowest on the market, there might not be as many portions and therefore the overall cost could end up being higher in the long run.
Conclusion for Best Dog Food for Bad Breath
There are several reasons why your dog can have bad breathe. However, one of the main reasons is due to a poor diet. We've listed out some of the best dog foods for bad breathe so you can help narrow down the issue. If your dog's breath has a completely foul smell, we recommend that you take them to a veterinarian as it could be a more serious underlying issue.
Frequently Asked Questions
 What dog breeds are prone to bad breath?
Some breeds are more susceptible to bad breath than others, and others are at a higher risk for periodontal diseases. Smaller breeds such as toy dogs are often at higher risk for diseases of the mouth. This causes bad breath for dogs.
This is because toy breeds, while smaller than the traditional breed, still need to fit the same amount of teeth into their smaller jaws. The teeth are more compact and therefore ideal places for bacteria to grow and hide. 
Dogs with thinner muzzles might also be more prone to bad breath due to the higher risk of dental diseases. Greyhounds and whippets fit into this category. 
Bear in mind that even though your dog might not be a toy breed or have a thin muzzle, they can still suffer from dental problems or bad breath. If the change of diet doesn't rectify the issue, get a veterinarian's attention. 
How do you change a dog from one food to a new brand? 
Some dogs are not fussy when it comes to their food while others are incredibly picky.
If your pooch is the latter and it is always difficult to switch their diet, make sure that you persevere as it is to protect their oral health. 
To swap their food to a new kibble, start them with a bowl of 25% new food, 75% old. After a few days of them clearing the bowl, increase the new food to 50%.
After another few days to a week, increase it again to 75%. Once they're happy with this, discard the old food completely and only feed them the new food. 
Garrett loves animals and is a huge advocate for all Doodle dog breeds. He owns his own Goldendoodle named Kona. In addition, he volunteers at the Humane Society of Silicon Valley, where he fosters dogs and helps animals. Garrett enjoys writing about Doodles and believes that dogs can teach humans more about how to live than humans can teach a dog.
Why Trust We Love Doodles?
At We Love Doodles, we're a team of writers, veterinarians, and puppy trainers that love dogs. Our team of qualified experts researches and provides reliable information on a wide range of dog topics. Our reviews are based on customer feedback, hands-on testing, and in-depth analysis. We are fully transparent and honest to our community of dog owners and future owners.