Since Rice Krispies are popular snacks among many people, one question people wonder is: "Can dogs eat Rice Krispies?" Whether you're eating a grape, a chip, or a cucumber, you can be sure that your dog will hear you from the next room and magically appear out of nowhere.
As your puppy pleads with you, you'll wonder if you can share a bite or two. Sharing our favorite foods with our dogs is an amazing way to bond and enjoy special moments together. But is it the safest thing for a pet parent to do?
For many foods, there is a clear yes or no answer. However, there are many foods where the answer isn't as straightforward. In this article, we'll discuss one of America's top breakfast cereal snacks—Rice Krispies.
Before scrolling down to the answer of this article, "Can Dogs Eat Rice Krispies," check out these related guides: Can Dogs Eat Bratwurst and Can Dogs Eat Canned Chicken?
How Are Rice Krispies Made?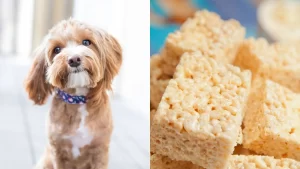 Rice Krispies are oven-popped snacks made from rice. The process involves grinding rice into a paste to which additional ingredients are added. This mixture is then molded into rice-shaped grains before being cooked, dried, and toasted.
Related Dog Guides: How Many Eggs Can a Dog Eat in a Day and Can Dogs Eat Mahi Mahi?
Are Rice Krispies Good And Safe For Dogs?

Before you decide whether this snack is dog-friendly, it is essential to know what goes into making it. The ingredients that go into ready-to-eat chunks of sticky, gooey Rice Krispies are:
Rice (71%)
Sugar
Salt
Vitamins and Minerals (B1, B2, B3, B6, B12 & D, Iron, and Folic acid)
Corn syrup
Barley malt flavoring
Fructose
Vegetable oil
The best thing about this recipe is that it is majorly made from rice. This healthy grain won't do any harm to your dog. The second ingredient is sugar. We all know that sugar causes damage to teeth.
It is also one of the leading causes of obesity in people and dogs. This is because dogs, like humans, can taste sugar. This, plus the fact that sugar is addictive to canines and humans, means that your dog could quickly want only sweet food and snacks.
It is safe to say that no dog will quickly pass a sweet treat. Other ingredients like fructose and corn syrup are all heavily loaded with sugar. While this cereal is not harmful to your dog to eat, remember that it is considered unhealthy.
Moreover, it does not serve as a replacement for a proper homemade nutritious meal. Besides sugar, the barley malt flavoring used to amplify the flavor may contain gluten. Nevertheless, barley is safe for most dogs.
However, some dogs may be intolerant to gluten (grain-based protein). Ingesting Rice Krispies will aggravate this condition and cause several complications, like diarrhea, stomach inflammation, weight loss, fatigue, ear infections, poor coat development, ear infections, and other health issues.
Please ensure that your pet is not gluten intolerant before feeding it a grain-based snack. The last two ingredients, salt and vegetable oil in small helpings, are acceptable for dogs.
This means no more than a teaspoon of vegetable oil or a tiny pinch of salt. Keep salty snacks away from your pet if they have a heart, liver, or kidney-related medical condition.
This out-of-the-box breakfast has no harmful chemicals or added fattening additives. And while that does sound good, remember that while Rice Krispies do not contain ingredients that are toxic to dogs, that does not mean they are a healthy snack for your puppy.
If you do feed your dog Rice Krispies, be careful to offer only small amounts of this dry cereal as an occasional treat for a job well done. Or you could find a healthy alternative. Read on to see what treat we've got in store for your dog.
Related Dog Guides: What Human Food Can I Feed My Diabetic Dog?
Homemade Rice Krispy Recipes For Your Dog
The good news is that you can also make rice Krispies at home. The bad news is that it will probably not match Kellogg's version.
The better news is that your dog won't know the difference. So what are you waiting for? Here's a simple recipe you can try without having to open a store-bought packet that is loaded with sugar.
Related Dog Guides: Can Dogs Eat Pita Bread and Can Dogs Eat Cool Whip?
Frequently Asked Questions
Here are some frequently asked questions about the topic of Rice Krispies for dogs.
What are some safe cereal food options for dogs?
Crunchy cereals like Rice Krispies, Cheerios, Cinnamon Toast Crunch, Special K, Grits, Cornflakes, Rice Chex, and Honey Bunch of Oats are safe for your dog in small quantities.
However, none of these cereals or snacks have any nutritional value. So, while you can use them for, say, training, please don't treat them as a meal replacement alternative for your dog.
What are some cereals that should be avoided entirely for dogs?
Cereals like Coco Puff, Raisin Bran, Reese's Puff, Lucky Charms, and Fruit Loops are a complete no-no.
What are some undesirable effects on dogs after too much Rice Krispy consumption?
Excess consumption of Rice Krispies can trigger a list of symptoms such as stomach upset, vomiting, diarrhea, dehydration, constipation, restlessness, and in some cases, excessive panting in dogs.
Can I use marshmallows for Rice Krispies for dogs?
Not if you're feeding the Rice Krispies to your dog. Other than regular sugar, marshmallows contain sugar substitutes, which are toxic to pets.
How long is Rice Krispies good for?
Rice Krispies need to be stored in an airtight container or jar at room temperature. Even under these conditions, Rice Krispies will not last you more than 2-3 days.
To ensure they last longer, freeze them for up to 6 weeks. Then, store them in layers separated by wax paper in airtight containers. To use them, remove them from the refrigerator and keep them at room temperature for fifteen minutes before serving.
Are Rice Krispy treats safe for dogs to consume?
No, they are not. While Rice Krispies are a relatively straightforward snack, they are to be given to your dog in moderation because of the high sugar and salt content.
In comparison, Rice Krispy treats are made with several ingredients that are toxic to dogs. Some of these include marshmallows, sugar substitutes, chocolates, and preservatives.
What are some healthy alternatives to Rice Krispies for dogs?
Just because you're snacking on Rice Krispies doesn't mean you have to share it with your pet. You can have several dog-friendly and healthy snacks available for such times. Dogs require carbs and protein, so treats with higher quantities of these will do wonders for your pet.
A simple alternative is to freeze whole blueberries or make pureed fruit and vegetable popsicles that you can later cut into bite-sized chunks. If you absolutely must share a crispy, crunchy snack with your dog, try popcorn (sans the salt and butter).
Dog Product Recommendations: Best Dog Treat-Dispensing Cameras and Chipping – Dog Treat & Food Benefits.
Conclusion For "Can Dogs Eat Rice Krispies"
Rice Krispies are a simple breakfast cereal made of natural rice grains, making it safe for dogs to eat. However, it would be best if you moderated how much of this cereal you can give your pet, keeping in mind that it has loads of calories and absolutely no nutritional value for your dog.
Rice Krispies will not upset your dog's stomach or cause any medical issues as a once-in-a-while treat. However, we recommend homemade treats as they're a much healthier and cost-effective alternative.
If you must share Rice Krispies with your dog, connect with your vet to know how much is acceptable. If you observe any abnormal behavior after your pet has consumed Rice Krispies, do call your vet and schedule a checkup.
For more guides similar to "Can Dogs Eat Rice Krispies," you can check out:
You can learn more about what dogs can't consume by watching "Dangerous Foods Your Dog Should Never Eat" down below: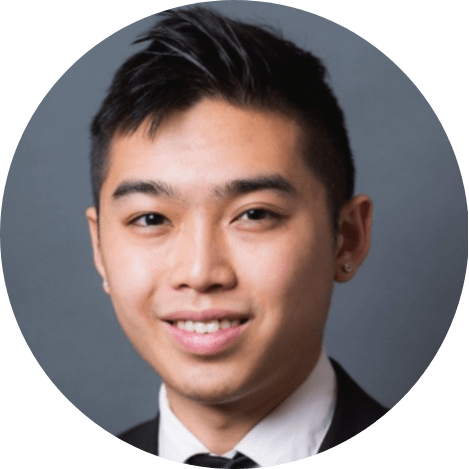 Andy is a full-time animal rescuer and owner of a toy doodle. When he's not saving dogs, Andy is one of our core writers and editors. He has been writing about dogs for over a decade. Andy joined our team because he believes that words are powerful tools that can change a dog's life for the better.
Why Trust We Love Doodles?
At We Love Doodles, we're a team of writers, veterinarians, and puppy trainers that love dogs. Our team of qualified experts researches and provides reliable information on a wide range of dog topics. Our reviews are based on customer feedback, hands-on testing, and in-depth analysis. We are fully transparent and honest to our community of dog owners and future owners.