Dogs are naturally inquisitive about sweets and other treats that people, when consumed in moderation, are free to safely enjoy. However, most of these treats are probably not safe for your dog to consume. If that's the case, can dogs eat gummy worms or bears?
Gummy worms are not something that should be intentionally given to dogs. Gummy candy contains a lot of sugar, which can lead to a wide variety of health problems. It will become lodged in their teeth, which will lead to decay and cavities in their mouths. It is in everyone's best interest to keep dogs away from all forms of sweets.
Here is some information you need to know if your dog eats gummy candies.
Before you read a more in-depth answer to the question, "Can Dogs Eat Gummy Worms or Bears," check out: Can Dogs Eat Sour Patch Kids? (2023) and 53 Best Candy Names for Dogs! (2023).
Can Dogs Eat Gummy Worms or Bears?
Gummy worms or bears do not in any way provide any nutritional value to human beings; we do not consume them because we believe they are beneficial to our health in any way.
We eat them because they are tasty and entertaining at the same time. When evaluating what constitutes a healthy diet, individuals need to make this choice for themselves.
You are perfectly within your rights to give in to your cravings for gummy bears on occasion if it is something that you want to do. Your digestive system can break things down properly.
The situation is different with your dog. Sugar is not a substance that dogs regularly come into contact with in their natural environment, yet gummy bears are rich in sugar. Our dogs' bodies are designed to function in the most effective manner possible.
Dogs can absorb the necessary nutrients in the food they eat, and they then employ those nutrients to keep themselves alive. These processes are thrown off by sugar, and the effects of their consumption can have severe repercussions.
What Sugar Does to Dogs
Your dog will not benefit in any meaningful way from the consumption of gummy worms, gummy bears, or any other type of sweet food. Sugar that has been refined does not qualify as an important nutrient.
When you give your dog anything sweet to eat, you must weigh the potential drawbacks of the sugar against the pleasure you get from the way it tastes. Sugar presents more of a challenge for your pet than it does for you.
Tooth Decay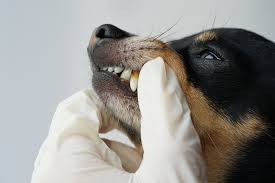 To maintain good dental health, dogs need to have their teeth washed regularly. They are prone to dental decay in the same way as people are. There is a good chance that you are not giving your dog a twice-daily teeth-brushing session. However, the guideline is that you do it at least three times every week.
Gummy worms tend to become lodged in teeth. If your dog consumes gummy worms, the sugar will cling to its teeth and remain there. Oral bacteria are nourished by this sugar, which makes it possible for them to colonize and proliferate in your dog's mouth.
An acidic material is secreted by the bacteria as a by-product of their digestion of the sugar. This substance erodes the enamel of your dog's teeth. This can result in severe tooth decay and could even result in the loss of teeth.
Digestive Problems
Sugar is too much for your dog's digestive system to tolerate. Consuming foods like gummy bears can put a person at risk for developing gastroenteritis, a disease that is uncomfortable but only transitory and can progress to vomiting and diarrhea.
Because of the fluid that was lost, your dog might end up becoming sluggish and dehydrated because of this. In addition, gastroenteritis can cause blood sugar levels to drop, which can leave your dog feeling weak and lightheaded.
Obesity
The recipe for your dog's food, as well as the amount that should be served, is designed to give the level of nutrients best suited for your dog's age and size.
If you start giving your dog calorie-dense goodies beyond these limitations, such as gummy worms, the odds are very low that your dog will start exercising more to burn off the amount of sugar and unhealthy food that it has consumed.
Diabetes in dogs is an easy condition to develop if they eat treats like gummy worms or any other sweet confection high in calories and harmful. Even while it's okay to indulge in delicacies that are good for you in moderation, just a few gummy worms have the same number of calories as a whole banana or a tablespoon of peanut butter.
It is a good idea to select tasty snacks for your dog to love that also contribute in some way to the overall nutritional value of their diet.
What About Sugar-Free Gummy Bears?
You may feel as though the rules don't apply to gummy worms that don't have any sugar. However, it's a better idea to offer your dog a gummy bear made with actual sugar rather than one made without sugar.
Artificial sweeteners such as xylitol, which are used in the production of sugar-free sweets, are toxic to dogs. If your dog consumes any level of xylitol, you must call your veterinarian as soon as possible.
Even if the dog is acting normally, you should still get in touch with your veterinarian if you suspect that he or she has consumed xylitol. In the event that these symptoms manifest themselves in your dog, your veterinarian will be able to monitor your pet and administer the appropriate medication.
What Should I Do If My Dog Has Eaten Gummy Worms?
Your dog has just finished off an entire bag of gummy worms. You are worried about their well-being and are questioning the appropriate action to take in this situation.
Should you take them to the veterinarian as soon as possible? Will they be all right?
Remove the Gummy Candies
Your first order of business will be to take precautions to prevent your dog from getting any more goodies. Keep your dog from getting his paws on any sweets by putting them out of reach.
If you also have edibles or gummy vitamins, make sure they are stored somewhere dogs cannot get them. Keep in mind that certain dogs can gnaw through plastic bottles or bags to get to the gummy candy hidden within. It is not possible to rely on the packaging to prevent your dog from eating the gummies.
Examine the List of Ingredients
Checking out what goes into the product is the next step. If they do have xylitol, you should contact your veterinarian right away or send your dog in. Xylitol is extremely hazardous to a dog's health.
Your dog may get stomach trouble if it contains another type of artificial sweetener or sugar alcohol, but they have a low chance of experiencing major negative effects from such a substance.
If these are the classic kind of gummy candies, then it should be fine for your dog to eat them. Just remember to steer clear of giving them candy in the future. The primary cause for worry is the high level of sugar that is included in traditional candies.
Monitor Your Dog
You just need to watch your dog if there are no components that would cause a medical emergency. Keep an eye out for any sickness or poisoning symptoms.
The excessive sugar content may make your dog vomit or have diarrhea. This is comparable to a child — or even an adult — who overindulged in dessert and became ill.
Hydrate your dog and it ought to go away within a few hours. For stomach trouble, you may also give your dog Pepto Bismol. One teaspoon is administered for every 10 pounds of body weight. Provide them with a Pedialyte mix to drink if you are worried about dehydration.
A Balanced Diet
Most dogs acquire all the vitamins and minerals they need by eating a balanced diet composed of whole foods. Actual meat and vegetables are used to make high-quality dog food, and any vitamins or minerals that might not be present in adequate quantities naturally are added as supplements.
If your veterinarian has prescribed a prescription for your dog, putting the tablet with a spoonful of peanut butter or perhaps half of a banana will persuade your dog to take the medicine without protest.
Delicious Alternatives Your Dog Will Love
Gummy candies of any sort should never be given to your dog, but many other yummy snacks are okay for them in moderation. 90 percent of your dog's diet should consist of balanced, nutrient-rich dog food. The other 10 percent is available for nutritious snacks.
A small portion of a nutritious treat is appropriate if you're enjoying a vacation day or if the dog has worked off a lot of energy playing all around the park.
Here are some of the best picks:
Bananas
Pineapple
Watermelon
Apples
Blueberries
Mango
Peaches
Strawberries
Your dogs will love these on their daily walks, and they're healthy too!
Frequently Asked Questions
Is there pig skin in gummy bears?
Gelatin, an ingredient in gummy bears, can contain pig skin, cow bones, and hides.
What are Trolli gummy worms made of?
Trolli Sour Brite Crawlers contain corn syrup, sugar, gelatin, modified food starch (corn), fumaric acid, lactic acid, citric acid, sodium citrate, calcium lactate, sodium lactate, natural and artificial flavors, titanium dioxide [Color], Yellow 5, Red 40, Yellow 6, Blue 1.
Is Xylitol in all gummy bears?
Not all gummy bears contain Xylitol, but sugar-free gummy bears, gum, and jelly beans tend to.
Conclusion for "Can Dogs Eat Gummy Worms or Bears"
So, can dogs eat gummy worms or bears? The short answer is no. The high sugar content in gummy worms or bears will bring with it a host of other health issues. Plus, other delicious alternatives are much healthier. We hope this article answers all your questions about gummy worms and dogs.
If you find this guide, "Can Dogs Eat Gummy Worms or Bears," helpful, check out:
Learn more by watching "Human Foods That Are Good for Dogs ( Healthy People and Canine Food) )" down below:
Garrett loves animals and is a huge advocate for all Doodle dog breeds. He owns his own Goldendoodle named Kona. In addition, he volunteers at the Humane Society of Silicon Valley, where he fosters dogs and helps animals. Garrett enjoys writing about Doodles and believes that dogs can teach humans more about how to live than humans can teach a dog.
Why Trust We Love Doodles?
At We Love Doodles, we're a team of writers, veterinarians, and puppy trainers that love dogs. Our team of qualified experts researches and provides reliable information on a wide range of dog topics. Our reviews are based on customer feedback, hands-on testing, and in-depth analysis. We are fully transparent and honest to our community of dog owners and future owners.