Every Japanese New Year, mochi cakes rise in popularity both in Japan and across the world. These sticky, highly sweet, and delicious rice cakes are easy to make and perfect for celebrations. Although high in sugar, which is a red flag, mochi does have some beneficial nutrients. With this in mind, can dogs eat mochi?
Mochi cakes are not a good snack for dogs. The sugar content in these cakes is far too high, and the gluten from the rice flour can exacerbate dog allergies and even lead to choking due to the stick consistency. Plain, unsweetened mochi cakes are okay for dogs in scarce moderation.
Mochi cakes are made from rice as the base of the cake structure. But there are also many ingredients in these cakes that make them questionable as a dog treat. In this guide, we are going to take a thorough look at mochi cakes and their overall safety as a dog treat. Read on to find out more.
Other articles you would like: Can Dogs Eat Goldfish Crackers? and Can Dog's Eat Orange Chicken?
What Is Mochi Made Of?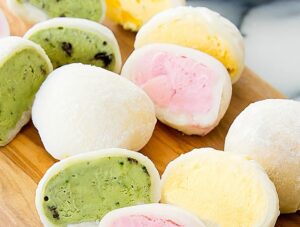 Mochi cakes are made from the rice flour of mochiko rice, and this sweet Japanese delicacy traces its origins back to Ancient Japan.
Mochiko is mixed with water and allowed to set with constant stirring before being pounded with mallets to form a sticky, yet firm doughy consistency. Sugar is added to the mochi for the more common sweet mochi cake, but sugar can also be left out for a plain mochi.
Cornstarch can also be added to mochi to help set the consistency better, and cornstarch is not considered dangerous for dogs.
It is important to note that there are many different varieties of mochi. Mochis that lack sugar are certainly the most feasible kind to feed to your dog as a snack. But other ingredients, as well as the consistency and structure of the cake, may not be so great for dogs.
Let's take a look at the most common mochi ingredients to see how the ingredients react in a dog's system.
Rice Flour
As mentioned, mochiko is the most common type of rice flour used to create mochi. While rice is okay for dogs in its purest form, a flour derivative is problematic.
Flour can exacerbate dog allergies, and potentially lead to allergic reactions. Although the flour is cooked to a gelatin-like consistency, mochi is still derived from highly glutinous varieties of rice, and gluten is not good for dogs at all.
Water
Water is of course good for dogs and water that can also be derived from foods is even better as it can help to keep a dog well-hydrated. The water is mixed with the mochi to add moisture to the cake and to help it form correctly.
Sugar
Most types of mochi cakes popularly sold are a sweet treat and come with high amounts of sugar. This is on top of the natural sugars found within the glutinous rice. Sweet mochi cakes should never be given to a dog due to the sugar content.
Cornstarch
Mochi cakes are usually pounded and set with a dusting of cornstarch instead of wheat flours. This is a beneficial ingredient for dogs, and most dog snacks on the market contain levels of cornstarch.
As you can see, there are some safe ingredients in mochi, but also some not-so-safe ingredients for dogs.
Let's take a closer look at how mochi can potentially be harmful if fed to dogs.
Is Mochi Harmful to Dogs?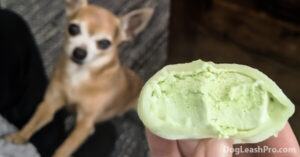 A mochi cake given to a dog is a tricky thing to label in terms of safety because none of the ingredients are outright toxic to dogs.
Sugar in very, very small doses will typically not cause problems for a dog. But if a dog were to eat an entire sweet mochi cake, this is not good at all. Excess sugar can increase the risk of your dog contracting diabetes.
Additionally, even rice flours, specifically the kind used for mochi, are not good for dogs for a variety of reasons. Let's look at some of the problems dogs could face from eating mochi.
Abdominal Discomfort
Whether it is the stomach upset that could come from too much sugar or the abdominal discomfort from rice flour, mochi could irritate a dog's stomach. Rice flour or any type of flour is very difficult for dogs to digest.
This could lead to stomach cramps, gaseous bloat,  and severe indigestion. In severe cases, this could lead to deadly dog bloat due to the expansion this cake could cause in a dog's stomach.
Gas and bloat can create mobility issues in dogs, which is one reason why mochi should be avoided as a dog snack.
Breathing Problems
Rice flour could severely agitate dog allergies if your dog is predisposed to flour allergies. As the rice flour is broken down in a dog's stomach, this increases allergic reactions flour that can cause respiratory distress in dogs.
Breathing problems from mochi ingestion could also come from any associated bloat or stomach expansion the rice flour could cause in a dog's stomach.
Choking
Choking could occur from a dog eating mochi due to either the release of flour extract while chewing or the tendency for dogs to swallow treats whole.
Mochi cakes are very gummy and sticky both during chewing and swallowing. These are some of the symptoms associated with mochi-related deaths in people.
Dogs have even more narrow airways and esophageal muscles than people, so a while mochi cake could easily cause a dog to choke as they try to chew and swallow the sticky cake. This could be further exacerbated if the mochi rises back up to a dog's throat from severe indigestion.
If you do decide to feed your dog mochi, it is advisable to only give them one or two small pieces, and this is the same for both sweet or even plain mochi. A whole mochi cake is just too dangerous.
Pancreatitis
As mentioned, mochi is derived from highly glutinous rice. When combined with the high sugar content of the cake, this can potentially lead to severe issues like diabetes or pancreatitis. Feeding a dog gluten is like throwing a heavy stone on a canine glycemic index calculator.
Gluten turns to sugar and fat in dogs quite rapidly. Both sugar and especially excess fat are direct triggers of pancreatitis in dogs. Although plain mochi drastically reduces the sugar consumption for dogs, the glutinous rice is still a major problem when it comes to something like pancreatitis.
Sweet mochi cakes can also drastically increase a dog's blood sugar levels.
Can Dogs Eat Mochi Ice Cream?
Dogs should not eat mochi ice cream. Ice cream in and of itself is a definite no in terms of giving the treat to dogs. The sugar content in ice cream is through the roof, and the milk from the ice cream can also cause allergic reactions for dogs who are lactose intolerant.
Mochi ice cream presents these dangers in addition to the potential dangers that could come from dogs eating mochi alone. Combining the two desserts together is not a good idea for dogs since you would then have the concerns from the rice flour, the sugar in mochi, in addition to the added sugar and dairy found in ice cream.
Can Dogs Eat Plain Mochi in Moderation?
Plain mochi is probably the best type of mochi to consider giving to your dog as a treat. Plain mochi lacks the added sugars found in traditional and sweet mochi cakes, such as mochi eaten during celebrations.
Plain mochi also lacks the various kinds of fillings and preservatives found in traditional mochi. All of this is good, but there are still some concerns based solely on the glutinous rice and the flour-based consistency used to create the mochi cake.
With that said, very small nibbles of plain mochi should not cause any problems for your dog. If your dog coughs or displays symptoms of discomfort, immediately stop feeding your dog mochi and monitor their health for the next few hours.
Conclusion For Can Dogs Eat Mochi?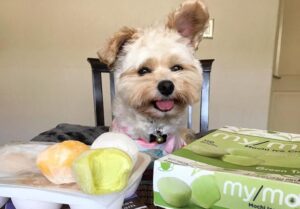 In summary, mochi is a delicious sweet treat for people, but not an advisable treat for your pooch. Rice flour and sugar are the main areas of concern when it comes to feeding a dog mochi. Additionally, many types of mochi have sweet fillings, and savory mochi can also have onion and garlic in it.
Plain mochi is generally okay in moderation, but in very small amounts.
Other articles to check out:
Garrett loves animals and is a huge advocate for all Doodle dog breeds. He owns his own Goldendoodle named Kona. In addition, he volunteers at the Humane Society of Silicon Valley, where he fosters dogs and helps animals. Garrett enjoys writing about Doodles and believes that dogs can teach humans more about how to live than humans can teach a dog.
Why Trust We Love Doodles?
At We Love Doodles, we're a team of writers, veterinarians, and puppy trainers that love dogs. Our team of qualified experts researches and provides reliable information on a wide range of dog topics. Our reviews are based on customer feedback, hands-on testing, and in-depth analysis. We are fully transparent and honest to our community of dog owners and future owners.