This guide will help you with ideas for fat dog names. There's nothing quite like welcoming a new dog or puppy into your home. They bring so much love, affection, and joy into our lives.
Whether you're adopting a puppy or dog from a shelter, from a neighbor, or another source, it's something you won't regret doing. When you know you're bringing home a new furry family member, there's a lot to get ready for their homecoming.
You need to find the dog or puppy food that will suit their breed and age, get them a bed, toys, a crate if you're using one, and potentially puppy-proof your home.
Buying new toys and things for your new dog is exciting and makes the experience feel more real until you finally have the animal in your arms. But there's another essential thing to consider.
What will you name them? You want to choose a name that's easy for you to remember, easy for your dog to understand eventually, and something that goes with their personality or physique.
If you have a heavier dog or puppy, there are some fantastic and adorable names that you can choose that accentuate this part of them. Take a look at these 100+ fat dog names to see if any jump out at you.
Before scrolling down this list of the best fat dog names, check out these similar articles from our team at We Love Doodles: Best Boy Disney Dog Names and Best Blonde Dog Names That Actually Work.
Cute Fat Dog Names
Let's face it. We all think our dog is the cutest creature in the whole world. All puppies and dogs are adorable and great companions. If you feel your dog is the absolute cutest dog ever to exist (we're sure they are), here are some excellent cute names for your fat dog.
Blue
Otto
Alfred
Buttons
Hank
Morgan
Koa
Echo
Bernard
Alfie
Angel
Bluebell
Allie
Levi
Penny
Shadow
Molly
Beau
Boomer
Abby
Louie
Bonnie
Maggie
Annie
Steve
Gunner
Sandy
Jack
Finley
Babe
Dakota
Coby
May
Penny
Buster
Ruger
More Dog Names: Best Fire Dog Names.
Chunky Puppy Names
Is there anything better than a chunky little puppy? No, there's not. For those welcoming a new chunky puppy into your home, lucky you. Now, what to name your little chunkster? Here are some perfect chunky puppy names.
Pudgy
Hammy
Porky
Biggy
Chunky
More Dog Names: Best Chunky Dog Names.
Names For Chubby Dogs
So, your dog is a little on the chubby side; who cares. As long as they're healthy and happy, that's all that matters. For the chubby dogs, finding a name that suits them isn't as challenging as you may think.
There are dozens of great chubby dog names out there. Here are some tremendous heavy dog names to try out. Try out a few and see what sticks.
Brawny
Curvy
Goliath
Stocky
Chunk
Chubz
Chubby
Chubbles
Pudge
Juicy
Poofy
Roly
Dumpy
Mighty
Wobbly/Wobbles
Jumbo
Boomer
Macro
Mac
Max
Tubby
Tubbs
More Dog Names: Best Pixar Dog Names.
Fat Pug Names
Pugs are a popular dog breed because they're loveable, small, and aren't super active. They make great apartment dogs and will be loyal to you until the end. If you're thinking about welcoming one of these smushed-face animals into your home, you'll feel all the love from them.
These dogs can get chunky quickly since they're small, a little lazy, and love to eat. If you're looking for fat dog names specifically for your pug, we've got you covered. Check out the best fat pug names.
Budha
Butterball
Wookie
Smushy
Squish
Squishy
Hambone
More Dog Names: Best Boujee Dog Names.
Fat Animals Names
Are you looking for a name for your chunky dog that's based on a large animal? Lucky for you, there are dozens of large animals on the planet that you can base your furry friend's name on. They'll be cute and funny since while your dog is fat, they're not as large as the animal their name comes from.
Hippo
Bear
Husky
Elephant
Whaley
Rhino
Wolf
Panda
Bull
Grizzly
Piglet
Moose
Piggy
More Dog Names: Best Patriotic Dog Names.
Big Boy Dog Names
Do you have a big boy you're trying to name? If you're looking for a great name for a heavier dog that's for a boy, then these are some of the best ones you can choose.
Bowser (Super Mario)
Diesel
Monster
Pudgepup
Semi
Thunder
Titan
Beast
Magnus
Heathcliff
Marmaduke
Duke
Brutus
Spartacus
Spike
Tyson
More Dog Names: Best Coffee Names For Dogs.
Big Girl Dog Names
Gender-neutral names are great for animals, but if you have a girl dog and want something girlier, that's okay too. Whether you're bringing home a new puppy or an older female dog, you don't need to compromise on a girly name. These are some of the best dog names for big girls.
Belly
Jupiter
Vixen
Sheba
Sequoia
Baroness
Bella Donna
Cyclone
Dagger
Big Bertha
Domino
Elektra
Gamora
Pantha
Rogue
Zatanna
Stormy
Athena
Medusa
Lilith
Ursula
Morgana
Freya
Amazon
Gaia
More Dog Names: Best Outdoor Dog Names.
Big Lazy Dog Names
Is your dog a lazy boy or girl? There's nothing wrong with a lazy dog, and honestly, they make the best cuddle buddies. If you're looking for a name that suits your lazy furry friend, then look no further.
Holly
Holiday
Butterbean
Winky
Hypnos
Hammock
Lazy Bones/LB
Homer
Patrick
Koala
Wag Lag
More Dog Names: Best Dessert Dog Names.
Fat Dog Names in Other Languages
Why not look into names that mean fat or large in another language? This is a great way to give your dog a unique name that you won't hear, often called at the dog park. Before you write off this idea, the words are easy to pronounce and still easy for your dog to learn.
Groot: Dutch meaning "large."
Kentaro: Japanese meaning "big boy."
Vishal: Sanskrit meaning "huge, giant, large, or broad."
Azam: Arabic meaning "the biggest."
Humberto: German meaning "big and bright."
Magnus: Latin meaning "large."
Taba: Filipino meaning "fat."
Griffin: Welsh meaning "strong lord."
Anders: Scandinavian meaning "strong and manly."
Kōta: Japanese meaning "peace" and "big, great."
Anzo: Ancient Germanic meaning "giant."
Tuk or Tuku: Slovic for "fat."
Gordo: Spanish for "fat."
More Dog Names: Best Spiritual Dog Names That Are Good.
Fat Dog Names Based on Food
One of the most common things to name a heavier dog after is a particular food or meal. It just makes sense, right? Here are some of the best fat dog names that are also delicious foods. You may even find your favorite snack or meal here.
Twinkie
Meatball
Ginger
Oreo
Olive
Marshmallow
Chowder
Porkchop
Hammy
Caramel
Cherry
Peaches
Rhubarb
Pancakes
Sugar
Apple
Flapjack
Dough-boy
Burrito
Turkey
Whopper
Tater Tot
Cookie
Big Mac
Dumpling
Bon-Bon
Potatoe
Grande
More Dog Names: Best Black and Brown Dog Names.
Famous Character Names for Your Fat Dog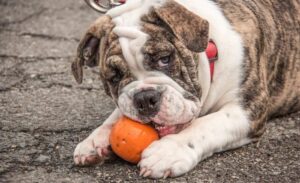 Do you want to name your new puppy or dog after a heavier cartoon character or character on a show? The best part about these names is that you can shorten them to nicknames easily, but if anyone asks you their full name, they'll probably chuckle.
Peter Griffin
Homer Simpson
Winnie the Pooh (you can shorten it to Winnie or Pooh)
Pumbaa
Fred Flintstone
Chef (from Southpark)
Mrs. Poppy Puff
Muriel Bagge
Teddy
Hank Hill
Penguin
Barney Gumble
More Dog Names: Best Duck Hunting Dog Names.
Conclusion For The "Best Fat Dog Names"
Congratulations on your new furry friend. Whether you found the perfect name for them on this list or anywhere else, you're in for the time of your life with your new best friend.
For more guides similar to this list of fat dog names, you can check out:
You can find more dog name ideas by watching "Top 100 Unique Male Dog Names" down below: