You just brought your new dog home and are so excited to begin life with them. All the food, treats, and toys are waiting, and you're motivated to train them to be the best-behaved puppy on the block. The only thing left: What should you name your new best friend?
Some dogs make it obvious right away what you should call them. Whether a color marking, personality trait, or sound of their bark, their name seems to be a part of them from the beginning.
But with others, it's not so apparent. That's when you have to use your imagination – or consult a list like ours! We've done the work for you, rounding up the best Boujee dog names to try out on your puppy and see what seems to fit best.
Read on to learn what we mean by Boujee, and how you can incorporate it into your beloved pet's new name. Then, enjoy getting to know them for the priceless puppy they most certainly are.
Other articles you would like: Sassy Girl Dog Names and Designer Dog Names.
What Makes a Dog Boujee?
Artisan kibble. Designer accoutrements. Elaborate dog park installations. Custom photo shoots with professional lighting and posing. Lavish birthday parties. Is there any limit to what people who adore their dogs will do for them?
It could be that your dog is a certain kind of posh. Whether it boasts an elegant coat, purebred lineage, or simply shows cultivated manners, you need an even more special name to suit your high-end specimen.
The slang term "Boujee" (sometimes spelled "bougie") means high class. Derived from the French word bourgeois, it has shifted to mean "fancy" or "luxury" in the past few years.
Evoking money and expensive tastes, this word suits certain dogs with delicate temperaments or impeccable manners. Picture your pooch perched on their favorite cushion, watching the world go by out the window as if it's their kingdom and they're seated on a throne – that'll give you the right idea of what we mean by Boujee dog names.
In hip-hop music, the word Boujee can be synonymous with wealth and success. Many rappers brag about how they're dripping with style and wear only designer fashion – and we think some dogs deserve this sort of lifestyle, too. A high-class pooch deserves an expensive dog name!
Choosing a Boujee Dog Name
Humans and canines have been partners for so long in history that there's no shortage of luxury dog names out there.
Depending on your dog's breed, you might want to match their name to their genetics. For example, if you have an Italian greyhound or French poodle, there's no end to the snazzy European monikers that might match their look.
In fact, choosing a foreign country or city can work too! Your puppy will take on an immediate air of sophistication when they adopt the sound of another language in their name. We included in our list below many elegant dog names if that's the type of Boujee you're going for.
The dogs who appear the fanciest might have curly hair or long and sleek tresses. They might be an attractive color, impressive size, or just well-mannered. High-dollar purebreds can undoubtedly have a look about them that is Boujee. But, you'd be surprised what you might get with a rescue puppy. Before going to a breeder, check the local shelter to find dogs who need a home.
Elegant Boujee Boy Dog Names
Authors of famous literature, figures from Greek mythology, upper-crust English names, and luxury cars all contribute to our list of male dog names that lend a touch of class. Some flamboyant, others more humble and reserved, we know you'll find something you think fits your dog's cultivated sensibilities.
Ever seen a dog cross their paws like they're a member of the royal family having afternoon tea? That's the distinction we think these names are best suited for. Trade in the collar for a bowtie so your pooch looks the part!
Allen
Alexander
Algernon
Alvin
Amalfi
Anthony
Apollo
Archer
Archibald
Armand
Armani
Arthur
Asher
Aston
Atlas
Atticus
Augustus
Baldwin
Baron
Barrymore
Baxter
Beau
Beaumont
Benson
Bentley
Biscotti
Blake
Bourbon
Braxton
Brutus
Calvin Klein
Cartier
Caesar
Chadwick
Charles
Charleston
Claude
Clinton
Constantine
Darby
Devon
Dickens
Dixon
Dubai
Duke
Easton
Edward
Edgar
Emerson
Enzo
Fabio
Ferrari
Frances
Francois
Franklin
Frederick
Fritz
Gaston
Gatsby
Giacomo
Giuseppe
Godfrey
Gordon
Hamilton
Harlowe
Henry
Hilton
Homer
Horace
Hubert
Hudson
Hugo
Ivan
Ives
Jacques
Jenkins
Jeeves
Jude
Julian
Kennedy
King
Kronos
Lancelot
Lennox
Leo
Louis
Luigi
Maddox
Martin
Matthew
Maximilian
Michelangelo
Milo
Mozart
Norman
Oliver
Orion
Orlando
Otto
Paddington
Parker
Pavarotti
Perseus
Phoenix
Pickering
Porter
Preston
Prince
Quentin
Quincy
Quinn
Remington
Remy
Rex
Richard
Robert
Rocco
Rockwell
Romeo
Rufus
Rupert
Salvatore
Sherman
Sir Duke
Solomon
Spencer
Stanfield
Teigen
Titan
Truman
Umberto
Walter
Walton
Watson
Wellington
Wesley
Whiskey
Winston
Wrigley
Vincent
Vito
Zeus
Elegant Boujee Girl Dog Names
Boujee Girl Dog Names
Celebrities, flowers, historical icons, and royalty all help comprise the list of fancy names for your lady furbaby. She's got a special air that sets her apart, so she needs a classy name to match!
Some pristine, others pretty, we think somewhere on this list is your female puppy's perfect name – or should we say, title.
Annabelle
Antoinette
Antonia
Athena
Audrey
Ava
Avalon
Beatrice
Bella
Bianca
Bridget
Carina
Cassandra
Chelsea
Christina
Coco
Cora
Daphne
Diamond
Diana
Dolce
Duchess
Ebony
Elsa
Elaina
Esmerelda
Fifi
Fiona
Francesca
Gabriella
Geneva
Genevieve
Gigi
Giselle
Glinda
Gloria
Grace
Guinevere
Gwen
Helene
Hera
Isabella
Ivy
Jacqueline
Jeanette
Jewel
Josephine
Lacey
Lady
Lily
Lola
Madonna
Maria
Mercedes
Mona
Nancy
Olympia
Ophelia
Pandora
Paris
Pearl
Penelope
Pippa
Portia
Queenie
Ramona
Rose
Saffron
Sapphire
Scarlett
Silky
Sophie
Tess
Trudy
Truffle
Valentine
Vanessa
Velvet
Victoria
Zelda
Zinnia
Zoe
Sometimes, the word Boujee evokes a dog who is just plain spoiled. The growing market of pricey dog clothing, beds, and snacks means we can elevate our pets from their wild beginnings to a level that is almost human.
Celebrities like Paris Hilton pay exorbitant amounts for custom-bred dogs. While most of us don't have that kind of cash, we can still provide them a comfortable and chic life – a far cry from their origin as a wolf species.
Maybe you sense your dog is less royalty and more superstar, like Migos' song "Bad and Boujee." If you're looking for less class and more sass, here are some names that evoke another type of Boujee. Think Instagram accounts with beautiful purebred dogs wearing sunglasses!
To compile this list, we drew from pricey liquor, rap music, and designer clothing. Trendy and fun, you're sure to find something from these pop-culture-inspired handles that your puppy will answer to.
Hip Boujee Boy Dog Names
Beckham
Boston
Boujee
Burberry
Cognac
Colt
Derringer
Givenchy
Gucci
Hanson
Hennessey
Jäger
Jamie Foxx
Jay-Z
Kenzo
Kobe
Laurent
Mogul
Rolex
Ruger
Snoop
Superstar
Sushi
Wesson
Hip Boujee Girl Dog Names
Ariana
Atlanta
Balenciaga
Beyonce
Cardi B
Celine
Chanel
Cher
Chicago
Dior
Diva
Fendi
Fergie
Fiji
Gabbana
Gloria
Harmony
Mariah
Miami
Oprah
Prada
Sasha Fierce
Sparkles
Stella
Tiffany
Zara
Living the High Life
Boujee Puppies Throughout History
As far back as ancient civilizations, domestic dogs have been valuable to people for their working abilities as well as the companionship they provide. Some have been lucky enough to sit at the feet (or share the armchair of) nobility.
Some Boujee examples of dogs throughout history include:
Bichon Frise, Maltese, Saluki, and Yorkshire terriers also top the list.
Not all Boujee dogs need to have a royal pedigree. Some of them go straight into the Boujee category because they're just so expensive to purchase. A handful of breeds, like the Canadian Eskimo dog or Pharaoh hound, are so rare or hard to find that they're automatically Boujee!
Famously, the most expensive dog in the world is the Tibetan mastiff, a gigantic breed said to have the territorial personality of a lion. Its golden mane reflects that quality, helping push it into the market of thousands of dollars for a puppy. In 2014, a Chinese businessman bought a Tibetan mastiff for $1.7 million!
We imagine that over many centuries, there have been plenty of elegant dog names to suit the Boujee dogs of royalty. Though you might be a regular person with an affordable dog, you can still name them to reflect how special you think they are.
Conclusion for Boujee Dog Names
Whether your dog is prissy or just pricey, we know you want to call them something that fits their entitled persona. They may not be human, but you probably treat them almost as well.
We hope this list has inspired you to find the perfect moniker for any mutt. Have fun deciding what to name your Boujee dog – after all, for how much you do to include them in your life, they certainly deserve it!
Other articles you would like: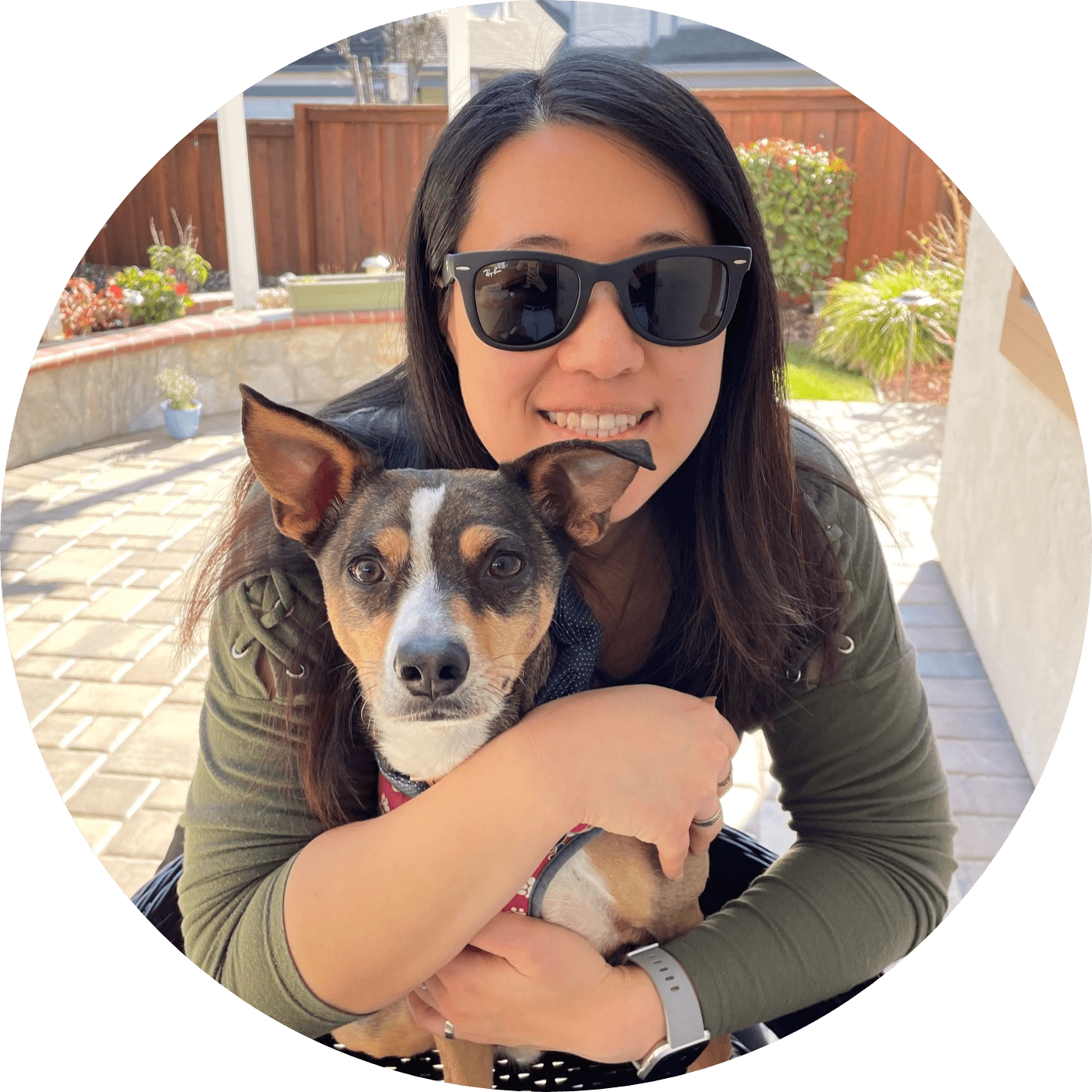 Dr. Sabrina Kong graduated from the Royal Veterinary College in England in 2016 and has been working at a small animal clinic in Northern California since then. She grew up in the Bay Area and got her bachelor's degree from Cal Poly San Luis Obispo. She also became a Certified Canine Rehabilitation Practitioner through a program at the University of Tennessee.
When she isn't in the clinic taking care of her four-legged patients, she enjoys traveling and trying new foods with her friends and her three-legged dog, Apollo. She adopted Apollo from her clinic when he was a puppy with numerous health issues. Dr. Kong truly cares about taking care of animals.